Review – Hyperion Explorer Hybrid case for the Nokia Lumia Icon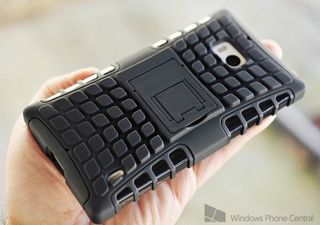 Earlier this week I reviewed the expensive – but still really nice – Incipio Feather case for the Lumia Icon. Today, I have one from Hyperion dubbed the 'Explorer Hybrid'. The case is much cheaper than the Incipio, running at around $3.99 (opens in new tab) (but more when you factor in shipping). That's still a bargain and while the case is not exactly pretty, it does a nice job for protection.
Hyperion calls this 'Explorer Hybrid' because it has a two Layer design with the inner a silicone core and an "Explorer Style Design Anti-Slip Hard Shell exterior". That's a lot of mumbo jumbo for saying this case has soft and hard protection built in, making it a step above most hard shell cases. It's basically a soft touch feel with nodule grips all around it.
The price you pay though is in looks. While super functional, the case is by no means good looking. It's rather garish and it really takes away from the design of the Icon. Still, I'll leave it up to you if you're okay with it or not as it's really a personal decision.
I think in terms of protection, this case will be towards the high end. Not OtterBox level high, but not too far off either.
The display is slightly protected when the Icon is placed display down due to the raised edges, though hard drops may be another story.
The extra bonus with this case is it has a built in kickstand. I've seen this gimmick before but I have to admit, Hyperion's is pretty nice. Specifically, the kickstand is firm, doesn't feel like it will snap off and it doesn't rattle. That's a win-win in design. So if you were looking for a way to prop your phone out to watch a movie and you want some solid protection, you may want to consider this case.
For my personal use, I'm not really interested in using this case as it's just a little too much "Road Warrior" for my daily needs and it hides the Icon too much. But looks aren't everything and for a lot of people, it's about function over design.
In that sense, the Hyperion Explorer Hybrid is a great bargain.
Windows Central Newsletter
Get the best of Windows Central in in your inbox, every day!
Daniel Rubino is the Editor-in-chief of Windows Central, head reviewer, podcast co-host, and analyst. He has been covering Microsoft since 2007 when this site was called WMExperts (and later Windows Phone Central). His interests include Windows, laptops, next-gen computing, and for some reason, watches. Before all this tech stuff, he worked on a Ph.D. in linguistics, watched people sleep (for medical purposes!), and ran the projectors at movie theaters because it was fun.
looks nice! but won't fit my L920, I guess

That may just be the ugliest thing I've ever seen.

It looks like a rubber tyre wrapped around a phone.

The Hyperion corporation says: you're welcome!


Lol, I was thinking of working Borderlands into this somehow ;)

I like that it has a kick stand but its not within my taste...!

Did it get ran over and the tread just happen to stick to it?

Looks like the bottom of my shoes.

Goodness that is ugly. XD

It looks like a Goodyear!

Now Bridgestone's introducing its new Tire Track technology into the world of smartphones?? Can't wait to see the commercials, lol.

i like it. i seem to like things that normal people think are ugly. the kickstand will rattle.

I'd say kill it with fire, but I'm pretty sure that it's made from a tire so it would probably take some time...

Icon is a beast as it is!

Looks like they took the bottom off of some shoes formed it to the Icon.

Mad Max: Beyond Thunderphone comes to mind...

Daniel, not a word about how does the camera shutter key handles with this case? Is it easy to press and half-press?

It works. Not as sensitive as going naked, but it seemed fine. Personally, i don't use the shutter key though, especially with a case.

I have one for the 1520. If you take a razor and cut a slit along the edge of the power & shutter buttons it will be loosened. Just 2 slits up and down, leave top intact. It will freely travel and makes it easier

Darth, I probably have the same case for my L1520 as well. I'm wondering that I've seen this exact same design by several different companies lately. I don't think mine is by the same company. I sometimes take the outer shell off and just use the inner shell. Not nearly as harsh looking as these pics depict with just the inner shell on the phone. I use it for the kick stand.

Lol who the hell would put that on a phone

Its hard to find a decent looking case for these Lumia phones. Even Nokia makes ugly and useless cases.

BOMB The first thing that came to my mind after seeing this...

so i'm guessing the Engive case is the next review?? can't wait for that one..

I have it for my 1520. It's not too bad. It's bulky when you have the hard case. Take it off and just use the soft cover and it's nice and grippy. That and take a razor and slice the edges of the buttons and you have a decent case. I actually prefer mine over nothing. It has grips like football laces. The 1520 was too thin and slippery without it. Picture: http://forums.wpcentral.com/nokia-lumia-1520/249859-3.htm#post2256325

I sort of like it. Having large hands, anything that makes the phone thicker and easier to hold is a plus for me.

I have this case for my 920. I think it looks pretty cool! I only use it on occasion though, like when I'm doing an activity where it is going to be jossled around alot (like maybe biking), or when I'm in an industrial environment like a workshop, or when I'm working on a car, etc. The stand works perfectly well, and does not rattle.

I have an identical case for my L920 except it's made by Empire. Looks exactly the same as this Hyperion case. I love it. I dont think it looks all that bad and does a great job protecting the phone and the kick stand is an added plus. The Empire L920 version also commes in different colors and my daughter uses a red one on her red L920.

Wow, don't wanna see it....oops, too late. Just got an Icon 2 days ago, looking for a nice case and that one would not be it!

This looks exactly like the Minisuit case that I just bought for my 1520 at WPC's recommendation. I actually quite like it. It's durable and it was cheap. And the kickstand is awesome for watching movies and whatnot on the go.

Yep got mine from minisuit.

I don't know why, but this cover looks like Nokia 5510 :D :D

I'm very happy with my heavy duty case from Ballistic. Grippy around the sides with gloss hard plastic, much better looking than this I think.

Hah I just bought one of those for $4 for my 1520 a couple of weeks ago.

It looks like caterpillar shoes

Its only $3.99? What? Maybe I'll try one then.

I have this exact case for my ATIV S. ...but I got mine from a company called J Case or some such thing. Bought off amazon for $7. Weird. Someone is copying someone. Anyways, I love it. Rugged looking and protective. The kickstand is very helpful too.

I purchased one exactly like this for my 1520. Let me give you my 2 cents. It's very nice. It's quite bulky. Great coverage, nice kickstand. The bad: the excessive coverage (can it be excessive? subjective I guess) adds to the heat retention of the phone. As such, after a few uses watching video and games my phone started freaking out. Constantly going to Bing, back button, typing was impossible. Removed case: problem solved. Tested time and time again after several days, same result. In the end, I cut huge holes in the TPU portion of the case to let air get behind the phone and between the hardshell. Seems legit. No more issues. just a ton of dust. final fix? there's another slim case out there that's actually able to slip in place of the TPU portion of the case, now I have the best of both worlds.

Lots of girls in the comments.loving the ruggedness

It looks like the bottom of my sport shoes...

I got the white/black one and really liked it for the first week. Putting it in my pocket turned the white to a light blue (more of my jeans fault than the case). It's really hard to put on and take off, which can be a good thing. I still upgraded to the translucent pink Incipio NGP case. Feels MUCH better to hold.

Put the Batman symbol from TDK on there and people would be talking about how awesome it is. Well, people not me that is. I'd still be calling it uggo.

Have the same case, for my 1520, except its from a different vendor, Ashield. It was $8, on Amazon, but the Minisuit was $6, and only available as an add-on item. The bonus was the Ashield came in different color combos, and I got a blue tpu soft inner, with the black hard outer shell. I like it!

I'm batman. This is my batcase.

That is so ugly, each to their own, but who the hell would buy that!! A mountain climber maybe?

Christ that's vile. Like a tyre tread.

Using it, and it works good for me.

I'll take function over fashion every time.

Can you use Qi wireless charging with this case on?

Windows Central Newsletter
Thank you for signing up to Windows Central. You will receive a verification email shortly.
There was a problem. Please refresh the page and try again.