Review: Jabra JX-10 II Bluetooth Headset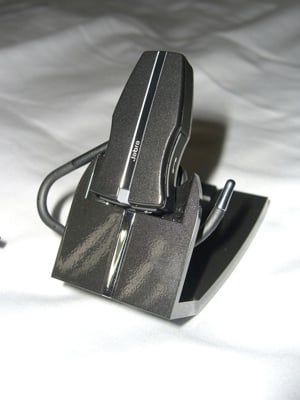 Bluetooth headsets seem to be a dime a dozen these days. Heck, I can't leave the house anymore without seeing flashing blue ears and people walking around looking like crazies talking to themselves as they go about their daily lives. The shear selection of these popular devices makes it difficult for many of them to stand out. When the original Jabra JX10 ($79.95) came out, it stood out of the crowd in many respects. It boasted a unique design, excellent quality, and a designer price tag.
The Jabra JX10 Series II bluetooth headset ($79.95) is a product refresh of this widely popular headset bringing it up to par (feature-wise) with other high end headsets in the market today. As a long-time user of the JX10, I was looking forward to trying out the JX10 II to see what it brought to the table over the original JX10.
Design
Jabra didn't deviate from the design of the original JX10 when they made the JX10 Series II; it is, in fact, the original JX10 with updated internal hardware, a fresh paint job, and more goodies in the box. The Series II actually has a more refined feel and look to it while coming to market at a lower initial price tag compared to the original JX10. Jabra has replaced the JX10's silver plastic base with an identical black metallic (chrome-like) base, giving it a much heavier feel.
They include the typical AC adapter and USB cable, both of which can be used to charge the headset with or without the base, but they've also included a new car charger designed to cradle the headset in the same way the desktop cradle does, something you don't see included with many bluetooth headsets. This is actually a great thing for those road warriors among us whose car doubles as their office.
On a side note, I also noticed that as the JX10 Series II sat in its cradle next to the iPhone, the two looked like they were designed to complement each other. The black with chrome accents on the JX10 seem to heavily complement the iPhone's colors, making this headset quite fashionable for iPhone users.
Setup
Setting up the headset is a real cinch. It's a good idea to fully charge the headset before your initial use, as most manufacturers tend to recommend. Once charged, you can pair the headset by simply holding down the MFB (MultiFunction Button) to turn the headset on. You then press the dedicated paring button next to the earpiece on the underside of the headset for one second and search for it with the device you're trying to pair it with. The original JX10 did not support Multipoint (pairing with more than one device simultaneously), a feature I was missing since I had used a plantronics headset which support it earlier. With the Series II JX10, Jabra includes this feature, which is becoming more and more useful in the age of cell phones and Skype.
Comfort
The Series II, like the original JX10, can be worn in one of several ways. Users have the option to use the included ear hook too loop around the hear and rest lightly on your ear. If your ears are of a certain size, you can disregard the included earhook and just stuff the headset in your ear and go. What I love about this headset is that it fits perfectly into Jabra's eargels (which can be picked up easily online or at a local radio shack for under $10). These eargels are a perfect match to the size and weight of this headset as they come in three different sizes, allow the user to comfortably but securely wear the headset without an earhook, and need not be taken off as the design of the charging cradle allows the headset to sit into it with or without the eargel.
This combination makes for perhaps the most comfortable headset I have ever worn. I've often forgotten I was even wearing the headset because it was so light, yet the eargel made it so comfortable. In addition, the design of the Jabra eargels holds the headset securely in your ear, so it resists falling out even when vigorously shaking your head. The eargel also helps those of us who like volume, as it channels the audio in the headset directly into the ear while blocking some ambient noise as well.
Use and Sound Quality
The headset itself sports four buttons and an elegant multicolor LED which glows red when charging, green when fully charged, and blinks a slow blue when the headset is on and in standby, and a faster blue when the headset is in use. The buttons are oriented in a somewhat unique way compared to other headset of its size. Both volume buttons are on the back of the headset where the MFB (MultiFunction Button) would typically be on other headsets, and the MFB is located on the bottom of the headset and is pressed by pinching the top and bottom of the headset. While this might seem odd at first, it turns out to be quite intuitive as the headset's auto-volume feature will adjust the incoming volume to the appropriate setting in most cases, and the only button you'll really need to use is the MFB to answer/end/ignore/swap/redial calls.
Pairing is a seamless process, and the headset does a great job of staying connected to both phones I used to test it. It also sports the longest static-free range of most of the bluetooth headsets I've used. It's one of the only headsets I've been able to wear on my right ear while putting my phone in my left pocket, and it's even worked through 15 feet and two walls before producing static in the earpiece. The only other headset I've used with range this good is the original JX10.
Incoming calls are answered simply by tapping the MFB, and ending a call is accomplished by holding the MFB down for 2-3 seconds instead of tapping the MFB as with the original JX10. As a previous JX10 user I actually found this to be quite annoying. Often times you'll say goodbye, then still hear your caller for another 3 seconds before hanging up. Several times I would hold the MFB and hear the tone that the headset is hanging up just as I would hear my caller say "oh, just one more thing...". As a result, I often times found myself reaching for my phone to hang up when using this headset where I would have previously used the JX10 to perform this operation.
The Series II's incoming call quality is quite good, much like the original JX10. The earpiece quality is excellent and has a very balanced tone to it; voices are easily heard, and words easily discerned. It has just enough bass to give voices a natural quality without making it muddy. I complain that most headsets actually sound to trebly, but not the JX10. It's obvious that Jabra has paid special attention to the earpiece quality in this headset. The headset will also automatically adjust the volume of the earpiece based on ambient noise so you rarely have to change the volume manually.
Outgoing sound quality is superb......in a quiet environment. Although the headset sports DSP to actively reduce background noise, it doesn't seem to do much. Background noise is still heavily evident through the headset, so don't expect to be using it in noisy environments without discomfort to the ears on the other end of your call. It's puzzling that Jabra would pay such close attention to incoming call quality, but make no improvement to outgoing call quality. There was no noticeable improvement in the headset's DSP, something many people are looking for these days, especially with the presence of headsets like the Aliph Jawbone and the Blueant Z9 in the same price range. An additional mic would have done wonders in reducing background noise with DSP, and if you've been on the other end of a call with a Blueant Z9 being used, you'd know why. With the design and incoming call quality of this headset, it was surprising that Jabra didn't beef up the outgoing call quality at all.
Fortunately, the Series II does offer good battery life. Jabra's claim of 6 hours talk time is close to accurate, as I was able to use the headset off and on throughout a workday (roughly 30 minutes to 1 hour of use) and then for a 4 hour phone call at the end of that day and still have life left. Standby time is claimed to be a typical 200 hours, although with the plethora of charging options (USB, AC, Car) included with this headset, I can't see battery life ever being a problem.
Conclusion
All-in-all, the JX10 Series II ($79.95) is a worthy headset. The design is top notch, comfort is excellent, and call quality is generally good. With that said, I am disappointed in Jabra for not improving upon the outgoing quality in noisy environments and keeping up with company's like Aliph and Blueant. How well a headset performs in a noisy environment is quickly becoming the benchmark of today's bluetooth headsets, and the JX10 Series II is still a generation behind the rest when it comes to noise cancellation in the price range that it's in.
In my opinion, if you're currently using the original JX10 headset, I wouldn't recommend upgrading to the JX10, the improvements simply don't justify the cost. If you're in the market for a headset though, I would recommend the Series II if you don't find yourself in extremely noisy environments often. I'm also slightly puzzled that Jabra hasn't put much information about the Series II on their website. Any content I find on their site seems to point back to the original JX10.
Ratings (out of 5)

Design: 5ComfortWith earhook: 3With eargel: 5Incoming Call Quality: 5Outgoing Call QualityQuiet Environments: 4Noisy Environments: 2Value: 3

Overall:

Pros

Excellent designExcellent comfortGood battery lifeLots of charging optionsGreat incoming call quality

Cons

outgoing quality in noisy environments not on par with other headsets of this generationA touch pricey
Excellent review, Merlyn!
Hey everybody - Welcome Merlyn to the WMExperts writing team!

[font=Arial][size=2]Our company specializing in the production of[url=http://www.turbo-product.com]turbochargers[/url] and is willing to trade with countries around the world companies. Under years of technical experience can create the world's various brands of[url=http://www.topturbo-power.com]turbocharger[/url]: GZ, CAT, GARRETT, HITACHI, HOLSET , IHI, the KKK, KOMATSU, MITSUBISHI, SCHWITZER, TOYOTA, Honeywell. used and the various models: Audi, Honda, Mazda, Nissan, Toyota, Volvo, Volkswagen.[/size][/font]

one day i went shopping outside ?and in an links of london store?I found some kinds of links of london i love most?they are: Links of london charms online Links of london charms online Links of london charms online Links of london charms online Links of london charms online Links of london charms online Links of london charms online Links of london charms online Links of london charms online Links of london charms online Links of london charms stores Links of london charms stores Links of london charms stores Links of london charms stores Links of london charms stores Links of london charms stores Links of london charms stores Links of london charms stores Links of london charms stores Links of london charms stores
Windows Central Newsletter
Get the best of Windows Central in in your inbox, every day!
Thank you for signing up to Windows Central. You will receive a verification email shortly.
There was a problem. Please refresh the page and try again.