Review - Logitech Ultrathin Touch Mouse T630 for Windows 8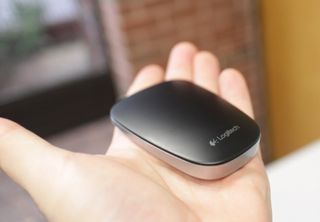 The Logitech T630 mouse is essentially Logitech's version of the Microsoft Wedge Mouse. And like the Wedge, the T630 is a tiny, sleek-looking Bluetooth mouse.
Unlike its Microsoft counterpart, however, the T630 is rich in features that any laptop or tablet user on the go will love.
Design
The T630 mouse consists of a brushed metal base with a black plastic top and bottom core. The thickest part of it, the back, is about one-half inch, and it tapers down to about one-quarter inch in the front. It is small enough that nearly fits in the footprint of a Post-It Note, but that doesn't keep it from packing in the features.
The power switch and all of the other buttons and ports are neatly tucked underneath, leaving the T630 looking like a diminutive spaceship.
Getting connected
There is a lot to like about this mouse. Firstly, it is Bluetooth-enabled, so there is no dongle to mess with and setup is a piece of cake. Just fire it up, press the Connect button on the bottom, and look for it to show up on your discoverable Bluetooth items on your device.
Logitech took things a bit further and added a Bluetooth toggle switch, allowing you to pair it with two different devices and quickly switch between them. This switch is a great feature for those of us who use a desktop and laptop computer or may travel with a laptop and a tablet.
One-handed mastery
Don't be fooled by the lack of clearly-defined buttons on the T630. This mouse not only has the traditional left-click and right-click buttons where you would expect them to be, but also a middle-click spot located just underneath them in the middle of the body.
In addition, the T630 is fully equipped for Windows 8.1 gesture controls. Using a swipe of a finger or two, you can scroll in four directions, open the Charms or Apps Bar, or navigate back and forth between web pages.
Great on the go + Super fast charging
The Logitech T630 is a near-perfect travel mouse. Its small footprint and slim design make it slip easily in and out of laptop bags and tablet sleeves. The laser tracking is robust enough that it worked flawlessly on every surface I tried it on, with the exception of a window (purely for scientific purposes).
Another feature that makes this mouse a great travel companion is its charging ability. It has a rechargeable battery built into it and powers up using a MicroUSB port on the bottom. That is mighty convenient. Better yet, according to the manufacturer, a single minute of charging will give you about an hour of usage. So if you forget to charge it up ahead of time, it doesn't matter. You will be up and running in (almost literally) no time.
Impressions
Logitech pretty much nailed it when they designed the T630. It is compact, versatile and loaded with functionality. The gesture controls are handy to use with my Surface Pro 3. The fast charging is extremely useful when working away from home.
I only have two complaints about this mouse. The first is that the two-finger double-tap gesture, which is supposed to bring up the Start menu in Windows, did not work for me. Perhaps it was something I was doing wrong. It's a shame, because it is a feature I bet I would often use.
The only other gripe I have is that the T630 feels like a travel mouse. The narrowness of the body left me scrunching my hand to hold onto it, which is very odd because I did not have the same problem with the Microsoft Wedge mouse. I could easily use the Wedge as my everyday mouse.
However, this could just be a matter of having to get used to using the T630, which I am more than willing to do considering how much more it can do compared to the Wedge. If you are in the market for a travel mouse, the Logitech T630 Ultrathin Touch Mouse is a winner for sure.
You can get it at Amazon for $39.99 with Prime shipping. That is $30.00 off the $69.99 sticker price.
Related reading
Get the Windows Central Newsletter
All the latest news, reviews, and guides for Windows and Xbox diehards.