Review - Logitech Ultrathin Touch Mouse T630 for Windows 8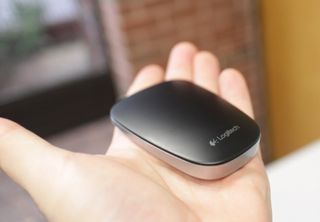 The Logitech T630 mouse is essentially Logitech's version of the Microsoft Wedge Mouse. And like the Wedge, the T630 is a tiny, sleek-looking Bluetooth mouse.
Unlike its Microsoft counterpart, however, the T630 is rich in features that any laptop or tablet user on the go will love.
Design
The T630 mouse consists of a brushed metal base with a black plastic top and bottom core. The thickest part of it, the back, is about one-half inch, and it tapers down to about one-quarter inch in the front. It is small enough that nearly fits in the footprint of a Post-It Note, but that doesn't keep it from packing in the features.
The power switch and all of the other buttons and ports are neatly tucked underneath, leaving the T630 looking like a diminutive spaceship.
Getting connected
There is a lot to like about this mouse. Firstly, it is Bluetooth-enabled, so there is no dongle to mess with and setup is a piece of cake. Just fire it up, press the Connect button on the bottom, and look for it to show up on your discoverable Bluetooth items on your device.
Logitech took things a bit further and added a Bluetooth toggle switch, allowing you to pair it with two different devices and quickly switch between them. This switch is a great feature for those of us who use a desktop and laptop computer or may travel with a laptop and a tablet.
One-handed mastery
Don't be fooled by the lack of clearly-defined buttons on the T630. This mouse not only has the traditional left-click and right-click buttons where you would expect them to be, but also a middle-click spot located just underneath them in the middle of the body.
In addition, the T630 is fully equipped for Windows 8.1 gesture controls. Using a swipe of a finger or two, you can scroll in four directions, open the Charms or Apps Bar, or navigate back and forth between web pages.
Great on the go + Super fast charging
The Logitech T630 is a near-perfect travel mouse. Its small footprint and slim design make it slip easily in and out of laptop bags and tablet sleeves. The laser tracking is robust enough that it worked flawlessly on every surface I tried it on, with the exception of a window (purely for scientific purposes).
Another feature that makes this mouse a great travel companion is its charging ability. It has a rechargeable battery built into it and powers up using a MicroUSB port on the bottom. That is mighty convenient. Better yet, according to the manufacturer, a single minute of charging will give you about an hour of usage. So if you forget to charge it up ahead of time, it doesn't matter. You will be up and running in (almost literally) no time.
Impressions
Logitech pretty much nailed it when they designed the T630. It is compact, versatile and loaded with functionality. The gesture controls are handy to use with my Surface Pro 3. The fast charging is extremely useful when working away from home.
I only have two complaints about this mouse. The first is that the two-finger double-tap gesture, which is supposed to bring up the Start menu in Windows, did not work for me. Perhaps it was something I was doing wrong. It's a shame, because it is a feature I bet I would often use.
The only other gripe I have is that the T630 feels like a travel mouse. The narrowness of the body left me scrunching my hand to hold onto it, which is very odd because I did not have the same problem with the Microsoft Wedge mouse. I could easily use the Wedge as my everyday mouse.
However, this could just be a matter of having to get used to using the T630, which I am more than willing to do considering how much more it can do compared to the Wedge. If you are in the market for a travel mouse, the Logitech T630 Ultrathin Touch Mouse is a winner for sure.
You can get it at Amazon (opens in new tab) for $39.99 with Prime shipping. That is $30.00 off the $69.99 sticker price.
Related reading
I tried using a narrow travel mouse. It was ok at first but gave me really bad pains and strains after 4 months of use. I might have to stick to my wedge mouse. I'm sure there will be a wedge V2 that is comparable, but just as comfy as the Wedge.

I agree 100%. As much as I loved this mouse, I think it would be hard to use it full time.

How long does the battery last on a full charge? Ironically, the lack of a rechargable battery on the wedge is one of the things I like the most. I use mine very lightly, and it's been 5 months and still haven't replaced the battery. Charging is a total non-issue. It's so easy to store an extra AA in my bag. One less thing to worry about.

Not really sure how long the battery lasts.

Mine T631 stays on for 5 working days without any problem. But the charging is super fast. Go to lunch with USB connected, after the lunch it will be fully loaded, so no problems.

I have been using the T631 (white version of the T630) for 2 months now with my SP3 and I love it... Battery life is fantastic, I charge the mouse about 1.5 hr every 2 weeks. If need be, the 1 minute charge is truly amazing...
This is a small mouse but I got used to it... So much so that I ditch my desktop track pad and use this mouse as well as my main mouse... No pain nor discomfort in the hand... Perfect combo between the precision of a mouse and the flexibility of gesture, scrolling, back/forward etc The two finger tap feature works great for me...
Highly recommended...

Yeah, this is a really nice mouse. It's so tiny, but elegant. That fast recharge time is crazy. Someone recommended this in comments, so I grabbed one for this review, I plan to use it when I travel with the Surface Pro 3.

I have the sister of T630, T631 for Apple products but works the same. I use it with my SP3, and the functionality is brilliant but.... ...the white cover wears off very fast, and makes the mouse ugly... ...i will try to get refund and get the black one T630.

It is a staple in my surface sleeve. Though I can't recommend it for anything other than mobile use, a proper mouse wheel is much better than the touch controls on this mouse.

Well i do not think so. It is much smoother than clasic wheel in my opinion. I use it with Photoshop small-works on SP3, works great.

Agreed... The touch scroll is better than a wheel for me... I discovered that on the mac magic mouse of my partner and never looked back...

So... you think this is as good as the magic mouse? I recently buyed a Microsoft TouchMouse... but... it doesn't work good with photoshop. The horizontal scroll is a crap

This will be definitely be replacing my Wedge mouse, with which I wish for a tiny bit more touch area. Thanks for the thorough review.

How easy is it to do a right click? I have the Logitech touch pad, which is wonderful except that it has a poorly defined right click area, which is really a fatal flaw for windows.

If it is the same touchpad that I have a simple double tap anywhere will work as a right click. I have the T650

Right-click is just like it is on a regular 2-button mouse. It is just a small area that you are dealing with so sometimes it doesn't register as a right-click. I ran into the same issue with the Wedge mouse. It's probably just my fat fingers.

There is no problem with left/right/middle click just like no problem with swipe left/right, doubble tap, doubble swipe...

The right and left clicks are "physical" clicks, not touch. When you push the left/right corner of the mouse, the mouse moves physically down and click... The button are in the corners of the mouse under the touch surface... (not sure this explains it well)
You can't miss a click (audible and physical feedback)...

Looks really neat. Love that we're reading about non WP stuff too these days.

I found this back in Feb and absolutley love it. I primarily use it with my Surface and DV8 Pro when I am away from the office.

Does this work on surface 2?

I don't see any reason why it wouldn't, but I don't have a Surface 2 to test it with.

Logitech sometimes requires additional software to use all the features. I'm not sure if you could install that on surface 2

True is that. and with the additional gestures it need to install desktop software. So for Surface 2 (RT-version) it can be difficult.

Basic pointing and clicking (scrolling too works okay) works fine, advanced gestures and fine grained control not, because the Logitech app is an x86 app

Thanks for the information.

Yes, looks like it would be small and uncomfortable for long, extended everyday use. I like a larger mouse that fits my hand ergonomically, and this would not fit the bill. However, a larger ergonomic mouse, like my Logitech M705, also does not fit well in my slim carry bag when I want to travel light, and this looks like it would fit the bill quite nicely. Right too for the job, I always say. While this might not sit on my desk at home, it could very well be the go-to mouse for travel. Really like what I'm seeing for that. I may just consider this.

If you don't need all of the gesture controls, I would definitely recommend the Wedge mouse.

Wedge may be a better fit for some, but the compactness of this one really appeals for travel in a small bag. Besides, the gesture controls would be awesome to have, as everything I have runs Win 8.1.

I know its a bit old now, but the Microsoft Arc Touch would be a better option. It appears there will be a Bluetooth version

Wow, this article came at just the right time. I had been looking at the Arc Touch mouse for a while but just learned that there's no forward-back gestures, but even worse, no middle mouse button (deal-breaker for me for the software I use). This mouse hits all those points. Ordered 2 of em.

Arc Touch does have middle click. You have to tap twice in the scroll area.

Earlier today Amazon had the Logitech T650 touchpad for $20. Now it's gone. I already have one but was tempted to buy another because of how great it works with Windows 8. Shame. Now that I can't have it I want it even more, lol.

I was using Microsoft Sculpt Touch Mouse. But I think I prefer a wheel for scrolling. I didn't really like the touch/swipe scrolling. I was planning to get the Sculpt Comfort, but I need to get rid of this one first.

Good looking mouse. I was recently hunting for a new mobile mouse to go with my brand new Dell Precision M3800 and I ended up choosing between this T630 and the Logitech Anywhere MX (most likely the best mobile mouse available). While the T630 would have looked good with the M3800 black/aluminum I went with the Anywhere MX. Simply just more usable.

Had the Ms wedge mouse and got this. The Logitech is WAY better especially since you can use it on 2 machines...

This has been my primary mouse on my Surface Pro 3 for the past year. I love it.

What is the touch surface like? The last Logitech touch mouse I used was horrible due to the touch surface not being slick enough for my fingers to glide over making the gesture functionality useless and frustrating. Is the Bluetooth connection reliable, my Microsoft wedge mouse and every other Bluetooth must I've used with windows stutters unlike the Logitech mouses with the unifying dongle. I've always like the idea of this functionality in a mouse for windows though, just been waiting for one worthwhile.

Be aware you cannot press left-mouse-button plus right-mouse-button at same time. For most, this won't be an issue, but is commonly useful in games.

Yes, the T630 is pretty useless for games requiring left+right button functions. But the gesture touch functions are blazingly fast and convenient for non-gaming productivity. I still carry a normal wired mouse for gaming with my Alienware. I had my Surface 2 in mind for getting the T630, but does not have the app/program enhancements for a Windows RT unlike for full Windows 8.1. I checked out the MS Wedge mouse, and the T630 beats it with charms and apps switching gestures, as well as a physical switch in between two devices without the pain of waiting to resetting every time you switch.

I got one to use with the Surface Pro 3 and I think it's the perfect companion mouse; extremely compact and very functional. The bluetooth is great as it doesn't require a receiver that would otherwise occupy the SP3's only USB port. The fast charging time is also amazing, and it really does work as advertised. The fact that it charges with a micro USB cable is also great- you don't have to worry about the batteries running out (or adding weight/bulk) and you can just use the cable you use to charge your phone! If the surface team designed a mouse I don't think it would be too different than T630- I highly recommend it!

Heck, you could charge it with your Xbox 1 or PS4 as well as everything uses the "Samsung charging cable", (previously known as the "blackberry charging cable"......) these days lol.

Purely for scientific purposes eh? Haha, I got this as a secret Santa gift for my older brother :). I wonder what I'm getting, probably another gillette razor -.-" lol.

Had the wedge mouse for a few months for my SPro v1. Then got Ultrathin Touch and love it since. For my hands this is much better than the wedge. It will not replace any of my desktop mice of course.

It's an excellent mouse. The review is very accurate to my experience.

How can anyone use something like that? Get a logitech g400, it's cheaper and much better.

I bought this mouse together with the Surface Pro 3. Love all the touch functionality, sleakness and double Bluetooth, but after using it a couple of days I got pain in my hand and began hating it. Got back to my probably 8-year old hero -- the Logitech Anywhere MX/nano. The problem with the Ultrathin is that it's harder to get grip on (especially with big hands) and together with the upper body working like a physical button you have to concentrate your hand a lot more, especially when working with design programs. A physical scroll wheel like on the Anywhere is also superior.
But for only browsing and checking e-mails I'd go back to the Ultrathin only because it's so cool, maybe the day I don't need to work anymore.. At the beach, with drinks and stuff.. :)

Have had it for a while, not even a fair comparison to the wedge, other than it's small. The Logitech is a true gesture mouse, works good. The wedge is just a small standard mouse.

Great review, I got this mouse back in 2013. It was the perfect companion to my Surface Pro when being used as a desktop. It does pretty much EVERYTHING I expected of the similar priced, yet inferior Microsoft Wedge mouse (it was an extremely limited experience).

I bought this because I find myself needing a mouse with the Surface 2 for word processing, and I hate the trouble of a wired and bulkier mouse. Fits in pockets easily. I love the fact that it has a middle click button and a physical switch button for two devices, unlike other choices I can accross. It took me about a week to process which choices I want. The T630 just delivers the elegance that offers as a superior bluetooth mouse out there. I've written off BT mice to buy after extensively seeing all the reviews I could read and watch. Yes, the price is twice than most wireless USB dongle based mice like what Rapoo is offering. It just frees you from using the only USB port on a Surface 2. It's responsive enough. No worries for replaceable battery running out like most, and the fast charging by connecting the micro USB can give you hours in only a few minutes of connection to power.