Review: Lubix UBHS-NC1 Stereo Bluetooth Headphones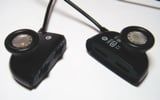 After a video first look at the Lubix UBHS-NC1 ($89.95 at the WMExperts Store), I kept on using the headset for the rest of the week. I've come away very impressed with these Bluetooth headphones - great for music, average for voice. Read on for the full review.
Video
In case you missed it, here's the video first look:
Design & Comfort
The UBHS-NC1... heck, I'm just going to call it the Lubix despite the fact that Lubix also makes a Caller-ID version called the Lubix UBHS-LC1. Anyhow, the Lubix feels very much like a music-centric headset. Much like other bluetooth stereo headsets, the Lubix handles both music and calls equally well. However, the design seems more suited to music as the headset doesn't have a "boom" like traditional Bluetooth headsets. Instead, it's designed to look like a pendant that hangs around your neck. The other non-standard headset design touch is that it doesn't use earhooks - instead hanging in your ear just via the earbuds. The headset is light enough to do this, although if you're a runner you might have an issue with them falling out occasionally.
Simply speaking, this design is elegant. Although nobody's likely to mistake the Lubix for an actual piece of jewelry, it looks decent enough floating around your neck. My MO has been to just hide it under my shirt when I'm not using it. Another nice design touch is a small piece of rubber on the cable that allows you to shorten the length of wire in front - and therefore how low on your neck the Lubix hangs.
As I mentioned in the video, the two sides of the headset click together with a magnet - it's actually a very satisfying click. Also mentioned in the video are a couple of other design touches: the AC adapter is slim and charges via a simple USB port (meaning you can use it to charge other USB devices). Finally, I discovered a better way to "cord-manage" the headset when it's not around my neck. I don't know if this was intentional or not, but it all wraps up in a very neat little package - better than any other bluetooth stereo headsets I've used.
Finally, I'm deeply gratified to find a simple On-Off switch. Windows Mobile often requires more steps than I'd like for changing bluetooth settings, so sometimes you just want to know your headset is off and calls won't be routed to it.
Setup
After charging up the Lubix (which happened very quickly, btw), pairing it up is as simple as with most Bluetooth headsets these days. Turn on the On switch while holding down the phone button and the status light lets you know you're in pairing mode. The code is 0000, of course.
After that, my Blackjack handled sending sound to the Lubix just fine. My Treo 750, sadly, suffered from the same bugs that it suffered with the Jabra BT8010s (opens in new tab), namely that it routed all sound - including rings to the Lubix. I don't know how Palm implemented A2DP on the Treo 750, but however they did it, it's broken.
Music
My main intention in getting the Lubix was music. I'm annoyed with phone manufacturers who don't put standard 3.5mm jacks on their phones (which means I'm annoyed with pretty much all of them). So A2DP it is. Bluetooth performance was about on par with the Jabra BT8010. As long as I was within 15 feet or so of the Blackjack, I didn't hear any static or drops.
In terms of sound quality of the earphones, I should start by saying that I'm no audio-phile. These headphones sound pretty good, though. I do wish that there were more ear-gel options for the headset. The headphones sat just a little loosely in my ears, which has the effect of lessening what little base small buds like this are able to punch out. In any case, I'd put then on par with your average iPod white buds - which I imagine horrifies some of you and give the rest some indication that they're not crap, but they're not going to make you feel like you're at a live performance.
"Live Performance," by the way, is one of the 4 "3D Sound Effect" settings you can choose in addition to the standard setting. You press the "phone" button while listening to music to switch between the different settings. In practice, these settings don't make a gigantic difference in music quality - it is Bluetooth after all - but it's fun to tweak the sound every now and again. In any case, the settings are:
Normal: No filtering (the headset beeps twice when you've switched to Normal)
XOME: A sort of basic setting that supposedly filters noise
LIVE: A soft 3D effect that is simulates a Live setting
WIDE: "Panoramic" sound - basically a stronger 3D effect
MEX: Like wide, but with a bass booster. This is the setting I use
The headset also supports AVRCP, which means you can go forward, back, play, pause and stop directly from the headset. There's also a volume adjustment that's independent from your phone's volume. All of the above works as advertised. I like that both of the buttons are "jog buttons", which means each provides 3 different functions in a small space yet aren't confusing in the least.
Voice
Voice quality is on par with most basic headsets. The microphone picks up some background noise, but not too strongly. The headset doesn't have any noise cancellation that I was able to notice. If you have a phone that supports voice dialing over Bluetooth, that should work fine too. I say it should because I was unable to test that.
One other thing to mention is that the headset supports multi-pairing in an interesting way. You can pair up to 2 devices with it, sure, but you can set it up to pair music from one device and calls from another. Neat. Of course, the answer and hang-up buttons on the headset work fine.
Conclusion
The long and short of the UBHS-NC1 is this: it's very convenient to carry around and use, it's great for music, and average for voice. It's the convenience and well-thought-out design that gets me, though. If you're looking for a good set of music headphones for your Windows Mobile phone, these are probably the easiest carry around and use on the market.
Last thing: Battery life is spec'ed at 5 hours music or 6 hours talk time with a standby time of 150 hours. In my testing that's just a little optimistic, but not by much.
Swipe to scroll horizontally
| | |
| --- | --- |
| Ratings (out of 5)Design: 5Convenience: 5Music Quality: 4Voice Quality: 3Overall: 4 | ProsClever pendant designGood music qualityWell thought-out "jog" buttonsConsVoice quality only averageNot a wide-enough variety of ear-gels |
Get the Windows Central Newsletter
All the latest news, reviews, and guides for Windows and Xbox diehards.
We will have a review/hands-on for Philips Headphones soon.
Good job WMexperts. Great one!http://www.devicepedia.com

You may want to try the switch at the top of your 750 and turn it on instead of silent mode.
Equivalently, put your BlackJack in silent mode (there is a button near bottom right of keyboard if you do not want to go through umpteen menu commands) in order to compare apples with apples.
;-)

Hi Cat -
Believe you me, I've wrastled with the 750 plenty. If you've got other hints as to why the 750 is so wonky with A2DP, I'd love the help.
In other words - I did check the ringer switch. ;)http://wmexperts.com

On a second thought, looks like you were right with this headset. Just had it tested. Unlike the Motorola HT820, it ignores the Treo ringer setting and only rings in the headset. Just FYI, that is why Palm has a Developer Network and SDKs published, so that headset manufacturers can work properly with extended handset functions. BT A2DP does not say specifically how silent functions have to be implemented on a phone (check the spec). Hence, Lubix does not specifically provide compatibility with Treo hardware and extended functions. Either way, your testing results were acurate.

how did you get this to "work" with the 750 is there some trick to it that I'm just not getting. I have paired it and have at times gotten it working but other times its like it just doesnt want to work so I've been trying every combination of turning it on and connecting it or refreshing the connection saving it then turning it back on ARGH I just want this to work. Any help would be nice.

tiffany Necklaces Tiffany Necklaces tiffany Necklaces Tiffany Necklaces tiffany Necklaces tiffany rings

links of london Rings links of london Rings links of london Rings links of london Rings links of london Rings links of london Rings links of london Rings links of london links of london Rings links of london Pendants links of london Pendants links of london Pendants links of london Pendants links of london Pendants links of london Pendants links of london Pendants links of london Pendants links of london links of london Pendants

I bought these headphones during this summer and I absolutely LOVE them. One of my best investments ever. Sound quality is AMAZING, its like having a home theater system inside your ears.
It's lightweight, looks pretty cool, and easy to carry around. Have had no problems with it so far m'A. i'A there won't be any!