Review – Microsoft Arc Keyboard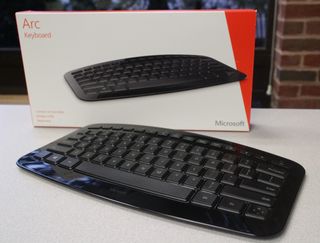 Keyboards are a funny breed of device when it comes to reviews because so much of it comes down to personal preference. No matter which one you get, it is going to put the letters up on the screen. The deciding factor comes down to look and feel and how comfortable it is for the individual user to type on.
Microsoft's Arc keyboard is a perfect example of one where the opinion is in the eye of the beholder. Even though it shares the innovative features and appealing architecture that many of Microsoft's other peripherals do, it is likely to be loved by some and disdained by others based on individual taste.
The design
The Arc keyboard is pretty sharp looking out of the box. It has a glossy black surface and lightly textured matte black keys that make slight click when pressed. Its rounded corners give it a modern feel. True to its name, the Arc keyboard's over all form is ergonomically rounded. It measures just slightly wider than the Surface Pro 3's Type Cover.
The keyboard layout is impressive. Unlike many compact keyboards that shrink traditionally larger buttons to fit everything in a smaller space, making them sometimes clumsy to use, the Arc uses clever design to accomplish the same goal.
For instance, rather than including twelve buttons for F1-F12, buttons F1-F6 also serve as F7-F12 when holding down the Fn button. This design frees up space for additional functionality, like volume controls.
An even cooler example of space-saving on the Arc keyboard is that the four directional arrow keys have been replaced by a single four-way rocker keypad.
Another thoughtful design feature is the cut-out in the bottom of the keyboard for the USB dongle, which is magnetized to hold it in place when not in use.
Setup
Getting the Arc keyboard up and running is a breeze. Simply insert the two AAA batteries that are included and plug in the USB dongle. Windows will automatically install the drivers and then prompt you to install the Microsoft Mouse and Keyboard Center.
The Mouse and Keyboard Center does not offer as many options for the Arc keyboard as it does for the Wedge mouse, but it is still worth installing. You can tweak some button settings and add some custom button functions of your own
Using the Arc keyboard
When I first starting using the Arc keyboard, I had mixed feelings on it. The ergonomic design makes it comfortable over all. And I like the mild stiffness and click of the keys. However, it just felt strange typing on such a tiny keyboard, even though I routinely use my Surface Pro 3's Type Cover.
After a couple of hours, I became a lot more accustomed to using it. I am not sure I would use it as my primary keyboard at my desk, but that might be more of my personal preference and not something inherently wrong with this keyboard. Using it on my lap is pretty comfortable though.
The volume buttons come in handy, for sure. And I absolutely love the directional pad in place of the arrow keys.
From a basic user perspective, the Arc keyboard is pretty decent. Once I got used to it, the only gripe I had (petty though it may be) was that the glossy black surface gets covered with fingerprints and shows them off clearly in the light.
Who is going to want one?
The problem I see with the Arc Keyboard has nothing to do with its design or feature set. It is trying to figure out just who would use it. Sure, there is a niche group of people who will use this as their primary keyboard at their desk, but most people with that kind of setup will prefer a full-size keyboard.
What about people with tablets? Well, the Arc keyboard is not Bluetooth-capable, and requires a USB dongle to operate, which rules out most tablets out there. And there is no reason to use this keyboard with a laptop because it doesn't really offer any benefits over the built-in keyboard.
Alternative uses?
On Amazon, it is suggested that the Arc keyboard is good for Xbox 360, so I gave it a try. I can't disagree with that. The directional keypad is perfect for navigating and the Windows button works like the Xbox button on the controller.
I also tested it out on Xbox One with mixed results. Moving through the menus was just as good as on Xbox 360, but the Windows key did not work. Esc worked like the Xbox One's B button, cycling back through your last accessed apps, even though it performed no function on the Xbox 360.
It is nice to have a keyboard for searching for movies on Netflix or YouTube and for entering those 25-character Xbox Live codes. But overall, the console experience was underwhelming.
So while the Arc is a nicely-designed compact keyboard, it is sort of a man without a country. If you prefer using a compact keyboard at your desk, this might be a viable option for you. Likewise, it could be a good candidate if you are looking for a keyboard for your Xbox 360.
But otherwise, it is hard to recommend it for most other scenarios, which is too bad because it is a likable device.
You can pick one up on Amazon (opens in new tab) for a sensible $39.95 with Prime 2-day shipping.
How does the Arc keyboard measure up to your computing needs? Let us know in the comments.
The lack of Bluetooth is a bit short-sighted from Microsoft.

This keyboard has been available for a number of years (I bought one in 2010). I expect, at the time, there weren't enough Bleutooth enabled laptops, etc, available to make bleutooth a viable option.

They made a Bluetooth version of the arc mouse, they should make one of this.

And is probably why it is gloss black. The only time gloss black should be near hands is on a piano or car exterior.

FN button for F7-12 is idiotic.

How so? Do you really use all those Function buttons so often that you cant be bothered to hold a FN key to use them? I'd bet 90% of pc users use the volume buttons 3x more often then they use the Function keys.

Agreed, even in gaming, 7-12 is rarely used (unless F12 is for screen shots). F1-F6 and media buttons are more common, so the whole ordeal makes sense in my book.

F10, F11 and F12 are used heavily by software developers. All developers should stay well clear of this keyboard

Agreed. I drooled over this until I saw the FKey bit. Visual Studio would be horrifying with it. A version with distinct FKeys, number pad, and BT? Take my money now...

I use the F8 through F12 keys far more often than I use the first 7 function keys. That's because those keys tend to have more specialized functionality versus the rest which are typically reserved by applications. I don't think Home, End, etc are that critical that they needed to be retained, especially considering they're placed in such an awkward location. I'm also not a big fan of glossy surfaces on devices I'm constantly touching. They might be more resistant to visible wear compared to matte finishes, but they're more likely to look dirty and feel nasty with use.

Totally agree. Day-to-day I'm hitting F5-F12 quite a lot when coding and debugging. I can't imagine how annoying it would be to hold down another key to get the F key I'm after. That's one of the main reasons I have an external keyboard for my laptop.

I have small hands and I can master the move like a one-handed champ! You just have excuses... U_U

Personally, if I was developing heavily on a keyboard, I'd rather have an ergonomic one that's split and large, like the Natural Keyboard. This seems too small for what I'd want to use it for this way. Otherwise, I like it! Gotta love personal opinions though...yay uniqueness

I use it on my PS4. Makes sending messages faster if I end up in a conversation or searching for stuff or using the browser. Have also goes my laptop to to the TV and did programming/gaming before and used the small keyboard on my lapdesk which has a pull out mouse pad.

Good to know. I have a PS4 and using the on-screen keyboard for things in FFXIV is...frustrating.

I use my PS4 for FFXIV and picked up a keyboard and it made things so much easier. Thinking about picking up a Bluetooth keyboard now as the one I use is wired.

I've been using the Arc keyboard on my HTPC for about a year. It's a pretty nice little unit for that. Not sure that I'd want to use it for anything more robust, though.

I really love this keyboard, got one at office and one at home

Can the arc keyboard be used as an input device on my ps4 ?

Was actually answered in an earlier comment, and the answer is yes. ;)

I've never been a fan of these ergonomic keyboards. Lack of some F keys, and the non-Bluetooth dongle -- that needs to die! -- are deal-breakers for me.

I love it, had it for around 2yrs. I use it with my desktop and with my Surface RT when I have it connected to the HD tv :-) It works well and can't really complain. Yes Bluetooth would be better, but for now it's fine.

I've been wondering how to use my surface pro hooked to the TV with the keyboard 8 feet away. I hadn't thought about the Arc Keyboard. Excellent idea. Thank-you!

If you can find it, that Bluetooth mobile adapter for the Surface keyboard is also pretty awesome for that! ;)

For me there will be never a keyboard like the Microsoft Natural 4000
Simple the best out there

So true. I LOVE mine!! Best keyboard ever.

My personal favorite is still the Sculpt Ergonomic keyboard. I use is as my primary work keyboard (software developer) and have had no complaints so far. It helps having dedicated function keys. http://www.microsoftstore.com/store/msusa/en_US/pdp/Sculpt-Ergonomic-Desktop/productID.286059400

I've got one and love it. Ok so who's going to use it? If you have limited space on your desk ( or just a tiny desk) but prefer ergonomic keyboards then this is the very fellow for you.
Likewise if you just like minimalist designs and don't want a boring chrome and black/ white tiny oblong keyboard.

I use it because I have limited space on my desk and I have to pass the keyboard to other people. It is very light.

Ha! That's my keyboard. This things been around for a while. As long as you know it's limitations it's a nice little keyboard. Very comfortable!

i have been using one of these everyday for 4 years now with my corp laptop at my desk, LOVE it. for what it is it is a fantastic keyboard to type on

I prefer small keyboards & am definitely interested in this keyboard.

We have machines that are 2 generations behind and the old style pin-connected peripherals at my job, which I GLADLY eschewed for the Arc Set (keyboard and touch mouse) my work set up is now clean, modern, sleek and simple, I love it! =P

Have owned one for years, love it!

A white version of this was in the 2009 Office Future Productivity video even though it didn't get released to the public until 2010 :)
I have one I was using for a while and I've given it to a PA at work to try out (that was a month ago and I don't think I'll see it again) - she loves it because her desk has limited space for a keyboard due to all the paperwork she always has laying around, so the small light form factor and wireless combined results in the perfect keyboard for her.
Myself - I found it quite nice simply because it wasn't a full sized keyboard so didn't chew up as much space on the desk as well. A Bluetooth version would definitely be a winner as well.

Accessories from Microsoft are really decent...

I use the solar-powered Logitech K750 as my main keyboard at work. It's fantastic, and makes me wonder why all keyboards aren't solar powered. Though a (rather petite) co-worker uses the Arc and likes it, except when she has to change her batteries.

It's my daily driver at work... I personally love it and haven't thought twice about replacing it.

the sudden appearance of a review for a device of its age is not strange given its a site covering a platform that is constantly behind (wp). I've had it for over a year and I got mine for $25 from memory express in Canada. recently replaced it with the MS one with the built in touchpad, also $25 but from best buy, as having both mouse and keyboard on one device and more importantly, 1 usb port works well for my Surface.

Which MS one did you replace it with?

This comment is in no way to relevant but just wanted to type something from my new 925! WOOOO :D CM is amazing <3 Ok, back to your previous content c:

Decent keyboard. Used it for about 2 years until I got a Logitech one thats more comfortable though. If you need a small keyboard and are a simple user, it should suit your needs.

Even the Surface Team has released a backlit keyboard.

I had it since 2011. I hate this keyboard. Cheap made, your spit shows everywhere, keys are too spread apart for accurate typing.... and it smudges very easily back and front

I have had one since 2010. I love the wide bezel makes it easy to grab without pressing keys. I use with my HTPC. Not to mention my three year old has been throwing it around for the past year and it still works great.

In the rocker keypad,can we press two keys at the same time......??
For ex while playing a game,is it possible to press the up key and right key simultaneously....??

Not for gaming, obviously.

Can I use it with my XboxOne?

From the review: "I also tested it out on Xbox One with mixed results. Moving through the menus was just as good as on Xbox 360, but the Windows key did not work. Esc worked like the Xbox One's B button, cycling back through your last accessed apps, even though it performed no function on the Xbox 360."

A review for a four year old product? Really?

You may have noticed that we didn't really cover Windows and PC accessories very much until recently. The Arc keyboard may have come out a long time ago, but it is still on the shelves, ready for one of our readers to potentially buy it.

I had one of these--I decided I wanted to reduce the footprint of stuff on my desk--but the lack of arrow keys was a deal-killer for me. I write (and edit) a lot, and taking my hands off the keyboard to use a mouse isn't really practical much of the time. Too bad, because except for that problem, I thought it was an excellent keyboard!

arc mouse is good but not the keyboard.

I have one of these plugged into my XBox One. Works pretty well but I wouldn't use it for a desktop.

I kind of dig the look of it, but I couldn't really get use out of it. I'm a programmer, I need the numpad and all my Fkeys easily available. I actually keep 2 keyboards at home. One for work, and one for gaming. This one wouldn't be too great for either. I CAN however see it as an ok travel keyboard. Maybe throw it in a conference room for presentations.

It could be good for someone with a PC strictly as an entertainment center maybe, or a living room gaming PC (with a controller)

As a Microsoft fan, their hardware line is one of the few things that I don't feel like I have to stand up for, as it speaks for itself! After a decade of mice, keyboards and joysticks (Logitech or whatever), I discovered the old Sidewinder 3D joystick, which was the best I had ever used. Upgraded later to a Sidewinder Force Feedback, and shortly thereafter bought a Microsoft optical mouse. That darn thing lasted so many years! Same thing with my Microsoft Natural Keyboard 4000. For our anniversary this year, my wife surprised me with the Microsoft Sculpt Desktop, and all I can say is WOW. Gorgeous, functional, amazing. Probably the nicest set of peripherals I've ever known (weird F2 key problem aside). So, back to this keyboard, it shares a lot with the Sculpt Ergonomic keyboard. Because I type so often and don't care for my wife's Surface Type Cover, I've been holding off on buying a Surface keyboard. Since it has a USB port, I may well pick one of these up for my trusty Surface RT! Unless any of the naysayers here has a nice one they'd like to sell me on the cheap, that is. ;)

This vs the sculpt keyboard? Anyone have experience with both? I just ordered the sculpt and it should be arriving soon.
Windows Central Newsletter
Thank you for signing up to Windows Central. You will receive a verification email shortly.
There was a problem. Please refresh the page and try again.