Review – Microsoft Wedge Mobile Keyboard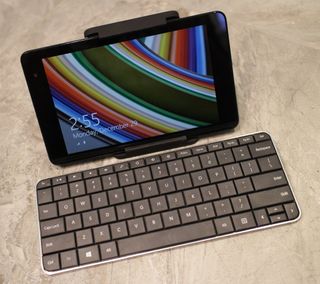 We give a lot of attention to the Surface Pro 3 here at Windows Central, but I realize that not everyone uses one or plans on getting one. There are many other great Windows 8 tablets out there that do not have their own keyboard option available, so today I am taking a look at the Microsoft Wedge Mobile Keyboard.
It is cute little devil with a lot to offer the tablet user who is often running around from place to place.
Design
Much like its companion, the Wedge Mouse, the Wedge Keyboard is a compact and minimalistic device made up of matte black plastic keys accompanied by a shiny silver trim.
The entire keyboard is about the size of the Type Cover's keyboard on the Surface Pro 3. It includes many of the same dual-function F1-F12 buttons as the Type Cover as well, like Search, Charms, Settings, and Devices, but also includes music/volume controls. Esc doubles as the keyboard's power button, and there is an additional key that works like a right-click in applications.
On the bottom of the Wedge is a riser that gives the keyboard a slight tilt for better ergonomics. This bump also houses the tray for the two AAA batteries that provide power and is where the Bluetooth pairing button resides.
To top it off, the Wedge Keyboard comes with a rubberized cover that snaps on over the keys protecting them while in your briefcase or bag. We'll get back to this in a bit.
Setup
Getting started with the Wedge Keyboard is as easy as popping in the batteries and choosing it in your Bluetooth device settings. Once discovered, the PC will prompt you to type a six-digit code on the Wedge and press enter. Then pairing is complete.
Using it
Because of its diminutive size, typing on the Wedge Keyboard takes a little getting used to. However, if you can type comfortably on a Type Cover, then this shouldn't be an issue for you. I find the buttons on the Wedge better to type on than the Surface Pro 3's Type Cover. And it is leaps and bounds better than the earlier-generation covers.
That rubber cover that I mentioned earlier even doubles as a tablet stand. It bends in the middle and grips the top and bottom of your device to hold it upright as you type. Brilliant! And once it snaps on to cover the keys, the Wedge Keyboard automatically powers off.
The person who will truly benefit from this device is someone with a small tablet, like a Dell Venue 8 Pro, who often works on the go. It is a very compact and serviceable keyboard that is made for travel.
In summary
Unlike the Wedge Mouse, you probably wouldn't want to use this keyboard as your primary one at home, though it is great for keeping in your laptop bag or even some sleeves. So it really depends on your need.
The Wedge is a well-thought out, perfectly-designed keyboard for niche users. It packs a lot of functionality in a subtle form factor, providing a tiny workstation for your touch-based tablet.
The retail price of $79.95 may deter some folks from going with the Wedge Mobile Keyboard. However, you can pick one up on Amazon for only $48.95. That's a pretty good price for a 'little giant' of a keyboard.
Related Reading
Get the Windows Central Newsletter
All the latest news, reviews, and guides for Windows and Xbox diehards.