Review – Microsoft Wedge Mobile Keyboard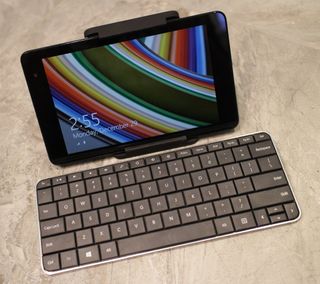 We give a lot of attention to the Surface Pro 3 here at Windows Central, but I realize that not everyone uses one or plans on getting one. There are many other great Windows 8 tablets out there that do not have their own keyboard option available, so today I am taking a look at the Microsoft Wedge Mobile Keyboard.
It is cute little devil with a lot to offer the tablet user who is often running around from place to place.
Design
Much like its companion, the Wedge Mouse, the Wedge Keyboard is a compact and minimalistic device made up of matte black plastic keys accompanied by a shiny silver trim.
The entire keyboard is about the size of the Type Cover's keyboard on the Surface Pro 3. It includes many of the same dual-function F1-F12 buttons as the Type Cover as well, like Search, Charms, Settings, and Devices, but also includes music/volume controls. Esc doubles as the keyboard's power button, and there is an additional key that works like a right-click in applications.
On the bottom of the Wedge is a riser that gives the keyboard a slight tilt for better ergonomics. This bump also houses the tray for the two AAA batteries that provide power and is where the Bluetooth pairing button resides.
To top it off, the Wedge Keyboard comes with a rubberized cover that snaps on over the keys protecting them while in your briefcase or bag. We'll get back to this in a bit.
Setup
Getting started with the Wedge Keyboard is as easy as popping in the batteries and choosing it in your Bluetooth device settings. Once discovered, the PC will prompt you to type a six-digit code on the Wedge and press enter. Then pairing is complete.
Using it
Because of its diminutive size, typing on the Wedge Keyboard takes a little getting used to. However, if you can type comfortably on a Type Cover, then this shouldn't be an issue for you. I find the buttons on the Wedge better to type on than the Surface Pro 3's Type Cover. And it is leaps and bounds better than the earlier-generation covers.
That rubber cover that I mentioned earlier even doubles as a tablet stand. It bends in the middle and grips the top and bottom of your device to hold it upright as you type. Brilliant! And once it snaps on to cover the keys, the Wedge Keyboard automatically powers off.
The person who will truly benefit from this device is someone with a small tablet, like a Dell Venue 8 Pro, who often works on the go. It is a very compact and serviceable keyboard that is made for travel.
In summary
Unlike the Wedge Mouse, you probably wouldn't want to use this keyboard as your primary one at home, though it is great for keeping in your laptop bag or even some sleeves. So it really depends on your need.
The Wedge is a well-thought out, perfectly-designed keyboard for niche users. It packs a lot of functionality in a subtle form factor, providing a tiny workstation for your touch-based tablet.
The retail price of $79.95 may deter some folks from going with the Wedge Mobile Keyboard. However, you can pick one up on Amazon for only $48.95 (opens in new tab). That's a pretty good price for a 'little giant' of a keyboard.
Related Reading
It's beautiful! I would love to try it out!!!

I have this keyboard along with the Wedge Mouse. It's fantastic for when the Surface Touch Cover doesn't quite cut it.

I was using this with the Microsoft Sculpt Comfort Mouse and a Lenovo ThinkPad 8 tablet for a while. It was a fantastic solution and allowed me to leave my regular laptop at home when traveling. I still use it occasionally but it's mostly been supplanted by the Venue 11 Pro (although I still use the Sculpt Comfort Mouse with that).

If it had a little trackpad I would go for this right now!

To bad Logitech has largely lost interest in these types of Bluetooth keyboards

I had this keyboard and it's very pretty, but I like the Logitech K810 better. The keys feel nicer and are backlit on the Logitech.

I often use my phone for that in a pinch, on my wife's Venue 8 Pro, with this keyboard. PC Remote Pro is excellent for that purpose (general media PC remote, and remote webcam viewer as well).

Is it also compatible with Nokia Limia 1320 ??!!

Probably not until they takeover the OEMs job of managing the Bluetooth stack. Even then I doubt low end devices will support it

Its my understanding that WP does not support bluetooth HIDs (human interface devices) at this time. With Windows 10 this will be different hopefully.

WP8.1 GDR2 will support HID.

http://wmpoweruser.com/microsoft-acknowledges-wp8-1-update-2-finally-brings-bluetooth-hid-support/

I use this in my office setup. I needed something that was tiny and would hide away under my dual touchscreen/wacom setup. Awesome keyboard.

Needs to work with WP10
.......
I've actually sat and typed up long word documents on my 1520, and that was extremely handy... This would make it even better❕

Any keyboard which could impede any typing from you I fully support.

Lol❗❗❗ Naaawww. You love the thought of my fingers moving... Especially my index finger.
................
Now, NIST... MS needs to make the next 1520 with a tiny little projector in the middle of it's right side, so that when placed in landscape mode on a surface it would project a keyboard... These are the kinds of things that MS needs to start getting bold with to compete with Samsung, and Apple...

Nooooo MS don't take this as uservoice suggestion. Don't waste your time and energy on stupid ideas like this.

With a projector on board is that the best you could imagine that can be done? Projecting a keyboard?? And that's not an original idea either. This has been around for sometime at least apple fans know about it. I see you have got big fan following here. I take everything back. You are right. Great idea. MS should make this.

Who said anything about this being the best, or most innovative, idea competition? WTF are you talking about? I'm just mentioning something that I think would be useful... If you don't like it then you can move along.. Lol. Simple as that..
........
What was your point again?

You and your fantastic ideas. Smh...

Lol!!!!!!!!!!!! ⬆hats YOUR boy, NIST.
..........
Lets not forget about your ideas, NIST... Like that Christmas costume... Lol!

"Who said anything about this being the best, or most innovative, idea competition"
My bad I had no idea you were here to troll. "I'm just mentioning something that I think would be useful.." I replied to you that this will not be as useful as you think. "If you don't like it then you can move along.. Lol. Simple as that.." I don't like "your idea" and I will ignore your "ideas" henceforth.
"What was your point again?" For someone who posts what he likes it would be very difficult to understand so lets all just coexist with limited interaction.

It's how you react.... "Don't waste your time and energy on stupid ideas like this""
.............
1.. You're an idiot.
2. Fuck off.... It's that simple, and if you don't like my comments, or they bother you that much, then just ignore them... Because, there's plenty of people who can disagree with me without being an asshole for no reason... So, F##k you❗
...........
And, before you open you dumb ass mouth again let me remind you that I said F##k you! That means that at this point nothing you say is getting through.. I don't want to hear your bitch ass whining, and I'm not going to sit her and argue with you any further.. You can go cry to your mom about whatever dumb ass point you have to say next.... Nevertheless, I'm sure you'll try again... But, ⬆hats my last reply... As a matter of fact, never, ever, reply to any of my comments again... That's a warning.

Hey, I've got a pool full of Jell-O and some really skimpy bikinis I could loan you two. Sandeep vs Rodneyej for the intercontinental championship! LETS DO THIS!!!

Lol!! That dumb a$$ doesn't want to tango with me.. Must be some 18 year old punk who has thinks he's messing with another dumb a$$ like himself... He's gonna need a pool full of Jell-O because that's all he's gonna be able to eat.. Lol

We already got one... I'm too big, so we came back.

Great keyboard, one of the best I've ever used. It's a little small but that's the point.

This would go well with my miix 2 8"

I have this paired with the dell venue 8 pro and it is UTTERLY FANTASTIC. Very comfortable typing experience. I agree that I prefer the typing experience on the wedge over the sp3 type cover. And the bendable wedge cover is nothing short of BRILLIANT. Why I chose this over the OEM dell keyboard was that this works with any tablet. Also, the cover that doubles as a stand allows me to work with the screen in portrait orientation, which most stands DO NOT allow. This makes document work a zillion times better! Like typing a doc in Word 2013 on the venue 8 pro allows me to see a full page view larger than I could on the SP3 with type cover! It greatly enhances the WORK aspect of these small tablets to be competitive with larger tablets or laptops. In this regard, the Wedge is absolute king.

The matching wedge mouse is nice too, though the scrolling is iffy.

yep! I use a wedge mouse and wedge keyboard with my dell venue 8 pro as well. Very nice keybaord to type on and have on hand for any other device... Compact, clean, efficient.

I loved this keyboard when Apple made it. So im sure the Microsoft one is just a great.

I bought this a couple of years ago to use with a Kindle First. Don't use it that much as I learned to Swype soon after, but it it a nice keyboard for the intended purpose. If i remember right, I got it at Best Buy for 40.00 with a Amazon price match. Highly recommended.

¿How many inches does it support?

How long does it last with the batteries?

I'm on my second set of batteries since the launch of the original Surface RT with daily office use.

Thats pretty impressive. Thanks!

A very long standby time. The unit is only on when the cover is off... So, keep the cover on when not in use. I have only replaced the batteries once in a year... Now... During this time.i still had a surface with their respectable keyboards and laptops... So the wedge keyboard ans mouse are only used with my venue 8... Which I have had since January 14... Needless to say the wedge combo ans the venue pro 8 are with me the most :)

Cool. Yeah I'm planning to do this keyboard+8inch tablet setup as backup pc. Thanks!

I love it, but i´m already waiting for the Universal Mobile Keyboard in my country to replace it.

I've used one since the launch of the first generation Surface RT as my primary office keyboard. I love it, great battery life, reliable connection, and robust travel. A few people make the "that is so tiny" comments, but I haven't had a problem and I am a six and a half guy with big hands.

Excellent keyboard. Space saving. Keys feel good. The arrow keys in the corner make it hard for gaming though. I like the feel of them. And the plastic slipcover doubles as a tablet stand. I use it with my surface pro 1 all the time.

Why does MS hate the Insert key? The only beef I have with my SP3! Posted via the Windows Central App for Android on my BlackBerry Passport

I believe for most users... It never gets used... First on the chopping block... A legacy key where too many convenient options allow its original function lost.
I feel you, but we can't have it all... I love a numeric keypad, but I only need it a few mins a day. For a keyboard ans portability... I need space, well placed keys, and comfort a lot more.

Wish they'd lose the Caps Lock key. So useless.

MEE TOOOOOO!!! LOL! Just messing around with the Caps Lock... but Seriously I wish they would drop that and other keys from the past. Shoot... the island of pgUP,down...home, end... etc is all a relic of a bygone era. The only keys I say keep are function and make them dual purchase like on the wedge keyboard... That way, people can set or use f1-12... or what every hotkey they want...

Cute! I still find Home and End somewhat useful - they jump you to the start and end of a line, which can be handy when writing.

I might get one of these for my venue pro 8. The thing I don't like about the Dell keyboard for it is you can't use it with anything but venue tablets.

I do not like proprietary software/hardware... That's why I bought this keyboard... I can use it on anything tablet or not... I have it with dell venue pro.8 majorly, but it it has been paired to an IOS device, android, and desktop computer. For the price $50 or so, the hardware, the functionality, and design.no better choice out there... You are not buying a brand or some device with an apple logo premium. This is a find device and Microsoft's logo ans such is mistakenly minimum. They need to boast of this fine hardware... But that's why it is even better... They don't... Clearly it is a great device first.

Wasn't this released like a year ago

I got both wedge mouse and keyboard, same spec. I use then with my surface pro 1. I'll be honest they're horribly uncomfortable to use but I only use them as adhoc or when just showing off. They're kinda cute looking though.

Would ruin the 1520's great battery life. The on screen keyboard is good on the 1520

It would have no more battery life impact than any other Bluetooth device. I use mine with Bluetooth speakers quite often.

One of the best features is that it uses Bluetooth instead of requiring a USB transceiver. Too bad Microsoft's recently released keyboard with a trackpad is of the latter variety.

I use this with my HTPC in those rare instances I have to type a password or something. It doesn't take up much space on the coffee table, and it wakes in a second. I use the wedge mouse more in those instances I have to apply Windows updates or use other applications. They work well together.

I was soooo excited when I saw this Headline because I thought it was heralding the arrival of BT and WP compatible keyboards. Sooooo sad to learn the truth. I will be very happy when they make WP work with BT keyboards.

Keys look cheap. Labeling on the keycaps are just decals ... $50 is too much for this kind of quality
Windows Central Newsletter
Get the best of Windows Central in in your inbox, every day!
Thank you for signing up to Windows Central. You will receive a verification email shortly.
There was a problem. Please refresh the page and try again.