Review: Moko Smart Shell for Surface Pro 3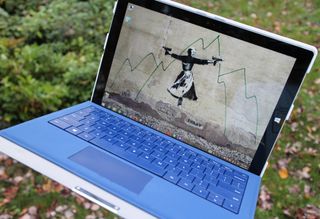 The Surface Pro 3 is hands down one of the best personal computing devices out there, Windows-based or otherwise. But even the low-end models can be costly, so you want to make sure you do what you can to protect your investment.
MoKo makes a variety of cases for the Surface Pro 3. Today we take a look at the MoKo Smart Shell cover, protective and stylish case.
The MoKo Smart Shell attaches by clipping onto the back of the Surface. It is made of rigid plastic that could seemingly take its fair share of abuse. The plastic backing is hinged in the middle to allow it to bend when using the Surface's kickstand. The shell clips onto both the body and kickstand. Opening and adjusting Surface's standing position is a breeze.
As expected, the snap-on shell has cutouts for all of the jacks and buttons. There is ample space around the USB port to fit most devices that you would plug in.
The Smart Shell also has a flip cover attached to it that covers the screen when not in use. In a fine point of detail, the two sides of the case are magnetized, so it stays closed. Unfortunately, this feature doesn't work when you have a Type Cover attached to your Surface. Sadder still, MoKo failed to include an elastic band on the cover, like they do on their other cases, to keep it closed when a keyboard is attached.
So while the MoKo Smart Shell could likely save your Surface from a fall while closed, it could quickly fly open on its way down to the ground, leaving it exposed to possible damage.
Initially, I criticized this case for not having a pen holder. It turns out that it is just neatly tucked away in the top corner. There is a slot in the top right of the case, where you can slip the clip of the pen.
Flaws aside, there is a lot to like about the MoKo Smart Shell. It is thin and light, so it won't add much extra to your Surface Pro 3. It also has a faux leather skin that both looks good and adds traction in your hand.
The Smart Shell also comes in nearly thirty different colors and designs, ranging from flashy to business casual. You can choose from flashy colors to basic black or brown. There are also floral patterns and carbon fiber to add some zing.
The MoKo Smart Shell is a decent balance between function and form. It will give you satisfactory protection and aesthetic appeal. If it weren't for some oversights, like the lack of an elastic strap, it could have been a home run.
The case retails for about $50.00, which is rather steep for what it is. We found it on Amazon (opens in new tab) for just under $23.00. That makes the MoKo Smart Shell much more appealing.
Love the wallpaper. Do you have a link for it?

Not sure where I got it originally, so I don't know to give credit to. But here is a link I found.

Yeah, it is definitely in Banksy's style, but I am not sure if it is him, or just a tribute. Didn't want to assume. There is also a signature at the bottom that says "Tabby" or "Taddy." That might be whoever created the wallpaper.

I don't want anything partly covering my vents on such a small device especially if I am I playing Xcom on it like I do from time to time. The right side gets hot.

Urban Armour makes a good case too.

The thing about the surface pro 3 is that its beauty lies in how sleek and elegant it looks. By adding such a bulky armor to it to "protect" it you're ruining its beauty. So its really upto you to choose protection or beauty. I personally choose beauty for now and when it gets ruined, scratched or dented , I will get an armor or a skin to hide whatever it it

I chose beauty AND protection by buying the accidental damage warranty.

Becareful even with the warranty. What the store didn't tell me is that the whole process takes about 2 weeks and you are not getting a new one but a refurb. I'm the guy who dropped is four days into owning it

Nope, whoever told you that is wrong. I had a Surface Pro 1 that got some water damage shortly after Pro 3 came out. I took it into the store, they charged me the $50 deductable and I walked out with a brand new Surface Pro 3, including the Type Cover 3. My fiancee's Surface Pro developed a problem where the keyboard would no longer be recognized. We took it in, they tested with a couple other keyboards and verified the problem was with the Surface Pro itself. She, too, walked out with a brand new Surface Pro 3 and Type Cover 3. Only in her case, they didn't charge the $50 fee.

This happened to me about 1 month ago. The service guy told me that this rule recently changed and they're no longer doing swap outs. The person that explained the plan when I bought it forgot to mention this.

Same here. Microsoft Complete is a really sweet deal. $150 and I have full support for hardware and software, and only a $50 deductible if I damage it and want a replacement.

According to the Amazon page, it shows (2nd to last image) that there is a cutout in the top right corner of the casing where you can attach the pen. Unless your version doesn't have that?

Duly noted. Completely missed that! Will edit the post.

No way will I make my pro 3 fatter and heavier with one of these ugly things.

It does add a little bit of girth, but the weight is negligible.

Can you do more reviews for surface pro 3 cases? And thanks for this one, I actually had no idea there were cases even made for them! Lol

Just ordered another case today. ;)

I actually own this case and there is a slot in the upper right corner to slide the pen clip into. And I only use the case for transport because it is a bit bulkier than I prefer.

I found this one on Amazon. I like it a lot. http://www.amazon.com/gp/product/B00KTY6DB2/ref=oh_aui_detailpage_o08_s0...

I dont even have an SP1/2/3 and agree this is way better. Thin, elegant, and seems more user-friendly. Plastic is for children's toys. Aluminum and leather FTW!

Additionally... Every plastic case I've ever bought cracked or damages the devices. I've had several. Hard rubber and leather are very nice. I use the S cases on eBay for all my phones. Adds grip and they're thin and work fine. Simplicity really is the way to go.

I got the black one (cheapest version). I'm deploying with the SP3 so I'm not too worried about hiding the SP3's sleekness and such. I'm more worried about small bumps and bruises.

Any chance it works with the dock ?

How about a video review showing hands on in action? It doesn't have to be long, just shows it more in use.

I just got 6 of these cases for the new SP3s I got for work. They work pretty well, can be a little loose at the top when the kickstand is extended though.

If you don't use your Surface Pro 3 for rugged use or if you never put it in a hazardous situaton then it would seem criminal to hide its beauty with a cover. The same could be said with any mobile device. However, I carry my Surface around everywhere I go. Most of the time I slip it into a folio so I can just remove and use it in all its glory. But sometimes I take it in a factory and I would certainly like to have a cover "just in case". What I really want, however, is a cover that allows me to hold the device firmly with one hand so I can use the pen in the other. Something with a strap that I can slide my hand into would seem to work well. Is there anything out there that does the job well for the Surface Pro 3? I do agree that it is a pity that the Moko Smart Shell does not have a way to secure the flap while the type cover is connected. Almost a waste IMO.

Hi, I would like to know how can you remove the case. I just bought it and I have no way to remove the top. Thanks

I purchased the urban armor gear case for the pro3 that was reviewed a few weeks back and i have to say, for the $20 price difference, I like it a hell of a lot more. This case that Urban Armor Gear makes is freaking tough. If you are looking for a case that feels like it offers real protection, I would get that one instead.

someone should make like a clamcase shell for the sp3 that somehow encapsulates both the sp3 and the type cover, and makes it hinged like a laptop, i like the way the sp3 is, but just sometimes i would like that balance and resistive experience of a hinged laptop which stays as is whilst you are fumbling around and lapping at same time
Windows Central Newsletter
Get the best of Windows Central in in your inbox, every day!
Thank you for signing up to Windows Central. You will receive a verification email shortly.
There was a problem. Please refresh the page and try again.