Review: Motola MotoROKR S7-HD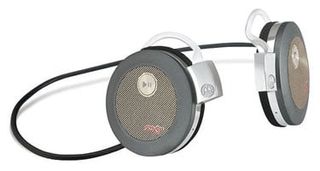 Frequent readers of this space will recall that I am on a never-ending quest to acquire the perfect Bluetooth stereo headphones. Several aspiring candidates have come and gone (Motorola's S9-HD, Jabra's BT3030, et al); all have left room for improvement, none have completely won me over.
And so the saga continues with another offering from Motorola, the MOTOROKR S7-HD. Not one to be constrained by standard naming conventions (where later models will have progressively higher numbers), the S7-HD is a successor to the S9/S9-HD headphones. While the S9 series is a designed as a single piece that goes behind the head and over each ear, the $69.95 S7-HD's are of the over-the-ear variety with only a wire connecting the two earpieces.
All of the minutiae regarding the S7-HD headphones are on the other side of the break.
Features
Let's get the routine stuff out of the way first. The S7-HD supports A2DP as well as AVRCP. The headphones feature 30mm drivers and SRS WOW for improved audio quality. Charging is accomplished through a miniUSB port; a miniUSB cable is included, but a wall charger is not.
Since the S7-HD's fully support AVRCP, you can control your music playback without touching your phone. An outer ring located on each earpiece controls volume (left ear) and track selection (right ear). Play and pause control is handled with a more familiar button located on the right earpiece. The left ear also features your call button, in the case that you actually use these to perform phone calls.
Usability
Pairing a Windows Phone with a Bluetooth device just keeps getting easier. Not really anything to comment on here except that pairing was easy and everything worked as it should to get the headphones working with my phone. Both the Hands Free and Wireless Stereo profiles are supported.
Over all, the controls are easy enough to use. Motorola decided to forgo the common multifunction button and actually gives you a power switch with which to turn your headphones on and off. The play and call buttons could have been a little bit bigger and there isn't much feedback when the buttons are depressed, but they are usable enough that you don't notice after a while. The rotation controls for volume and track selection are a cool idea, but can be a little awkward to use as these headphones do go over your ears. I found myself actually rotating an earpiece off of my ear every once in a while when trying to skip to the next track or turning up the volume.
Wearability
I really (really, really) like the form factor that Motorola came up with for the S7-HD. My biggest complaint for the S9-HD's was the fact that most of the weight resided at the back of your head, causing bouncing and fit issues (particularly when running or participating in other high impact exercises). There is no such worry here, as the only link between the two earpieces is a wire connecting the two.
Unfortunately, the wearability factor is where Motorola really dropped the ball in my opinion. The ear clips that go over and behind your ears in order to hold the earpieces in place are made of flexible plastic, which isn't an issue by itself. My real problem is that there is no hinge or slide mechanism other than the flexibility of the plastic to customize the way that the ear hooks fit. For something that I would consider to be a high to premium level pair of headphones, I think Motorola could have done better.
Look
You're not going to look like a total geek wearing these headphones, but they're not the most stylish design either.
Quality
Sound quality is about what you would expect from a pair of decent headphones. As with any headphones the sound quality gets much better if a proper fit or seal can be accomplished. All of the materials are good quality, including the ear hooks. The wire connecting the earpieces is thick enough that it doesn't tangle easily, but thin enough that it still allows for good flexibility. Weight isn't really an issue, but the battery still gives you around 8 hours of play time.
Conclusion
Another swing and a miss as far as this perfectionist is concerned, although by a considerably smaller margin this time. The S7-HD is definitely usable, and will be my headphones of choice until I can find something that I can't argue against. A couple of tiny complaints are all that keep the S7-HD's from being the perfect solution. Complaint number one is the lack of any hinges on the ear hooks. I really don't understand how those could have been left out of the design. My only other complaint is the lack of a real charger. Personally I can get by with just using USB power, but this could be a big deal for some.
If Bluetooth Stereo Headphones are your cup of tea, do some shopping over at your favorite store. You can pick up your very own Motorola S7-HD's for $69.95.
It's worth noting that finding this particular product on Motorola's website is impossible. Browsing and searching have both been attempted to no avail. The packaging points you to motorola.com/S7 (opens in new tab), which gives a "Page Not Found" error. Insert morbid jokes about the demise of the Motorola giant here. If you do purchase a pair of the S7-HD's, hold onto your manual. It might be hard to get an electronic copy from Motorola.
Swipe to scroll horizontally
| | |
| --- | --- |
| Ratings (out of 5)Features: 4Usability: 4Wearability: 3Look: 3Quality: 4Overall: 3.5/5 | ProsWeight distribution is flawlessConsNo hinges on ear clipsControls can be a difficult to use |
Windows Central Newsletter
Get the best of Windows Central in in your inbox, every day!
George is the Reviews Editor at Windows Central, concentrating on Windows 10 PC and Mobile apps. He's been a supporter of the platform since the days of Windows CE and uses his current Windows 10 Mobile phone daily to keep up with life and enjoy a game during down time.
Great review except for one thing. How usable is the S7 for phone calls??? The S9 (at least the non-HD version) and the 820 or whatever the model number was for Motorola's previous over-the-ear A2DP headsets really, really sucked for phone calls. The reviewer doesn't seem to care about phone calls but, if you are listening to music and a phone call comes in, you should be able to take the call and carry a conversation without having to switch headsets. Can you hear the person you are talking to? Can the other party hear you and *understand* what you are saying? Does the phone audio sound through both ears or only through one? (stupid S9 and its one-ear phone audio)

FYI, I have the newer S9-HD model, and it actually plays the in-call audio through both ears. I also suspect they have upgraded the mic or noise cancellation in the HD version because I actually have pretty good response from people I speak with that they can hear me pretty well (better than my last BT headset, actually). You might want to check out that model.

The S9 headset is the most uncomfortable thing I've ever worn. Given that the S9-HD retains the same form factor, I don't have expect a better fit. Plus battery life is just as miserable (if not worse) than on the original S9. Glad to hear Moto at least did fix the one-ear phone audio issue because that was too fricking retarded.

Thanks for the comments. Unfortunately I tend to overlook the phone functionality of stereo headphones because I don't use them for that purpose. The S7 handled phone calls fairly well. Suprisingly, I had more issues with sound quality than the person on the other end of the call did. Sound was in stereo, but just wasn't the kind of quality that I would hope for out of something like this. Also, I wouldn't even attempt using these in a noisy environment.

I agree that if I'm just handling phone calls I don't want to use an A2DP headset. But like I said, when I'm listening to music and a phone call comes in, I want to take the call without having to swap headsets. That's why I do pay attention to phone call performance of A2DP headsets and why I wouldn't buy an A2DP headset that I intend to use with a cell phone, if it doesn't support phone calls too.

Interesting review, however hard to judge if you haven't tried any of the sets compared. I was wondering if you ever tried Sony's DR-BT50, or follow-up DR-BT101. Why? Well, my DR-BT50 is an amazing package. The cups offer great sound, much better than my Shure in-ear buds (which never want to stay in-ear for longer than 10 minutes) and it's got an invisible but functional microphone. But the thing that makes it stand out from any other A2DP device I've used would have to be its amazing battery life. I get two weeks worth of listening music, with an average of 2 hours a day. Easily five times better than any other set I've tried. I only wished they had the Panasonic RP-HTX7PP-W's retro stylishness :) I can imagine you're hesitant because of size or price, but to me they're absolutely worth it. I'm curious for your verdict of the DR-BT101.

Have you tried the Helium Digital HDBT-700 BT headphones? I've been using these for a while and found them much better than most of the Motorola and other units I tried. Compact design, lighter than almost anything else, great battery life, etc. Cons are that it's not foldable and sound quality won't match a high-end ear-covering unit (for which I'd use a wired pair anyway), but overall a very solid pair IMO. http://www.heliumdigital.com/shopping/shopexd.asp?id=65&bc=no

Do you know what is part no. of this headphone? It starts with SYN no. I can order bluetooth parts in large quantities for very cheap using part no. Thanks.

Have you found any better blue tooth headphones than these to date? Also, are these good for the gym? (background noise, etc.)

I've had this headset for almost a year and I've had to have it replaced by Motorola three times because it keeps breaking. My other major complaint about it is that the way the headset fits onto your ears is flimsy at best. The headset keeps slipping off my ears and turning your head will sometimes jostle it loose. Someone could easily come up from behind you, grab the wire and pull it slightly and the headset will come flying off. So it's not good for the gym at all. The best place to use it is seated perfectly still on the bus or train, although the volume seems to be too low for these situations sometimes. The sound quality is decent but with all its other problems, I cannot recommend this bluetooth headset to anyone else, as your money would be best spent elsewhere.

The strength of this unit is in it's comfort and functionality. I was looking for a comfortable headset that did not sink from outside sounds. S7HD and used wire to connect to the 2 speakers over the ear. The headsets and excerpts from the special behind the ear. This is more comfortable than ear buds for me.
Windows Central Newsletter
Thank you for signing up to Windows Central. You will receive a verification email shortly.
There was a problem. Please refresh the page and try again.