Review of Mozo color and wood covers for the Lumia 950 and Lumia 950 XL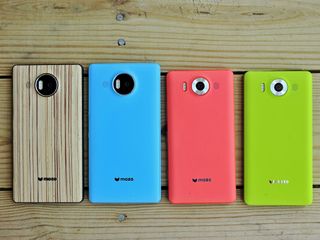 The Microsoft Lumia 950 and Lumia 950 XL get dinged from users over the thin, plastic back cover that ship with the phones. Luckily, Finland-based Mozo, which is comprised of some ex-Nokians, have stepped into saving the day with the premium replacement back covers.
I managed to get my hands on the latest Mozo cases featuring new color options like Blue, Coral, and Green. Additionally, Mozo is making some "wood" cases like the Zebra Wood variant I have on hand as well.
So, how are they and which is the best? Let's find out!
Oh, the colors!
Blue, Coral, and Green can now adorn your Lumia 950 or Lumia 950 XL thanks to Mozo. The replacement covers are not cheap at $50 a pop, but they are high quality and let you maintain Qi and NFC on your Windows 10 Mobile device.
According to Mozo, these covers are made from "high-quality PU", which is also known as Bycast or Reconstituted Leather. However, I can say it does not quite feel like that instead it has more of a nylon effect. As you can see in my macro photo below, there are small lines that add texture to the cover and the effect is a very smooth finish allowing the phone to slide easily in and out of your pocket.
I find all of this interesting if only because I think many of us were expecting a polycarbonate design (aka plastic). Instead, the materials used give this a much more premium finish and feel with some slight texture too.
The sides of the covers use a smooth rubberized color matched paint that feels magnificent in the hand.
The back cover clicks into both the Lumia 950 and Lumia 950 XL and feels very solid with no creaks or gaps. Of course, there are appropriate pinholes through for the two rear microphone holes on both devices and their speakers.
It's too early to see if they will collect dirt over time. Due to the covers being more leather/nylonish I suppose they could get dirty, but at the same time, they should be easy to wipe down as the teeny grooves are not very deep.
My favorite thing about this color replacement back covers is how thin they are compared to the very popular leather ones. In fact, they feel very similar to the covers that ship with the phones regarding their profile. Granted, they are slightly thicker and more premium, but I do not feel like these are bulking up my phone. The leather ones, while moderately thin do change the way the device feels for thickness and size while these do not. They just feel better.
Image 1 of 4
Overall, I like these color covers so far and give them a big thumbs up if you are considering purchasing them. The colors all look great, and the feel unique, and smooth. Plus, it's super exciting to see my Lumias now all colorful and happy looking.
Oh, and if you are wondering which color is my favorite it's green. Blue and Coral are fantastic as well, but this Green, which is more a yellow/green, is great looking with a blue lock screen and blue Glance enabled.
Let's get oaky
Besides the new color back covers Mozo has three wood options now available too, including:
Light Oak
Zebra Wood
Black Walnut
All three sell for €49.50 or about $56. At the time, I only saw the Zebra Wood one being offered otherwise I would have opted for maybe the Black Walnut version, which looks super elegant.
First things first: these are made from real wood! Once again, in my macro shot, you can even see the wood fibers that make up the cover.
What's interesting is the wood is not lacquered as you may expect. Instead, it feels similar to a corkboard with a soft, smooth touch. You can feel those wood fibers (it's almost fuzzy) and it's a unique experience. The long-term question is how such material will hold up, which we'll have to wait and see.
Like the color cases, these feature a rubberized paint on the sides (shell) and are black. It's a great look and rubberized paint always feels super smooth and great to hold.
These cases are always relatively thin and are still lighter than the leather options. Due to the soft nature of the wood, it's not quite as even on the back where the NFC and Qi reside, giving an almost imperceptible bump. It is not a big deal, but I figured I would point it out.
Overall, the wood back covers are also highly recommended. I would say these give a more conservative, classier look to the color covers, but I like bold so Green it is for me for now. From the front, the wood covers keep the very somber, black look to the Lumia 950 and Lumia 950 XL due to the black shell/sides whereas the color covers let their vibrancy peek in when looking at the phones from the front.
B-B-Buttons
Up until now, I have not talked about the buttons because that is one area that needs a little care specifically for the Lumia 950 XL.
First, the Lumia 950 covers whether wood, leather, or color all have fantastic metal buttons that have excellent travel. Zero complaints. I have heard of some users having issues with the leather cover buttons later on, but I cannot say I have personally seen or experienced this issue, so your mileage may vary.
The one difference I have noticed is the Lumia 950 XL. The power button on the new covers is very shallow. I'm not sure I want to say it's bad, it is just different from the default back cover. I think Mozo did this on purpose so that when you have a physical difference between the up and down volume keys and the power button letting you hit the right one without looking. While I get that, the result is a button that on first blush feels very low requiring a little extra effort to power on the device. I assume you can get used to this, and I have already seen some people report that they actually prefer it as it helps prevent accidentally turning on the display.
Personally, I find it odd, and I'm not sure I care for it, but then again, I don't care for the XL's button layout to begin with, which is why I use the Lumia 950 more often.
Wrap up
In conclusion, if you are on a Lumia 950 I say either the wood or color back covers are an excellent choice. Just pick the color or style you want and, unfortunately, wait for 4-6 weeks for Mozo to make and deliver them. Yes, that is one massive downside with Mozo is the terrible wait times. However, if you are going to keep your Lumia 950 for some time, I would say it is worth it.
Simply put, I love my green Lumia 950. It looks great and feels much better.
Image 1 of 5
For Lumia 950 XL owners I am a bit mixed. While I find the designs and styles of these cases nearly perfect (depending on your personal preference) the shallow power button thing cause me concern. I suggest to read what others think in our forums and here in comments who have experiences with these cases and the button to see if this is really an issue.
See Mozo cases for Lumia phones
Speaking of, did you get your Mozo color or wood case? Sound off in comments about what you think and tell us if you recommend them!