Review of Mozo color and wood covers for the Lumia 950 and Lumia 950 XL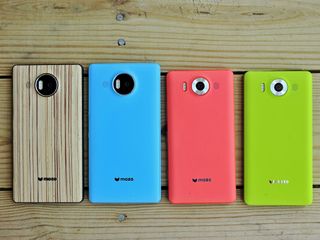 The Microsoft Lumia 950 and Lumia 950 XL get dinged from users over the thin, plastic back cover that ship with the phones. Luckily, Finland-based Mozo, which is comprised of some ex-Nokians, have stepped into saving the day with the premium replacement back covers.
I managed to get my hands on the latest Mozo cases featuring new color options like Blue, Coral, and Green. Additionally, Mozo is making some "wood" cases like the Zebra Wood variant I have on hand as well.
So, how are they and which is the best? Let's find out!
Oh, the colors!
Blue, Coral, and Green can now adorn your Lumia 950 or Lumia 950 XL thanks to Mozo. The replacement covers are not cheap at $50 a pop, but they are high quality and let you maintain Qi and NFC on your Windows 10 Mobile device.
According to Mozo, these covers are made from "high-quality PU", which is also known as Bycast or Reconstituted Leather. However, I can say it does not quite feel like that instead it has more of a nylon effect. As you can see in my macro photo below, there are small lines that add texture to the cover and the effect is a very smooth finish allowing the phone to slide easily in and out of your pocket.
I find all of this interesting if only because I think many of us were expecting a polycarbonate design (aka plastic). Instead, the materials used give this a much more premium finish and feel with some slight texture too.
The sides of the covers use a smooth rubberized color matched paint that feels magnificent in the hand.
The back cover clicks into both the Lumia 950 and Lumia 950 XL and feels very solid with no creaks or gaps. Of course, there are appropriate pinholes through for the two rear microphone holes on both devices and their speakers.
It's too early to see if they will collect dirt over time. Due to the covers being more leather/nylonish I suppose they could get dirty, but at the same time, they should be easy to wipe down as the teeny grooves are not very deep.
My favorite thing about this color replacement back covers is how thin they are compared to the very popular leather ones. In fact, they feel very similar to the covers that ship with the phones regarding their profile. Granted, they are slightly thicker and more premium, but I do not feel like these are bulking up my phone. The leather ones, while moderately thin do change the way the device feels for thickness and size while these do not. They just feel better.
Image 1 of 4
Overall, I like these color covers so far and give them a big thumbs up if you are considering purchasing them. The colors all look great, and the feel unique, and smooth. Plus, it's super exciting to see my Lumias now all colorful and happy looking.
Oh, and if you are wondering which color is my favorite it's green. Blue and Coral are fantastic as well, but this Green, which is more a yellow/green, is great looking with a blue lock screen and blue Glance enabled.
Let's get oaky
Besides the new color back covers Mozo has three wood options now available too, including:
Light Oak
Zebra Wood
Black Walnut
All three sell for €49.50 or about $56. At the time, I only saw the Zebra Wood one being offered otherwise I would have opted for maybe the Black Walnut version, which looks super elegant.
First things first: these are made from real wood! Once again, in my macro shot, you can even see the wood fibers that make up the cover.
What's interesting is the wood is not lacquered as you may expect. Instead, it feels similar to a corkboard with a soft, smooth touch. You can feel those wood fibers (it's almost fuzzy) and it's a unique experience. The long-term question is how such material will hold up, which we'll have to wait and see.
Like the color cases, these feature a rubberized paint on the sides (shell) and are black. It's a great look and rubberized paint always feels super smooth and great to hold.
These cases are always relatively thin and are still lighter than the leather options. Due to the soft nature of the wood, it's not quite as even on the back where the NFC and Qi reside, giving an almost imperceptible bump. It is not a big deal, but I figured I would point it out.
Overall, the wood back covers are also highly recommended. I would say these give a more conservative, classier look to the color covers, but I like bold so Green it is for me for now. From the front, the wood covers keep the very somber, black look to the Lumia 950 and Lumia 950 XL due to the black shell/sides whereas the color covers let their vibrancy peek in when looking at the phones from the front.
B-B-Buttons
Up until now, I have not talked about the buttons because that is one area that needs a little care specifically for the Lumia 950 XL.
First, the Lumia 950 covers whether wood, leather, or color all have fantastic metal buttons that have excellent travel. Zero complaints. I have heard of some users having issues with the leather cover buttons later on, but I cannot say I have personally seen or experienced this issue, so your mileage may vary.
The one difference I have noticed is the Lumia 950 XL. The power button on the new covers is very shallow. I'm not sure I want to say it's bad, it is just different from the default back cover. I think Mozo did this on purpose so that when you have a physical difference between the up and down volume keys and the power button letting you hit the right one without looking. While I get that, the result is a button that on first blush feels very low requiring a little extra effort to power on the device. I assume you can get used to this, and I have already seen some people report that they actually prefer it as it helps prevent accidentally turning on the display.
Personally, I find it odd, and I'm not sure I care for it, but then again, I don't care for the XL's button layout to begin with, which is why I use the Lumia 950 more often.
Wrap up
In conclusion, if you are on a Lumia 950 I say either the wood or color back covers are an excellent choice. Just pick the color or style you want and, unfortunately, wait for 4-6 weeks for Mozo to make and deliver them. Yes, that is one massive downside with Mozo is the terrible wait times. However, if you are going to keep your Lumia 950 for some time, I would say it is worth it.
Simply put, I love my green Lumia 950. It looks great and feels much better.
Image 1 of 5
For Lumia 950 XL owners I am a bit mixed. While I find the designs and styles of these cases nearly perfect (depending on your personal preference) the shallow power button thing cause me concern. I suggest to read what others think in our forums and here in comments who have experiences with these cases and the button to see if this is really an issue.
See Mozo cases for Lumia phones
Speaking of, did you get your Mozo color or wood case? Sound off in comments about what you think and tell us if you recommend them!
Windows Central Newsletter
Get the best of Windows Central in in your inbox, every day!
Daniel Rubino is the Editor-in-chief of Windows Central, head reviewer, podcast co-host, and analyst. He has been covering Microsoft since 2007 when this site was called WMExperts (and later Windows Phone Central). His interests include Windows, laptops, next-gen computing, and for some reason, watches. Before all this tech stuff, he worked on a Ph.D. in linguistics, watched people sleep (for medical purposes!), and ran the projectors at movie theaters because it was fun.
Love them! Oh these phones would have done so much better, had they been released with these as default covers and with the current polish of the OS. I almost feel bad for MS.

No way. Maybe if the black had texture. But I still prefer the black it gives more elegance and blends well with the dark amoled screen. Maybe she's born with it, maybe it's Lumia 950xl

Lol no they wouldnt. Posted via the Windows Central App for Android

Would have done better if released with a functional OS. Work all the poor reviewed because of instability they really made some if is delay purchasing a new phone. I'm sure their sales numbers reflect that. Posted from my Lumia 950XL

My Lumia 950 XL's default cover has a very shallow power button compared to the volume buttons. I just assumed this was normal but this article makes me wonder if my case is weird. It's also very creaky.

Power button on mine is slightly less protruding; had some creaking early on with the default cover but it's gone now Posted from Windows Central on Windows 46 Interstellar Edition

The creaking is based on how you put the cover on. I swap between the mozo leather and original. I realized sometimes it would creak, others not. Now I pretty much have a method that works well. Maybe she's born with it, maybe it's Lumia 950xl

Any recommendations for putting it on "correctly"?

Start with corner that creaks and continue holding down. Use other hand to snap corner On top diagonal to the one you're holding. Then the other bottom corner. Keep holding the creaky one the entire time. From the other bottom side move upwards snapping the sides in place. Keep holding and use other hand like previously to snap the bottom, top and last the side you are still holding going upwards. But keep holding it till it's all snapped. Wrote quick hope it makes sense lol

It is shallow when compared to the volume buttons.

Yeah, I suppose that's true. All I can say is this feels more dramatic and too shallow.

You're too shallow! J/K -- Lumia 640 (Windows 10)

Hopefully, if double tap to wake shows up for the 950s, we won't have to worry about the power button as much. Those covers do look really good, though.

Yeah. Of all the features that I would like to see on the 950, double tap to wake is the one that I am waiting for.

Double-tap to wake requires extra hardware behind the screen, just like the Lumia 1020 had. I doubt its coming if Microsoft haven't yet figured out a software only solution, without draining your battery

I always thought it intentional, to easily feel for it due to its stupid placement. It does work.

My XL's power button is shallower than the volume buttons as well. I like that because it is easy to determine its location by touch alone. In a way, it's like the reverse of the little bumps on the "F" and "J" keys on keyboards. They let you orient yourself by touch alone without looking at the keys.

I thought that only my default cover was that bad quality. One week after buying it I notice the problem.

Like them a lot. Just wish they covered the edge of the glass where the most damage occurs when a phone is dropped.

Agreed. This is literally my only problem with the design of the 950. The only way to cover that glass edge is with an external case. But these color covers make me desperately want to throw mine away and get one of these!

Fully agree. Daniel, do standard clear cases covering the edges fit around these covers?

I was wondering the EXACT same thing. If they hold the same build dimensions then it should work.

I can confirm that a TPU type case works just fine. I can't speak to the hardshell types, however.

Thanks. Any chance of a picture to see how potentially awful it looks?

I ordered a crystal clear TPU from China to protect my cognac mozo. I'll post a pic once my case gets here

It would make it thicker and less attractive. The secret is to be careful with your expensive purchase. Or buy a nice case. Maybe she's born with it, maybe it's Lumia 950xl

I have a TPU case on my 950 and the added thickness is so minor as to be almost non existent. --------------------------------------------------------------------------------------
Motorola Q9H, Samsung Focus, HTC Titan II, Lumia 925, Lumia 640, Lumia 950
--------------------------------------------------------------------------------------

Exactly! How much is it to ask for a real metal band around the edge? It seems that on first drop, the corners will shatter. It's what happened to my 1520

I ordered a white leather case (always wanted one) and the cyan and coral cases. I'm excited to try them out.

Too many negatives for me. I don't like the logo on it, though I could get over that. The price, I just can't accept. $50 for no added protection, meaning I still throw a case over it, is unacceptable. I might grab one if they were half the price, maybe even $30. The colors are less than great as well,.too light for my liking. My sister would love that green, though. I don't like cyan and would prefer the orange of the 830 or a darker blue to be available. Lastly, that wait time is rough. Not a big issue, but just another drag on the larger pile of them. Wonder if that is a demand avoidance issue they are going for.

I don't like how light the colors are either. I wish they catered at least one color to those of us who like darker shades.

A cobalt or midnight blue would be ideal Posted via the Windows Central App for Android

Daniel could you elaborate on the grippiness of the covers. Especially the wood, does it phone feel like it slips out of the hand? For example, the metal sides on the Icon / 930 has that effect that I find somewhat awkward. Thank you

I definitely do not find any of these slippery. The design of both phones and their flat edges with rubberized paint make them easy to hold and handle. The default polycarb covers are slippier than these.

Will purch wood soon as its hit my local KOP Microsoft store

Love the green! Wish they had made these for the Lumia 830.

In regards to the wood covers, I'd be worried about termites.

Are you suggesting Windows 10 is buggy? -- Lumia 640 (Windows 10)

I woodn't be worried ;) Seriously, I guess if you go hiking enough times for long periods of time, in some places of the world. Well, maybe. But it is not likely.

Got 2 cases from Mozo, both with the power button broken in a few weeks. No more 50$ mozo for me, thanks.

the cases are horrid. my red 'leather' case was about as leather as the keyboard I am typing on right now and/or a fish pelt. Buyer beware.

I'm not sure whether you're a troll or just an idiot. The large number of posts peddling the same BS makes me think troll.

FWIW, I just received my green Mozo case for my 950. (Less than 30 mins ago.) I have to say I'm disappointed given the near universal acclaim for the product. First, the color of the back is a lighter shade of green than the vivid green I see in every photo. The green edge looks like the green I wanted. The actual vinyl back cover (more on that later) is a dirty yellowy greenish color. Second, the back cover looks to be a vinyl textured material simply layed onto the body. I wouldn't have a problem with this if it was well executed. I have a couple of very small loose threads from the vinyl covered material. I also have some air bubbles caught in the layer. Third, the wireless charging plate is visible through the vinyl. The plate doesn't reveal itself when looking at the back plate from 90 degrees. However, when viewing from an off center angle you can see the plate as a slightly raised area. Not massively noticable but disappointing when everyone talks up the build quality. In sum, the build quality on the version I received was mediocre at best. I was disappointed in the lack of vibrancy of the color as well as the actual color. (If I can remove the vinyl material to reveal the same color plastic as the edge I would be happy even...if it meant looking wireless charging.) Anyway, thats my expereience. I'll live with the issues because I'm not about to send it back to the UK (I'm in California.)

That wood cover is fantastic-looking, but that is steep for a battery cover. All said with shipping it would be $75 for me.

I send them many emails to create a new leather case for my 640XL.(Or a plastic cover) but they said they will not create a new case for 640-640XL.
My brother bought a leather case(brown) for 950 and they send It after 3 months.
Its seems to be High quality product but their service is by the far the worst.(and I have for many online shops.)

My hunch is (a) they're a new company (b) they're making these in-house (c) they keep inventory purposefully low because of the tenuous nature of selling Windows phone accessories It's just basic risk assessment, but I agree, it is a long wait.

Given their wait times I don't think they keep any inventory in house at all. They likely wait for the orders and plan accordingly

Quite lovely, and by contrast look at that disgusting chunk of rubber tyre covering 640XL two articles below.

Since there was no better images on Mozo's website for color ones so I was not expecting much... but here I can see the quality is much better than what I thought. Wanted green for my 950XL but its too bright...so have to settle with cyan. GF is getting coral for her 950. For the wood, I would have preferred the metal rim/side shell. If DBrand is making the sticker then I would use it on the original black back cover! Overall, they look fantastic!!!

I like the dark walnut, but like DCPaul think it would look much nicer with the metal look frame from the leather cases. I will keep my brown leather one for now, but good to see there are more options available and that they are of good quality. To decrase leadtime you might look at Mobile Fun. Got my leather one in about a week even though Mozo's site says 3-4 weeks.

I like the normal cover of the 950. I prefer it to the 930, which I didn't think I would. I don't use NFC or wireless charging so I won't get one of these. I got a standard external purple cover to go over the black one and protect the edges. It's nice. Wish I got it sooner you because some of the silver is already coming off the camera ring. That's what I get for leaving it on a table and sliding it around when trying to pick it up

Lol, never again. The slippery cheap fake leather and MADE IN CHINA label means it's made for $4, and it's so cheap and just awful. Returned my red one

Uh, it isn't fake leather, they aren't made in China and they aren't awful?

Do you want a picture smarty man? I'll post one with a giant label that says MADE IN CHINA on it. At least those are the ones that mobilefun in the UK sold me.

I have two straight from mozo without that label.

Then mobilefun is ripping off lots and lots of people. Maybe someone in England should go after them.

There was an article on this website about those $4 Chinese covers and they have nothing to do with Mozo's covers.

Whoa. $50!? Daniel, I was just at the Microsoft Store in the Millennia Mall in Orlando, FL about 2 weeks ago and they had the blue for the 950 and XL for $14.99. I now have to go back and check it out. They did have the leather cases but those matched other prices. I must investigate.

Those probably were the polycarb ones they talked about awhile ago. Posted from Windows Central for Windows 10

... which are superior to Mozo's fake MADE IN CHINA faux-luxury scam.

"Blue, Coral and Green.." Did you say Coral?
https://imgflip.com/i/1598h5

I was looking at the brown leather but at 76 euros there is now way I am spending $85 for a back cover.

Received my leather cover for the 950 XL yesterday, very shallow power button already. The leather seems to be very thin at the edges (I ordered the black leather flip cover, for more protection), I wish that you could use the magnet when you flip the cover the other way around - not possible. Designed in Finland, made in China, the package says.

The leather back covers are not as high quality as one would expect from reading reviews. I would say they are nice but could be better. Just be aware that if you are expecting prefection you will be disapointed!

Did you do that on purpose?

My white leather from Mozo is all dirty and washing doesn't help.

I don't have problem to pay even 70 euros , if they make a beautiful real full of aluminum back cover which isn't make sounds, have real good bottoms feedback (by aluminum) and can protect the back camera class ! Or a back nice back cover which aluminum sides and class back... But real I don't know why I must pay so much money for these cheap plastic covers ? Just for replace the windows logo ? No I love the windows logo :) ! Really the default back cover is better !

I had the red leather case and it looked awful after several months, didn't wear well at all. Added to that the lack or customer care and I wouldn't buy from them again. I would assume the hard cases would last longer though, but only time will tell.

I have a tan leather one, and the sides got worn really quickly, hope the rubberised side ones master better.

Those covers are hideous, imo. Tacky colors and the wood grain doesn't look good, either.

I would buy more if their customer service wasn't horrible, they didn't reply any of my emails when i waited 4 months for my case.

I found some covers on ebay that ships from china that are pretty nice, and only $4-$7. Cyan Blue, orange, black, and white with the microsoft logo.

Yup, but no nfc and wireless charging

Yeah which is a shame. I want a better green than what mozo is offering.

Im surprised that you never got used to the XL button placement. Now it's of my favorite things about the phone's design. I always have trouble with rockers for more specific tasks like screenshots and resets. Separated buttons with very different sizing makes it impossible to press the wrong buttons when you aren't looking.

It's partially because I always have a 950 to go to so it throws off the "getting used to it" bit.

Do they have mozo cases for Lumia 640? Because I would buy them

Any particular reason that you're asking that question here instead of just going to the Mozo web site?

I just want Lumia 1520 red.

Not sure why all the excitement. Whatever works for you is the best. I put a blue TPU cover on mr 950xl and it looks like most other phones in the wild and I found cool design on a cover for my wife's 950 and she's perfectly happy. Personally I like the way TPU feels and it gives me some grip so I don't feel like I'm going to drop it. And if I do, or my wife does (regularly) it has some absorption so it doesn't shatter.

Would love a forest, office, islamic, or shamrock variant of the green... (Basically, a darker green.)

My wood case its back ordered till July.

I ordered a wood one from clove uk. They emailed and said they are waiting on stock and expect to dispatch in 7 to 14 days

I thought the MS store sold the covers.

MS stores sell the leather ones for the 950 and 950XL.

These cover looks absolutely beautiful! Especially the lime/green one! They make me even consider buying one of these phones, which always looked boring and bland to me. Now they look how they should have looked from the beginning, well done Mozo!

@ Daniel Rubino Which 950 XL cover do you prefer? I could not choose between the Zebra Stripe Oak and the Cyan.

Just got mine today (the green one) for my 950XL and it's really nice. I did immediately notice that the power button was a bit more difficult to press but that honestly is not such a bad thing considering how often I'd hit it by accident. It just was a little too easy to trigger on the stock cover. The thing feels sturdier than the stock cover as well. Mine already had a chunk missing above the hole for the headphone jack plus a big crack on the lower half. Only time will tell, but I feel much more confident that this one is going to last.

Just tapping the 950 community knowledge base here...has anyone experienced loss of mic functionality? My 950XL won't allow anyone to hear me :/ ( for better or worse ;)). Any constructive insight is appreciated. I have the international version so no warranty here :|

My Mozo case, sold by mobilefun in the UK and MADE IN CHINA as I took pictures of to prove to others that yes these are cheap, greasy products... was a lot of bad things but audio quality was not one of them

My Black Walnut cover for 950 XL should arrive next week. Can't wait!

Ordered mine a couple of days ago. Hopefully it ships in 2016!!! Yuk, yuk, yuk.....

Ordered mine a couple of days ago. Hopefully it ships in 2016!!! Yuk, yuk, yuk.....

That green! I always wished Nokia offered that specific shade on the Lumia 1520. Shame.

I have the black leather and I love it. The phone looks and feels MUCH more premium. I agree MS should have given people the option of one of these Mozo covers when butting the phone. They would have done better.

Taste is subjective. I LOVED the solid feel and excellent look of the 900, 920 and 1020. I HATE the look and cheap-as-dirt design of the 950. And, in my opinion, those Mozo covers are horribly ugly, particularly the "wood".

Never spend money on phone case that does not help my phone survive a drop

Luckily these aren't phone cases, but replacement back covers ;)

The whole point is that if the body sustains a drop then you can replace it with another.

They look nice and fun but can't afford them for that price.

I have the black and brown leather backplates for my 950 XL and am happy with both. The power button is a little more recessed than the volume buttons on both of those and I like it. I've now ordered the black walnut from the wood range as well as the blue from the colour range. I much prefer the darker wood so I would never have ordered either of the other two. I'm not a fan of green either. If they had a proper red then I'd have ordered that but I have a Nokia wireless charger in that coral colour and it's rather cacky. I've also suggested to Mozo that they release a red leather version with black rubber paint on the rim, because I'm no fan of the gold rim. Please do the same if you think that's a good option. I'll be interested to see whether the power button on the wood version is more recessed than on the leather.

I've now received both backplates, both shipped within a month of order despite the MobileZap (MobileFun in Australia) web site saying that they were originally expected in two months. Both the blue and the black walnut backplate have buttons that are recessed further than those on either the black or brown leather models that I already have. The difference between how far the power and volume buttons are recessed is basically the same on all though. I find the buttons very easy to depress on the blue model while the black walnut model is a bit stiffer but not so much as to be a problem.

Where can I buy this in India?

Just go to mozoaccessories.com and select the one you want. They ship worldwide.

Do they not have Google in India?

I bought the red MOZO Cover for my 950, as the brit's would say "IT LOOK'S SMASHING", glad I bought it My 950 look's premium now.

Microsoft!!! Give for us back DOUBLE TAP to WAKE! And stop complaining about this stupid power button design! It was dead already on birth...

How about you stop complaining about double tap to wake because it's irrelevant to this article and they've already said that they're bringing it back anyway.

Ordered the Light Oak a few weeks back and look forward to seeing how it looks on my phone.

If you order the MOZO cover from Amazon you'll see it quicker, I got mine in a 1 1/2 to 2 weeks.

What are the calendar, clock and weather apps on the photos?

I really like that clock tile.

L950 now covered with mozo gen leather, all black. Excellent grip and feel thanks to thin rubber all around.

Umm dunno where you got your 950xl from but my stock cover has a shallower power button too. So this is nothing new?

Well, then this is even more shallow and more annoying.

Haha. Oh. Then maybe ill pass haha

I wish Mozo make an improved version of that Chinese aluminium bumper case, to make it more premium and stylish.

So disappointed they are not polycarnonate. I really do not like how they look close by on the pictures :(

Got mine the other day. Green and the light Oak. I think they both look fairly nice. Went with green and I am enjoying it. It managed to breath some new life into my 950. As much as I love my GS7E, its nice to back with Win10m. I will say the back is almost fabric-like. Strange, but I like it overall. I would've preferred a darkish grey green color more though. Thanks for the article. Now I sort of have an idea what PU is.

Hi, how is the green holding up for you? I heard someone that got it that it gets dirty and cannot be easily cleaned. Thanks!

I'm not sure whether the description of the coloured backplates here is accurate. The Mozo web site simply says that the back is "High quality PU​". PU is just polyurethane. It is actually "PU leather" that is known as bicast and it is a basically leather underneath and polyurethane on top. Maybe that is what Mozo use, given that PU leather is popular in clothing and accessories and that's what Mozo make, but there's nothing on the web site that specifically indicates that. They are what they are though, either way. I ordered mine with no thought that they were PU leather.

I so want a wood cover. But I will have to get the phone first :D

Hi Dan, which cover do you prefer for the 950, the green one or the black leather version with black rim? Thanks

when will the video be available?
Windows Central Newsletter
Thank you for signing up to Windows Central. You will receive a verification email shortly.
There was a problem. Please refresh the page and try again.