Review – Nokia Coloud Headphones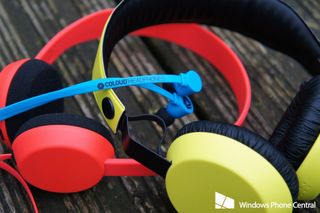 Nokia not only produces high quality smartphones and general accessories, but the company has also covered music. Nokia's own MixRadio service is a great way for consumers to discover new artists and genres they may not have been previously aware of, but the company has done even more. Last year, Nokia paired up with Zound to release the Coloud family of headphones.
Ranging from in-ear buds to over-the-ear, noise cancelling cans, this affordable family of accessories brings the Lumia philosophy to headphones – perfect for any Lumia Windows Phone owner. First off: if you're after the high-end, expensive headphones these won't be for you. That's not to suggest the quality isn't good, quite the opposite. They're just not overpriced gear.
Since we're covering not just one headphone, but three in this review, we'll be touching on multiple price points. While each accessory is available for a competitive price, you'll not be investing more than €30 on either option. That all said, let's dive in and see what's available in Nokia's Coloud family of headphones.
There are similarities between Pop, Knock and Boom. Each product shares identical design and basic features. These include a cool Zound Lasso, enabling owners to tie up cables and avoid wasting precious time untangling headphones prior to use. It's an interesting concept, using the headphone jack connector itself as a clip to secure the tied cable. We all know how pesky said cables can be when packed away.
The headphones are available in Lumia colours with a matte finish and a microphone/remote is present on each cable. This remote allows users to control music playback and answer/hang-up on calls received through a Windows Phone. Using the headphones with Windows Phones for a good few months, it's safe to state these are perfect companions for any Microsoft mobile device.
Also, since these are more affordable head wear, there's no Bluetooth or NFC support included.
POP
There are two headphones in the family, but should you be a fan of in-ear buds the Pop (WH-510) will be up your street. These in-ear buds come in red, yellow and blue. I must admit that I'm not personally a fan of in-ear buds, preferring the earphones that rest on the outer section of the ear itself, or full-size cans.
That said, the Pop ear buds are comfortable through use and provide decent sound waves while keeping ambient noise to a minimum. Perfect for public use when you'd rather not crank up the volume, giving you tinnitus and folk around you annoying, tinny sounds.
As the cheapest option in the Coloud package, these are perfect for people who aren't after the best sound quality, but would rather not fork out a fortune for half-decent earphones – we're looking at you, Apple. An interesting design element of the POP is how the wires divide to each bud, everything feeling sturdy and safe to tug and pull.
Some technical fluff for enthusiasts:
Speaker drivers: 9 mm
Speaker impedance: 32 ohm
Frequency response: 20 - 20 000 Hz
The Pop earphones (opens in new tab) go for €17.
KNOCK
This headphone is the next step up from the Pop, but now we're moving into the full headphone experience. The usual features are available, including adjustable cans with cables come out from both sides, leaving a plastic frame for the top head rest. While we're talking plastic, the headphones both look great and are super comfortable to wear, especially for long periods of time.
Again, just like Pop, the Knock headphones are available in red, yellow and blue. What's different to the Pop is sound quality, which is a given considering these aren't simply ear buds. Noise cancellation isn't great, considering the Knock cans only just cover the ears, but you won't need to crack up the volume to drown out ambience. Speaking of which, the volume levels on these affordable headphones is impressive.
A slight issue with the Knock headphones is when using the pair for some time, the cable splitter may get flipped a handful of times leaving the cable twisted up to the cans themselves. It takes a moment or two to determine which way to correct the twisting. Other than that, they work as expected and produce some good bass and sounds.
Some technical fluff for enthusiasts:
Speaker drivers: 40 mm high performance
Speaker impedance: 32 ohm
Frequency response: 20 - 20 000 Hz
The Knock headphones (opens in new tab) go for €22.
BOOM
The most expensive option in the Coloud family of headphones is the Boom option. Sporting the same sound output to the Knock headphones, the extra €5 gets you yet more comfort, without compromising on sound quality. The Boom headphones also features a better cable set up with only a single line going up to the headphones, with the head support carrying the layover.
While the Knock headphones has a plastic build for the head rest, which is surprisingly comfortable enough, Zound has added padding on Boom. They also look more premium and have larger cans for better noise cancellation. We've utilised Boom as our daily driver and have been impressed by what money can buy. The €27 as an absolute bargain for what's available in the package.
Some technical fluff for enthusiasts:
Speaker drivers: 40 mm high performance
Speaker impedance: 32 ohm
Frequency response: 20 - 20 000 Hz
The Boom headphones (opens in new tab) go for €27.
To conclude, the Nokia and Zound family of headphones offer consumers a more affordable choice between three superb accessories. As noted at the start of this review, these aren't high-end headphones and they don't attempt to replace those $500, gold-plated earphones you have for the gold iPhone 5.
If you're seeking affordable replacements for older gear or the low-quality buds supplied with mobile handsets, the Coloud family is definitely worth checking out. Through months of use, we haven't experienced issues with either of the products and the cables are durable enough for daily wear and tear.
Windows Central Newsletter
Get the best of Windows Central in in your inbox, every day!
Rich Edmonds was formerly a Senior Editor of PC hardware at Windows Central, covering everything related to PC components and NAS. He's been involved in technology for more than a decade and knows a thing or two about the magic inside a PC chassis. You can follow him on Twitter at @RichEdmonds.
I use a Pop for about three months and I can say that it is awesome. The audio quality is incredible. My only complain is that the button doesn't work all the time, but this should be an isolated problem.

I've been using the Pop for 6 months and I agree, the sound quality is fantastic. Build quality is amazing too for that price(free international shipping!).

Free international shipping. Woohoo. :D
Also, that website has got some fine code. ;)

What website ? I only have /link in article/ Nokia Page but not option to buy.. Help please.

The Nokia page didn't help me either.
Head over to http://www.coloud.com/ Free shipping for a while. :)

but those aren't the nokia branded versions :C

Who cares? They're the exact same product.

Indeed. Just ordered the black/grey Boom. 10 bucks cheaper than Nokia branded.

Wow.. Really? I'm going to buy one due to your experience, thanks.

haven't used pop, but I'd say the button not working all the time isn't an isolated problem as I've experienced it with other nokia headphones

Does the button work to pause/skip songs?

yes depending on the Number you clicks its either pauses, skips forward or back a track

Thanks, normally never used the in-ear earphones, but I will give it a try :p

Yeah it does, play/pause, skip and answer calls. I have the 'knock' and 'pop' headphones had them for around a year now still going strong and the sound quality is excellent

The buttons on my Monster Nokia Purity earbuds eventually stopped working.

Can you make calls while having pop earphones in? Cause the Lumias doesn't work well with apple's earpods.

You can, there's a built in mic and button to receive/end calls. Works on my Lumia.

What about activating tellme?

I don't think so. Tried yesterday and it wouldn't come on

That sucks. Maybe I will wait till after WP 8.1 to get some headphones that can trigger cortana (or maybe it will be fully voice activated).

A partnership between Nokia and Shure would be so f*kin epic!

I have the Boom headphones and love the feel of them and the sound, for under £30 with a remote they are a good deal. The only thing missing is a volume control.

My purity earbuds died a couple weeks ago and I wish had known about these before buying a set of the OEM Nokia ones as a stopgap until I can afford to replace them. Are these even available in the US? because I've never seen them anywhere.

what happened to the purities? no sound? the sound in my right ear keeps cutting in an out, dealing with nokia has so far been pretty painful

I warranty replaced one set of Purity and the second set crapped out too. Overpriced w/ poor build quality. I'm back to my cheapo buds that non-Nokia phones included that have significantly outlasted the Nokia "premium" accessory. I hope these lower cost ones will last a bit longer. I don't want to walk around with my big SonyX cans, in public.

Not only that, they cost a fair bit and Nokia just told me that I have to pay for shipping for warranty evaluation. So I have to incur a cost regardless of whether they deem it to be a defective product or not. I've read many comments like yours were multiple pairs have broken down, so I don't feel very confident sending it in.

Amazon UK have a number of poor reviews where the buds have stopped working. One of them is mine.

They are available in the US at http://www.microsoftstore.com, or your local Microsoft Store.

Link?? I just searched "Coloud" and "Pop" and found nothing.

Go to target, best buy, or directly to coloud.com, the non Nokia ones work great

Any news on where I can purchase a pair here in the states?

Try coloud.com has free shipping

I got a pair of grey booms at target for $30 yesterday

Is it available in india?

Yes head to Nokia care. Or buy online at cheaper rates.

Yup. Check ur nearest Nokia Priority Store.

USA? I would buy one of those, the ear buds for sure.

Okay, thanks for the information. I will definitely head over as I speak and search like a mad-man.

Get them here http://www.coloud.com/ , at Amazon or at Target stores. At Amazon people want to much for the rare Cool colors.

I bet they last longer than the Nokia Branded Monster ones ... I'm on my 4th pair of those in a year

Why what's wrong with them? I just got one of them? what's kepted breaking?

Which version...the in ear or the purity pros? Because I have a pair and they just keep giving!

These are the WH-920 Purity in ear stereo headset. The sound is good, but spending that kind of chedder on headphones you want them to last. 1st pair the left bud casing came apart and the solder came loose. 2nd pair had a wire problem somwhere close to the actual 3.5mm plug and 3rd pair started randomly turning the volume down all the way. Huge pain in the but. I read some of the Amazon reviews and I'm not the only one who has issues with the build quality. Fortunately for me the MS store has kept exchanging them

Why no one ever suggests Nokia to give some better default earphones so you don't have to throw them away!

Did you mean noise cancellation or sound isolation? Without batteries, I wondering if it's the latter.

He means sound isolation.

I live in the states and I ordered the Boom and Pop online a few months ago and I must say the sound quality in both are awesome.

I want to buy the knock ones. They seem pretty cool

While I enjoy(ed) the Coloud Pop ear buds, after only a month or usage they started shorting out. Most of the time they work, but sometimes if I move them in the slightest, they will start to spazz out and it makes listening to music very frustrating. I kinda expected them to have a lifespan greater than that of Skullcandy, and I'm worried that they'll give out completely any time now. and yes, I live in the states, meaning you can buy them here if interested. (all it takes is a simple trip to amazon or the Coloud website)

I've been using my Pop ear buds since April 2013. I haven't experienced a shortage in them yet but I plan on buying another pair soon for more colors

is it possible to use the nokia headphones with the htc x8? i wonder if the remote will function with non nokia phones

Yes they will work for the 8x. Just make sure the volume is turned down if the Beats audio is on lol

Nice, I'm getting the POP or BOOMS.

Look nice but i prefer Nokias monster head sets

Got the Pop, but I have issues where I miss calls or it randomly wants me to make a call.

Wish they released a earphones that rest on the outer section of the ear itself.

How much of an improvement the Pops would be compared to WH-208?

Nice design as always but I am very much satisfied with my yellow Nokia/Monster Purity headphones thank you very much.

Still can't find anywhere in the US that sells the Coloud Boom for Nokia and only one offer on Amazon when you search for the Boom WH-530. Anybody know when these might be available for US?

http://www.coloud.com/boom Not Nokia branded, but don't appear to be functionally different for it.

Lol, thanks, but I want the yellow ones. Match my Lumia 920. :)

I didn't know coloud was by nokia

It isn't. It means they are Nokia versions of coloud for Nokia phones. Same specs though.

In India available online through SnapDeal for ₹ 1209. I got mine 2 days back. I'm loving my coloud pop. The only problem is that they keep falling off but that's been the problem with every in ears I have bought. Could someone share some tips and tricks to keep in ears in my ears.

Use a different ear bud cover, maybe? I suppose, they come in different sizes, don't they?

When I first started using in-ear buds, they also kept falling out. I found a guide how to insert them properly. Put your left hand over your head, grab the top of your right ear and pull outwards and upwards and insert the earbud with the other hand, then do the same for the other side. I know it sounds weird, but it works :D

Kinda how to insert safety ear bud.

Well, they are similar :)

Well these look cOOl. But I'm happy with my Monster Purity in-ear buds ... Got them free with NL800 along with Nokia Play 360 (with some random email from nokia) its been 17 months n they work Absolutely Gr8.

Pop os absolutely terrible, believe me. Sensibility 90db is just pathetic. A average Phone need to have 100db at least. Very low volume, terrible.

These headphones look cool. But i love my Senheissers very much

These headphones don't look as cool as the Nokia Purity by Monster. I got an on-the-ear one while it was at a discount on Microsoft Store. I love it and the audio quality it offers!

I've had a pair of Pops for awhile and love them. Sound great. The flat wires and tangle free system work great... I roll them up and put them in my bag whenever I head into work. Just recently picked up a set of BOOMs for the home. Sound even better than the Pops. Cool to see Nokia teaming up with them to make lumia colored ones... but I perfer the colorways that they orginally come in.

have you compared the pops to nokia stock headphones or nokia purity pros?

Gotta say I prefer my sennies and audio technicas to any Nokia headphones I have used. Nokia's quality is pretty "eh".

I picked up the Nokia Purity Pro. over the top fantastic. Bluetooth and wired with NFC pairing and a built in control app on my 1520. Great, great audio.

Are these better than the Purity in ears? I need some new headphones

The Pop headphones were always out of stock on Amazon but finally found a pair locally at target. They only had them in white with red accents. Flat cable is nice as is the built in cord wrap.

I thought "Coloud" was a typo, but I remembered this wasn't WM Power User. :)

Haha, they have an hilarious amount of typos in their articles.

The Pop are a riff off on their website (25usd) target sells them for 14.95 http://m.target.com/p/coloud-pop-headphones-assorted-colors/-/A-14539575 Posted via the WPC App for Android!

Available on Amazon UK for less..so my order has been placed: http://www.amazon.co.uk/gp/r.html?R=4WIV1K25EMSW&C=11P1MGQVK7Z7I&H=7UKRH...

U can get them on amazon or ebay

I am preferably more lover of monster by nokia

My general complaint about Nokia accessories is they're very difficult to find in the U.S. I know the Microsoft Stores sell a handful but nothing compared to what they sell in other countries. I had to get my CR-123 car mount from the UK - and it took more than 3 weeks to arrive.

I just bought some pops from target. So far they are really nice, everything works with my Lumia 521 so its a good start

I was looking for a pair of headphones to replace my Skullcandy earphones. Now I might consider these.

Went to target today and they only had the Boom over the ears in Greg and wait for it... Light gray... Lame. Kinda let down Posted via the WPC App for Android!

They look good in purple. But there's a review on Amazon UK saying they wouldn't work on a 1020?

I'm buying the Pop next week.

I own the Cyan Pop and love them was using a SoundMagic earlier..

Hope they are as good as everybody's saying because i just ordered ones.free shipping yaaay

I have knock headphones, and i am enjoying them.Taking great care of them.Usually my earphones last for 6 months.These are my first headphones.And the sweet fact is that they sound great only in Nokia(and i havent tested on Iphone) but they don't sound well in any Samsung phones!Also i wish it had volume buttons excapt that it the best one and cheap too for me so far...

I'm thinking to get Boom or Purity Pro -headset...

Go to Coloud's official website for more colors. Been owning a pair of Boom since October and it's one of the best bargains I've ever had.

Guys the coloud boom or Sony MDR XB400 or the Sony MDR XB60EX? I am very confused

Just bought coloud Boom. :D sorry for commenting so late
Windows Central Newsletter
Thank you for signing up to Windows Central. You will receive a verification email shortly.
There was a problem. Please refresh the page and try again.