Review: Phone Dashboard Minute Tracker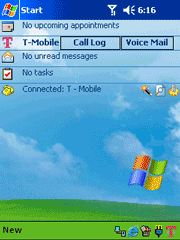 If you are one of those lucky Simply Everything Sprint plan owners that gets unlimited minutes, texts, etc... then you can ignore this review. If you are one of everyone else in the world, then wouldn't it be nice to have your phone actually monitor how many minutes you have used with showing you exactly how many minutes you have left? Or let you know how many texts you have sent and received... or even predict how you end the month if continuing on your same pattern so far that month. If this sparks your interest, then the Phone Dashboard Minute Tracker might very well help protect you from going over your minutes or texts and save you hundreds of dollars on you bill.
The Phone Dashboard Minute Tracker is very simple yet very powerful. It is a Today Screen plug in that monitors and reports your cell phone usage compared to the plan you have. It would be nice to be able to have it run in the background and access it through an icon in Programs, but by default you can only access the program via the Today Screen plugin. The plugin is a nicely detailed overview of all your vital stats, and even let's you customize what is displayed to maximize your valuable screen real estate.
But to start using Phone Dashboard Minute Tracker, you simply have to let it know the details of the plan you have with your carrier, i.e. how many minutes you have, how many SMS you have, etc. From that time forth, it will help you manager your monthly usage.
If you want more detailed information than what the Today Screen gives you, then you have several options. You can view a graph predicting if you will go over your minutes at the end of the month if you continue usage the way you have so far that month. You can see how many minutes you have used on a monthly or daily basis. You can see this information in either a bar graph or an easy to read spreadsheet style view.
It also has a very detailed phone history. This is what the phone history for WM should have been in the first place. If you make a ton of calls, it even has several filters that you can use to help narrow down the information you are looking for.
You can even export your data that the Phone Dashboard Minute Tracker has collected. This could be handy to share with your provider, your employer for expenses, or simply reviewing for your peace of mind.
Especially if you have teenagers on your account that are using a WM Pro phone (sorry all you non touch screen users) then I have little doubt that this little utility will more than pay for itself, as it will give pop warnings when you are getting near your limits of your cell phone plan.
Swipe to scroll horizontally
| | |
| --- | --- |
| Ratings (4 out of 5)Overall: | ProsVery simple to use, yet it is a very powerful toolLots of options for displaying about your usageAble to export dataPurchasing the product entitles you to FREE lifetime product upgradesConsCan only access through Today Page pluginOnly available for Windows Mobile Pro phones (touch-screen only) |
Get the Windows Central Newsletter
All the latest news, reviews, and guides for Windows and Xbox diehards.