Review: Solio Solar Charger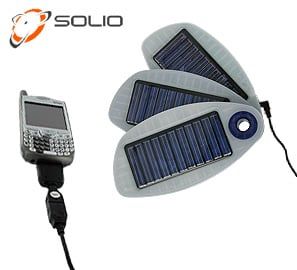 Would you like to be able to charge your WM phone out backpacking or fishing for a few days when you do not have anywhere to plug it in? Are you one that thinks it might be cool to charge your WM device with solar power? Well these were some of my first thoughts when I first saw Solio's Solar Charger ($79.95)... plus it just looks cool. Maybe you are one for wanting to do your part in being as Green as possible in this electricity & battery driven society. No matter what the motivation of the individual might be, I was interested in seeing if this Solio's Solar Charger can really pull off what it claims. The bottom line is... well maybe you should read on to find out.
Design
The design is unique and adds a certain WOW factor when using it out in public. Out of the box it is about the size of a larger candy bar style cell phone, but several times thicker. Then it fans out with 3 solar arms that each have solar panels on them to catch the sun's rays.
It is built solid. I was not brave enough to put it to the extreme tests of durability, but there is little doubt that Solio's Solar Charger is built to withstand its hard knocks. I would not hesitate to take it on a camping or fishing trip with me.
There is a hold in the middle so you can help aim it directly at the sun using either the suction cup holder for your windshield or office window, or by using a pencil through the hole so you can easily tilt the charger directly at the sun, no matter where it is in the sky. The trick is to have it aimed directly at the sun, even as it moves across the sky throughout the day. As you can imagine, where you live can have an impact on its performance with charging via solar power. Those in Arizona, California, or Hawaii will not have any of the challenges of days upon days of thick cloud cover that many in the Northwest and Northeast often times face during the winter and spring times.
Charging
There are two ways to charge Solio's Solar Charger. The first is the traditional way, with electricity via your USB port on your computer. It takes about 8 hours to charge fully if your battery is completely dead. This maybe the boring way, but if you have a laptop, it will always be available to you no matter if it is sunny or raining outside. The second is a lot greener, using the energy from the sun to charge the battery.
Solio says that it takes about 8-10 hours of direct sunlight to fully charge the battery under most circumstances. This means that as the sun moves you will have to aim the solar charger to follow it. This also means that clouds can greatly prolong this time. When it is charging, either by USB or by the sun, the light turns red on the back. This is very handy when charging it by solar means so you know if it is aimed correctly. Because of this, I was also able to verify that you can charge it through a window on overcast days without direct sunlight. When you push the button on the back it will blink 1-4 times showing you how charged it is. You can also charge it through windows, but this will also add more time to the overall charging time when using the solar power.
Now to give you a frame of reference... out of the box my Solio's Solar Charger was at 3 green lights charged. I used the suction cup to attach it to my car window and windshield. I did this for 3 days. The first 1 1/2 days were continuously overcast with the second 1 1/2 days with clear skies and direct sunlight. At some point between two and three days it was fully charged. This is pretty impressive considering that while driving it was in and out of direct sunlight and that using it through a window diminishes the power of the sun with the solar charger.
After being run down to one light I was able to get it fully charged within about 6 1/2 hours of direct sunlight without any troubles.
Do you want to see get a good view of what Solio's Solar Charge really looks like?... then watch their 2 minute video here. The user manual is pretty short, but very informative if you are interested in how it all works. You can view a PDF of it here.
Every Day Use
After I confirmed that Solio's Solar Charger does what it claims to be able to do, the possibilities started running through my head. We go on camping and fishing trips several times a year with no access to recharge our phones. I travel a great deal, and it is nice to have something to charge my phone during a long flight or when I cannot find a outlet in an airport. It is small enough to be very portable, as it can easily be carried in a coat pocket or purse. I do wish that they included at least a soft carrying case to help protect it a little better while traveling.
The really nice thing about the Solio's Solar Charger is how universal it is. Not only will it charge my WM phone, but also the iPods, regular cell phones, Bluetooth GPS puck, my Nintendo DS, or any other small electronics gadget I might have with me. All I need is to find a tip for it and use that for whatever device I want to use the Solio's Solar Charger with.
There is also the newer Solio Hybrid 1000 which features a slightly different form factor.
Just the Facts
Here are the facts directly from Solio. Interestingly enough, I have found these facts to be very accurate with real world use.
Charging Solio's internal battery takes 8-10 hours of direct sunlight.*
Just 1 hour of sunshine = 20 minutes talk time or 50 minutes of MP3 music.*
A fully charged Solio Classic will charge a typical mobile phone more than twice or give over 20 hours of iPod music.
Solio will charge your device at the same rate as your conventional charger.
Using the included wall adapter or USB charging cable solio will fully charge in approximately 4 hours.
A fully charged Solio will completely charge an average cell phone at least twice.*
When charging a cell phone directly from the sun, 60 minutes of sunlight will provide approximately 25 minutes of talk time and 10 hours of standby time.*
When charging an iPod directly from the sun, one hour of sunlight will provide about one hour of play time.*
Solio can store energy on its internal battery for up to one year.
Provides an emergency power source when away from power outlets.
Battery is easily replaceable and lasts for up to one year
Works with multiple gadgets, including mobile phones, iPhone™, Bluetooth® headsets, smartphones/PDAs, MP3 players, portable gaming devices, digital cameras, GPS and much more (tips for most devices come included.)
Reusable - use it again and again.
Compact lightweight design - convenient for travel or emergency use.
*Performance figures vary among device, intensity of sunlight and ambient temperatures.
Here are the technical specs for the Solio Solar Charger:
Nominal DC Output: 3V 2A
Maximum Wattage: 6 Watts
Battery: Rechargeable Lithium Ion 3.7V 1.65A cell
DC Input: 5-6V 0.4Ah
Dimensions (LxHxW): 4.72 x 1.34 x 2.56 in (120 x 34 x 63.5 mm)
Weight: 5.6 oz. (156g)
Temperature Range: -4F to 131F (-20C to 55C)
Swipe to scroll horizontally
| | |
| --- | --- |
| Ratings (5 out of 5)Design: 5 starsSolar Charging: 5 starsEvery Day Use: 5 starsOverall: | ProsCan use to charge nearly any small electronic device without needing access to a power outlet, by using Solar Power.Small and compact for easy travelingSolid buildConsMust manually be aimed to follow the sun throughout the day to get the quickest charge via solar power.Does not include a carrying case. |
Get the Windows Central Newsletter
All the latest news, reviews, and guides for Windows and Xbox diehards.