Review: Sony VAIO Pro 11 - elegance in Ultrabook form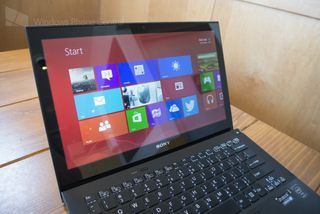 There is no doubt that Sony's latest Pro series of VAIO Windows 8 laptops are beautiful.
Today we are reviewing Sony's 11 inch model of the VAIO Pro to see if this machine is as wonderful to use as it is elegant – or maybe, beauty is only skin deep.
Swipe to scroll horizontally

Elegant and bold design. Lightest 11 inch Ultrabook to date. Great battery life for the size. Stunningly beautiful and responsive 1080p multitouch display. Good value for the price. Software bundled is actually useful. USB Charger included in power brick.

Keyboard

exhibits

an alarmingly large amount of flex and could be a bit bigger in size. Windows 8 Pro is "required" for an adware free start.

The Sony Vaio Pro 11 is a stunningly beautiful laptop with an amazing 1080p touchscreen all packed into a super thin and light 11-inch form factor. Sony has done a great job putting together this premium machine, but we feel the keyboard could have been eons better - the unit flexed much more than any keyboard should. Starting at a little over $1k, this unit is an overall great machine that is well worth the price.
Form
If Apple is afraid of OEMs catching up with the elegant design of their Macbooks, then they should keep their eyes on Sony. The company has introduced some of the most breathtaking designs we have seen on any recent Windows machines.
The VAIO Pro 11's lid is a beauty to look at and carries a subtle yet powerful message, that this is a high end and well-built machine. The unit comes in three colors including black, silver, and carbon black – our review unit is carbon black. The unit's black void of a lid is complemented by a shiny silver VAIO logo and a small, non-shiny, Sony print.
The back of the unit features a metal silver strip that contrasts beautifully with the black styling of the rest of the machine. White units also feature the silver strip and while it looks good, it comes nowhere close to the "pop" effect it has on the darker units.
Sony did not decide to go crazy on ports, and with a laptop this thin and light, we doubt they really had a choice. The left hand side of the unit sports a yellow 10.5V power connector, almost invisible charging LED, and heat exhaust fan.
The right side of the unit is where you will find all of your ports including two USB 3.0 connections (one with always-on power), an HDMI connector, and a headphone jack. If you intend to hook up a collection of peripherals to this device, be sure to bring a USB hub, as you will not have much to work with.
The front of the unit has one more slot, but we did not notice it until giving the machine a full look over; it curves slightly down and under to give the unit a thin impression. Sony has decided to stick an SD card slot under this area, which requires the user to physically pick up the unit and look at it dead on to see where it is. While we love the addition of an SD card slot, making this a nice machine for photographers on the go – we cannot imagine anyone can be happy with the placement Sony has chosen.
The bottom of the laptop is minimal, and we love it that way. The unit sports a black bottom cover (or white, depending on which configuration you choose), and has a darkened VAIO logo imprinted on it. Other than that, a Windows logo, model number, and a few other details are printed in a grey colored font near the back hinge of the unit.
The bottom center of the unit also includes a small covered port. Popping the cover off the port shows a proprietary accessory connector and reveals your unit's serial number. As of now, consumers can purchase Sony's Vaio Pro Sheet Battery for $149 to attach to the bottom of the unit and double the standard charge of the machine.
While we were not sent the Pro Sheet Battery to try out, it is evident from pictures that the accessory will add quite a bit of height to the back of the unit. Some of us here feel that attaching a large bulky battery to an Ultrabook kills the point of thin and light notebooks; we much would have preferred Sony make the unit slightly thicker and include a larger battery. Users who enjoy typing on an angle (versus flat on a tablet), might also enjoy the battery accessory as angles the keyboard for a more ergonomically friendly typing experience.
Opening the Vaio Pro 11's lid reveals a stunning 11.6" touchscreen 1080p LED display. I simply cannot get enough of how beautiful this unit's display is. After reviewing a collection of Lenovo unit's with typically dull business displays, it is a dream to view this machine. Watching Amazon Instant Video, editing photographs, or just getting some work done in Microsoft Word – all look fantastic.
Sony claims the screen's outstanding contrast is due to their technology known as "Triluminos". The special RGB LED lighting technology, allows the unit to emit what Sony calls "true colors" – while at first thinking the technology would be a gimmick, after seeing it I have to say that I am really impressed.
Above the scree sits a 1 MP HD Webcam and dual array microphones that actually sit on the top of the lid. Testing out the webcam showed a nicely detailed image that should be perfect for Skype calling grandma or jumping into a conference call with the big boss. A Silver Sony logo sits on the lower bezel, but despite its color, does not make the unit appear cluttered.
Okay, the keyboard and trackpad- this is where things begin to go bad. The unit is 11.6 inches and we know that Sony had to design a keyboard small enough to fit the frame of the unit, but they could have gone a tad larger. The keys feel extremely small and took my hands a bit of time to adjust to; even then, I did not enjoy typing on the unit for any extended time.
The keys themselves are shallow, but have a decent click feel to them; they are not anywhere near the feel of the keyboards we have experienced on thin Lenovo units, but they do deliver a satisfying click. Unlike most consumer laptops that have given up the route of function keys and now make multimedia buttons a priority, the Sony Vaio Pro series keeps the function keys as the default primary and requires you to push an "Fn" key combo to adjust the volume, brightness, or other various settings. Due to the unit's small size, it is easy enough to hit the "Fn" key and needed function key with one hand at the same time.
You might be saying to yourself that a slightly small keyboard with decent key press is not that bad, but here comes the killer – flex. The unit's keyboard flexes like crazy; I have never seen a unit (in my entire life and career) that exhibits such a large amount of keyboard flex.
Sony claims that the unit flexes due to the carbon fiber material the unit is made out of and that the flex in the unit will actually prolong the unit's lifespan. Well guess what, this review is being typed on a Carbon fiber notebook that shall remain anonymous and it does not flex in the least.
To make sure my review unit was not broken upon arrival, I went to the local Sony Store and tested their demo units – to my disappointment, the same issue was present. Even worse, the Vaio Pro 13 flexed worse due to its size. A surfer could ride the waves that these Vaio Pros make when flexing.
When opening the lid of the laptop, the keyboard becomes slightly angled and propped up, we feel this might cause excessive pressure on the hinge after a few years, but do not foresee any serious issues thanks to the metal backing.
The trackpad gets better, but does exhibit a small bit of flex. Overall, due to the small size of the keyboard, Sony was able to add in a decently large touchpad that is a pleasure to use. The texture feels great underneath your fingers and the sensitivity itself is good. Some may find the speed of mouse movement on this trackpad to be a bit slow, but that can adjusted within Window's settings.
Above the keyboard sits a small assist button that reminds us of the popular ThinkPad Vantage button seen on Lenovo units. Pressing the button launches Sony's support and assistance application to help you with troubleshooting and system maintenance.
The power button of the unit sits in the upper right hand corner above the keyboard and glows green when in use. The side of the button is a clear plastic, so when the unit is closed and in sleep mode, the user can still see the shine of the LED.
Speaking of power, the included charging cable is great as it includes a USB charging port at its end. Anyone who travels knows you can never have too many places to plug in and charge your USB devices.
Stickers on the unit are kept to a minimal; next to the touchpad on the right palm rest sits two stickers – an "Ultrabook inspired by Intel" sticker and an "Intel Inside" sticker. The intrusions of stickiness are both black and thus blend in well with the laptop, that being said – feel free to remove them to keep this unit as elegant as possible.
Function
The Vaio 11 Pro is available with a 4th generation Intel Core processor – either an i5 at 2.60 GHz or an i7 at 3.00 GHz. Buyers can choose between a 128GB or 256GB SSD, 4GB or 8GB of RAM, and Windows 8 or Windows 8 Pro. If buyers opt for the Pro version of Microsoft's operating system, they can also add on a TPM chip for added security. The 1080p touchscreen and Intel HD 4000 graphics are standard on the unit.
During use of the unit, we found it to be very speedy and I was personally able to get some Photoshop work done and articles written (when I could cope with the keyboard). Battery life was acceptable and came in around 5-6 hours during regular use.
While I know many users will enjoy the 1080p screen, I found it difficult to work on as everything was so small on the 11.6" screen. While in Windows 8 applications, everything seems perfect and crisp, but once you drop to the desktop everything became too small for my taste. If you need the large screen real estate, you will love this –if you are just surfing the web, you might find yourself enlarging the text (or maybe I am just blind, who knows).
The touchscreen itself was extremely responsive and a joy to use. Sony choose to use edge-to-edge glass that provides a beautiful and firm feel during use. The hinge on the unit is strong enough to resist the screen moving much at all and that might be because the back of the machine is literally resting on the hinge.
As do most OEMs, Sony threw in their own Windows 8 apps to help users get around and manage their content. Socialife, an application for reading through your Facebook and Twitter newsfeeds is nicely designed alternative for checking up on feeds through Microsoft's People Hub. That being said, the application is extremely limited and only lets you view content, interact, and post. There are no notifications for new social alerts or ways to separate your Twitter replies from the main stream. A nice application, but we suggest downloading the official Twitter application to keep up with your friends – as there is no official Facebook app, it does present a decent option for checking up on your friends and family.
Two Windows 8 multimedia applications are also installed on the unit, Sony Music and Sony Album. The Sony Music is actually designed beautifully and could be considered as a serious alternative to those who have not been enjoying Microsoft's own Music app. A cool overflow mode allows you to swipe through what is currently playing and a "My Music" section allows you to sort your collection by Tracks, Albums, Artists, or Playlists. Sony Album is also a nice way to browse your pictures and videos with the ability to thrown them out to DLNA compatible devices (including many Sony TVs and even Microsoft's own Xbox 360).
Sony then begins to load on other software that most users will simply ignore including a demo of Kaspersky, a "video clip of the day" application, an interactive puzzle, and Sony "Care" software.
Everything has begun to go metro, but Sony also threw in a few desktop applications including Sony Movie Maker, Play Memories, and ArtRage; all three applications are fun to use and serve as decent alternatives to other software out there. If you are a fan of FreshPaint, you might just fall in love with the provided ArtRage software.
Overall, Sony has included a collection of software with their PC, but it did not make the unit feel bloated. Most of the software installed was either helpful or could be quickly removed from the Windows 8 Start Screen.
Conclusion
The Sony Vaio Pro 11 starts at $1049 with a Core i5 CPU, 128 GB of SSD storage, 4GB of RAM, and Windows 8. Upgrading the unit fully to a Core i7 CPU, 256 GB of SSD storage, 8GB of RAM, and Windows 8 Pro will cost you $1519. If you choose the Pro version of Windows 8, you can select "Fresh Start" as an option during checkout which will remove all trial ware and "most" of the Sony software from your PC.
While we are disappointed with the keyboard, not all users have such an issue with keyboard flex. If you can get yourself past the "meh" keyboard, you find yourself using a premium feeling Ultrabook with an outstanding high-resolution display. A $1.5k PC with the above specifications is not a bad deal either. You can find the VAIO at major computer outlets such as Amazon.com and Best Buy.
The Sony VAIO Pro lands as one of our favorite notebooks thus far; we just hope Sony can fix that darn keyboard in the next model. We almost forget to mention, there is a special limited edition red variation of the Pro that starts at $2599, so yeah… enjoy that.
Get the Windows Central Newsletter
All the latest news, reviews, and guides for Windows and Xbox diehards.