Review: Sprint Samsung Intrepid (sph-i350)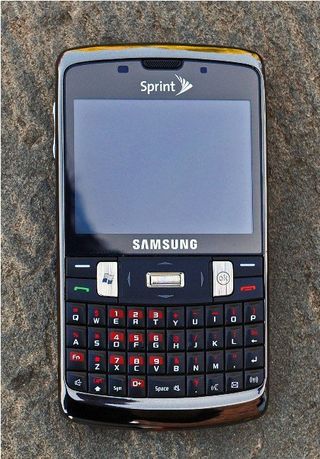 Sprint's first official Windows Mobile 6.5 Professional phone is the Samsung Intrepid, a front-qwerty CDMA/GSM world phone with WiFi. It was released on Oct. 11 and fetches for $149 with a 2-year contract. (See our earlier hands-on).
We've played with the device for the last 10 days and have reached our conclusion: it ain't terrible, but it's not the best. Samsung basically nailed some aspects but goofed on others and the device feels quite underwhelming.
On the other hand, for the price, perhaps that's the point.
After the break, read our full review with lots of pics and even a video mini-review for those tight on time.
Video Mini-Review
Hardware
The specifications of the Intrepid are pretty solid, save one area: the screen (more on that later). The device has about 150MB of available RAM after a soft-reset and about 260MB of storage space — those are numbers we like. It also sports a 528MHz processor, which feels adequate but for some reason not that fast, either.
Overall, the device is quite light and some have interpreted this as "cheap-feeling." We disagree. The Intrepid is quite light at just 4 ounces, more than 2 ounces lighter than a Touch Pro 2. The phone has a very professional look to it and the dark chrome has a nice elegance. And, yeah, it looks like a BlackBerry, which isn't a bad thing.
Radios on the device include Bluetooth, WiFi, CDMA 1x/EvDO Rev. A and GSM capability. WiFi works quite well as did Bluetooth, but reception on Sprint's network was below average for this type of device — it struggled for a signal where my other devices did fine. GSM is, of course, not available for U.S. networks, but the phone is SIM-unlocked for overseas. The SIM card and microSD card are under the battery cover and, unfortunately, the battery as well. The radios are controlled by hitting the lower-right hardware key on the keyboard, which launches the Comm Manager.
Keyboard + D-pad
It's a front-QWERTY, and comfort is priority. Here the Intrepid wins with flying colors. This is easily one of the best front-QWERTY keyboards we have used — the keys are large, laid out logically, have a soft feel to them and just feel very nice. It was very easy to just pick up and start typing without having to re-learn anything. One complaint: the raised nubs on the F and J keys need to be bigger as you cannot feel them when blind typing (like a real keyboard, they serve as guides).
There is a dedicated key for e-mail (nice), and if you hold it down it launches a quick-text (cool). There also is the before-mentioned dedicated Comm Manger key, which when held down can have a secondary function. To the extreme left is a small key with a Speaker/horn icon; oddly enough it is mapped to File Explorer and not, say, Voice Command (which is included). Most of these can, thankfully, be remapped.
Likewise, the D-pad and buttons below the screen, while deviating slightly from previous devices, have a great feel to them: right amount of travel, large enough to feel and soft to the touch.
Screen
Ugh.
It's an odd 320x240 resolution, which normally is reserved for Windows Mobile Standard (non-touchscreen phones). There it works fine, but on Pro is just feels too cramped. Why Samsung did not or could not use a 320x320 screen is a mystery. Had they done so and kept the same dimensions, they would have had a 2.7-inch 320x320 screen that would have been fantastic.
Instead, we have a cramped screen that while large, feels too small for the OS. On top of this, the screen is not very sensitive to touch and requires more effort than usual.
One negative way this weird resolution effects the device is on the fonts: they become blurry-ish. Case in point: see the picture below in Google Maps. This is with ClearType on, yet the font is just ... blech:
Samsung was smart enough to include an ambient-light sensor but, alas, it is not on by default, requiring the user to dig down into the Settings to turn it on. That just seems silly to us. When enabled it works quite well, though.
If this device has an Achilles heel, the screen would be it.
Speakers/Audio
Sound quality on the Intrepid is quite good and it is more than suitable for speakerphone use. To toggle the speakerphone during a call, holding down the Green/Send button will do the trick. The volume in the earpiece could be a little louder but for most situations, it was adequate.
Volume buttons are on the left-hand side and activate the default WM6.5 volume sliders. While it works, it is quite clunky. In fact we have on one occasion been able to knock the volume to "on" while the device was still in Vibrate mode — that is it was literally in vibrate mode but made audible alerts. See below:
LED/Keyboard Lights
Samsung was kind enough to include a LED for charging and notifications (text, e-mail, etc.). The notification LED is controlled under "Sounds & Notifications" and include custom time-durations for blinking e.g. 15 minutes, unlimited. While a great feature, it is not without problems. For instance: One common complaint is it randomly seems to stop working; or rather, it blinks 3-times and then stops. You may go a day or two without this happening but eventually it probably will.
The keyboard lights are ample and if you really want, you can not only disable them but do so on a time-schedule, which is actually a really cool trick that many of us have hacked onto Palm Treos in the past.
Battery
Weighing in at 1480mAh, the Intrepid actually has a nice-sized battery and in fact gets very good battery life. This is the fourth Sprint device to do this (Treo Pro, Snap and Touch Pro 2 are the others) and we are glad to see these new phones lasting a full day and then some, even when running push-Exchange.
The rated talk time is 6 hours and our experience jives with this figure.
In short, battery life is excellent.
Camera
3.2MP with Auto-Focus is on board, which is certainly better than the 2.0MP on the Treo Pro or HTC Snap. It works well but is nothing to brag about, though it works surprisingly well in low-light conditions, albeit with much noise. There's no LED flash as usual, and the camera software is Samsung's own, which seems decent enough.
Buttons, Jacks and Plugs
Here is yet another area where Samsung really dropped the ball. Sure, they included a standard microUSB port for charging, kudos for that one. Nevertheless, they put it on the side of the device, which hampers the ability to charge while using a car-mount. Likewise, they gave us a 3.5mm audio jack, but put it on top of the device. Both the plug and jack have gangly rubber covers that you need to pick at to use and considering users will have to charge once a day, this is a nuisance.
Another big annoyance is the Power button. It is a tiny little thing located on the right-hand side. Most front-qwerty devices use the Red/End key for this function. After all, you turn the device on/off probably 30 times a day, so why not make it front and center, so to speak. Instead, we have this tiny, awkward button that is very frustrating to toggle.
Holding down the Red/End key turns the phone radio off — we would have preferred it lock the device with the beautiful new Windows Mobile 6.5 screen lock. Instead, that is a two-step process: Start Menu, Left soft key every time. Holding down the Power button turns the whole device off. Once again, useful features. But locking the device is more frequently used than powering down the whole phone. Holding down the space bar turns the device silent or audible — okay, that we like.
GPS
On board is aGPS and GPS which yes, does work off-network or with the phone-radio off. GPS actually is great on the device. One reason for this is the TellMe program, which we believe periodically checks your GPS location, so when you do a search it already "knows" where you are. As a result, it seems like every time we kick on GPS, it acts like a "warm start," acquiring a location with
We should also point out that Advanced Forward Link Trilateration (AFLT) works for Google Maps & Google Latitude, which is good for maintaining your location within a half-mile or less and without draining your battery. This seems like a trend with Sprint and newer Windows phones, and we are pleased.
Software
Not much to say here in this regard. The device obviously comes with Windows Mobile 6.5 Professional, which includes Office Mobile and the much-coveted "TellMe" program.
WM6.5 runs well enough — it is fast but not lighting fast, and a Treo Pro seems to be much more responsive.
Samsung has a few tweaks including a re-skinned dialer, which thankfully includes the alphanumeric codes (HTC likes to forget those for some reason). Oddly enough, it is in the dialer where you can toggle phone vibrate on or off by strangely holding down the soft # key (the hard key will not do it). Why they would stick such a useful function there is beyond us.
Samsung does have a real cool quick-text function: hold down the Mail key (lower row) and it launches a new text message window with the ability for SMS groups, something many business-types would appreciate.
Other than that, Samsung has included many "lite" applications that are somewhat useful for business folks. Specifically there is an Anniversary reminder, MSN Money widget, SmarReader (copies business cards to your Contacts), Stop Watch, Smart Converter, World Clock, Tip Calculator and their RSS reader (which is terrible). All interesting things, though hardly exciting.
Alerts
Interestingly, alerts don't wake up the screen with on the Intrepid — text, Exchange email, etc. So it all relies on the Lock screen (if you choose to use it) and/or the LED. Unfortunately, as previously mentioned, both can fail on the device, which is kind of a bummer.
We don't mind the screen never turning on though — it saves battery. Yet the one alert that does wake up the screen is the one to tell you that your battery is now fully charged. Strange. [ed. note: Possibly an "environmentally friendly function?"]
TellMe
So this is also the first Windows Mobile device to launch with Tell Me (see Demo), the newly acquired Microsoft company/program.
It works by holding down the dedicated TellMe key, which results in a little though bubble popping up on screen. You can then say things like "Text Dieter," it'll look up "Dieter" in your phone book and if it finds a match, you can then say the text message. Other things you can say are "Weather" "Movies" or just about anything and it will Bing it for you, based on your GPS location.
Look for our separate video review in a few days.
Wrap-up
We are mixed on the Samsung Intrepid, and it is mostly because we know Samsung could have made it so much better. Granted, they have to keep costs down, but we cannot help but think what if this had a nice 2.7-inch AMOLED 320x320 screen, instead of a quirky, cramped, and non-sensitive 320x240.
Likewise, on the Power button, plugs and headphone jack — had these been more traditionally placed, it would have made a much more satisfying device. Simply put there is no advantage to the customer for their choice on placement or implementation--it is just awkward.
We also have to admit that we are a bit spoiled by HTC's additions and tweaks which are completely missing here: no QuickGPS, no auto-add caller to contacts, no auto-SMS response, basically no custom enhancements (save the instant-SMS key), all of which makes the device a little boring by way of comparison.
Having said that, the device is very elegant looking and the more we use, the more we are willing to forgive some of its quirks. It does work well as a phone and for basic email/sms, which is what we suppose is the target-market. Battery life is stellar and the keyboard is seriously good.
Samsung: we know you can do better; you have some moments of genius on this device. Call us. We can make this work.
Pros
Lightweight
Good phone/messaging device
Great battery life
Professional looking
Perfect for business types
GSM/WiFi
Excellent Keyboard
Cons
Screen is not so good
Quirks with the software
Boring software
Annoying Power button
Awkward placement of microUSB/3.5mm jack
Reception is so-so
Get the Windows Central Newsletter
All the latest news, reviews, and guides for Windows and Xbox diehards.
George is the Reviews Editor at Windows Central, concentrating on Windows 10 PC and Mobile apps. He's been a supporter of the platform since the days of Windows CE and uses his current Windows 10 Mobile phone daily to keep up with life and enjoy a game during down time.