TYLT VU Qi wireless car mount, a versatile option for your Windows Phone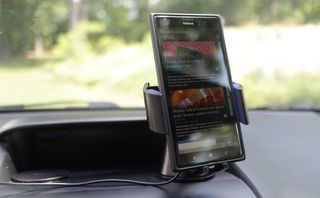 Car mounts for your phone can vary nearly as much as phones themselves. You could buy one that is made specifically for your device, but that can quickly become problematic if you change devices or share your car with someone else. Often, universal mounts are stripped-down pieces of plastic, devoid of options, that fail to live up to what you paid for them.
The TYLT VU Qi wireless charging car mount, however, is a versatile mount with options aplenty.
The TYLT VU is a suction-based mount that can be applied to your windshield or dashboard. The main body attaches to the mounting post using a swiveling ball in socket design. You can control how easy it is to move around by loosening or tightening the knob on the back.
There are two arms on the side of the mount that can be adjusted to hug the sides of your device. They click into place as to close them around your phone and float open using a release button on the back of the mount.
The TYLT VU comes with two interchangeable feet to support the bottom of the device, a solid one for Qi-enabled phones and a forked one that accommodates a USB charging cable. The feet can be adjusted to accommodate the height of your phone, which is also handy for positioning the device, so the side arms don't press your camera button or volume controls.
The back, foot, and arms are all surfaced with a non-slip silicon padding to keep your phone steady, even on the bumpiest of roads.
The good
The overall quality of the TYLT VU is top of the line. It is very sturdy, and all of its adjustable parts move smoothly and effortlessly, like a well-crafted machine. The swivel mount gets you viewing your phone from whatever orientation or angle you want and won't get knocked out of place while using the touchscreen.
Even the suction cup is superior to most others. It has a tacky surface to form a tighter seal on the glass or dash. Once it had been in my car for about a week, it was downright difficult to pull off, and that's a good thing.
The Qi charging pad on the TYLT VU is ace. Its three-coil design makes it easy to line up your phone and get it charging without a fuss. Other Qi car chargers that I have used could not keep pace with the battery drain on long trips when using GPS, Bluetooth, and playing music at once. I did not experience this issue with the TYLT.
My favorite thing about the TYLT VU car mount is that it makes no assumptions about how you will use it. It will work with just about any phone, regardless of size, and will adjust in such a way that it feels like it was custom-made for your device.
I can charge my Lumia 1520 wirelessly and my wife can charge her Samsung Galaxy S3 by plugging it into the USB jack that is built into in the DC plug. We can also use the TYLT VU to charge our devices simultaneously when riding together.
The not so good
I love this car mount, but it is not without its minor annoyances. I wish the side arms opened just a little bit more. The VU fits my Lumia 1520, but I need to slip it in one side of the phone at a time, which sometimes presses the camera or power button. It's not a big deal, but I would prefer to be able to just sit the Lumia 1520 on the mount and then pinch the arms to secure it.
The first couple of days that I used the TYLT VU, I found that the suction cup would lose its hold to the dashboard. Given how well it holds now, there's a good chance that I just hadn't cleaned the dashboard well enough before applying the mount.
There are sure to be some people out there that will hold the eighty dollar price tag against the TYLT VU as well. And though I agree that is not chump change, it is also not far off from other chargers of its kind, like the [Nokia CR-200(http://www.windowscentral.com/tag/cr-200). As is the case with both of these mounts, you get what you pay for: an elegant, premium cradle for your smartphone.
It's a close call, but I favor the TYLT VU slightly over its Nokia counterpart. Sure, the CR-200 has the built-in NFC and companion app, but I don't find myself using those much. The VU fits my Lumia 1520 slightly better and feels a bit sturdier on the dashboard, especially when I am using the touchscreen.
I am thoroughly impressed with the TYLT VU's quality, versatility and look. If you spend a lot of time in the car, or just want to treat yourself to a fine car charger, you will want to consider the TYLT VU.
Available in green, gray, red, and blue (pictured), you can get one now in the Windows Central Store for $77.95.
Windows Central Newsletter
Get the best of Windows Central in in your inbox, every day!
Lol. It's made for phones not phablets. You can't buy something out of the ordinary and expect every thing to be made for it or for the MFG to take that oddity into account.

You may have to use the clamping arms as the rest, but sure.

How about an hp micro server? Always wanted one in my car.

Just buy 5. When buying in bulk you can get a discount.

I love TYLT. I have several of their products.

Looks good. I'd order one if it had a vent mount option.

Why? Just why, would you spend that much on a QI charger for the car? If the charger needs a cable (as all do) then why not just connect straight to the phone and use a normal cheap phone holder?
Doing this not only means you can charge ANY phone from the same cable that doesn't have QI functionality but charging directly through USB is much faster and more reliable than using QI.
This is especially a problem if you choose to use your phone as a Sat-Nav as having the app running and the screen on actually drains more power than a QI charger provides. Furthermore, you still have the same issues as all QI chargers, that they just don't work if you have your phone in a case. I use a case to protect my phone and don't want to risk damaging it removing the case all the time just to use QI, surely that is more hassle than plugging in a USB cable? No, stick with a cheap standard holder (£5-£15), a cigerette lighter to twin USB adapter (£5) and a standard USB cable (£1-£5 depending on length required).

My qi works through the case. Is yours particularly thick?

Nope, but it is a wallet case rather than a shell (rear only) case so maybe that is different?

Funnily enough, I thought about that just before I posted the comment. Pity, because qi is actually great for stopping the wear on a usb port.

a) Maybe I don't want to futz with the cable every time, or put stress on the USB port. Maybe I just want to be able to grab and go.
b) The author actually says this charger had no problem keeping pace with simultaneous GPS, Bluetooth and Music playback.
c) I've had lots of cases that work with Qi charging.
d) So as usual, I'd advise people to get whatever fits _their_ needs and _their_ budget.

A) You mean like the USB port was actually designed to do? You are plugging it in in a static position, not swigning it around your head. You can't 'grab and go' from a car holder anyway unless you want to risk pulling off or damaging it. At home would be a completely different argument. B) When it comes to charging articles such as this can be very misleading. It is mentioned in this that 'other' chargers faied to supply enough power and yet when you read other reviews they nearly always say that they charge just fine. So which is it? C) Depends on your cases... are they wallet or shell cases? If wallet please let me know which so I can try to find a version for my phone. D) I agree here... When using it in a car, I think you'll find my options provide everything you need while costing far less.

I have the CR-200, and it is designed so that while you can't just grab your phone and pick it up, it's almost zero effort to operate the clamp as you grab it or put it in, so other than a slight additional finger motion, yes, it really is grab and go. You can just reach over with one hand and take the phone or put it in the charger. You can do either action while driving without looking away from the road. It's much more convenient and safe than trying any of that with a wire. The wire method takes several times the effort and time of the wireless one. Wired charging is a lot less reliable overall when you remember there is a human in the loop who might not want to mess with the wire every time. The phone will end up getting charged more often with wireless.

Ha! What's this? You actually READ the article before posting your opinion? You do know that's frowned upon here by the millennial masses, right? (Just kidding of course, but refreshing and yes-- good points). :)

I guess you've never used a TYLT product before? Their Qi chargers are notorious for great power output. I have one of those dual layer cases (plastic and silicon) from incipio and my charger works goes right through that. Also, you act like everyone lives in the same circumstances as if a product that doesn't work for you wouldn't work for someone else.
This product would work great in my circumstances and I've planned on getting one ever since they were announced.

I have my 830 in a sturdy tough case and use the Nokia QI car cradle and it charges it fine without me taking it out the case, also l very often stream xbox music to the car stereo and keep the phone screen on so can see the info and it keeps the battery topped up, so I'm sure this one would just about be the same, yes they are an expensive accessory, but after having the convenience of just sitting the phone onto it and not having to mess about plugging it in each time I get in I wouldn't be without it.

Why?
Because Windows Central earns more money selling expensive things like this ;)

Quite cyncial. Should we just not review products that our audience may be interested in?

"Windows Central earns more money"

Well, if you want quality writers who can work full-time, we do have bills to pay. I know everyone wants everything for free, but that is now how tech writers work.

Cynical is talking about things like SD card deals on Amazon etc....and then adding affiliate links without even mentioning it.
I certainly don't want everything for free - but not even mentioning the affiliate link stuff really does grate. On the flip side, I actively support websites that say 'why not support us by clicking through on the links'.
By the same token, it would add credibility to say - 'we've just taken delivery of xx product to the WC Store...and here are our impressions'.
I guess I just don't like being spun a yarn about a product only to then find out the reasoning at the end of the article. Better to say such things at the start.

1) I use an Incipio NGP Impact case on my Lumia 1520 and the Qi charging works just fine. 2) I addressed what you said about using Qi while running GPS, apps, etc. in the review. To my surprise, the Qi charging actually can keep your phone charging with all of that stuff running.

I get your question, I really do, and $80 should make anyone think twice. I picked up the Nokia one for much cheaper on eBay so that helped with the decision for me. What I like about it is the lack of having a cord attached and not putting stress on the charging port. Yeah, I know, that's what it's designed for, but I've had three 822s in my family struggle with the charging port after some time. For my sister, wireless charging became the only option after it quit charging through the port. On my 928 the charging port is on top, which is frustrating with a cord, particularly on phone calls. I prefer to dock my phone anyways, so I can dock it and charge, and then if I want to take a call or use it off the dock, quickly undock it and no cord is attached. It's grab and go, which I like.

Works just fine for me and it is way more convenient than having to plug and unplug a cable every time. You are happy with your cheap solution and there are plenty of us that prefer this type of solution. I love my Tylt VU and use it with my 1520. There is room for both.

I can do a lot of driving and find the cheaper USB holders break easily or the moving joint gives up after a couple of weeks, so your trying to balance the phone on the USB lead, which gets damaged. The ease of not having to plug in and unplug a lead is a real advantage. Once you try it you'll know what I mean. You get what you pay for and if this matches the quality of the Nokia wireless charger, then it will be worth it long term.

My QI charger works fine with my Lumia 920 and a massively thick otter box on it. I pretty much ignored the rest of your post after you made this blanket claim.

"Why? Just why, would you spend that much on a QI charger for the car?"

Because some of us

have

money to spend on a QI charger for our car? This is a silly question to ask. ALL technology and smartphones are

superfluous

to our existence. Since you can ask your question about all technology, it renders it the question's legitimacy meaningless.

What are you talking about? QI works through the otter box just fine.

@SchizoHammer WTH are you talking about? QI charges just fine with your phone in a case. My Icon lives in an Otterbox and I charge it on my QI charger all the time.

Single handed mounting. Qi charging provides enough juice for Here Drive and Spotify. Why? Just why, would you spend money on a case around your phone? If the phone needs protection beyond its own design then why not buy a phone with decent build quality?
Putting a cheap looking case around your phone means that its dimensions grow with +10%, is much bulkier and won't slip into your pockets as easy as without the case. I have never used a case for any of my phones, I have never broken a screen. No, lose the hassle of the extra cover and use the phone like it's designed to be used. ;)

You would tho,k after all the year smart phones have became mainstream devices car manufacturers would alow integration into infotainment system. Yes we are still stuck with these bulky hideous mounts. Cheapest solution you can get is two small strips of velcro and a cheap case. Problem solved.

I'm sure we'll see this phone OEMs agree on a universal size and charging port.

Lets hope so, as its getting really rather ridiculous.

I would rather see, lets say for the sake of argument, a 7" area to place my phone in, that is standard size and shape in every vehicle with a standard port, then all phone OEM's can make a docking adapter that will fit around your phone, or even a case, with a contact in it that will work in the same 7" area. Then allowing your phone to be controlled through either a standard infotainment center, or allow your phone to be fully controlled and fuctional through the in-dash touchscreen with a few added screens for FM, CD, Sirrius and what not. Sadly that would require too many people to get together and agree on something.

I'm afraid windows phone owners will be left in the dust once again. The car manufacturers are all jumping on baoard with android auto and apple car play. Once you use these kinds of infotainment systems, its hard to go back. I think this is a big deal that most poeple are overlooking, but if the average consumer has a car that has this, and they know a windows phone won't work with it, they will for sure not get a windows phone

Not all, but majority yes. I drive a stick and have no invitation system at all, except Bluetooth. So once I start the car my music plays right away without me doing anything. Granted it would be nice to have a continuum for navigation on a larger screen, lets say a dell venue pro ? I shall shut up as I'm opening a whole new can of worms

I am not a fan of suction cups. I prefer the solution that my father in law has. He bought a beanbag/gel bag anchor (no idea what it is called). It is superb for his sat nav, I just need to find one for phones. It weighs a fair bit, but cancels out all vibration, and is supremely sturdy. I like the qi charging of this device, but man the price hurts.

The three-coil bit is the important part of these devices, cheaper options don't have three and are never any good at keeping your device fully charged, I spent weeks trying to find a very good three-coil desk charger that positions my phone facing me so I can see it take calls and use it while it just sits there fully charged ready for me to grab it without having to unplug it when I need to dash. Once I found one I bought one for the wife too (to keep her happy) and her phone which is in a leather wallet type case sits on it and charges fine in the case, so these maybe an expensive option but they work well at what they are designed to do.

Not sure I want to build in difficulities to my commute to work. I like its charging aspects though. But to scuffle with mounting my 1520 in the morning is a non starter.


Takes me less than five seconds to put my 1520 on it.

"and my wife can charge her Samsung Galaxy S3 " Buy your wife a new phone you cheap bastard. Preferably a Nokia.

So made me laugh, was thinking the same but didn't want to say!

Could be like my wife, who will use the same phone until its no longer reasonable to do so, and then a little bit past that. Though in my case, her last upgrade was at least a Nokia (though it's an 810...)

Yeah, my wife was like that with her S3. The screen was even cracked! I think wives do that so they can complain about it, lol. She would gripe constantly about her phone "being a piece of #*$&", and when I would say, "Well, then lets get you a new one.", she would always find an excuse why she couldn't. Then I went and switched carriers, and told her she had to, lol.

The article mentions other qi chargers not keeping up with GPS and other phone use while charging. Does this device add any charge while using GPS and other apps or does it just hold an existing charge from depleting?
Edit: The manufacturer's site page of this device shows no input or output current rating for the Qi charger but specifies 1.3 Ampere output for the USB port. The Nokia DT-900 for example has an input of 750mA and thus doubtful a greater current will be generated across the air gap. The DT-200 wireless car charger has an output current of 750mA, according to the MS product page. I'm curious how this device's current rating compares with the Nokia and other wireless chargers.

I use CoPilot while charging my 1520 on the Tylt VU with no issues.

My main concern and struggle when trying to find a car mount is making sure that the arms don't press on the phone buttons. In the review, it was stated that the arms sometimes "presses the camera or power button". Have you tried it with other Lumias? Those arms look fairly large so I'm curious as to how the mount can hold the phone without pressing any of the buttons.

The mount only presses the buttons as I am putting it into the holder. That's because you have to put one side in before the other. Once in, it never presses the buttons.

But how well does "Hey Cortana" work while driving? I have the Aduro U-Grip+, but it holds my 1520 so tightly that vibration and road noise overpower the built-in microphone. Forget using that feature with it at any speed over 30-40MPH, unless you want to be that weirdo on the road yelling at the top of your lungs at your phone. (FYI, the "Hey Cortana" command is only recognized by the phone's microphone, then switches on Bluetooth input for the actual voice commands to play music, send texts, etc.)

I use a Bluetooth headset for Cortana whilst driving. Long press the answer button and Cortana is activated, just give her instructions. As it's a Bluetooth headset their is no noise interference. This gives me total hands free operation of the phone and making/receiving calls, sending texts, playing music etc etc is all done through voice.

That would be a perfectly fine solution if I used a Bluetooth headset, but I use the one built into my Nissan Pathfinder's audio system. I have no easy option built in to manually activate the phone's Bluetooth input, which is why "Hey Cortana" would work best in my scenario. Ah, first world problems.

Ah, I see. I know there have been articles on WC about connection to auto systems, but you've probably seen those. #solvefirstworldproblems :)

For hands-free Cortana you can use the car controls on your steerting wheel if the BT is built in, and use the car's voice system to "call" Cortana. It's a nice workaround for cars that don't realize everyone's phone has a better voice dialing system and that they should just patch you through to it like a BT heaset does.

Seth, will it accept your 1520 if mounted to the windshield?

I'm done with these car qi chargers. My cr-200 failed on me with the sticky pad falling apart. I'm using the car charger from the cr-200 and a dt-900 pad as my qi charger...

I have it and LOVE it! The side grippers are great. Even if there are buttons, it won't push them because the grippers are actually angled so it actually holds onto the edge of the phone near the screen. I replaced the suction mount with a cup holder mount, because I didn't want it blocking my view (and I think California has laws against mounting stuff in the center part of the windshield (not that it is enforced regularily)). It uses a standard size 17 mm ball brace, so you can find lot of alternatives to the suction mount. http://smile.amazon.com/gp/product/B002IETL2Y?psc=1&redirect=true&ref_=o...

I've had one like it before. Its actually too low and your eyes are off the road with this design.

Just sent mine back to the store cause it doesn't hold my ICON without pressing the buttons :-/

As a follow-up, I have now bought this mount and my initial impressions are favourable. My CR-200 failed last year with the sticky pad literally melting so I am a little concerned that the Tylt seems to use a similar sticky mount. I've taken the decision, though, to mount the Tylt on the car's dash area rather than on a side glass panel, in the hope that this will reduce the sun's effect on the pad. In mounting the phone, I can sometimes activate power and/or camera when pressing the arms in, but the arms don't keep those buttons pressed. It is a minor annoyance and at least a relief that the buttons aren't held in. The mount certainly seems to be able to keep the phone charged. I've just driven to work with GPS running and a podcast playing, so the screen has been on all of the time. I did turn Wi-Fi off. During this time, the phone actually charged, something I don't think the CR-200 could have done - the best that would have achieved was status quo. I really like the way the phone holder portion fits onto the suction mount; the ball joint means you have a lot of flexibility over positioning and you can tighten the grip of that joint to suit your needs.

Thanks for the review. I will consider this option. I've been in the market for a car mount, but I haven't been able to decide on the current offerings. This QI charger/mount sounds perfect for my 928.
Windows Central Newsletter
Thank you for signing up to Windows Central. You will receive a verification email shortly.
There was a problem. Please refresh the page and try again.