TYLT VU Qi wireless car mount, a versatile option for your Windows Phone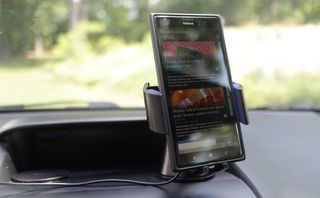 Car mounts for your phone can vary nearly as much as phones themselves. You could buy one that is made specifically for your device, but that can quickly become problematic if you change devices or share your car with someone else. Often, universal mounts are stripped-down pieces of plastic, devoid of options, that fail to live up to what you paid for them.
The TYLT VU Qi wireless charging car mount, however, is a versatile mount with options aplenty.
The TYLT VU is a suction-based mount that can be applied to your windshield or dashboard. The main body attaches to the mounting post using a swiveling ball in socket design. You can control how easy it is to move around by loosening or tightening the knob on the back.
There are two arms on the side of the mount that can be adjusted to hug the sides of your device. They click into place as to close them around your phone and float open using a release button on the back of the mount.
The TYLT VU comes with two interchangeable feet to support the bottom of the device, a solid one for Qi-enabled phones and a forked one that accommodates a USB charging cable. The feet can be adjusted to accommodate the height of your phone, which is also handy for positioning the device, so the side arms don't press your camera button or volume controls.
The back, foot, and arms are all surfaced with a non-slip silicon padding to keep your phone steady, even on the bumpiest of roads.
The good
The overall quality of the TYLT VU is top of the line. It is very sturdy, and all of its adjustable parts move smoothly and effortlessly, like a well-crafted machine. The swivel mount gets you viewing your phone from whatever orientation or angle you want and won't get knocked out of place while using the touchscreen.
Even the suction cup is superior to most others. It has a tacky surface to form a tighter seal on the glass or dash. Once it had been in my car for about a week, it was downright difficult to pull off, and that's a good thing.
The Qi charging pad on the TYLT VU is ace. Its three-coil design makes it easy to line up your phone and get it charging without a fuss. Other Qi car chargers that I have used could not keep pace with the battery drain on long trips when using GPS, Bluetooth, and playing music at once. I did not experience this issue with the TYLT.
My favorite thing about the TYLT VU car mount is that it makes no assumptions about how you will use it. It will work with just about any phone, regardless of size, and will adjust in such a way that it feels like it was custom-made for your device.
I can charge my Lumia 1520 wirelessly and my wife can charge her Samsung Galaxy S3 by plugging it into the USB jack that is built into in the DC plug. We can also use the TYLT VU to charge our devices simultaneously when riding together.
The not so good
I love this car mount, but it is not without its minor annoyances. I wish the side arms opened just a little bit more. The VU fits my Lumia 1520, but I need to slip it in one side of the phone at a time, which sometimes presses the camera or power button. It's not a big deal, but I would prefer to be able to just sit the Lumia 1520 on the mount and then pinch the arms to secure it.
The first couple of days that I used the TYLT VU, I found that the suction cup would lose its hold to the dashboard. Given how well it holds now, there's a good chance that I just hadn't cleaned the dashboard well enough before applying the mount.
There are sure to be some people out there that will hold the eighty dollar price tag against the TYLT VU as well. And though I agree that is not chump change, it is also not far off from other chargers of its kind, like the [Nokia CR-200(http://www.windowscentral.com/tag/cr-200). As is the case with both of these mounts, you get what you pay for: an elegant, premium cradle for your smartphone.
It's a close call, but I favor the TYLT VU slightly over its Nokia counterpart. Sure, the CR-200 has the built-in NFC and companion app, but I don't find myself using those much. The VU fits my Lumia 1520 slightly better and feels a bit sturdier on the dashboard, especially when I am using the touchscreen.
I am thoroughly impressed with the TYLT VU's quality, versatility and look. If you spend a lot of time in the car, or just want to treat yourself to a fine car charger, you will want to consider the TYLT VU.
Available in green, gray, red, and blue (pictured), you can get one now in the Windows Central Store for $77.95.
Get the Windows Central Newsletter
All the latest news, reviews, and guides for Windows and Xbox diehards.