Review: Vito Tuned In Package includes SoundExplorer, AudioNotes, and Ringtone Editor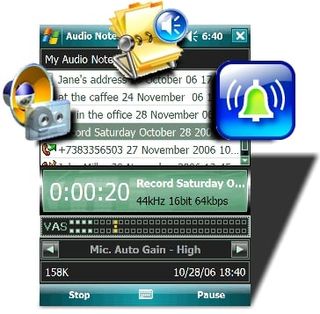 A little awhile ago, we talked about the special Vito Tuned In package roundup, so I wanted to take a closer look at each of the software titles offered in it. We have been impressed with many of Vito's products in the past (i.e. Vito Roundup, Vito Voice 2 Go, Vito Audio Player, Vito Winterface, Vito Astro Navigator II,) so I was very interested in checking out three of their audio programs. These include Vito Audio Explorer, Vito Audio Notes, and Vito Ringtone Editor. To see if Vito has lived up to the high standards that they have set or if they fall short, you will have to read on with the full review inside…
VITO AUDIO NOTES
Vito Audio Notes
is an easy and streamlined audio recorder. It may not have all the advanced settings as Vito Audio Explorer, but is extremely easy to use and it offers some cool features that the more advanced Vito Audio Explorer does not.
If you are one that likes to record a "Note to self…" or find it handy to record a meeting at work or a class at school to review later, then you will find this application interesting. Think of it as turning your WM phone into a basic digital voice recorder.
The one added gem I did not realize that Vito Audio Notes offered, until I started playing with it, is that it will also record conversations on your phone. This can be a useful application for students, journalists, secretaries, lawyers, personal notes like a shopping list, etc. For example, with my job I am on a LOT of national and regional conference calls where I take notes to pass on to other management teams or employees, and I have found that this is a very handy feature.
You do have some basic settings such as whether is records in WAV or MP3, audio quality, save the recording in main memory or on your SD card, set it to automatically record phone calls or to use your phone's speakerphone to record a phone call. Please be aware that according the Vito Audio Notes FAQ page, there may be some challenges recording phone calls with some WM phones, but I did not experience any challenges at all.
It also offers VAS (Voice Activated System) which means it will stop recording when it is quiet so you don't have long blank times during your recording. You can set the sound level that will trigger it to record on the fly by sliding the yellow marker on the VAS bar as it is recoding.
It only supports MP3 or WAV formats.
Vito Audio Notes is an easy to use basic voice recorder application that produces good results (obviously quality can vary from phone to phone due to hardware quality), but it does not have all of the higher end control options that some professionals may want.
VITO AUDIO EXPLORER
Vito Audio Explorer is a self proclaimed professional level digital voice recorder. Except for lacking the feature of recording phone calls, Vito Audio Recorder takes everything to the next level when compared to Vito Audio Notes. I would imagine that the quality may vary from phone to phone due to hardware differences, but I was impressed with it.
You have more control over just about everything. You can control slide the settings to help knock out busy sounding background noise like a crowded room or outside (which after you get familiar with the results of the setting, it does do a very good job with). It has a 3 band equalizer. You can set different levels for Booster, Noise Gate, and Limiter. It will even allow you to adjust the playback speed from half speed up to double speed (both which my 8 year old son got a kick out of). Just like Vito Audio Notes, it also has VAS so that it will pause recording during silent times.
One of the features that I found most interesting is its bookmark feature. While listening to a recording, you can tap a button to place a bookmark, which is very handy when listening to a long recording like a lecture. You can place as many bookmarks as you like. You can then rename the bookmarks and create a bookmark route which allows you to play the bookmarks in any order, no matter where they actually are in the recording.
There are a LOT of other features, but I will mention just three more that I found potentially very useful. It does have a home page plug-in for easy access to starting, stopping, pausing, and playing recordings. You can also map just about any function to just about any hardware button, making it very easy to start / stop / pause recordings very easily without making a big show of it. The other is that you can schedule to start and stop recording at any time without you even being in the room. Both are handy if you want to record someone without them knowing about it!
It supports these audio formats: MP3, WAV (including GSM and ADPCM), OGG, WMA.
Overall, Vito Audio Explorer offers a lot more punch than I originally realized when I first started playing with it. You can jump right in and start using it without any challenges, but there is a very short learning curve with mastering the best results with the advanced setting, but either way the quality of the recordings are good.
VITO RINGTONE EDITOR
Vito Ringtone Editor
is a simple yet fun and handy tool for creating your own customized ringtones from MP3 and WAV audio files. You can make your own customized ringtone with just two buttons. All you do is browse to your WAV or MP3 file. When the song starts to play you click the START Ringtone button to start recording and then click the FINISH Ringtone button to stop recording.
After you click the Finish button, you can play it to see if you are happy with it or not. If you are, you can save it as a ringtone and/or assign it as the current ringtone. If you are not happy with it, you can select the Exact Edit option to move the start and stop recording points to exactly where you want them.
That's it… Vito Ringtone Editor is a simple program that does a good job in making a custom ringtone easy.
Get the Windows Central Newsletter
All the latest news, reviews, and guides for Windows and Xbox diehards.
George is the Reviews Editor at Windows Central, concentrating on Windows 10 PC and Mobile apps. He's been a supporter of the platform since the days of Windows CE and uses his current Windows 10 Mobile phone daily to keep up with life and enjoy a game during down time.