Review: VITO AstroNavigator II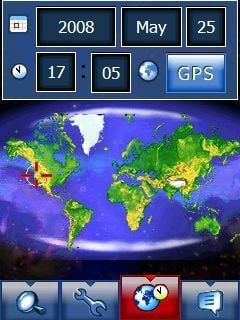 Vito Technology is a software company that has a great deal of respect for the details and the little extra touches that they always include in software, and Vito AstroNavigator II (available for Pro or Standard for $19.95) is no different. As they say on their website, you can literally touch the sky. They say this because they offered finger sliding interface even before it was made cool by the iPhone. If you want a simple to use, really cool program to find anything in the night sky without being overrun with loads of technical information and options that only the pros would be interested in, then this will be perfect for you! I use this program quite a bit in the summer time when I break out my telescope to show my son Saturn's rings, the big red spot on Jupiter, or to find out what the heck that constellation is.
Interface / Features
The interface is not stylus driven, but finger driven. With large buttons and scrolling with a swipe of your finger, you do not have to worry about dropping your stylus out in a field in the middle of the night.
You easily jump to whatever you are looking for. For example, if you want to find out where Saturn is, just tap the search button, tap the planet icon, and select Saturn, then watch as the map flies through the sky to where Saturn is or what the sky would look like if you could see it while the sun was out. Then use your finger to zoom in and out as much as you want.
Of course the sky will look different depending on where you are. So if your phone has GPS built into it, or if you hooked up to your BT GPS unit before starting the program, it will find exactly where you are.
When looking at the sky or through a telescope, keeping your night vision is very important. If you look at your screen in normal colors, it can take up to 20 minutes to get your night vision back. But if the light is red, it does not effect your night vision nearly as much. So you can switch to night vision mode as well.
Conclusion
Vito AstroNavigator II (available for Pro or Standard for $19.95) will not satisfy the serious backyard astronomer, but will certainly meet the needs of 95% of any WM user who wants to have a reference to the skies available at a moments notice. It is fun to use. It is very intuitive to use. For the target market this is aimed for, I cannot find any major cons worth mentioning, as it has all the bells and whistles most anyone would want.
Swipe to scroll horizontally
| | |
| --- | --- |
| Ratings (out of 5)Interface: 5Features: 5Easy of Use: 5Overall | ProsEasy to useNice stylus free navigationVery nice graphicsSupports GPSLots of little extra featuresConsWill not satisfy the serious backyard astronomer |
Get the Windows Central Newsletter
All the latest news, reviews, and guides for Windows and Xbox diehards.