Review – WaterField Designs Cargo laptop bag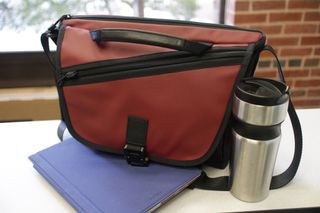 Recently we have been looking at Surface Pro 3 cases by San Francisco-based company WaterField Designs. Their Outback sleeve and Outback Solo bag are custom made to fit the Surface Pro 3.
But you don't have to have a Surface to experience the quality of their products. They make general purpose bags, as well. Case in point, the WaterField Designs Cargo laptop bag.
Options
The Cargo comes in small, medium, and large sizes to accommodate different devices and user needs. The former two have the same exact design, with a single primary compartment while the larger bag includes a divided interior pocket.
In addition to size, you can also customize what color flap you want. If you want to keep your costs down, you can select one of the available nylon options. At the time of review, only black and Celeste Indium were available. For an extra $30, you can opt for one of the leather trims that WaterField Designs has become known for. The one being reviewed here is the small Cargo in Cardinal leather.
Design
The Cargo laptop bag is constructed from sturdy ballistic nylon that will stand up to just about any everyday punishment. All of the main compartments are lined with gold diamond nylon, which is much softer.
Inside the primary pocket, you will find a sewn in flap with two large pockets, suitable for holding anything from a power brick to an external hard drive. Within those, there is also a business card holder and a long pocket for pens or styluses. Also stitched inside is a key-hook on a long tether, for easy access.
The front of the Cargo has a large zippered pocket, in which is another interior one. And lurking inconspicuously behind are two more open-topped pockets, lined with the same gold diamond nylon. This entire assembly gets covered by the bag's flap, secured by a very distinct looking paragliding buckle.
The flap itself also has a zippered compartment that runs the length of it.
One side of the bag has a cell phone pouch, large enough to comfortably accommodate my Lumia 1520.
Topping off the storage options is a Velcro magazine pocket on the back. In a brilliant design move, this pocket has a zipper on the bottom of it. So if you are wearing the Cargo over your shoulder, you can flip it upside down and access whatever is inside of it. Of course, somebody pointed out that it is more likely a luggage handle passthrough, so you can mount the Cargo on top of your carry-on when cruising through the airport.
Despite all of its holding capacity, the Cargo is still very compact when it comes to messenger bags. The adjustable shoulder strap and removable strap pad make it comfortable to wear either purse style or sash style. And the leather-clad handles are great for grabbing the Cargo off your car seat or just bringing it from room to room.
There are some people out there that may like to see a removable shoulder strap, but I disagree for this particular bag. Not only does the attached shoulder strap help keep the bag in place, but the one-piece design minimizes the number of parts that can wear out over time. And given the sturdy construction of the Cargo, you will have it for a long time.
The craftsmanship is of the highest quality, even down to the nylon and plastic zipper pulls. This is quite possibly the last laptop bag you will ever buy. And depending on which of the many color/style options you choose, it will likely never go out of fashion.
Using it
I am not quite sure where to start here, so I am just going to say that I love this bag. The thick nylon shell is incredibly durable, yet very light, so it doesn't bog you down. It is also still enough that you can stand the bag up on a flat surface to quickly pack or unpack it.
I like that the main compartment is not covered by the flap because I can quickly and effortlessly get to my most important stuff. I also like that it is not padded on the inside. It allows me to pack more things inside without added bulk.
The stiff material provides ample protection on its own, so I am not worried about damaging my device. Plus, I opted to keep my Surface and a couple of accessories in a sleeve within the Cargo, so I have a sort of travel bag for meetings, etc.
The myriad pockets offer plenty of space. In my "small" Cargo bag, I can easily fit: my Surface Pro 3 in a neoprene sleeve, Surface power brick and stylus, Microsoft Wedge mouse, eTauro mini USB dock, Canon EOS M camera, AT&T hotspot, 3.5-inch external hard drive, Jaybird headphones, plus various pens, thumb drives, cables, and packs of gum. And there are unused compartments.
Even with all of this stuff inside, the Cargo remains light and relatively slim. The adjustable shoulder strap allows me to wear this snug and to the back, like a bike messenger would, while rubberized pad keeps it in place while walking and moving around.
Conclusion
In addition to durability and usefulness, WaterField Designs' Cargo laptop bag just plain looks great. The high-end, black ballistic nylon suits any environment, be it for work or leisure. The wealth of trim options let you dictate how much or how little flare you want your bag to add.
The Cargo laptop bag has met, and exceeded, my expectations. Based on their other products that I have reviewed, I knew I would be getting a top-notch product. But truth be told, I was more than a little skeptical that any nylon bag could fully live up to a $229.00 price tag.
However, now that I have had a chance to experience the Cargo firsthand, I am pretty sure that it could have replaced and outlived the many laptop bags that I have owned over the years. When you take that into consideration, the price not only seems fair, but perhaps even a bargain.
As noted above, pricing for the Cargo starts at $229.00. The small bag with Cardinal leather trim that I reviewed goes for $259.00. You can choose the configuration that's right for you at WaterField Designs' website
Related reading
Get the Windows Central Newsletter
All the latest news, reviews, and guides for Windows and Xbox diehards.