Review – eTauro USB dock for Surface Pro 3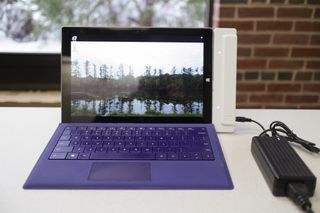 One the characteristics that set the Surface Pro 3 apart from other tablets is its versatility. It can do so many things well that, if you get the right one for your needs, it can be a laptop replacement and quickly become your primary computer.
A significant reason for this is the inclusion of video and USB ports, features that are missing from most other tablets. However, to be used as a real primary device, most Surface users would prefer an easy way to hook up to an external monitor and peripherals.
Microsoft has satiated this desire with their Surface Pro 3 docking station, but for those of you who may be looking for a more affordable (and portable) option, take a look at eTauro's USB dock for the Surface Pro 3.
If we want to split hairs, the eTauro USB dock is actually more of a port replicator than a docking station. It plugs into the Surface Pro 3's video, USB and power jacks all at once, providing four USB 3.0 jacks, a video pass-through, and a proprietary power jack.
Once plugged into the Surface, the dock has a power indicator light and another light to show when the tablet is turned on.
Pros
The eTauro dock has a lot going for it. First and foremost, it is versatile and could just as easily be used as your home docking station as it could be a travel dock. Sure, it doesn't look as cool sitting on your desk as the official Surface dock but gets the job done as a stationary quick-connector to power, a monitor, and USB devices.
In addition, the device itself is thin, so it can fit into the side pocket of most sleeves and be taken it on the road with you. The power adapter isn't much larger than the one that comes with the Surface and can be stashed in a laptop bag. And if you don't want or need the power adapter, the eTauro dock still works as a USB hub.
The price of the eTauro dock is also a plus. The dock and power supply, which are sold separately, come in at just under $80, which is less than half the price of the Surface Pro 3 dock from Microsoft. Granted, it does not provide all of the bells and whistles of the official dock, but it is an excellent alternative for the price.
Cons
For all of its likeable features, the eTauro USB dock isn't perfect. However, for the price, I have a hard time finding anything monumentally wrong with it.
For instance, it would have been great if it included an Ethernet jack. Not only is the plenty of room for one, but there is actually a symbol on the side between the power and a USB port that looks like an Ethernet port.
Occasionally, when plugging in the dock, the power input does not line up with the port on the Surface. This misalignment isn't a big deal in general, but I can envision this wearing out the power input over time. The rest is more nitpicking than finding fault. The creamy white color is reminiscent of a computer tower from the early 1990's. It would look much better in a shiny black or something else that would complement the Surface Pro 3.
Conclusion
The eTauro USB dock is a perfect example of a good bang for the buck. It will do about 85% of what the Microsoft Surface Pro 3 docking station will do, but for 50% of the price. It is also helpful as a travel accessory for your Surface.
Still, if you have a serious command center at home, like dual monitors and several peripherals, you would be better served going with the official Microsoft dock.
But if you need something a little more casual, eTauro's USB dock for the Surface Pro 3 is an excellent pickup.
You can get it on Amazon (opens in new tab) for $69.95. And remember, you must also buy the power adapter (opens in new tab) separately, for an extra $12.99.
Windows Central Newsletter
Get the best of Windows Central in in your inbox, every day!
A decent price for a decent accessory. Its not going to suit everyone but a good alternative to the official dock option

At least someone made a piece of hardware for a Surface! I don't want/need it, but they made it. Oh, and white? Really?

Fancy, now I just need to accessorize it with a SP3!

Not crazy that it requires it's own power adapter to use it, the surface and charge it at the same time. Would have much rather seen a passthrough, like the video port being a passthrough. And the video port something more useful, like a converter to full size hdmi or dvi port...

I agree about the power supply. Then again, Microsoft's Surface dock has its own special plug, different than the Surface's, too.

I am using a docking station called plugable USB 3.0 to turn my SP3 to rock keyboard, mouse and two screens. Works decent and is quite cheap.

I don't realy get it. Since this is not a solid docking station sitting on your desk and beeing connected to your monitors, printers and so on, I can't see the huge advantage over a USB 3.0 hub. Here it's plug in the device, the plug in Displayport, power and the USB devices I need. If I don't use it it's almost the same. Plug in an USB hub, plug in power and Displayport. Shure I could keep everything connected with the USB dock but it's not as handy as a real dockingstation. In my opinion it's not worse it to spend 70$ for something I could do with a USB hub wich is half the price. And I'll still need the powersuply to realy use it.

That power adapter is enourmous for what this thing does. It is bigger than the dock itself. For this reason alone I would not buy it.

But it isn't much bigger than the SP3 power adapter, so if you would carry that, you can carry this one no problem.

You start to lose the benefits of owning an SP3 vs a normal laptop...
E.g - portability!

$800+ device, meet $7 generic Chinese dock. I'm sure nothing can go wrong there. I wonder how clean the power is coming from that janky huge brick?

So it's a USB 3 hub that also saves you from having to plugin 3 cables instead of one adapter? I'll pay $15 for it, $83 is way too much

Would love to know if this fits on with the UAG Surface Pro case. The UAG case is a thing of beauty and having to take if off daily to fit in the official dock when I get home is a real annoyance.

This shouldn't be called a "dock" at all... it's a 4 port USB hub and that's it. It passes the display-port through, without converting it to anything nice like HDMI or DVI (or even VGA), and exchanges the amazing SP3 power adapter with a crappy brick adapter. A true dock would provide far more options such as ethernet, multiple-monitors, audio connectors etc as well as USB.

Does the official dock have multiple display ports?

Wow. That looks a lot like something that you'd get at the dollar store. In 1998.

Wow! I only spent $17.99 buying a USB 3 hub on Amazon, which has 3 USB ports and 1 ethernet port.

This is such un ugly product.
Windows Central Newsletter
Thank you for signing up to Windows Central. You will receive a verification email shortly.
There was a problem. Please refresh the page and try again.