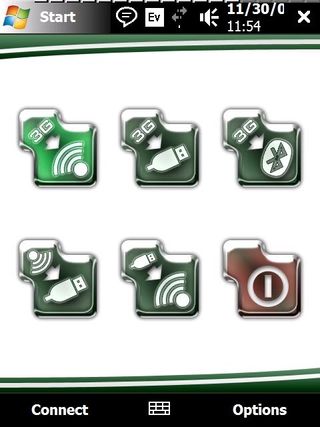 Have you ever been on the road with work or on vacation and wished you could tap into the internet with your laptop, but don't have anyway of doing it? With this in mind, how cool would it be to be able to turn your WM phone into a WiFi router anywhere you are to access the internet? Sound a little far fetched? Well, that is exactly what WMWifiRouter does!
WMWifiRouter has a large fan base in the WM community, dating all the way back to its free beta days. Now WMWifiRouter ver 1.25 (which was just released in November 2008) has matured and grown into a full fledged commercial product. Some of the questions I explore and answer are... how easy is it to use no matter if you are an novice or expert? Is it worth the one time $29 USD (19 euro)? And simply, does it work and deliver on its promise?
As mentioned, WMWifiRouter turns your WM phone into a wireless router using WiFi. But it also offers connectivity via USB and Bluetooth as well. So as long as your laptop has either WiFi, Bluetooth, or USB then you can use WMWifiRouter.
When using it WMWifiRouter you can actually become a wireless hotspot. So if you are in a business meeting and there are 2 or 3 of you that need to check their email on their laptops, you can all use the WiFi network that you WMWifiRouter has set up.
I have to say that WMWifiRouter was very easy to set up. It walks you through step by step how to set up the networks. There is little guess work and it does not require a strong knowledge in networking (though it can help with any possible trouble shooting on your laptop side if needed). But as far as everything WMWifiRouter is accomplishing, it is as easy as can be expected by any expectations. If you do have any challenges here are some common fixes.
The layout is very nice to look at and very easy to navigate. The wizards walk you though all the settings, yet you still have access to advanced settings if you want or need them. It will monitor your connection speeds, amount of data transferred, your battery life, and how hot your battery is getting.
There are two points that every user must be aware of :
I have to say that I am very impressed with WMWifiRouter. It promises a lot and delivers on every point without fail. It is easy to use with an easy to look at interface. Even though this will not be your primary internet connection option for your laptop, it can be a life saver when needed.
The big question is, is it worth the $29? The good news is that the makers of WMWifiRouter do not believe a program should be a service so this is a one time investment. I travel a lot for work, so I have used this for my laptop and my work handheld. It has saved me several times while sitting on the side of the road as well as when my hotel's WiFi network went down in the wing I was staying in. So I can say, for me yes it has already paid for itself, in my opinion. Chances are it will not be something that you use every day, but if you find yourself traveling a lot, or going on vacation and want to access the internet, etc. then you will certainly appreciate having this tool available when you need it most.
Main Features
Share your cellular data/internet connection over wifi
Connect any wifi-enabled device with ad-hoc mode support
Supports multiple devices at the same time
Easy to use: for most users, getting up and running is a matter of a single click
Power saving: works even when the device is suspended!
IP, wifi and cellular configuration built-in
64- and 128-bit WEP encryption support
Automatic reconnect on connection loss
Compatible with almost all recent Windows Mobile devices
Distinction between basic and advanced users
Keep-alive support to prevent automatic disconnects for specific carriers
Battery monitoring and management
Support for sharing your cellular data connection over bluetooth and usb
Support for sharing your wifi connection to usb, and vice versa
Multi-language support
Power Features
Ability to feed internet to your normal wireless router, with WPA encryption
Live traffic statistics
Live DHCP statistics
Port mapping support
DMZ support
AppToDate automatic update support
Corporate Features
Branding
Possibility for locked settings / configuration
Possibility for locking to your devices
Custom functionality
Extensive support options
Compatible with many Windows CE devices; custom testing and adjustments for your specific device available.
Upcoming Features
Web based configuration
New DHCP server to replace the current DHCP server
New DNS proxy to replace the current DNS proxy
HTTP Proxy
Socks Proxy
Secure Tunnel
Easy configuration application for laptops and desktop computers
Upcoming features are subject to change - some of these features are already in development, others are still in the planning phase and may not make it into future versions of WMWifiRouter.
Compatible Devices & Non Compatible Devices
You can find a long list of devices that are compatible and those that are not compatible with WMWifiRouter HERE.
Swipe to scroll horizontally
| | |
| --- | --- |
| Overall: 5 stars out of 5 | Easy to navigate and set upNice layoutCan use Wifi, Bluetooth, and USBWill require some configuration on your laptop... not really a con but a point that the user must know how to do. |
Get the Windows Central Newsletter
All the latest news, reviews, and guides for Windows and Xbox diehards.