Ring Video Doorbell app updated with volume control, Stick Up Cam support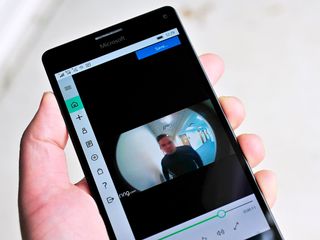 The official Ring Video Doorbell app for Windows Phone has received a fresh update, bringing along support for Ring's recently released Stick Up Cam and more. In addition to Stick Up Cam support, Ring Video Doorbell users will also now be able to control the volume of the doorbell from within the app thanks to a new volume slider in the settings menu.
Here's the full breakdown of what's new in the latest Ring app update:
Stick Up Cam: We've added support for the newest addition to the Ring family. When used together with Ring Video Doorbell, Stick Up Cam provides a full Ring of Security around your home. Learn more at: ring.com/stickupcam
Doorbell Volume Control: A much requested feature. Now you can adjust the volume of your doorbell's ringing sound via the Device Settings screen in the app.
Of course, there is the usual smattering of bug fixes and performance improvements tagging along in the update as well. If you'd like to get your hands on a Ring Video Doorbell (opens in new tab), but haven't quite made up your mind, be sure to check out our recent look at the Ring app and doorbell as part of our Windows 10 Gems series.
Download Ring Video Doorbell from the Windows Store (opens in new tab)
Dan Thorp-Lancaster is the Editor in Chief for Windows Central. He began working with Windows Central as a news writer in 2014 and is obsessed with tech of all sorts. You can follow Dan on Twitter @DthorpL and Instagram @heyitsdtl. Got a hot tip? Send it to daniel.thorp-lancaster@futurenet.com.
Awesome. Now if only the app would quit crashing on every launch on my 950. :( This started weeks ago and even after a few updates and a few insider OS updates it still won't work. I wonder if my personal synced settings are corrupt, it works fine on my wife's 950 with all the exact same OS/app versions.

Working fine here, so maybe something else?

I was able to fix mine. I uninstalled the Ring app, under settings/backup I unchecked the Ring app, did a full backup of my phone, then reinstalled the Ring app. I believe this gave me a clean install instead of restoring corrupt user data. Since it seems to be a big issue with lots of people per the store ratings, you may consider doing a followup. :)

Maybe all my whining about it not working with the stickup cams despite it saying that it did (having setup options that didn't finish the setup properly) paid off finally. Looking forward to finally getting these set up.

It looks like they fixed the setup issues but it still doesn't seem to stream (by setup issues I mean the crashing and not actually recognizing the camera after connecting to it (on the phone). it still doesn't appear to be working for me as the camera is not picking up motion and recording/notifying me. The update appears to have happened though (the blinking white light) so there's that. Almost forgot one other important thing, it looks like they've started charging me for the service now that it is "set up" which it didn't do previously so either they did make progress or they just decided "what the hell, if he hasn't sent them back yet and is still trying, lets just see how much he's willing to take..."

The streaming issue might be wifi distance. They said the doorbell should be no more than 25 feet from the access point/ router and they weren't kidding in my case. I move my router 5 foot farther away and now I can't stream.

My doorbell is on the other side of the house and first floor, the stickup cam is in the next room (haven't hung it yet obviously) I'll probably call support tomorrow when I have a moment.

Still doesn't get past the splash screen without crashing my L950. I doubt know why they are adding "features" to an App that doesn't work. It's pointless.

I'm using it on my 950 and XL with no issue. Which build are you running of the OS?

Mine worked initially with my 950, but broke somewhere along the way. I'm currently on 14267.1004 and have updated to every fast ring build hoping it'd fix it. Wife's works fine, same update path, mine crashes on load every time regardless of install to phone or microsd. Is there a way to wipe user data for an app? That's all I can think of is maybe it restores corrupt data when I install it.

Mine actually went from not working, to working, to not working while I was on the phone with their Support, and they watched it happen in real time. That was weeks ago and it hasn't worked since :-( Like you, I've tried installing it to the device and the SD card - it makes no difference.

14267.1004 Yes, it could be a build issue. On the other hand, their Tier 3 support Support people are uninformed to the extreme, and are equipped with emulators for Windows Phone 8.1 phones but not Win10Mob. And when I tried to give hem my build number, they ddin't know what I was talking about. They clearly are not well informed, and one might say, they are misunderstanding the user base, which NOT running Windows 8.1 I certainly don't want to discourage them from supporting the ecosystem, but almost half of the comments in teh Store are about the same problem - crashing after loading the splash screen - nd it can't be too hard to figure it out and fix it. Let's hope they get to is soon!

Yeah when mine worked it was great, I've really enjoyed the product and will likely buy a few more cameras. The laptop app works fine.

Please Ring, we appreciate your support for Win 10, but make it work before spending time "improving" it. :)

So awesome to see a high end company support there UWP app so well Zachary Bowling - ZAD Apps

It still won't stream for me using WiFi on my AT&T Lumia 950. Just keeps trying to connect to video and never does. It will stream over LTE if I disable WiFi. It works on other devices over WiFi on the same network (iPad, Android tablet, Windows PC)

I'm about to close on a house, so I might just pick up a Ring doorbell.

Congratulations! I have no complaints about the Ring doorbell it works really well with all my windows devices. You should definitely get one

This seems to fix many issues. It actually works now. Only issue is the app on the phone isn't using speakerphone when talking

what if someone steals the ring doorbell

Then you'll see who did it ;-)

I have the same crashing issues reported by others. I'll continue to highlight that while I LOVE this product and APP (when it works), the great work and improvements being highlighted here and by Ring are lost for even this passionate supporter & fan. Given that I have been unable to run the App AT ALL on my 950 since almost 2-Days after app-launch (splash & crash) and neither uninstall/reinstall or ring.com support have been able to resolve this widely reported issue... I feel it is necessary to continue to promote these issues and concerns in these forums. As a software guy myself, I have a deep appreciation for the complexities which could be involved here and the elusiveness of bugs for which there is no reliable repro. Please consider me ready and able to help in anyway I can. I remain patient (albeit less-so by the day) and optimistic that the folks at Ring.com will resolve this issue soon
Windows Central Newsletter
Get the best of Windows Central in in your inbox, every day!
Thank you for signing up to Windows Central. You will receive a verification email shortly.
There was a problem. Please refresh the page and try again.