Ringtone Maker once again available and working for Windows Phone 7.8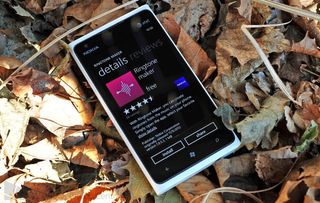 Nokia isn't quite bringing sexy back, but we'll instead take Ringtone Maker. The app was unavailable for those who upgraded to Windows Phone 7.8 early, as we previously reported on back in December. The app was subsequently removed due to it causing issues. Since then we've had no Ringtone Maker, but Nokia has swooped in and laid the golden egg.
Reviews on the store so far are positive, which is always a good sign that everything's back in working order. Unfortunately the app isn't listed in the Nokia Collection, so be sure to search for the app or use the link or QR code in this article. Should you wish to take a song and cut it to make your own ringtones, be sure to check out this app on your Lumia Windows Phone.
You can download Ringtone Maker from the Windows Phone Store. via: Plaffo; thanks, Dario, for the tip!
Rich Edmonds is a word conjurer at Windows Central, covering everything related to Windows, gaming, and hardware. He's been involved in technology for more than a decade and knows a thing or two about the magic inside a device chassis. You can follow him over on Twitter at @RichEdmonds.
works fine on my lumia 620 .....

I have had it on my L920 since the first version, working well. Check some older article and find link.

Link might be old, but store updates, I dont think you can get old version, I might be wrong

Thanks fellas, trying to locate it now.

Doesn't show all my songs still needs some improvement.

You have like 666 songs? Have been working well with my huge number of 50 mp3s.

Nope,just five albums and only nine songs show up.

Same issue here but I have over 500 at least and not even half are showing up on my 920... :/

Just converted my songs to MP3 now its working.

Guys it only shows .mp3format

I wish they released it on all WP8, it worked great on my old 822 but it's not available for my 8x :(

Yeah shame its a Nokia only, would love something like this on 8x

This only shows half of my songs on my 920

Only mp3 songs. No wma sad

It works fine on my 7.8 Lumia 800 and I've been using it this whole time. What issues are you talking about?

Still looking for word on Cinemagraph and Bluetooth share for my 900 running 7.8... But this is a good start.

Does not work with wma files which is a joke...most of my music is all wma files that play in zune but not count as a ringtone. I can just edit the genre to ringtone in zune..edit the song in audacity and pic it from my ringtone list without an app.

Sorry off topic. Anyone has error like sorry cant play this file on your phone on YouTube? Concerning nokia 920. Thanks

Works great on my L900 with 7.8

This app for WP8 did have issues. None of my music would show up (all in mp3 format). Then someone suggested one day to turn off the Xbox Music cloud option in the settings. Sure enough, my music suddenly appeared in the app.

sucks that HTC isn't coming up with things like this.. Argh!!

Only works with mp3, no wma :(

It's giving me a compatibility issues warning on my L920. Says it only supports 480x800 resolution.

Yet another Nokia only app. At this point why even bother with HTC huawei and Samsung? Lumias are obviously the only devices getting any special treatment.

I don't think this is a special treatment, it's more of a result of Nokia's creativity hard work and dedication to the wp platform. There's a huge amount of apps made by Nokia and many of them are dropping their Lumia exclusivity after some time. Like Nokia maps. I doubt HTC or Samsung will ever make their exclusive apps freely available.

@accursedvenom...Nokia created and developed this app - this is not some 3rd party app that they have an exclusivity deal with. In other words, a Nokia developed app for Nokia devices...surely this makes sense to you?

How hard would it be for HTC/Samsung to make such an app especially since they have their own apps that they created and developed themselves.



Obviously that makes sense. The point is they are the only ones doing it. HTC hasn't made an exclusive app since they re-released the sound enhancer and moved it to phone settings instead of a stand alone app. I know the next line is "buy a Nokia device". Can't afford it with rent, car payment and child care. Tmo wants almost 180 for the 810. I've only upgraded once with them and that's the best they can do. Perhaps I should threaten to cancel my plan?

Do it. My wife and I got 2 free 810's out of them. Ask for the loyalty dept. They also tacked on a bunch of other extras and discounts.

you are getting this wrong.
lumia users are getting special treatmant ;)

Hey guys, anybody know of any decent ringtone creating apps on wp8?

I've had this version for ages and it doesn't work for me

when cinemagraph for winpho 7.8?
Windows Central Newsletter
Get the best of Windows Central in in your inbox, every day!
Thank you for signing up to Windows Central. You will receive a verification email shortly.
There was a problem. Please refresh the page and try again.