Rocket Riot returns with explosive pixel art action for Windows 10 PC and Mobile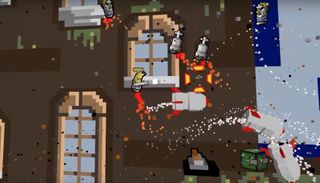 Rocket Riot, a quirky 2.5D arena shooter, has returned for Windows 10 and Windows 10 Mobile. The cartoony side-scroller, wherein players can take on over 200 levels of pixel art goodness, was originally available for Windows Phone 7 and Windows Phone 8.1. Along with a move to the universal Windows 10 platform, Rocket Riot even packs support for input from a mouse and keyboard, Xbox controller, and, of course, touch.
Update: We should mention two other things: This game is Xbox Live enabled, so achievements! Also, you can unlock ALL the characters via an in-app purchase right now for $0.
Here's a look at everything you can check out in Rocket Riot for Windows 10 PC and Mobile:
Engage in over 200 single player missions; explore the amazing-looking pixel art worlds.
Unlock over 300 characters; Zombies vs. robots! Pirates vs. rocket-propelled bananas, moose's, ninja's, cowboys, and many more... Whatever you like, we got it!
Multiplayer challenges let you compete for ultimate Rocket Riot world domination!
Outsmart tons of bosses and mini bosses; it takes all your skills to win.
Classic Rocket Riot™ levels with awesome new stories, characters and visual effects.
20 insane power-ups; useful, useless … and above all explosive power ups!
Colorful 8-bit style visuals with a splash of modern artistic flair, now in stereoscopic 3D.
Regenerating maps; destroy it all and exterminate the arena's. Add Comment
Use touch, mouse/keyboard controls, or USB Xbox Controller.
Outrageously fun on both Windows 10 devices and Windows 10 Mobile.
To mark the launch, Rocket Riot is currently on sale, down from its regular $3.99 price to $3.49. So if you're interested in giving the game a shot, now is as good a time as any to give it a go. Be sure to hit up the Windows Store to try Rocket Riot and let us know what you think in the comments!
Download Rocket Riot from the Windows Store (opens in new tab)
Dan Thorp-Lancaster is the former Editor-in-Chief of Windows Central. He began working with Windows Central, Android Central, and iMore as a news writer in 2014 and is obsessed with tech of all sorts. You can follow Dan on Twitter @DthorpL and Instagram @heyitsdtl.
It's a UWP and for $3.49 you get it on Mobile and PC now. If they didn't have the buy again thing, they'd be giving away the PC game for free.

A new user gets the game on their mobile and bonus - on pc for free. An existing buyer gets to keep the mobile version and does not get it on pc.

That's not available for developers to decide/implement.

Unfortunate... Love the game and as much as I don't want to be required to buy something twice, I will.

Please tell me this is better and foremost model of a game than Mini Militia is today, because it looks like it is. I'm grateful for the team behind this beautiful game development.

Yeah wtf I bought Rocket Riot 3D which if i understand is the same as this during the Windows 8 days. Lame

Yeah, call me a sucker - I bought it again

Me too. I was so mad when it was delisted on WP and Windows 8/RT. I had all the available DLC for it. I actually still have the original game installed on my Lumia 928 and Surface RT. When I saw it surreptitiously launched in the store the other day (seriously, what's with the lack of promotion for it?), I snatched it up immediately. ​On a side note, what's with the recent trend of Windows 10 Xbox Live titles no longer having the Xbox Live banner on the game art / live tile? So now some of them do and some of them don't. This lack of uniformity drives me bonkers.

So does that mean it supports continuum?

Any chance they'll add Xbox support?

Oh...there's already an Xbox one version. So now 2 versions. Huh!

Yes it does, just tested on an 950xl

Not buying again. Don't know the technicalities, but in simple words, I have already paid for it once. It may be a universal game now, but that doesn't mean the version I paid for should not be available to me.

The 'technicalities' are that Microsoft screwed them over and they fought tooth and nail to regain control of the game as a fully independent developer, finally succeeded, and now relaunched the game by themselves. They couldn't provide you compensation for the previous version even if they wanted to--that's on Microsoft.

This. And when they are finally ready to release their independent version on Steam (and iOS before), WinCentral chooses to casually forget that at all, pretending it to be an exclusive UWP game.

While the game is delisted, on the anniversary update you can still download 'Rocket Riot 3D' through the store Click/tap profile image -> 'My Library' -> Games - Show all There's a download button next to all games that are supported on your current device, scroll down far enough through your purchase history and you'll find it.

Played through this game on wp7, it was awesome, I think it had Xbox support too at the time, would play it again but would not pay for it again. Not complaining about their price by any means, totally worth 3.50-3.99. Go get it if you've never played.

looks cool and crazy. I will give a try

Does this game have multiplayer? As in PvP?

No, but the Xbox 360 version does.

oh ok thanks... I bought it anyways; I suggested that as a feature, hope they consider it.

Looks pretty fun, might have to try it out

So, is this the exact same game with tilt controls, or just a twinstick shooter? I had a trial of the original, but never got round to buying it. I was playing Square Off the other day and thought the controls were not as good as rocket riot.

I really like the game, but I'm not paying twice. How disappointing.

LOL. Clicked on the in-game purchase 'unlock all characters' and it unlocked along with the Achievement "The things I have seen" which is worth 200G - shoot every enemy at least once.

No idea why u got negative vote :/

Yesterday all the map packs were free as well. (except 2)

How come this small game has achievements and a game from a big publisher like EA doesn't?

Why not email EA and ask them instead of here?

Amazing!!!! How did I never play this game all these years??? Shamelessly, what convinced me to buy it was the fact that you can get all 300+ characters for free right now plus the Xbox Controller support and the fact that it is a UWP game. This game is amazing and I can't wait to test it via Continuum and via a display dock and Xbox 360/One controller. I'm glad this game was released again for people like me who never played it before.

This game is so badass it should be turned into a franchise and MS Game Studios need to exploit it big time. It has the same vibe as Worms series, mixed with some Angry Birds-like gameplay and Minecraft visuals. Total winner

I think the devs are happy they are finally independent of Microsoft's exploitation.

You can also unlock most of the levels for free right now!

It's $8.99 on Steam for some reason.

I love this game and played it a lot when it was first released. I don't mind paying a few bucks again, so I bought it again. It's very much worth it, imo.

I payed and played before but will happily pay the $3.50 again to support a good small developer

:)) what's up with the mediocre graphics? :)))
Windows Central Newsletter
Thank you for signing up to Windows Central. You will receive a verification email shortly.
There was a problem. Please refresh the page and try again.