Rogers expanding Lumia 920 selection with more colours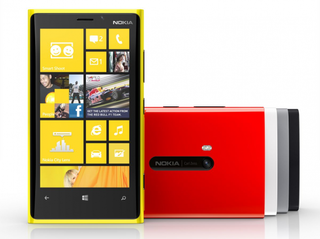 Canadian mobile operator Rogers has announced on its official blog plans to bring in more Lumia 920 stock, with a stronger selection of colours for consumers. Taking feedback into account, the team reports that the network will offer the Windows Phone in red, white and yellow. As well as this, there's also a small contest where you could win one of the new Lumia 920s.
Rogers argues it was the first network to launch a Windows Phone 8 smartphone. That may be the case, but we've certainly no forgotten just how difficult it was to physically locate one for purchase. The Mobile Nations team raided a number of stores across the country, until eventually we managed to snatch one.
The new Lumia 920s will be available at Rogers stores and online in the next handful of weeks, which paints the picture that Nokia is going full steam ahead on production. The Windows Phone must also be doing quite well for the mobile operator to consider taking on not only more units, but more versions of the same smartphone.
We mentioned a small contest, didn't we? Rogers is giving away one of the new Windows Phones it'll be receiving in the next few weeks as a little token of appreciation for the patience of customers over the last few months. So how does one enter to be in with a chance? Simple, all that's required is to comment on the article detailing the new Lumia 920s (not this one, but the on the Rogers blog).
Before January 31st, those who comment on the blog post detailing which colour he (or she) is most exited about and what they're looking forward to doing most on the new Lumia 920, will be considered for the prize. Three winners will be selected - one for each colour. Terms and conditions are present, and note that entries must be 150 words or less.
It's reported on the blog post that the new coloured variants of the Nokia Windows Phone are already available on Rogers Reservation System for existing customers to reserve. Good to see more support from Canadian networks.
Source: Rogers
Windows Central Newsletter
Get the best of Windows Central in in your inbox, every day!
Rich Edmonds was formerly a Senior Editor of PC hardware at Windows Central, covering everything related to PC components and NAS. He's been involved in technology for more than a decade and knows a thing or two about the magic inside a PC chassis. You can follow him on Twitter at @RichEdmonds.
About time! Looks like I'll be upgrading mine after all. Definitely nice to see it appear after holding out for so long and not giving in...

Finally! Just in time for my current contract ending in 2 weeks.

Love my job, since I've been bringing in $5600… I sit at home, music playing while I work in front of my new iMac that I got now that I'm making it online(Click on menu Home) https://goo.gl/Ndl9P Happy New Year!

I managed to hold out for new 920 colours...now do I wait for the next lumia...?

Only if you you're hoping for a mega PureView camera sensor. That would be the only change I can see coming that would make a substantive difference over the current gen phones.

Hah I would buy a phone full price ASAP if Nokia released one with a sweet physical keyboard (tough pro 2 style or better), and there are other hardware changes people might enjoy (Quad Core, expandable storage, etc.)

Only if you are able to wait the next Lumia for some 6+ months to hit the shelves. I expect it to be revealed in MWC end of feb. and hit the shelves 2-4 months after.

Well, even if they do manage to release a new one at MWC (won't happen), it'll be June by the time before it STARTS hittingt the shelves. Then, it'll be October by the time the color models start coming to Rogers so really, do you want to wait till October?

We shall see. The 7.8 update for my Lumia 900 might extend my patience...

Damnit, I upgraded a couple of weeks ago lol

Will they allow a 30 day return period for the purposes of swapping colors?

No, you won't be able to swap. Buyers remorse period is 15 days, or 30 minutes talk time. Whichever comes first.

You have 15 days to return/exchange. You might be able to swap!

Its odd that Rogers with all their RED colors in their brand image wouldn't have red at launch. Better late than never I guess, I find it hard to offer any kind of compliment to these 'Robbers'

Thanks to the countless customers that communicated to them that only black was not we wanted. Nice to see that they did pay attention. I thought that they might add one colour but adding 3 is great.

I'm really surprised too! I was sure they would only add one colour also

Lol I know so many people who couldn't wait and got the black Lumia 920 during the launch even though what they really wanted was the yellow or red model. Sucks for them, I will FINALLY get what I have been waiting for!

Already got an international red version. Screw Rogers for being late.

Where did you get such thing?!?!?? Is LTE working?...i did a lot of research..and the only pentaband, AWS enabled version is black!

I work in a private cell phone store so getting phones is easy ;) and no LTE doesn't work cause North American uses the 700 band but I didn't use LTE on my 900 so not a huge lose at all

Do you get lte on your international version. I don't on mine

Nope, don't have LTE on mine either but I didn't even use it on my 900 Cyan so not a lose to me

Finally!!...was really dissapointed Nokia..came out with only one version..of pentaband/AWS phone..No more compromise ..LTE Vs Red:!))!

This is what I get for supporting Rogers from day one by reserving and buying a black 920. Uck-fay you Rogers! I'm really getting sick of them slapping their dedicated customers in the face by offering better stock to those who waffled around for a few months (smartly so in hindsight) not supporting Rogers. Guess its yet another black phone for the next three years. :(

Don't fret! 100% of all the beautiful and exotic cases will look so beautiful with the black version.

With the other colours, you're limited to what looks good and what compliments them. ;)

I have the black one too.

I wanted cyan though :-'(

You didn't see this coming? You are slapping yourself in the face not Rogers. They never said they would never carry other colours eventually. I find it hilarious that people blame companies for things that are the responsability of the consumer.

It's about time. Last year I got the black 900 and about a month later they brought out the cyan that I wanted. Thank goodness I waited because I can finally get a red 920.

+1 !! This is me exactly, word for word.

Good things come to those who wait. Or who got screwed the year b4. :)

God dammit. If I knew I'd wait. Instead I got the international white version. No LTE and no portico and camera fix update. I wanted the Yellow

No doubt! Where the heck are the Grey L920's.

I don't believe they exist.

they definately exist, there is a unboxing of one on youtube, they are sexy!!. and yet rogers failed to get them :(

they definitely have a grey one, there's an uboxing video present on youtube, but rogers i guess missed it :(, the colour is definitely one of the best ones out there. Looks SEXYYY!!!

Preordered a black one from Rogers too. Totally bummed. Would have preferred a red or yellow one. :/

I wanted to make sure there was demand and a future for Windows Phone however. It's still a slick phone! :)

Preordered? You might just be able to swap it.

Offtopic. I'm i the only one having trouble with downloading apps in the store? I have been having this problem since this morning, at first it was limited to some apps but now after a fresh install i can't even download anything. Please help.

@Abdul9, the store is down.
Check here to see when it's back up: http://support.xbox.com/en-US/xbox-live-status

So are the Rogers colored 920's pentabands, aws? Someone clarify, please.

I was really hoping for cyan -- or even grey -- but this is better than nothing.

I wanted a yellow one, but couldn't wait so here I am with a black one. But like others mentioned, I'm curious as to whether the coloured ones will be pentaband...

Who got the grey? Or did anybody get the the grey one?

Wow... After all the complaints they finally decided to offer more colors. A little annoyed that it took them this long when it's something that should be done at launch. I ended up taking the black 920 only because it didn't seem likely that more color choices were coming though I wanted it in yellow. And though I could easily flip my black one online unlocked I don't know that all the hassle is worth getting another color considering I feel like were only 5 months or less away from another Lumia flagship.

Wow, about time. But I already have my black L920, and happy with it actually. Still hopefully this will up the sales a bit for Canadian market

I am happy with my black phone for the most part. I think it is really cool looking, and although I might have gotten a red or yellow one if they had been available, I am happy to stay with what I have. Got to admit though, that the yellow one does look slick.

Hello,
Does anyone know if an existing Rogers customer can purchase an additional phone, at full price - 599$ ?

Are these still $599 outright? Worst case the Microsoft store will sell them off contract as well.

Yes, but usually Rogers..wont sell them without a Rogers account/phone number

It may hit the shelves in 2 - 4 months everywhere from Australia to Zimbabwe but it will be at least 8 months for Canadians.

Rogers is accepting reservations...so it shouldnt be that far:), they say they will try to deliver withing 15 working days


well this is good and bad news since I already bought a black one. There is a little silver lining for me though. Yesterday I did a reset on my phone and it bricked. I was going to return it today but now I'm thinking about waiting. I bought mine from the Microsoft store. next problem is it's unlocked. they better give me a unlocked replacement. I should have bought it from Rogers.

my advice is when the colours come to roger reset your phone and hope it bricks.

Has anyone here gotten an unlocked 920 working on the Bell network?

I'm using it on Wind. Rogers version is a Pentaband So it should work on Bell.

So do these still come unlocked out of the box? Been wanting to get one for my tmobile line that could utilize hspa+. Thanks

Oh, and kudos for the Canadian spelling of "colour" for this article! :)

Must mean the Lumia 920 is doing well in Canada for Rogers to be adding colours and 3 at that; considering Rogers typically only introduces Black if its an "iffy" product and 1 other colour 6 months later if the phone does adequately
Windows Central Newsletter
Thank you for signing up to Windows Central. You will receive a verification email shortly.
There was a problem. Please refresh the page and try again.