Rogers to release the Samsung ATIV S Windows Phone in November for Canadians?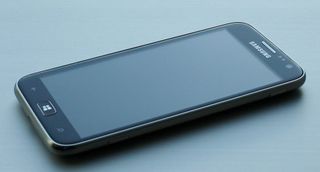 Canadian network Rogers is to stock the Samsung ATIV S, according to an unconfirmed source who tipped MobileSyrup. The Samsung Windows Phone was unveiled at the company's event earlier this year at IFA in Berlin. Bell is also reported to be looking to launch the ATIV S, which will provide more affordable choice for Canadians should both carriers compete.
This has yet to be confirmed, so be sure to take with as much salt as desired. While the ATIV S is a flexible Windows Phone, it sports a massive 4.8" display, dual-core CPU, 16 / 32GB expandable storage (SD Card slot) with 1GB RAM, 8MP rear shooter, NFC, and an impressive 2,300mAh battery. It's certainly not light on offerings.
Rogers is also reported to be supporting Windows Phone by launching four devices. We're already aware of two - the Lumia 920 (an exclusive in Canada) and the HTC 8X (an exclusive on the 8GB model). If this rumour holds out and the carrier announces the Samsung ATIV S, then we could well be looking at a possible fourth (Lumia 820 or HTC 8S?)
We're still yet to see pricing being leaked or revealed, and we'll withhold excitement until we're certain consumers will be getting as good a deal they can possibly get with the 3-year contract beasts. It's an exciting time for Canadians and Windows Phone, however.
Source: MobileSyrup
Windows Central Newsletter
Get the best of Windows Central in in your inbox, every day!
Rich Edmonds was formerly a Senior Editor of PC hardware at Windows Central, covering everything related to PC components and NAS. He's been involved in technology for more than a decade and knows a thing or two about the magic inside a PC chassis. You can follow him on Twitter at @RichEdmonds.
I'm not in Canada, but elop needs to care more gor his country than the us (I live in the us). First off, Rogers is the only one with the 920. And it is only in black. So do you expect your customers to wait 5 months for another color? BAD NOKIA!! And I hope virgin, bell, and TELUS get WP8 devices, hopefully Nokia.

i agree, but i must give props to Rogers for supporting Windowsphone, they are like the premier of Windowsphone for Canada now lol

'and the HTC 8X (an exclusive on the 8GB model)'
16GB?

Bell, a competitor, will be offering the 16gb model as well.

I'd like to get a 920 at launch but my biggest regret with the 900 was getting black not cyan (again because Rogers only offered it in black).

I'm buying an international unlocked version. I'm tied to Bell anyways so what's a bit of extra cash to get my choice of color? I'm tired of black phones.

I share your strategy. EBay here I come!

8X or ATIS s for me... Im done wanting/trying to support nokia. elop can have fun looking for a new job.

920 in black only is simply infuriating.

I bet most people going to Rogers will get the Samsung because it looks like their friends droids and probably has colour replacement backs. Rogers needs lumias in all colours and they need to carry accessories like wireless charging plates, Bluetooth ear buds and things like that. Stuff that carriers outside Canada are expected to do. Then again the competition is so stale with carriers up here, no one tries.
/rant

It's great that Rogers is getting a great selection of Windows Phones - HOPEFULLY that means they will start promoting Windows Phone big time.
Back when the Lumia 900 came out, Rogers was selling it for $99 with a contract (3 yrs, ugh, common in Canada), so hopefully Rogers will price these phones aggressively as well. Heck, Rogers was selling the Lumia 710 for $250, no contract, when T-Mobile was still selling them for $400. It was a welcome, but very surprising move by Rogers.
My guess is their 4th device will be a tablet with LTE. Last year they were giving out Android tablets like candy in order to encourage family plans and their 3year contracts. This year it might be the same, but with Windows RT?

Wish US carriers would announce who is getting the ativ.

Need more colors and on more carriers.

The Nokia Canada site only shows a black 920 yet the accessories are in colors.

I'm holding out for colors. I'll stick with my non-colored 900 till then :S

Its all Rogers..or bell.. No info on TELUS yet???

That's what I want too otherwise I'm just going to go buy the black 920 off contract.

I'm happy that I'll be able to go into a Rogers and take a look at the ATIV, 8X and the 920 before making a final choice. My excitement, especially for the 920, deflated quickly with the rumor that they'll only be carrying black.
My desire is to get 3 new windows phones for the family in November but now it is looking like it may not happen until I see Rogers stocking more colours. A different color for each family member is what the family wants. We also want are wireless chargers and possibly those JBL speakers but for some reason I'm not confident that they'll carry any.
If they don't want to stock the other colours in stores, at least stock them on-line.

It's good to finally see some WP love in Canada...

I have to agree waiting around for multiple colors is wack why bother showing all the colors if they will not all be available.

Well,
It isn;t Nokia's fault that Rogers is only offering the black one. Still, I must say lucky Canadians to have all top Windows Phone 8 devices available on the same provider. :)

But does Nokia at least make an attempt to provide all colors? There has to be a reason

Yeah lucky us that the top phones are all on the carrier that only has decent service in 3/10 provinces. If you live anywhere with less than a million people within 100 square miles Rogers is either 2g or no coverage.

I'd recommend to post complaints on Rogers Facebook page regarding the color selection. I did and someone actually replied to my nasty feedback saying thanks and they'd pass on my complaint internally. Maybe if enough of us did it it could make a difference?

Yeah I have been doing that like crazy! on twitter too! Maybe even start a online petition?

I want it on telus 920 :(

If only we could get word of an LTE version for AT&T.

This is a beast of a phone too bad it looks so iPhone-ish (aka boring).

I'd be surprised if the ATIV wasn't going to Rogers, it just seems like a right fit. I am surprised that Bell doesn't have an exclusivity deal with HTC this time around though.
Im certain that TELUS will get the 820 at the very least.
Also to those complaining about the black only 920, maybe that's the exclusive part. Maybe other carriers can offer other colours, just not black.

This phone is HIDEOUS it's an oversized iPhone 3g
Windows Central Newsletter
Thank you for signing up to Windows Central. You will receive a verification email shortly.
There was a problem. Please refresh the page and try again.