Roundup: Mobile Photo Viewers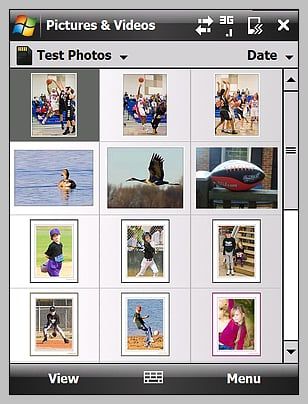 For anyone who has lifted a camera to take a picture of their favorite place, children, friends or a memorable event there is a compulsion to share those photographs with others. Historically, you either had to trap someone in front of an old Kodak slide projector or have the wallet photos get crushed from everything else that was in your wallet. Gone are those days of peeling pictures out from behind your library card.
Your Windows Mobile device is already fitted with a basic viewer but what if you want more? The other day we touched on SPB's Imageer, a photo manager/editing application for Windows Mobile but what other applications are out there if you don't need the editing capabilities but do need the organization and viewing abilities?
Several photo viewers are available for your Windows Mobile device that lets you share your favorite photos without the mess of wallet photos or the torture of a slide projector. Viewers that let you organize, view, and send your photos to friends and family. We decided to look at a few of the photo viewers that are available for Windows Mobile devices. I've been known to take a few pictures here and there(shameless plug) so it was interesting to see how these mobile photo managers measured up.
Read on after the break to see what photo viewers made it out of the darkroom and which ones ended up being overexposed.
Touchflo 3D Photo Viewer
The HTC touch devices (Touch Pro, Diamond, Fuze, etc.) are growing in popularity and to discuss photo viewers without mentioning the Touchflo 3D Photo Viewer would be an oversight on our part. If you own one of these devices, you have a decent photo viewer built in. You can establish your own photo albums by creating unique files in your directory, display photos one at a time or in a slide show, assign a photo to a contact and you can email the photos to friends/family. Touchflo's Photo Viewer is a nice, basic viewer and the only drawback is that at times instead of scrolling through the photos on the Touchflo page, you pull the picture up to full screen. Touchflo is a nice application but too often it mistakes a finger swipe with a tap. If you aren't a fan of Touchflo 3D, you can still access the viewer under your Programs Menu. You just won't have the "rolodex" styled main page.
EyePhoto
Eyephoto($14.99) from VITO Technology is a photo album viewer that also uses touch navigation. You can send photos directly from Eyephoto via email or MMS. The application will scan your device for folders that contain photographs and create albums from such folders. If you add photographs to a folder, you can tap on the refresh icon and the application will add those photos to the "album". It's a very basic photo viewer and not much different from the Pictures/Video application that is provided on the AT&T Fuze. The touch navigation is nice but not as responsive as HTC's Touchflo. I experienced a bit of lag time between swipes and the screen actually moving. There's a trial version available and I would highly recommend trying this application before buying it.
Resco Photo Viewer
Resco Photo Viewer ($24.95) comes across more as a photo organizer than a simple viewer. You can create albums, identify favorites, send the photos via email, IrDA and Bluetooth, add MP3 tracks to your slideshow, as well as simply viewing your photos. It is also suitable as a received fax viewer, movie player and suited as a screen capture.
Navigation was easy but this application is so heavy with features, it's easy to get lost in all the menus. You also have a considerable amount of options ranging from what file formats are viewable to the background color for the slide show. Resco Photo Viewer is a good application and definitely goes beyond the basics with regards to viewing photos. If you want more than "just a viewer" it might be worth the trial download.
Online Resources
Along side the installed applications, Windows Mobile users have a few online resources available to store, share and view your photos. There's always Flickr, Facebook and Picasa but two relatively newcomers are making a little noise in this area.
Dashwire is a free service that helps you sync contacts, text messages, call records, voice mail and photos from your Windows Mobile device to a "cloud based" Dashwire account. The photo application is very basic in that you can view, organize and share your photos via email or SMS. The bonuses of this application is that you can back up your contacts while you have access to your photos and it's free! All you need to do is go online to Dashwire, set up an account, install the application to your Windows Mobile device and synchronize.
The initial synchronization takes a little longer than expected but I didn't experience any duplications or errors. Once synchronized you have access to your photos from your handheld as well as from any desktop.
There's very little debate that Adobe is the industry leader with regards to digital photography application. Last year Adobe launched Photoshop Mobile which provides mobile access to your Photoshop.com account. Photoshop.com is basically an online repository for photographs that can be accessed online or from a Windows Mobile application. Photoshop.com has two levels of membership; Free and Plus. The Free membership is, naturally, free and comes with 2GB of online storage. With either membership level, you get a personal URL to access your account, online private and public sharing, photo management, and upload/download abilities. The PLUS memberships are pay memberships that will increase your storage space up to 100GB for $129.99 annually.
Photoshop Mobile gives you access to your online albums and the ability to upload photos to your Photoshop.com account from your Windows Mobile device. It's more of an organizer with the ability to create/manage albums as well as being a viewer. It's still a Beta application and is somewhat limited in the number of compatible devices. I was able to use the application on my AT&T Fuze by telling the software it was the AT&T Tilt. Obviously the application will need a data connection but will also require Adobe Flash to run. Photoshop.com Mobile is an interesting application, well worth a look at if you want online and mobile access to photos.
Final Thoughts
While the choices for photo viewers are increasing, which one is best for you simply boils down to what you want the viewer to do. If you are looking for a simple viewer, the pre-installed photo viewer might just meet your needs. If you need something with more organizational tools, then something along the line of Resco's Photo Viewer may be better suited. Need the basic editing tools? Then something along the lines of SPB Imageer might be up your ally.
Then there's the online resources such as Flickr, Photoshop.com and Dashwire if you need mobile access not only from your Windows Mobile device but from a computer as well. Personally, I'm curious to see how far Adobe takes Photoshop Mobile. It would be nice to be able to upload a photo directly to Photoshop.com from your editing software along with emailing or printing from Photoshop Mobile.
We've just scratched the surface on the many options available to share, organize and view your photos from your Windows Mobile device. Realizing one size doesn't necessarily fit all, what's your preference? What have you found to work the best or the worst?
George is the Reviews Editor at Windows Central, concentrating on Windows 10 PC and Mobile apps. He's been a supporter of the platform since the days of Windows CE and uses his current Windows 10 Mobile phone daily to keep up with life and enjoy a game during down time.
You missed Kinoma Play. Viewing of local photos but also ones on Flickr, Google, Yahoo, etc

I agree with Rich, above - I have tried many of the ones you listed, and find myself using Kinoma as my only photo viewer. It's easy and intuitive, auto rotates photos when I rotate the phone, and I can keep the photos I look at often in my favorites so I can get at them in no time. Being able to access all my Flickr sets in the same way makes it even better.

We reviewed Kinoma a while back and for those who might have missed it, you can find it here. We liked it as well and I especially like that you can access the The Big Picture now.

Since we're all watching our budgets, I humbly suggest that readers try Kinoma FreePlay as their photo viewer first. Kinoma FreePlay is available free at kinoma.com/get (or go to kinoma.com/m with your phone). A lot of folks who try Kinoma FreePlay eventually upgrade to Kinoma Play, so it's a win-win. (Tip: We occasionally tweet crazy-good coupon codes for Kinoma Play.) In addition to being able to play and share the photos on your Storage Card, most people agree we have the best play/share/upload support for Flickr and Picasa that they've seen. You can even stream your entire photo collection from your home PC with Kinoma Play's Orb support. (Thank you for mentioning Kinoma Play, Rich and tw!)

Another worth mentioning is XnView Pocket. It's a free app that does some pretty advanced photo editing right on your phone, far beyond the typical rotate and crop. Its interface is similar to Resco Photo Viewer. I highly recommend looking at it before examining any of the pay options above as it is completely free and will do everything any of them do and more. I found it on www.freewarepocketpc.net.

Or Slide2View
http://forum.xda-developers.com/showthread.php?t=358187 Or PocketCM ImageViewer
http://pocketcm.com/imageviewer.php

wow..what amazing shots... kate, Web Design Company

one day i went shopping outside ?and in an links of london store?I found some kinds of links of london i love most?they are: Links of london mens bracelets Links of london mens bracelets Links of london mens bracelets Links of london mens bracelets Links of london mens bracelets Links of london mens bracelets Links of london mens bracelets Links of london mens bracelets Links of london mens bracelets Links of london mens bracelets shopping Links of London Bracelets shopping Links of London Bracelets shopping Links of London Bracelets shopping Links of London Bracelets shopping Links of London Bracelets shopping Links of London Bracelets shopping Links of London Bracelets shopping Links of London Bracelets shopping Links of London Bracelets shopping Links of London Bracelets

That's really a fantastic post ! I added to my favorite blogs list..
I have been reading your blog last couple of weeks and enjoy every bit. Thanks

Thanks for posting this. Awesome idea!

Nice clearity with snapshots and being as a developer with ecommerce website design company I used it once.
Windows Central Newsletter
Get the best of Windows Central in in your inbox, every day!
Thank you for signing up to Windows Central. You will receive a verification email shortly.
There was a problem. Please refresh the page and try again.