Run the Shadow: Alcatraz Escape, a stealthy Windows Phone puzzle game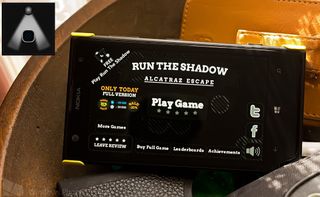 Run the Shadow: Alcatraz Escape is a relatively new Windows Phone puzzle game that has you escaping various puzzle levels and staying one step ahead of watch guards. You stick to the shadows to remain unseen and elude the spotlights that scan the puzzle.
You will also need to avoid a handful of traps and collect stars along the way that will boost your score and earn you bonuses. Run the Shadow: Alcatraz Escape makes a nice first impression and comes across as an entertaining action/puzzle game for our Windows Phone.
Main Menu
The main menu for Run the Shadow: Alcatraz Escape has a straightforward layout with button tiles to review the game, buy the full version of the game, view the leaderboards and view the achievements running across the bottom of the screen. Links to the game's Twitter and Facebook pages are stacked in the right corner just above the mute button for the gaming sounds. The "Play Game" tile sits center screen and will take you the gaming levels screen.
Run the Shadow: Alcatraz Escape Main Menu
The main menu lacks a help section but the game has a nice collection of tutorial screens that appear before each level of play that will cover any new gaming features you need to be aware of.
Run the Shadow: Alcatraz Escape Tutorial Screen
Gaming levels are separated into three chapters with ten levels per chapter. Levels and chapters are progressively unlocked and can be replayed. Through an in-app purchase of $1.29, you can buy the full version of Run the Shadow: Alcatraz Escape and open up an additional twenty levels and new enemy types.
Game Play
The goal of Run the Shadow: Alcatraz Escape is to guide your player through a maze, avoiding the spotlights, guards and other obstacles. Movement is simple in that you draw a line for your character, the larger circle, to follow to the exit. The length of the line you draw is limited so it may take a few turns to reach the exit.
Avoiding the Guards Lights
The first few levels are not very difficult but give you a feel for the gaming controls. At the top of the gaming screen, you will find an ad-banner and your gaming stats. Run the Shadow's gaming stats include your power-ups, star count, soul point count and your score. Stars are collected throughout the levels and can be converted to soul points, which in turn can be used to buy power-ups such as audio traps, flash bombs and an path boost that will let you draw longer lines.
To access the power-up menu, just tap on the score area. You will need to double-tap the screen to activate a power-up. Run the Shadow: Alcatraz Escape does have in-app purchase opportunities to buy stars and soul points to get a jump on stockpiling your power-ups.
Run the Shadow: Alcatraz Escape Power-up Menu
As you advance through the levels things get a little trickier in that you will have to avoid contact with the maze walls, avoid the prison guards and navigate around trap doors.
Guards will have spotlights and if you stray out of the shadows into the light, the guards will swarm on your location and capture your character. Trap doors have switches that you'll have to find and position your hero up against it to open the door.
Run the Shadow: Alcatraz Escape
The exits can be a little on the tricky side due to their position on the screen. There will be levels where the exit is sitting adjacent to the Windows button. If you draw you path or line too far, it is easy to make contact with the Windows button and send your Windows Phone to the Start Screen.
Once you send your character through the exit, a scoring summary will appear and you will have the option to advance to the next level, replay the current level or jump out to the main menu.
Overall Impression
Run the Shadow: Alcatraz Escape is an entertaining Windows Phone game. Game play is not complicated but does require an accurate touch, patience and timing.
The only nit I have with game play is that the power-ups aren't the easiest to access. Double tapping to get to the power-up menu then tapping to activate just felt a little cumbersome. Additionally, while the tutorial screen do a good job of walking you through game play, I wouldn't mind seeing a help section added to the main menu for reference.
Still, all in all, Run the Shadow: Alcatraz Escape is a fun, casual game for Windows Phone that is a nice option to consider when you need a little help passing the time.
Run the Shadow: Alcatraz Escape is a free, ad-supported game that is available for both Windows Phone 8 and 7.x devices. You can find your copy of Run the Shadow: Alcatraz Escape here (opens in new tab) in the Windows Phone Store.
Windows Central Newsletter
Get the best of Windows Central in in your inbox, every day!
George is the Reviews Editor at Windows Central, concentrating on Windows 10 PC and Mobile apps. He's been a supporter of the platform since the days of Windows CE and uses his current Windows 10 Mobile phone daily to keep up with life and enjoy a game during down time.
The game has impressive UI

Yeah.hope new games and apps too are announced on the big day.

Want warner bros to launch theri games. I know its obviously difficult for them to release for 512 MB Ram users but atleasr for Windows 8

Just how Belfiore had announced apps on last year ar Build. Now its time for other developers to consider WP too while releasing games on other os.

Developers, can you please make your games available here in the Brazilian WP Store?? You can use PEGI or ESRB certificate to do that and I can help with the process. Just tell me.

U can i think change ur region and download apps from store :)

He can but u know its better they release for Brazilians too whatever shall be the obstacles. Brazil is also a growing market and happening such things is harming the wp ecosystem there.

Thanks. I do that for the whole community ("normal" people that doesn't even know that they can do that). The process to get game available here is so simple (just upload a PEGI or ESRB certificate) but almost every developer don't know this.

I guess any developer from Brazil may be going to build. If he knows WP stores status of his country he may surely request or ask at Build about the WP store procedures to be fulfilled there.

And you should continue doing it. I'm not Brazilian but I know it sucks when an app or game is not supported in our countries. Unfortunately, it's not only devs who act like this. Give them hell :)

Thanks Marco! ;)
Where are you from?

Off the topic thing. I am still not getting, how to make playlist windows phone? L925

Music+ vids hub. In that go to songs and play it. Theres are 3 dots that appear on the right side below, touch that and save in playlist.

But that process is creating playlist with all of my song collection.

http://www.youtube.com/watch?v=EK1ZNphCdHw

The best way is to build the playlists on your computer with Windows Media Player. Then, download Windows Phone App for Desktop and use it to sync the playlist. This will also prevent the issue of disappearing playlists.

"Unvisible" is the letter "U" being next to the letter "I" on the keyboard, maybe?

It's always crashing after bought a full game -_-

How boring is wpcentral on weekends.

A lot. Is that why you already have 8 comments on this post alone? You were missing you "fix" :)
Windows Central Newsletter
Thank you for signing up to Windows Central. You will receive a verification email shortly.
There was a problem. Please refresh the page and try again.