Runtastic gets updated with Routes feature and more for Windows Phone 8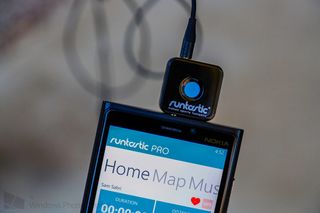 One of my favorite fitness apps, Runtastic got a nice little update today that brings with it a variety of new features – some exclusive for Windows Phone 8. Let's check them out.
If you aren't up to speed on Runtastic, read our mega piece on it from a few weeks back. It's a 2000 word masterpiece where we go into detail about Runtastic and its offerings. So what's new in this update that wasn't there a few weeks back? Quite a bit actually! If you update you'll get yourself:
Flag one of thousands of new routes from the Runtastic website and sync them automatically to your phone
Use routes for your activities
Share routes via NFC with another phone
Navigate to start point of a route
Wide Live Tile with monthly statistics
New languages supported: Chinese, Dutch, and Portuguese
New icons for sport types
Updated wordings and dialogs
Improved app start time and performance
Bug fixes – Heart rate monitor wouldn't connect in some cases, rare problem when loggin in with email and password, connection to Twitter would fail, and a few others
Windows Phone 8 users will appreciate the wide live tile support – it shows your monthly activity and is a good way to make sure you're hitting your fitness goals at a glance. Icons for the different sports have been tweaked and updated. If you have another friend who uses Runtastic, you can even share routes via NFC. But by far the biggest and most welcomed update is the addition of 'routes.'
If you navigate to the Runtastic website you can explore a section called routes, where users can create and share routes from an activity like running or cycling. From there you can sync them to your phone, that way you can try out routes from other people. It's a great way to find new trails if you're on vacation or in an area you aren't familiar with. You get access to some handy data within a specific route. For example, the distance, elevation, estimated time of completion, and top runs from other users.
Runtastic is available for all Windows Phone users – in free or pro/paid version ($4.99). The free version is good for basic logging of runs, but you'll need to enter an unlock code or buy the pro version if you want routes, heart rate monitor connection and no ads. QR codes below, free to the left and paid to the right, or swipe to the right in our windows Phone Central app.
Thanks Daniel R. for the tip!
Windows Central Newsletter
Get the best of Windows Central in in your inbox, every day!
These apps are great, but as I asked before. Why do we need em when Windows Phone GPS tracking is very very inaccurate. Apple and new Android devices is so much better at GPS recording I have stopped using both Marathon, Runtastic on Windows Phone. I wonder why WP is so bad at measure distance.

I don't know... Must depend on the phone and where you live. I used an app like that a year ago and it was pretty accurate. Not 100% accurate, but accurate enough. But I finally bought a Nike watch 'cause I wanted live feedback on my speed to my sure I always run an the same speed without having to look at my phone all the time.

I tested with a LG Optimus 7, HTC Titan and Lumia 920. All 3 was 600 meters of. That's closer to 1 KM then I like.

It's accurate enough. I used it to train for a race on my old lumia 800 and never thought it was a problem.

3 KM as WP, when everything else is showing the correct 3.6 KM is way to of for my taste. If you run a lot and check for attitude etc, you gonna run a lot more then the apps tell you.

Mine was never off that much.

Mine's pretty accurate. I've used Endomondo on a 5K run, and the numbers it logged were close to the actual numbers.

GPS phone recording aren't as accurate as the real deal. But with every competitor showing more accurate data, shouldn't we be concerned? It never been accurate on WP.

I think your not liking WP is the real problem, not (in)accuracy of these apps. I used to run with Runtastic on my Samsung Omnia W. It always measured one of my tracks between 7,350 and 7,550 meters, basically depending on the weather (I run in the forest and a known fact is that after rain when leaves on trees are wet, the GPS signal can get a little more difficult to follow). Later on, I bought a sporttester (Garmin Forerunner) because I wanted to monitor my heart rate. The same track was repeatedly measured to be around 7,450 meters, so I wouldn't think the WP measuring was too inaccurate. Moreover, one keeps their phone in a pocket while the sporttested is strapped to the wrist so again the GPS signal is easier to pick up.

Hey, everybody feels different about various things in life. Any WP phone not being accurate is as I see it a fact. If I use 3 different devices of WP and get a very off reading, and friends with various iPhones (6 Apple phones in total) get correct info, tested during different weather scenarios, I feel there is WP software, not Apps that is at fault.
On a positive note, WP devices measured wrong steadily at a total 3km every test.
Just because one like WP or not, we should settle and be content with a lesser experience?
Last but not least, you get correct info on your device, and I test 3 WP devices and get a bad result, how come there could be such differences? The GPS issue is really annoying and if its another "-works great in U.S." thing in gonna freak out.

My Lumia 920 is spot-on everytime, within a meter or two. It's fast to get a lock, never loses the lock. I'm in San Diego, CA, USA. Maybe WP doesn't work well you live. My old android 4.0 was terrible with gps in this area.

Live in the same area, have an L900, use endomondo and it works great.

Same. Something is def wrong with y'all's GPS. My 920 tracks me going to the other side of the street to avoid cars etc

I would start looking at your location and not at the phones. People have dismissed your claims but you still keep going like you are still right.

Well, it seems that way doesn't it. But I know I'm not alone (the forum?) with GPS issues. Everybody here seems fine with there results and that's fine. But only one posted actual numbers that is indeed interesting.
But since nobody is experiencing issues with GPS accuracy I will have to say that WP and Sweden is a no go, that's all there is left, and still 3 phones.
Well well.

-My apology, repeated post.-

I have plenty to complain about Windows Phone, but GPS has not been an issue for me. When using GPS for logging activities (like the 5K run), the numbers were close to the real thing. When using it to get driving directions, the dot moves accurately and at par with my actual position on the road. It's possible that it may be location specific or something because your experiences suggest a wild discrepancy in the numbers, and mine have never been that far off.

Try turning on a-gps and glonass nokia phones are coming with both glonass and gps so it should be much more accurate than just leaving the gps on. Believe it or not my Samsung Focus S was pretty accurate =)

Hmm..My Samsung Focus is seems to be much more accurate than my Samsung Galaxy S was.

GPS distance accuracy with Runtastic on my Lumia 920 varies. I usually jog on wooded trails that have signs with distances. Sometimes Runtastic is accurate and sometimes it is way off. Yesterday I ran a 4 mile trail and Runtastic recorded 3.28 miles. I have run the same trail before and it recorded 3.95 miles.

Interesting results. It is constant off on my phones so what can give room for such difference?
I live in Gothenburg Sweden and the track I been testing are pretty central and basically open ground so reception should be excellent top notch.
To me its strange that 3 WP'ns can show wrong and Apple and some new Android phones right. Can carriers be a factor? I have not tested changing carriers, will try that maybe and se if I can get anything different at all.

To be honest, if you look out there in the real world, there are gzillion people complaining about GPS inaccuracies for both iPhone and Android. I have yet to see or hear about one single phone that doesn't have problems with GPS at times or all the time. I've also talked to many, many Android users whose GPS NEVER works; as in, the GPS location cannot be found at all, full stop. I use my Lumia 920 to track sports biking, and it's spot-on here in The Netherlands, despite the cloudiness and many other obstructions.

I think that the inaccuracy can be fixed through software. Runtastic just needs to be a bit smarter and average the gps readings. I mean, when I am running an average of 6mph and it shows my peak speed at 14mph, that's insane. There's no way I could ever run 14mph but it thinks I did.
The GPS just needs to be averaged out. I wish it was more accurate this is my one big issue with this app. I haven't run since I got the update today though so maybe it's better in the update.

This is a link to a screenshot of what I mean - there is no way any human would run like this: http://sdrv.ms/YYA5Yu

Well I am not a fitness freak but what the hell will give it a try cuz it sounds great.

I recommend C25K. Check it out.

Does it support backgroung location tracking yet?

Endomondo got an update as well.

Everybody that remember that name deserves respect. I'm always like...endo, edu...ach. :P

It's my favorite app! It has a clean, no-nonsense interface that's still laid out in an aesthetically pleasing way. Kudos to those guys!

I like it, too. And I like the challenges on Endomondo. The Battle of the Platforms challenge has really gotten me to exercise more. The app does have a few bugs still, but it works pretty well overall. I just have problems with the GPS keeping a signal in the woods while I am mountain biking, but that's a problem with the phone I guess.

Endomondo is really great, but now when I saw Runtastic has routes you can get on your phone, I'm having a hard time deciding whether or not to jump the Endo ship or wait until they find that routes are frequently asked for.

Ahh, that's cool. I wanted to try that feature out, but you have to pay for the pro version. But anyway, I don't think it applies to me very well, though it would certainly be nice to have it in Endomondo.

Still no auto-pause when stopped.

SportTracker supports that

My previous few posts above are about Endomondo, and so I don't want to come across as a biased fan of that app, but I believe it supports auto pause as well. Give it a shot if you're still looking for a sports tracker app.
Edit: Meant to reply to Jarbarator. Sorry!

SportsTracker is still my goto app for tracking my bike rides but when I switch to WP8 I might need to give Runtastic another try.

If you're in a timed event, the clock isn't going to stop just because you do... Why should runtastic while you're training. Absolutely no logic there......

My 710 is accurate within a 5-10 feet from what I can tell. When I use any of the mapping software and go to satellite view its spot on. That goes for my 710 and a Samsung Galaxy Blaze I used. Both we're equally accurate.

Having run the Cambridge Half Marathon last weekend, I used my 920 running Runtastic and also my Nike GPS tomtom watch. After 13.2 miles, Runtastic was within 20 metres difference so I cant slate the app or the phone. You have to take into account weather, buildings, terrain etc which will effect the accuracy but most of all, you need to remember this is a phone with an app. If you need it to be 100% accurate, buy a dedicated GPS watch or tracker. Overall, I love the Nike+ system but as this isnt available on WP8 yet/ever, Runtastic is a pretty good alternative.
Windows Central Newsletter
Thank you for signing up to Windows Central. You will receive a verification email shortly.
There was a problem. Please refresh the page and try again.