Tracking your runs and heart rate with Runtastic PRO for Windows Phone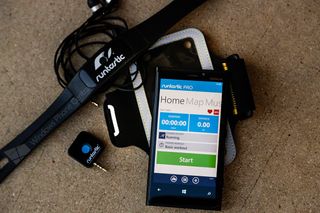 Running remains one of the most popular ways to drop a few pounds or improve overall health. It's cheap (just get a good pair of running shoes), you can do it virtually anywhere, and people of all skill and fitness levels can start. There are just too many benefits to list, but if you're looking to start running or track your current workouts, you might want to check out runtastic Pro for Windows Phone.
Runtastic is small startup from Austria (that's the one without an 'L' and no koalas) that makes various fitness apps and accessories for all mobile platforms. Right now they've only got one for the Windows Phone Store and that's Runtastic and Runtastic Pro. We'll focus on runtastic Pro for the majority of the review and towards the end let you know the big differences between Runtastic and Runtastic Pro.
The app first hit the Windows Phone ecosystem back in March 2011 and has gotten some small bumps in features and performance over time (big update coming next week). If you look at the free version it has over 2000 reviews with an average of 4.5 stars in the Windows Phone Store, while the Pro version has about 650 reviews with the same average rating. People like this app, I like this app, so what's it all about?
Tracking your runs
Runtastic is first and foremost, an app to track your runs. It excels at running, but you can select from a variety of sports like hiking, cycling, and kayaking to name a few.
When you first launch the app you're presented with a panorama view offering you: home, map, and music. Under the home setting is where you'll probably spend most of your time, mostly because it's where you start tracking your workout. You'll select the type of activity and workout.
Activities are broken into a ton of different sports – you'll probably select running 90% of the time. The workout selection is really interesting: you can either chose a basic workout or interval workout. You'll select basic if all you're doing is going for a nice long run where you don't expect to change your pace much.
The interval option is really awesome if you're into interval training, like high-intensity interval training (HIIT). An interval workout is basically periods of relatively high output mixed with periods of rest or low output. For example, you might jog for three minutes, then sprint for one minute, followed by another three minutes of jogging. You might do that until you've done four or five sprint sessions. Runtastic allows you to select from premade interval workouts or create your own.
HIIT is a very popular form of interval training for people looking to drop fat without spending two hours on the treadmill. Most HIIT workouts are about 20 minutes in length and have been shown in numerous studies to be better at burning fat than long aerobic exercises. It's a very popular choice for losing fat in the bodybuilding community because it minimizes muscle loss. If you're curious about HIIT just go google Bing it.
You're probably going to want some music while running, which you can get under the music heading. Here you can select music to play from within the app. You'll want to make a workout playlist since you can only select playlists from within the app. However, you can start playing an album from Xbox Music or another 3rd party app and still use runtastic.
The map allows you to view your current run and can be handy if you're in a new area. You can turn on or off aerial view, have the map follow you, and unlock the map to scroll around.
Listen to my heart
Like I mentioned at the beginning, runtastic makes a variety of fitness apps and accessories. They happen to have a heart rate monitor that works with their Windows Phone app. Which is one reason I started using runtastic, the ability to see my heart rate synced with my runs was too cool to pass up on. The heart rate monitor is the chest strap variety and was quite comfortable to wear. It was my first time wearing one and I didn't really notice it while running. It's adjustable, so it can fit people with different chest sizes.
Since Windows Phone 7 and 8 both suck in regards to lack of Bluetooth 4.0 support, you'll need to insert an included Bluetooth dongle into your headphone jack to use the heart rate monitor. Don't worry, you don't lose out on listening to music, since headphones can still be plugged in through the top of the dongle. Once you've connected the dongle to your phone, head into the settings of runtastic to sync the heart rate monitor to the app.
The accuracy was spot on, a few times I manually checked my heart rate to compare it to the chest strap and found it within +/- three beats per minute. Not bad at all.
The only bummer for folks stateside is that you can get the heart rate monitor just yet. The company is based in Austria and is working towards expanding their retail presence here in the US. For our readers in the UK and Europe they shouldn't have any trouble getting it from the Runtastic website.
Feedback and support while running
During a workout session you can have the app give you voice feedback on your progress. You can select intervals of time or distance for the feedback. For example, every seven minutes or every two miles you'll get a pause in music and receive voice feedback for whatever parameters you set. Those parameters can be current distance, time, pace, speed, heart rate (if you have the heart rate monitor hooked up), and calories. So every two miles you might hear your current pace, distance and time. The options are yours. I found this feature to be really helpful, it allowed me to slow or speed up depending on if I was under or over my target for that workout session.
A unique social twist on running comes from the ability to have friends cheer you on from the comfort of their chair. While you're busy busting your ass on the pavement, your couch potato buddies can cheer you on from the runtastic website. They can send cheers or personal greetings while running. While not for everybody, it's a nice feature if you're marathon training and need some motivation during mile 10 of a workout.
Statistics, devices, and web overload
Like most modern apps that track something in the real world, you can view all your stats on their website. You can do this on the app as well, but looking at data like this is usually better on larger screens. You can view your workout history, number activities, total distance, calories burned and a lot more. You're also able to drill down to individual sessions and get a map overview of your route, see your heart rate throughout the workout. The screenshot below gives you an overview of you can check out.
On the website you're also able to hook up your runtastic account with MyFitnessPal, which we've previously covered this month. Which is super great, your workouts aren't just confined to the runtastic platform. Additionally, you can sync Facebook and Twitter for sharing your workouts when you're done. Syncing Facebook allows your friends there to cheer you along in real time as well. Withings is another fitness company that is well known for their wireless scales. If you have one, you can also connect your runtastic account with it and have your body composition synced to your account.
Runtastic BASIC vs. GOLD
Let's dive into the difference between the two apps and the basic and gold accounts online.
In the Windows Phone Store you'll find Runtastic and Runtastic Pro. And if you can't tell the difference at first blush you won't be alone. I had to reach out to the team to see what exactly the difference between the two was. If you opt for the runtastic Pro version you'll be presented with a few more features that you won't get with the basic version. Those features are the ability to use routes, heart rate monitoring, split tables per mile, taking photos, ad free, and the music player. Those features can be unlocked in the basic via a promo code, which is what I think I did because the two apps were identical to me when I tried comparing (I had really only been using the Pro version).
When you create a Runtastic account you're automatically using the 'BASIC' version and can upgrade to 'GOLD' if you want. Here is what you get with gold that you won't get with the free version: enhanced statistics, enhanced training characteristics, enhanced weight management, no ads, priority support, compare yourself to yourself, compare yourself to your friends, performance reports, motivation feed, custom cheering, advanced filters, weather 3 day forecast, discounted training plans, flagging routes as favorite, sync flagged routes to runtastic app, and colored traces. To get the full breakdown hit up their site here to compare the two. Runtastic GOLD is currently on sale, so check out their site if you're interested in adding those features.
Looking ahead to Windows Phone 8
Right now, both versions of runtastic don't take advantage of any unique features of Windows Phone 8. But that's about to change as the company has plans for an update that should hit the Windows Phone Store on or before February 28. Here's what you can look forward in the update that is due in less than a week:
Create or mark one of thousands of routes on the runtastic website and sync them to your device
Do activities on your favorite routes
Transfer routes between two devices with NFC
Be navigated to the routes start point by a navigation app of your choice (e.g. Nokia Drive+)
See your activity statistics on a Wide Live Tile
See number of your monthly activities on your lock screen
Additional languages: Dutch, Polish, Portuguese and Swedish
New icon design for sport types
I just got a beta of the Windows Phone 8 app and will be playing with it the next few days. I'll give my impression in a shorter version when the app hits the Store for everyone else fairly soon.
Wrapping it up
This whole month we've been looking at how technology can help add to your fitness. Runtastic has been instrumental in simplifying how I quantify my workouts, in this case running. In the past I've had an aversion to running as a form of cardiovascular workout, preferring something like basketball. However, the benefits of long runs are hard to ignore and I've recently signed up for my first half marathon at the start of this summer. Runtastic will be great at tracking, storing, and analyzing my runs so that I can meet my goals for it.
You can download Runtastic for free in the Windows Phone Store right here, by using the QR code on the left below, or by swiping right in our Windows Phone Central app. If you're wanting Runtastic PRO for $4.99 you can get that here in the Windows Phone Store, use the QR code on the right below, or swiping to the right in our app.
Get the Windows Central Newsletter
All the latest news, reviews, and guides for Windows and Xbox diehards.