Track your calories with MyFitnessPal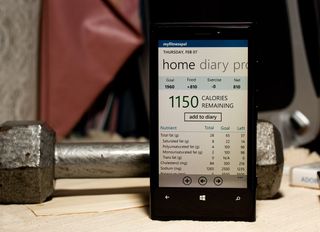 As fitness month continues around these parts, we want to revisit a Windows Phone app that will help you count calories. MyFitnessPal is a calorie counting app for your Windows Phone device that boasts the largest food database available with over 1.2 million food items. MyFitnessPal tracks your calories not only from meals and snacks but also calories lost from exercises.
We reviewed MyFitnessPal about a year ago and found it to be an exceptional Windows Phone app to monitor your diet and fitness routine. The app has been updated since we last looked at it and it remains a nice option to consider. Worthy of revisiting.
MyFitnessPal does require an account, which is free, to allow your fitness data to be backed up on their servers. In setting up an account you also create a profile that includes your fitness goals. Once you set up your account, you'll be sent to MyFitnessPal's main pages that covers:
Home Page: Here's where you find your calorie summary for the day and where you add food items consumed or any exercises completed. At the top of the page is a summary detailing your calorie goal, calories eaten, calories lost from exercise and your net calories for the day. In the center of the screen is your calories remaining for the day and just below that is a detailed nutritional break down of what you've eaten.
To add an exercise or meal, just tap the "+" button at the bottom of the screen, choose your category of entry, and select the food/exercise to add. Food items can be searched by keyword, manually entered or the barcode on the food's packaging can be scanned (using your Windows Phone camera). As far as the exercises are concerned, you can search a decently sized database for exercises or create your own entry.
Diary Page: The Diary Page is basically a listing of all your activities and meals for that particular date. While the Home Page focuses on calories and nutritional values, the Diary Page focuses on what you ate or did to generate the numbers.
Just as you can enter food items and exercise from the Home Page, you can also add these entries from the Diary Page and they will be reflected on the Home Page.
Progress Page: As the days pass, you can go to the Progress Page to monitor your weight or measurements to your neck, waist or hips. A bar graph is displayed at the bottom of the screen to illustrate your fitness progress.
More Page: The More Page contains options to edit your profile, edit the food/exercise favorites, access the settings, view the frequently asked questions (help section), view the about screen and logout from your MyFitnessPal account.
While MyFitnessPal tracks a lot of information from your Windows Phone, you also have the benefit of viewing and updating your daily activities from the MyFitnessPal website (opens in new tab). The website also offers the additional resources of a fitness blog and community forums to chat it up with others trying to lose weight or just stay fit.
All in all, MyFitnessPal is a nice, well rounded fitness tracking app for your Windows Phone. The app is nicely laid out, stable, and the website portal is an added bonus. I like how you can scan product barcodes to enter the nutritional information on those items that haven't made it to MyFitnessPal's database. Also, data retrieval seems to have a little more pep. The delay to pull information up isn't as noticeable as it was when we first looked at MyFitnessPal.
MyFitnessPal is a free app for your Windows Phone 7.x or 8 device and you can find it here (opens in new tab) in the Windows Phone Store.
Windows Central Newsletter
Get the best of Windows Central in in your inbox, every day!
George is the Reviews Editor at Windows Central, concentrating on Windows 10 PC and Mobile apps. He's been a supporter of the platform since the days of Windows CE and uses his current Windows 10 Mobile phone daily to keep up with life and enjoy a game during down time.
i started using this on my company iphone a few weeks ago. I decided to search for this on my Lumia 920. I like the layout better on the WP8. it is a good app IMO and i would recommend that everyone use it who wants to track calories.


It's a great app and service. Highly recommended.

Only problem with the WP 8 version is that there is no way to monitor the weeks calories, which is important with intermittent fasting or any zig zag dieting approach. Since ios and Android have this feature, hopefully it will be added soon in an update.

Great service overall. However, the iOS version is much better. They should put more work in this app since WP commercials have been featuring it.

As much as it pains me to say this, michail1 is correct. The Windows Phone version of MyFitnessPal is about four update cycles behind the iOS version which has the best feature set. They (MFP) really need to lift their game with the Windows Phone version...I still have to lug my iPhone4 around in order to use the Social aspects of MFP. Its the Social aspects that keep you tethered to the community of MFP'ers. There is no social integration yet in the MFP app for Windows Phone.

I have been using this for over 25 days now...it told me that on their website, haha. It is lacking to the other OSs, but looks better I think. The others also have social interaction...where I can motivate other 'friends' on their goals also...and just check in with each other. But this is fast and fluid. Only works with a data connection though, so sometimes when you bring the phone out of sleep and straight into the app it won't work for a second.

I have used this app on my WP8 device since 1st Jan. It's fantastic but not just about calories more about the amount of protein carbs and fat I eat. I love it. I want social features. I can tell you now the all needs an update there is no WP8 app it's the WP7.X app, so we need an update.

This is one of my most used apps, and it syncs with Fitbit, which is great.

I tried Livescape and liked it, but there were a few customizations that I wanted that were not there. The developer was responsive, and is updating the app, but I just went back to using my Excel spreadsheet.

Then I tried MyFitnessPal. Like the app; then discovered the website, which gave me the customizations that I needed that Livescape didn't. And it has a great database for foods, etc. So, for now, it is MyFitnessPal.

I'm still going to check out Livescape after the developer updates the app with new features, as it really is a nice app that I would not mind paying for.

Great app. Can't wait to see how it evolves.

I've been using calorie counter by fatsecret.com since before I switched to WP. The app however have not been updated since like 2011 I believe and I've contacted they dev department but still no signs of updating. I guess its time to try something new..

The daddy of calorie tracker apps.

1 to 2 star general ratings, most of which is followed up by a comment about it failing miserably..

Hmmm. When I view the ratings for this app in the Marketplace on my device, the overall rating is 4 stars, including the most recent ratings.

On device, only ratings from your country are shown.

I eat a lot of home cooked food that isn't the regular food Americans or Europeans eat. How likely would I be to find Indian/Pakistani food on here?

You can create your own meals based on common ingredients. You can save them for later use and share them with others, if you wish.

Great App - Also sucks in data from Runtastic which is saweet.

Nice writeup, George. One thing you didn't mention that people should know is that MyFitnessPal now has "apps" that connect to other services to bring in useful data seamlessly (website only for now). For example, I have linked my Withings scale and my Endomondo account. Weight measurements and calories burned though exercise are automatically updated into my MyFitnessPal account.
Login to the website and click the "apps" tab to get started :)

Great app, been using for just about a year. I actually use it to help me track my calorie intake to gain weight, trying to get back to my old size. It's database of foods are out of this world, and if it doesn't have something, you can easily add it the database.

Good app/service. The app isn't as full-featured as the site or the android app, but it's got a clean interface and everything I need on the phone. My only issue is that it sometimes causes my 920's screen to be unresponsive (I'm not sure exactly what triggers it, but I think it's only after using the app to add new foods). I tend to use the website a lot, so this doesn't affect me too much.

This is what I call a smart fitness app: if I only eat 2 tbsp of butter a day, I'll weigh 214748 tons in 5 weeks! And yes, butter was available in tablespoons or indivisible chunks of 100 grams...

Windows Central Newsletter
Thank you for signing up to Windows Central. You will receive a verification email shortly.
There was a problem. Please refresh the page and try again.