Runtastic Pro available for free for Windows Phone users for a limited time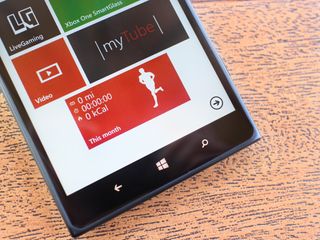 One of our favorite Windows Phone fitness apps, Runtastic Pro, is currently available to download for free for a limited time. The app normally costs $4.99 to purchase.
While the app hasn't been updated for several months, it still offers Windows Phone users with a number of reliable features. Here's a quick look just in case you are unfamiliar with Runtastic Pro:
Track activities & view your routes utilizing GPS: Records duration, distance, calories burned, speed, elevation change and more stats
Manual entry of workouts: Add treadmill, strength training & other indoor workouts
Runtastic Routes: Flag one of thousands of routes on Runtastic.com and sync it automatically with your smartphone
Share routes via NFC from phone to phone
LIVE Tracking: Show family & friends your position in real time when out for a run or ride
LIVE Cheering: Get cheered on by friends for additional motivation during your LIVE activities & up the fun factor
Music integration & Voice Coach (DE, EN, FR, ES, IT, JP) for top motivation and encouragement
Heart Rate Integration: Track your HR with the Runtastic Heart Rate Monitor (supports Bluetooth® Smart)
Heart Rate Zones: Work out in your ideal heart rate zone (e.g. fat burning zone)
Interval training: Get faster with effective, customizable interval training
Additional info: Record mood, temperature, surface details & personal notes post-activity
Training history: View activity details within your Runtastic running app or on Runtastic.com
Split table: Distance information (elevation change, time, pace per kilometer)
Live Tile: Monthly statistics & transparent Live Tile on your start screen
Display your routes (Nokia Maps)
Hydration feature: Find out how much liquid you lost during an activity
Bird View: Check out maps from bird's eye perspective
Upload activities to Runtastic.com: Get detailed analysis and statistics, as well as a complete overview of your performance and progress
Social network sharing: Post your activities on Facebook, Twitter or on Runtastic.com
You can also read our detailed experiences with Runtastic Pro app here for more information.
Let us know what you think of the app in the comments!
Thanks to Marko for the tip!
Windows Central Newsletter
Get the best of Windows Central in in your inbox, every day!
Is this app needed if you have the Microsoft band or Fitbit with gps?

Hm, no...but nice to have...

Showed up free for me (Australia), downloaded and installed, thanks!

the PRO version still is not free

wait for a moment and check again, it works on me

Nothing changed for me, I'm from Armenia.

Fine with me (US market and actually in KSA) Change the region to US, download, restore region.

My region was already set to American, but nothing happened. But now, finally, it's free.

Awesome news! I tracked my cycling trips with Runtastic, by far my favourite sports tracking app, very accurate. Thank you so much.

Free in the UK. Was actually tempted to buy this. Saved me some money. :P

PRO version is FREE I just downloaded it. VZW - USA

This replaced NIKE+ GPS for me. I love it.

Caledos syncs to runkeeper, my only reason not to try

Not exactly what im looking for but I'll give it a try(downloading from Canada)

For those that have used them both, how does this compare to Endomondo?

I've been a frequent user of RunKeeper (Caledos on WP) and Runtastic and enjoy them very much. I tried Endomondo some time ago but it didn't quite appeal to me. Runkeeper and Runtastic does the trick.

I've been using Endomondo for months (Training for London Marathon in April). At first I hated Endomondos name and the minimal/dull voice updates which weren't as good as the Runkeeper App I used to use on Android. But I've since grown fond of it and so while I've just downloaded Runtastic Pro for free, I'll probably just stay with faithful Endomondo now even if I still don't like the name.

Agree. Also like the range of activities in Endomondo. I walk/hike rather than run, but wish they would add routes like they have on iOS and Android

MixRadio integration is not working apparently...(it comes up with a notice saying a fix will be coming)
Kind of a shame, particularly as that is the only app I use for putting music on my phone.

Dang it! If only I had waited another 4 months to get it for free instead of buying it @ 99¢ as a red stripe deal. I joke, I kid... No regrets.

My favorite app, downloading it straight away.

You don't have to say it twice, downloading! booyaa! capooya!

Installed! Posted via the Windows Central App for Android

You installed the runtastic app on Windows phone and posted this comment via Windows central app for android.

Just upgraded to Pro from the free version (L720 UK)...worth it just to lose the nagging ads! Thanks for the tip.

Thanks for the update! :D

if i download & unisntall it, shall i be able to get this pro ver free in future?

Yes, All Windows Phone apps are like that.

I believe so, once downloaded it's listed in your history

Yes you can. I used to do it by visiting windowsphone.com and selecting the app, instead of install there is re-install or send to phone option ( I don't remember exactly). Click on it and installation will start automatically on your device. (if it is connected to internet source)

you can just install it from your phone, no need for pc

of course, once downloaded is your forever

I don't believe this is true. I once downloaded an app when it was offered free like this, uninstalled it and I had to pay again later.

Is this the one that goes with Microsoft band?

myfitnessplus can be added

anyone else using run+ here? it syncs with nikeplus which I've been using since several years ago. Is this app any good?

I've used Runtastic for years n I reckon its the best fitness app. Very accurate too! I've tried others but always come back

Thank you WC!
Downloaded from USA region.

I actually paid for this a few months ago. A bit gutted it's now free, but it's well worth the money even when it's not. Grab it while you can!

I wish it had a true pedometer, instead of just GPS.

If you had a Nokia with SensorCore, you'll have a pedometer that works with Adidas miCoach, Track Runner and MSN Health and Fitness.

I got it when it was on sale for a dollar. That reminds me... I need to start running...

I only run when I need the toilet or last orders at the bar! ;)

How does live tracking work? What are the steps to do if you want to track a runtastic user?

The live tracking from within the app is purely for tracking and sharing your workouts on social media platforms in real time. If you want to track someone else's workout, just go to the runtastic website - there's a continuous stream of current live events in the top-right corner of the site. Or click on a friend's share link on Facebook/Twitter when they go live.

Got it. I love free things.

Had Pro, uninstalled. Unless you pay for the web piece, your stats will disappear after a few months, and you can't export. On top of that, no BT HR support for WP, music hasn't worked for over a year, and the app hung regularly. I use Endomondo with BT HR, is more universal for all sports, this is more geared toward runners. They have other apps, but don't offer them on WP.

How much is the "web piece?"

I don't know the cost, was just majorly irritated when I lost all of my ride data.

I know that had to sting. Did they say they would maintain your information for free? I mean if they didn't say your data would be lost, its bad on them.

Hey Denver (I live in CO as well), do you know if the BT issue has been fixed with the latest Denim update? I have a 928 and I know they were having issues with BT 4.0. Thanks.

BT issue with the app or phone? I have L920, no issues using Endomondo and BT HR.

I bought this app last year...

How does this compare to TrackRunner?

I keep going back to Adidas micouch somehow. But I downloaded this just in case.

Worth giving this and a new year's resolution a chance.

Thanks lot for the info. I already have this app since 8 months. Good one.
But pro version of WP is not on par with free versions of other platforms. And support center so poor and they don't care to respond.

They responded to my tiny request once.

I used this app and it has great web integration. I recently started using their heart monitor during my workouts

I just downloaded it for free (Greece). Thanks for the tip.

Change your region to US and download the app.

Free free free but whatever still having in app purchase. I believe is a gimmick. Don't like it.

Active Fitness still being my fav for running.

Is it better than miCoach???

It is in most aspects except only a few.

They used to be neck and neck, but now with SensorCore integration and recent updates I'd say MiCoach is now ahead of the pack, but perhaps we'll see a massive update to Runtastic soon that will once again make it a good competitor.

Maybe because its been a few months since I used micoach.I don't know if there's been a major update.

I just received the Runtastic email informing me about the app being free. Only the iOS and Android aps were advertised.
It doesn't look like Runtastic on Windows Phone is much of a priority - so I wouldn't hold your breath for that big update!

That's what I'm talking about!

Thanks Marko for the tip indeed.

If I have the free version of the app already, then how do I replace it with the pro version without messing up my activity history and routes?
Edit: Already done using sync with my runtastic account.

Uninstall free version and replace it with Pro, then hit hit the 'sync' button, your history of runs will be downloaded and synced with your new install.

This is a great app, i am glad i got free upgrade to pro. Appreciate them.

Also for ios users.. My sister download it with app of the day

Just downloaded it for my girlfriend who uses the free version. Thanks Windows Central!

Wooow I was actually collecting rewards points to purchase this app :) thanks Runtastic and Microsoft!!!

Downloaded free just now in México! thanks

Great app. I've had it for a couple of years now.
Many activities to choose from, very accurate, and has an optional live tracking feature that allows my wife to watch my trail run/ride as I do it.
I highly recommend this app. I use it for hikes, mountain biking, trail running, keeping stats on rowing machine workouts...you name it.

Does this app use the Lumia SensorCore to track steps?

Hello All, I was user of Runtastic Pro in Android version, but now I move to Microsoft Lumia 650... I already pay for PRO version on Android. My question is! I need to pay again for these APP ? Even I´ve been a Runtastic Pro user?
Windows Central Newsletter
Thank you for signing up to Windows Central. You will receive a verification email shortly.
There was a problem. Please refresh the page and try again.