Runtastic Pro updated on Windows Phone 8, adds training plans, Nokia Music streaming, and more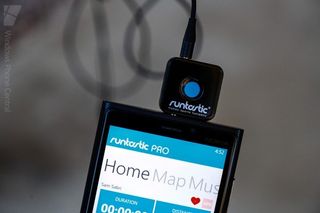 We love, love apps getting updated. Especially ones that we use on a frequently basis or are loved by the community. Runtastic is one of those apps that we're glad to see on Windows Phone and has been well received by the community. The app has just been updated to version 2.5, so let's see what's new.
If you're rocking either Runtastic or Runtastic Pro you'll want to go to the Store and update. Version 2.5 isn't a major overhaul or anything, but it does add some more polish to an already great app. P.S. Runtastic does change logs the right way.
New features:
Get training plans and reach your personal goals (e.g. 10K run in 50 minutes, weight loss, etc)
Hear a countdown before your session starts
Listen to free Nokia Music Streaming Radio during your sessions (Lumia devices only)
Improvements:
Share your completed routes on Facebook
Fixes:
Connecting Runtastic to Facebook
Sharing via Twitter
App crash when taking multiple pictures during a session
By far the two biggest features added in this update are training plans and Nokia Music. With Runtastic you've always been able to select a local playlist from within the app to play during your workouts. But now they've added another benefit to owning a Nokia handset – Nokia Music Streaming from within the app. They've pre-selected four Nokia Music mixes (Cardio Top Hits, Power Workout Mix, Charts Mix, and Dance Mix) that you can play from within Runtastic.
Training plans are going to be pretty interesting for a few of you. Runtastic offers training plans that are tailored around achieving one goal. In the past you had to sign up through the website, but the functionality was missing in Windows Phone. Now you can browse, buy, and train with the different training plans offered from Runtastic through Windows Phone.
The Training plans vary in goals from weight loss, training for a 10K or marathon, to getting your body ready for bikini season. For example, let's say you're planning on running a half marathon for the first time and haven't really researched the best way to prep. You'll then browse the different training plans in the half marathon section which vary in what time you're aiming to finish. Select the goal you want, buy the plan, and Runtastic will train you towards you goal.
Prices for Training plans and goals will vary depending. If you're a Runtastic Gold member you'll save 50% on those plans. Prices vary depending on the plan. For example, if we wanted to train for a half marathon and finish in under 1 hour and 40 minutes we'd be paying $9.99 for a 16 week training plan from Olympic champion Dieter Baumann.
While not everyone will need or want Training plans, they're great for people new to fitness that want to focus on training and not planning for their goal. If you're somewhat experienced you could easily build your own plan from scratch through various books and online resources. But Runtastic does offer a few other benefits if you get a training plan. You'll be getting detailed analysis and stats about your plan. The app will also coach you by providing feedback throughout your training. Pretty cool.
The rest of the Runtastic update includes fixes and small improvements around sharing with social networks. Not ground breaking, but again very welcomed.
Runtastic is available for both Windows Phone 7.x and 8. Not sure if you need Runtastic or Runtastic Pro? Read our review from a few months back. Also, what's the difference between the free basic account and the Gold account? See the details here. Update: Looks like this update is just for Windows Phone 8 users according to folks in the comments below. I didn't have any of my Windows Phone 7.x devices around, so couldn't check.
Grab Runtastic in the Store right here. Or go get Runtastic PRO for $4.99 here. QR codes below for the two apps as well.
Thanks for the tip Gamby35!
Get the Windows Central Newsletter
All the latest news, reviews, and guides for Windows and Xbox diehards.