Russian Federation set to see launch of Lumia 920 and 820 on November 6th?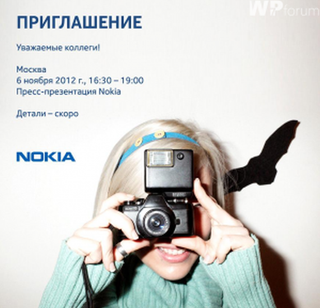 Looks like Nokia might be set to have a big announcement in early November for Russia, perhaps to showcase the Lumia 920 Windows Phone. Or maybe the Lumia 820?
Not much is said about what's to be expected but the invite does reveal some clues.
Nokia is rightly pushing photography as the big draw for the next generation of Lumia devices. The Lumia 920 has seen a barrage of OIS video and night photography tests. So it doesn't leave much to the imagination when we get an invite with a girl taking a photo and a bat in the background. Not too subtle a reference really but we get it.
November seems to be the date many are set to get their hands on some Windows Phone 8 devices so makes sense that Nokia will be holding more events around that time. Nokia Russia are in fact already taking pre orders of these devices which is a distinctly forward thinking thing to do!
Live in the Russian Federation? We'd like to hear from you, pre ordered one? Comments are open below..
Source: wp7forum
Windows Central Newsletter
Get the best of Windows Central in in your inbox, every day!
I don't get what the bat is for?

They are nocturnal creatures, that is, they fly about in the night.... RB

Call it the silly reaction of a Trekker, but I just experienced a flush of intense jealousy that Russian citizens get to say they belong to a "Federation."

Thank goodness I wasn't the only one. XD

I'm waiting to see when the Monroe Republic is going to get these. Oh wait, cell phones don't work there...

I'm here from Kazan, Russia:) I've preordered white Lumia 920 on MTS store (mobile operator & retail). I'm glad that Nokia doesn't judge our market as weak or something like some people from Cupertino and we'll be able to hand on their WP8 devices in the first wave :D
3 weeks to go!

Yeah...screw Cupertino....*torch in hand* ;-)

I will probably pick up an 820 while I am in Saint Petersburg all winter. Will also have my AT&T 920 on WiFi only.
Windows Central Newsletter
Thank you for signing up to Windows Central. You will receive a verification email shortly.
There was a problem. Please refresh the page and try again.