ASUS' liquid-cooled ROG GX700 gaming laptop will hit retailers in June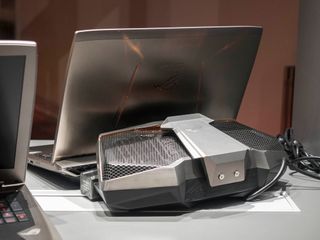 ASUS will begin selling its previously announced ROG GX700 PC gaming laptop, with its cool, but massive, liquid cooling dock, in June via Newegg. In addition, the laptop will be sold without the cooling dock in early June as the ROG GX701.
Asus has this to say about the laptops, which have Windows 10 pre-installed:
Pricing for the laptops has not been announced and ASUS warns they will only be available in "limited quantities." In addition, ASUS has started selling another, more conventional gaming notebook, the ROG Strix GL502:
The GL502 is now available with the starting price of $1,399 from Amazon, Newegg and other retailers.
See at Amazon (opens in new tab)
Press Release
ASUS ROG Announces GX700/701 and GL502
World's first liquid-cooled gaming laptop and first Strix series gaming laptop
Fremont, California (May 25, 2016) — ASUS Republic of Gamers (ROG) today announced the ROG GX700 and GL502 gaming laptops. The ROG GX700, equipped with an unlocked Intel® K-SKU processor, is the world's first liquid-cooled laptop with overclocking potential to go toe-to-toe with extreme gaming desktops. The ROG Strix GL502, a compact 15.6-inch gaming laptop, equipped with the latest quad-core Intel® Core™ i7 processor and a dedicated, up to NVIDIA® GeForce® GTX™ 980M GPU, is a gaming powerhouse that delivers smooth performance and highly-detailed graphics with even the newest, most demanding titles.
GX700/701 – Unrivaled Cooling and Extreme Performance
The ROG GX700 and GX701 feature a 17.3-inch, non-glare in-plane switching Full HD G-SYNC™ display for incredibly smooth gameplay. NVIDIA® GeForce GTX 980 graphics with 8GB of GDDR5 VRAM brings desktop graphics performance to ensure all the latest games can be played at maxed-out quality settings. The ROG GX700 and GX701 are both loaded with 64GB of overclocked 2800MHz DDR4 RAM and a 1TB (2x512GB RAID 0) PCI-E3x4 NVMe SSD delivering quick load times for an entire library of games.
The GX700 features a liquid-cooling dock based on a custom self-sealing valve design, a quiet and highly reliable pump, and dual 92mm radiators capable of dissipating over 500W of heat. The GX700 also packs traditional cooling and can be run without the liquid-cooling dock. The GX700 is available without the liquid-cooling dock as the GX701.
GL502 – Portable and Powerful Gaming
The ROG Strix GL502 is the first Strix series gaming laptop. The GL502 offers a 15.6-inch Full-HD screen, is available with G-SYNC, and up to NVIDIA GeForce GTX 980M graphics with 8GB of GDDR5 VRAM. The ROG Strix GL502 is an incredibly powerful gaming system with a compact, lightweight design. At just 0.92in high and weighing only 4.85lbs, the ROG Strix GL502 easily fits into a backpack or bag for high-end gaming on the go. Powered by the latest-generation quad-core Intel Core i7 processor and up to 32GB of high-performance 2133MHz DDR4 RAM, the ROG Strix GL502 delivers amazing performance with the latest games.
Strix is the newest recruit into the Republic of Gamers. A series of specialized gaming gear designed for the rebel in all of us, Strix embodies ROG's premier performance, innovative technology, and leading quality, but with its own confident and dynamic attitude. Featuring bold designs and bright colors, this exciting new series possesses a spirit of fierce individualism that charges every gaming experience with thrilling energy. ROG Strix equips players with the necessary speed and agility to dominate their game. A new generation of force has arrived. Join the Republic and experience the power of ROG Strix.
AVAILABILITY & PRICING
The ASUS ROG GX700 and GX701 are available in very limited quantities in late June and early June at Newegg. The ASUS ROG Strix GL502 is available immediately from select resellers, including Amazon, Best Buy, and Newegg. Please visit http://www.asus.com or contact your local ASUS representative for further information.
There are rumors they have a 24" beast with some crazy leaked benchmarks that they will be announcing soon.

Battery life: 38 seconds.

If you have to attach a giant dock to it to give the laptop it's main unique function, it is no longer a laptop.

I mean, gaming laptops already tread that line between portable and desktop PC :D

But it's still a notebook!

Someone is right. Its not that a person is moving about at the instance the dock is being used. Also, you still have portability/mobility compared to a desktop, albeit not completely convenient.

Wheelbarrow available as an extra!

How long do you have to send the cooler in for service?

But can it run the "Rift"? Posted via the Windows Central App for Android

With it's GX980 it can smoothly run any VR headset.

64GB RAM at 2800MHz, dual 512GB PCI-E SSDs, and full 8GB GTX 980 graphics--this thing is going to be expensive! I predict $5K.
Windows Central Newsletter
Thank you for signing up to Windows Central. You will receive a verification email shortly.
There was a problem. Please refresh the page and try again.