Samsung ATIV S Windows Phone wins big, gets certified for China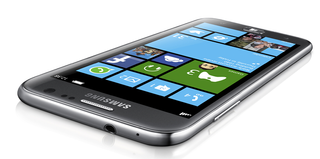 The Samsung ATIV S may be the next Windows Phone 8 device to hit the shelves in China.
The Chinese Ministry of Industry has certified it to receive a network license, green-lighting it for release. There's no official word yet on when the ATIV S may make it's way there or even what carriers may offer it. CNMO, the site who reported on this, believes that when it finally does arrive it will fetch around 4,000 yuan ($642). This is a bit cheaper than Nokia's recently-released Lumia 920T, a rebranded Lumia 920 designed to run on China Mobile's TD-SCDMA network.
This is potentially great news for Samsung, whose ATIV S was the first Windows Phone 8 device announced, but later plagued by delays. They have been beaten to the market by Nokia and HTC and need to regain some footing. China's consumer smartphone market has been growing at an enormous rate and would be an ideal place for Samsung to boost its position in the WP8 race.
Source: CNMO (Google Translate); Via: UnwiredView
And when are we getting it in the US?

Honestly, I wouldn't be surprised if AT&T announces it in a few weeks at CES. And if not AT&T, another carrier. That's what CES is generally for though...

Verizon deserves this phone since they have no 920.

Something special is coming to Verizon from Nokia.

I am not upgrading or renewing my contract until a device like this hits the USA. If it does not I will settle for the 920 because it has the most space for windows phone. I have the Titan, love the screen size hate the 16gb.

Agreed. I,too, have the Titan and am off-contract. I'm just waiting for a 4.7"+ WP8 phone to hit the market. 7.8 would be nice, while I wait...

Didn't Ballmer announce that the ATIV Odyssey was coming to Verizon in December at the WP8 launch event? Where is it?

That's what I want to know. Getting sick of waiting, might just go with the 8X then complain when it comes out a week later. :-\

He did but it looks a little bulkier than the original.

Nice, they can eat Apple's market share in Unicom network and Nokia will handle the China Mobile customers :)
Windows Central Newsletter
Thank you for signing up to Windows Central. You will receive a verification email shortly.
There was a problem. Please refresh the page and try again.