Samsung ATIV S delayed until Feb 2013? – Not so fast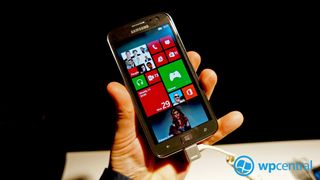 We have been reporting on the Samsung ATIV S since it was first announced. Whilst Samsung were the first to announce a Windows Phone 8 handset they have thus far been unable to deliver it to the marketplace.
We are now hearing rumours that the 4.8" hero device could now be set to arrive in January or even as late as February 2013. Online retailers and stores are all geared up to get the device and the last we saw was delivery being due for mid-December. Missing the launch hype of Windows Phone 8 and the essential holiday season buying, what has gone wrong?
We reached out to Samsung to confirm these rumours and received a note back to say that delivery was still on track for the "end of the year".
Considering we first saw the ATIV S announced as far back as August what has taken Samsung so long to get it to market? I recently attended the Windows Phone 8 launch and was lucky enough to get a hands-on with the device. Even with its obvious Galaxy heritage the handset is smart and desirable, especially when you see it running Windows Phone 8 on that huge screen. While Nokia and HTC are doing unique things with their handsets, the general public seem enamoured with all things Galaxy-shaped. Would it hurt a Windows Phone to take advantage of that design and marketing Samsung have put so much effort into?
Our concerns with this situation continue to mount. It is now possible to hit the major online suppliers and see the phone placeholders, but there is no stock. On a recent visit to an O2 store we saw a whole retail stand dedicated to Windows Phone with placeholders with cardboard cut-outs for the ATIV S and even the ATIV Tab. For a retailer to leave space empty like this is unusual as it makes a display look sad. These delays must be having a negative effect for a retailer willing and ready to push Windows 8 and Windows Phone 8 together.
ATIV S - Cardboard Cut-outs where phones and tablets should be...
As a key launch partner, Samsung should have had these devices available at day one launch. There has been a massive surge in advertising for Windows Phone and for Windows 8 over the last few weeks. Samsung are going to miss out on all this due to a late arrival on the scene, even with their advertising and promotion machine, how can they hope to match that later on? Nokia and HTC are about to unleash more devices to occupy the lower end of the market, this is happening before Samsung have even brought a device to market.
What has been holding up the global launch of the ATIV S? Could it be that Samsung has run into some troubles with production, maybe a lack of components? They make most of the components that go into the devices so that seems unlikely. Could it be a software issue? When I used the devices at the Windows Phone 8 launch they seemed well performing and glitch free. Samsung have their own software suite, perhaps they wanted to wait to get that right? Would apps hold back their launch on of the hardware? These reasons are plausible and could all be in play, creating something of a perfect storm.
Samsung have been a long-time partner with Microsoft but as their product range now focuses almost totally on their Android based Galaxy Tablets and Smartphones, where does this leave the partnership? Samsung is currently engaged with a marketing campaign that is relentless in its goal to promote 'Galaxy' as its principle brand. Will the ATIV S ever see the light of day or is this a phone part of a product ranges and partnership that is now in stasis? We certainly hope to see the device in the shops soon, there are still plenty of folks who are interested in this device. The lack of communication and willingness to engage with the Windows Phone eco system is what concerns us right now.
We would like to hear from you, do you like the ATIV S? Would you like to see Samsung commit properly or exit stage left? Do let us know in those comments below…
Windows Central Newsletter
Get the best of Windows Central in in your inbox, every day!
Yeah this needs to come out. I mean I know some people coming from android and their familiar designs to windows phone... and the samsung ativ-S comes to mind. To them, the lumia 920 is too big and the 8X is too colorful. And being that android people like their phones backed to the brim with cutting-edge tech... they wont even consider the 820 or 8s. The Ativ-S is for those android converts.
Unfortunately it is NOWHERE 2 be found. A shame. But maybe like with the recent holiday success of the SG3... which came out a good 8 months ago... perhaps the Ativ-S will reach most of its success in the first half of 2013

That is a good point, if there are folks who are coming from Android and want a familiar looking Windows Phone device the ATIV S could please.. If they can put this in stores soon then the eco system only gets stronger. RB

The 920 is too big?! The Ativ is even bigger!

Correct but doesn't feel as big as the Lumia920. Compare the weight of the 2 devices and you'll see

Ahh, you have an Ativ S? Or how do you know what it feels like?

Simple, grab a Samsung Galaxy SIII and grab a Nokia Lumia 920... hold them in each hand. Feel the difference. The screen is bigger, but it definitely FEELS slimmer. Now that said, physically, the actually difference is very minimal... only a couple millimeters, but it makes a difference in people's hands depending on their size.

My boss has suggested he likes the 8X better just because of how slim and narrow it is, and I know several have said that as well. I prefer the Lumia, but I get it.

Moreover, more choice is better. It's the approach Microsoft and partners should be taking... flood the market with so many choices and options that people can't even see the competition. I don't know why it works, but it does. It's worked for Microsoft in the PC world for decades against Apple.

The SG3 is taller then the Nokia 920, so like all large screen smart phones the only awkwardness is going to come from its width and height, 2mm isn't going to be a factor in the pocket or hand, not is 40g either, that's just icrap.

Agreed. That market segment needs to be addressed.

You guys needs to realize that samsungs is selling the lightest windows phone devices period. You may not know this but the Samsung focus s is one the lightest smartphones out there comparable to the iPhone 5 in weight and thinness. A large screen doesn't automatically mean it will be a mammoth phone. The lumia 920 is by no means fat when it comes to the general ability of smartphones BUT, it is thicker than the average device being released in today's market that is full touch. I don't lime it because it is as thick...i would prefer the the ativ s but I really want a device with color that stands out...

To me they are sabootaging MSFT OS launches.

Not launching with the other partners on time is a massive miss and there must be tons of marketing materials from MS waiting to go on using this handset. HTC and Nokia have both come through on this one but having all three launch simultaneously would have strengthened the choice and look of the launch line up. RB

Perhaps, but MS is not innocent. Look how they are doing the surface. For the majority of people the only way to buy one is online and sight unseen. The nearest ms store is 2 hours away. It is decisions like this that ms makes that is baffling. So to keep on topic, not having Samsung ativ out hurts, but ms has bungled the os launches

No, Microsoft has clearly explained why they made the surface. It is to show what the standard should be and also a backup if OEMs failed to deliver a good product. The limited distribution is so that the surface does not compete with OEMs at the same level. I don't agree with them straddling the fence like this but I see why they have to do it.

lol, glad I didn't wait for this turkey.

You're getting the Huawei then? ;) RB Turkey is best eaten at Christmas..

I will wait as the timing for me will be right on time as I lay aside my HTC HD7 when my contract runs out on tmo.
But lack of advertising is killing it imo.

Lack of advertising the ATIV S? Yes, well they have missed a bit opportunity to let MS do most of it for them.. oh well. RB

They should exit Windows Phone. Don't let the door hit them on the way out.

Why would you want them to exit Windows Phone? Choice is great for the ecosystem. Especially consider Android converts who won't want to give up replaceable battery or SD cards. Ativ S is perfect for them. Samsung makes good phones.

You obviously don't use Samsung phones. I have the focus s and you can't find a windows phone that has all the powerful goodies lime the processor or screen size with good camera and is as thin as it is. Remove the battery and it feels lime your holding a few sheets of paper.

Commit damnit!!! It won't hurt us to have a nice Samsung device, it only hurts that people may be waiting for it or may pass WP because they love Samsung devices.

Dear Samsung electronics CEO, how do you sleep at night?

on a bed of ill gotten cash from his stolen operating system.

They are in bed with Google.

On that bed made of spun gold and cash? Very well indeed, very very well indeed I am sure! :) RB

If galaxy S3s are still selling like hot cakes i assume once the decline starts the production in the ativ s would start. Thats the best explanation i can think of

That's what I'm thinking as well. They don't want to confuse customers that come in for a Galaxy, but get the ATIV by accident (since they look the same while turned off).

Yeah they had massive Black Friday deas ($0.99) for Galaxy SIII's this year and they were selling like mad. Probably needed to delay the ATIV since they use the same screens and they wanted to make sure they supplied the SIII's first.

That's pretty disappointing. The ATIV S was my first choice Windows Phone (mainly due to the micro SD slot) but I've since ordered the Lumia 920 and decided I'll live with my Zune HD for a bit longer.

Ativ s was my first choice for the same reason also but the lumia seeks to be a good replacement...

It just showed up in the BestBuy Canada flyer today. It's featured in both the Rogers and Telus sections. I, for one, hope it's coming soon because I'm on Telus and so far its the only WP8 device even mentioned by them. Can't justify the price for a Lumia 920 outright from Rogers.

The ATIV S is a fine handset, we look forward to getting it in for review. RB

I need a new phone and no WP8 devices in sight, but there pretty pictures and demos on the carriers shelf. This is really putting me in a weird position, being the MSFT preacher, if I am forced to choose Android.....

Dudes the demand for gs3 are the same android people who bought the DROIDS from Verizon.. Samsung just technically stole all the HTC,Moto,LG, fanboys.. That's why SAMSUNG is the only one making money so I dont believe the statements...msft should drop Samsung in the mobile market,oops but they can't,they msft a lot of money thru royalties!!

Happy with my 920...but wouldn't mind seeing what Samsung has to offer.

Meanwhile in America I am loving my Nokia 822, best phone I have owned in a while.

+1xinfinty! I was very interested in the Ativ, but its size bothered me a bit, and when it was announced it was not ready, I moved on to the 8x, but grew to dislike its design. Got ahold of the 822 and haven't let it go! Nokia & WP8 are a match made in heaven!

When the Ativ S is finally here, many consumers will be able to get the 8X or L920 for a fraction of the cost through Amazon.

That is a good point as time goes on the prices for those "already" in production phones should start dropping. Waiting is such a bore though.. :) RB

For me.. I always like to be different!! That's the reason jump WP 2010 because it was different..
Same reason i bought NOKIA 900 because it was different...why would you want a device that is so cheaply made and the most important thing is there's no support from Korea??? You walk around with this thing people will say OH its the gs3!! And that's not being different...i think wp is more colorful it doesn't match aluminum,bright plastic like what you see with most android devices

HTC 8S/X and Lumia phones come in all shapes and colours, we love that but not everybody wants a phone like that. The ATIV S looks pretty good in its faux brushed metal body. This isn't really about why people would want it, it's about choice. RB

While I'm not a fan of its large and low-resolution screen, It's obvious there is a demand for this design (judging from galaxy s III demad) and windows phone 8 could use another phone in its lineup.

Can you ask Samsung or VZW about the Samsung Ativ Odyssey? Lol I am so impatient...

I love my 822, and my respect for Nokia grows every day. Until I bought this phone, I had no idea what Nokia fans meant when they raved about Nokia. That being said, I would still consider the Ativ S for my wife when she's up for an upgrade, if it (or a MS Surface phone) is available. Samsung has truly missed a golden opportunity here. If and when they produce the Ativ, I hope they have the apps and support to back it up and rival Nokia.

When your late to the party, you miss most of the food (money). I was interested at first but now enjoy my 920. I think its all about Android to them and could care less with Microsoft and their release. If they plan on releasing I think they should hold off until the 2nd generation of WP8 phones come out.

As the owner of a Titan, I'd be all over a 4.8" screen, especially with a Galaxy-like body.

Same here. Give me that huge screen and I'll be a happy camper.

Samsung is not kicking themselves. Sales of the Galaxy S III and Note II have been through the roof. Surely, parts and production are suffering. No need to interview Samsung to confirm. (And the Android ATIV Tab isn't suffering either.) Funny that when Samsung lost their court case to Apple "everyone" (ahem, media) thought that Samsung would suffer and Apple would thrive. Seems that the customer has had a different say in the matter. The Galaxy and 920 are giving the iPhone 5 some good competition.

So, who is Sammy's WP8 ATIV competition anyway? Only the Nokia 920 from what I can see. And even the 920 has gaps verses the ATIV. If you like WP8 and if you like the Galaxy form factor, you will wait. Contracts are expiring every day and Sammy is not dumb enough to strike an exclusive with any carrier. The customer base is always regenerating. Plus, who wants a phone on the streets that restarts on its own twice a day because of the OS? Maybe Sammy is waiting on Microsoft for a little stability? Perhaps Sammy saw the restart problem during their unit testing? That would be an interesting question for Sammy - rather than trying to confirm the obvious.

Hopefully production challenges are being addressed. I would like to see the ATIV S released. I would like to see the ATIV Odyssey at VZW. I would like to see some high end WP8 devices in the marketplace and Samsung typically produces quality. I would like to see some bundled specials on the ATIV S, the Odyssey and TAB all running WP8 or Windows 8. Phone and Tablet combos with great prices. We're barely over 30 day mark - post launch of WP8. Patience, Grasshopper(s), patience!



Some very interesting points you bring up, namely possible stability fixes. We complained that Nokia wasn't releasing their phone for weeks and months after first announcing it and now we complain about the bugs that we deal with daily. It IS entirely possible that Samsung is trying to get these ironed out before launch.

I would like to jump a head of "ironed out". I am suspect that Samsung found these errors prior to release and an ironing board. If not errors specific to the reboot problem, perhaps other stability challenges. After all, they were the first to announce a Windows Phone which means they were probably the first to test a WP8 Alpha or Beta.

Remember when Samsung, HTC and Nokia wanted to jump the gun and show off their devices before the Windows Phone 8 announcement? Remember how none of those phones had the WP8 OS on them? Perhaps Microsoft didn't have to tell them NOT to load the OS. Perhaps it simply didn't work and that scared Samsung.

Of course, in researching this Samsung conspiracy theory, we may also find out that the Moon Walks WERE really filmed in Hollywood.

Until there's proof to your and lordofthereef assertions, you can file your postings under "Myths".

Well, there are no 8x or L920's around to buy also

Maybe they will realize that they can not win nokia..

Please tell me its coming to Verizon

I'll predict this device never see's its place on a store shelf. If it really is delayed until Feb they will have missed 1/3 to 1/2 of the product cycle. Nokia and the rest of the pack are already working on WP8 2nd gen devices. My guess is they will scrap this device and concentrate their efforts on a 2nd gen device as well.

I picked up a Lumia 920 for my work phone and had planned all along to get the Ativ S for my personal line if it comes out on AT&T. Coming from a Galaxy Note the physical home button appeals to me. If it doesn't come out on AT&T I'll probably settle on the Note 2 even though I prefer WP to Android.

Doesn't matter now or ever. Already got my Nokia L920 at a great price!

Why can't ATT have displays like that? That looks so cool showing off the tiles and all your different choices. I would be immediately drawn to that display. O2/Microsoft did an awesome job with that design. Oh yea, I heart Samsung ATIV S.

Are you referring to the configuration of the tile layout?

I mean the whole display in the store in general. Minus the cardboard cutouts of where the real devices are suppose to be. At the ATT store all the have are just 3 WP8 devices thrown in with all the others phones with nothing like the picture above.

Situation reminds me when windows 7 was launched. No proper phone available. Nokia 920 is locked in UK to really tiny, exclusive, irrelevant netowork, Samsung is invisible and has no will to publish this phone. U can only buy HTC which is not the worst phone, but it would be nice to have any choice. grrr.

I'm surprised ATT hasn't picked this one up yet. Being that the original Focus was so popular.

This is one of the devices that we wanted to have up in our office Our main thought was was using the ATIVs along with Smart PC. We have held back on buying on buying anything because ATIVs is MIA. By the first week of the new year "providing the Mayan are wrong" we will upgrade be that Samsung or some other manufacturer.

They need to hurry up and release this device. Its looking like the my next WP.

the main reason this has taken so long to come out is because samsung didnt want to mess with galaxy s3 sales. they are giving the s3 time to rack up the sales and then bring this out inbetween christmas and april (when the galaxy s4 will be released).

Saw the same cardboard cut outs at my 02 store, made me sad inside, not cricket old chap In saying that went next door to phones4u and quite happily stood there for a few moments with the yellow 920 in my hand, with the thought "soon my precious, soon"!

I was really hoping to hold an ATIV S this holiday season, but since Samsung are dragging their feet, I went for the Lumia 920. I wanted the ATIV for the expandable microSD capability over anything else. The 4.8" screen is a nice benefit, but one I didn't care too much about as screen sizes over 4.3" are already more than enough. Samsung traditionally makes fantastic phone devices, and each version of the Galaxy phones have upped the ante during their time. Now, a Galaxy S 4 is in the rumor mill for the first half of next year, and we haven't even seen the ATIV S get anything close to a launch date. I abandoned Samsung for their tardiness, as it signals potential issues in 2013 for support with Windows Phone (which I expected to be significantly higher in the wake of the lashing the company took from Apple with their Android devices). Everybody's on board. AT&T, Verizon, T-Mobile, and soon even Sprint will be back in the game. WP8 is a product with a lot of growth potential, aimed to take the #2 spot for phone OS adoption in 2015. For Samsung to play the rebelious teenager in this act would be foolish. For the moment, it seems like they're okay with coming to the party late. If and when the ATIV S comes out, I'll still take a look. But my Lumia 920 won't give up ground easily.

Samsung should introduce it like this, 'the next best thing is here, Samsung galaxy s3, now available with windows phone 8 as the Ativ S.' then have both screens slide up, and reveal both OSes, then after a while if this mind share, break of the phone.

By the time it's launch, it's game over

Nice if and when the Ativ S launches because hero phones display the capability of the OS. But what will really help WP gain traction is if Samsung also releases a cheap phone similar in price point to their Galaxy Y and Galaxy Pocket. But please, without the crappy specs and performance of those two handsets!

If feels like all this low- and non-availability is a consequence of poor WP7 sales. I get the impression these manufacturers got stuck with an expensive pile of unsold stock and didn't want to get burned again the second time around.

The Samsung ATIV S will be every where in Canada by Dec 21/12 :)
I got a Email from Samsung Canada on Nov 30/12....they told me 2-3 weeks every where in Canada! that's before Dec 21/12...people we will get our ATIV S before christmas :)
I dont know how this is news saying rumours about ATIV S is going to be 9 weeks late? ...rumour...!
I think the ATIV S is better then HTC 8X....but not better then Lumia 920 thought....could be = to it? only if Samsung would back and support there new ATIV S phone? ATIV S is my next Windows Phone :)

This whole delay feels like its motivated more like internal politics inside Samsung then any supply or engineering difficulties.
When I was in America a few weeks ago the advertising for GS3 and Note2 was wall to wall, they are selling a lot of the devices so I wouldn't be surprised if key people in those divisions didn't want the Samsung brand to be split across a different platform.
Whatever is happening though I think for Samsung they are likely to be looking at being a distant third in WP8, even if the ATIV has a slightly bigger screen and a SDcard slot over the HTC offering (slight advantages but loses on the looks) its got to get some serious advertising to get moving now (I think the Nokia 920 has it beaten technically), are Samsung really going to reduce some of the Android advertising and replace it with ATIV advertising?
My guess is a no.
Windows Central Newsletter
Thank you for signing up to Windows Central. You will receive a verification email shortly.
There was a problem. Please refresh the page and try again.