Samsung ATIV S delayed until Feb 2013? – Not so fast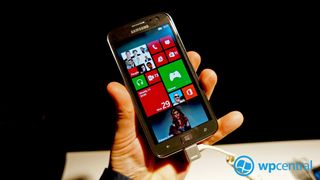 We have been reporting on the Samsung ATIV S since it was first announced. Whilst Samsung were the first to announce a Windows Phone 8 handset they have thus far been unable to deliver it to the marketplace.
We are now hearing rumours that the 4.8" hero device could now be set to arrive in January or even as late as February 2013. Online retailers and stores are all geared up to get the device and the last we saw was delivery being due for mid-December. Missing the launch hype of Windows Phone 8 and the essential holiday season buying, what has gone wrong?
We reached out to Samsung to confirm these rumours and received a note back to say that delivery was still on track for the "end of the year".
Considering we first saw the ATIV S announced as far back as August what has taken Samsung so long to get it to market? I recently attended the Windows Phone 8 launch and was lucky enough to get a hands-on with the device. Even with its obvious Galaxy heritage the handset is smart and desirable, especially when you see it running Windows Phone 8 on that huge screen. While Nokia and HTC are doing unique things with their handsets, the general public seem enamoured with all things Galaxy-shaped. Would it hurt a Windows Phone to take advantage of that design and marketing Samsung have put so much effort into?
Our concerns with this situation continue to mount. It is now possible to hit the major online suppliers and see the phone placeholders, but there is no stock. On a recent visit to an O2 store we saw a whole retail stand dedicated to Windows Phone with placeholders with cardboard cut-outs for the ATIV S and even the ATIV Tab. For a retailer to leave space empty like this is unusual as it makes a display look sad. These delays must be having a negative effect for a retailer willing and ready to push Windows 8 and Windows Phone 8 together.
ATIV S - Cardboard Cut-outs where phones and tablets should be...
As a key launch partner, Samsung should have had these devices available at day one launch. There has been a massive surge in advertising for Windows Phone and for Windows 8 over the last few weeks. Samsung are going to miss out on all this due to a late arrival on the scene, even with their advertising and promotion machine, how can they hope to match that later on? Nokia and HTC are about to unleash more devices to occupy the lower end of the market, this is happening before Samsung have even brought a device to market.
What has been holding up the global launch of the ATIV S? Could it be that Samsung has run into some troubles with production, maybe a lack of components? They make most of the components that go into the devices so that seems unlikely. Could it be a software issue? When I used the devices at the Windows Phone 8 launch they seemed well performing and glitch free. Samsung have their own software suite, perhaps they wanted to wait to get that right? Would apps hold back their launch on of the hardware? These reasons are plausible and could all be in play, creating something of a perfect storm.
Samsung have been a long-time partner with Microsoft but as their product range now focuses almost totally on their Android based Galaxy Tablets and Smartphones, where does this leave the partnership? Samsung is currently engaged with a marketing campaign that is relentless in its goal to promote 'Galaxy' as its principle brand. Will the ATIV S ever see the light of day or is this a phone part of a product ranges and partnership that is now in stasis? We certainly hope to see the device in the shops soon, there are still plenty of folks who are interested in this device. The lack of communication and willingness to engage with the Windows Phone eco system is what concerns us right now.
We would like to hear from you, do you like the ATIV S? Would you like to see Samsung commit properly or exit stage left? Do let us know in those comments below…
Get the Windows Central Newsletter
All the latest news, reviews, and guides for Windows and Xbox diehards.