Samsung ATIV S missing everywhere: Turns up in Austria? [Confirmed]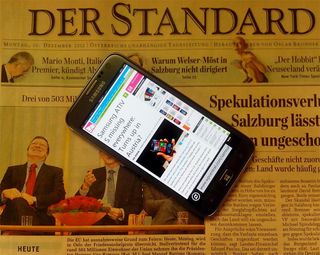 We wrote last week about the Samsung ATIV S and the 'case of late availability' but perhaps we spoke too soon. The Austrian T Mobile site is now showing the device as being in stock. Hurrah! ?
Many are waiting for the 4.8" monster phone from Samsung and while this looks like it could be good news, we're unsure this is a sign of a rapid deployment or simply limited availability.
The ATIV S is proudly displayed on the webpage announcing that the Samsung device is a "Windows 8 Phone that oozes elegance". That's not a bad line for the slender contender, the device listed is the 16GB variant and there is no 32Gb version listed. Like any mobile contract the phone's price will vary depending on your chosen tariff.
The 'Slender Contender' awaits
We certainly hope that this marks the start of availability for the holiday season; time is certainly getting tight if they are looking to pull a 2012 release off. The ATIV S looks for all intents and purposes like the Android based Galaxy SIII but that isn't such a bad thing. Unlike all the other "hero" devices like the 920 and the HTC 8X the Samsung will come with the 16GB of base storage and allow a further 64GB on top of that. Just based on its potential storage abilities the ATIV S could be the one to go for if you're inclined to take everything with you, anyone fancy 80GB of storage?
We're still trying to confirm that the firm does have them in stock and there isn't a "shipping" date hidden there somewhere. If you live in Austria and can help us out, please let us know in the comments below.
**UPDATE** We have received photo confirmation from derStandard that the device is on shelves and they even sent a photo (above) with our story to date the unit. Thanks Georg
Source: T Mobile
Thanks to Sebastian for the tip!!
Get the Windows Central Newsletter
All the latest news, reviews, and guides for Windows and Xbox diehards.