Samsung ATIV S now available in Germany, starting from €470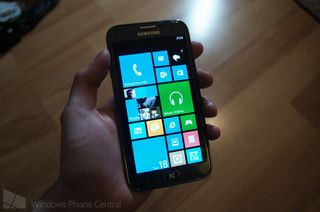 The Samsung flagship Windows Phone is now available in Germany. The ATIV S is a high-end solution for those who wish to be slightly unique and choose a smartphone that sports a number of features, as well as a huge 4.8" display. Such features include the SD support, that and the device also makes use of Samsung's SAMOLED screen technology.
WPArea has compiled a short list on where the Windows Phone is available:
Buyer - €469
Computeruniverse - €473
Getgoods - €479
Home of hardware - €479
Amazon - from €480
Getmobile - €519
Just to recap what's inside the ATIV S: 1.5GHz dual-core chip, 1GB RAM, 8MP rear shooter (with 1.9MP FFC), 16 or 32GB storage (with SD support), and a 2300mAh battery to last the day.
via: WPArea.de; thanks, WPfreak8, for the tip!
Windows Central Newsletter
Get the best of Windows Central in in your inbox, every day!
Rich Edmonds was formerly a Senior Editor of PC hardware at Windows Central, covering everything related to PC components and NAS. He's been involved in technology for more than a decade and knows a thing or two about the magic inside a PC chassis. You can follow him on Twitter at @RichEdmonds.
Come on T-Mobile USA......

Ha! I knew the first comment would be from an American looking for answers.

Yeah that's funny since most of the world looks to America for answers.

I'm looking for this on T-Mo USA as well. Getting pretty frustrating......

Ditto! It will probably end up at AT&T like all the phones these days...

I was kidding. I wrote that because I know how much you guys want this to come to the States.

That's what I wanna know. All the ones on eBay go close to $700 and only 2G for T-Mobile USA.

Only high end WP device is on at&t

This is the phone i wanted to buy but Nokia lured me and succeeded in making me go for the 920 and i don't regret it except when i play games and mistakenly touch the back, windows or search button. I wanted it cos of the removable battery (i have more than 3 for my hd2 but don't use them so its overrated at least for me) and the sd card (you can't install apps on it so its useless as far as i am concerned), so what speaks for the Ativ s? Bigger display .

The removable battery for me. ( that huge screen too ). I have a HD7 & 8X. I use to have a 900. I work 12 hour shifts in a warehouse with a weak signal. The 900 & 8X I'd have to keep on the charger. With my HD7 I just swap the batteries out every couple of hours. So having a removable battery is huge to me.

I had to pull the trigger and get a new phone last week and so I "settled" for the HTC 8x, a phone I had vowed to sell if the Ativ ever comes to T-mobile. but now I am not so sure. I cannot believe how much I love this phone that I didn't want. I was disappointed to come down in size screen from a titan, but the form factor is perfect, the HD screen is beautiful and it's so light. I don't like that it is sealed as I travel internationally and usually buy a couple backup batteries. But I purchased that Ezo portable backup battery for a paltry 22 bucks on amazon, and that solves the battery issue. Now I don't know if I would sell this for an Ativ.

Same here. I was left with no other option but to buy the 8x as in Ireland its the only high end wp8 device on sale. I'm delighted with it. The only down side is lack of turn by turn navigation.

Nokia Drive+ Beta works great on it. It should be available internationally I believe.

Ok, what's the deal? Is this some power trip from Samsung or are the US carriers really standing in the way? I want this phone and I want it yesterday.

If you think Marvin`s story is cool,, last pay-check my auntie also got paid $6446 workin a fourteen hour week from home and their co-worker's mom`s neighbour has been doing this for five months and got paid over $6446 parttime from a laptop. the guide at this website, http://www.wow83.com

Yesterday I just got one yesterday, and it cost NT$18,900, pretty much 470 Euros. And I have a problem on syncing with Windows desktop, I'm still using Windows Vista, and I bought a 16GB micro SD card to store all music video and photo files. As I connect my ATIV S to my machine, Vista does display a new device detected, and I can view the content both phone and the SD card via Windows Explorer, but as I try to put some images into the SD card, I discover that the property of the SD picture folder is set to read-only, but I can copy video files into the SD video folder with no problem, can anyone help me with this?

Although I can shut down the phone, take out the SD card and connect to my computer, so I can copy image files into this SD card, yet it is still very inconvenient, I'm afraid that removing the back cover too many times and too frequently would damage it, especially it is obviously made out of plastic material.......

It does work great on t-mo $50 a month plan!
Windows Central Newsletter
Thank you for signing up to Windows Central. You will receive a verification email shortly.
There was a problem. Please refresh the page and try again.