Samsung ATIV S phones caught in reset loop with latest Preview update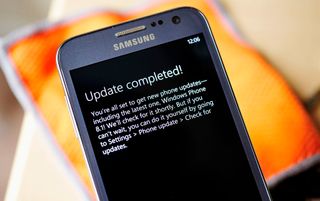 Although many people are benefitting from today's Preview for Developers OS update for Windows Phone 8.1.1, not everyone is pleased. Reports from users with Samsung ATIV devices suggest that today's update is causing endless reboot loops to occur, with hard resetting the device via a key combo not helping.
At this time, it is not clear which ATIV S phones are affected, though Windows Central has had numerous complaints posted in comments.
For now, we advise all Samsung ATIV S users to avoid today's update. Users are advised to head into our Samsung forums, where more details are likely to be posted.
Source: Windows Central (1), (2) (3); WPArea.de, Thanks, kderh, and others for the tips!
Daniel Rubino is the Editor-in-chief of Windows Central, head reviewer, podcast co-host, and analyst. He has been here covering Microsoft since 2007 when this site was called WMExperts (and later Windows Phone Central). His interests include Windows, Microsoft Surface, laptops, next-gen computing, and for some reason, watches. Before all this tech stuff, he worked on a Ph.D. in linguistics and ran the projectors at movie theaters, which has done absolutely nothing for his career.
Haha fking Samsungs, serves them right!

The company, yes. The users, no. WP users deserve a smooth update process and this is really unfortunate for them

How big is the size of the update?

Did this happen to all three Ativ owners?

Failed attempt to be funny :)

Whatever it takes to help you sleep at night.

Yes. In the eyes of losers.

If your only purpose in life is to say that someone's joke wasn't funny, you indeed live a pathetic existence that I pity.

Wow, you're a psychic? Damn, you are good. I am impressed :) Relax dude, it's not the end of the world if someone didn't like your joke. I'm a loser that live a pathetic existance, you shouldn't be offended by me, lol.

That's what happens when you don't choose Nokia lol

This is _NOT_ exclusive to the ATIV S. My Lumia Icon did the exact same thing after the DP update that came out right before this one. Fortunately, it booted successfully after looping 5-6 times. It still reboots in a loop 2-3 times every time I power cycle it. I assumed it was another incompatibility with the old firmware. I fully expect to see more and more of these issues pop up as new updates are released, because at some point Microsoft is bound to be assuming that devices are on Cyan or Denim and not testing on the older firmwares sufficiently before they release the updates. Sooner or later one of these updates is going to totally brick devices.

You take that risk when you use a developer preview

The point he was trying to make was people hold do up as some blessing and it really isn't since it is not official

Yeah... I chose Nokia and have had a blast. Nothing like having absolutely no support. Hella ya L810.

It's tmobile to blame not Nokia.

Ya so fucking true, fuck you Samsung all the way!

It's is phone update that cause the problem not Samsung u moron..

We hate Samsung here at windows phone:P we are fans of Ms and the late NOKIA

Not everyone but crazy fanboys like yourself Posted via the Windows Central App for Android

If the late NOKIA had enough stroke to get their phones on more networks there probably wouldnt be an ATIV S...

Sorry. I have two Samsung ativ s neo's. Bought them new for 135.00 on eBay. Excellent phone for the money. No contract!! beats anything else out there for the price. I use a 1520.

Oh really, I've got a glorious Nokia, same update, no problems...

Nothing wrong with Samsung. My old windows mobile phones were Samsung's. To each their own.

Daniel Daniel Daniel. Everywhere!! ;)

Ya Daniel is in mood today, he is bringing in news faster than those guys at wmpu ;)

Hanging and bricking, typical feature of Samsung

We can't complain, it's a preview :)

Right now Daniel is on the beast mode.

The only reason I have a Samsung is cause there was no other option .. I'm such a big fan of this platform I'm on an ativ odyssey from us cellular

Thats why nokia sucks... i have ATIV S because is better... this update sucks...

i saw another guy with 8X complaining about infinite loading on settings menu and call history, now im a bit afraid to install it, but its already downloaded

Installed on 3 8X's and no issues whatsoever. Seems perfectly fine, though can't tell much of a difference.

The only problem I have with my 8x is since 8.1.1 is its so bloody slow, resuming all the time and no its not the lock screen app neither

Slow here too. Needs a driver from HTC so that the OS can talk to the hardware properly and work better.

I'm using the Ativ SE on Verizon. Updated no problem.

Same here, working fine on my ATIV SE

Really? You've got Preview for developers working on it?! You have cortana and 'live-folders'??

>implying all Nokia Lumia devices have 8.1 already... or ever will.

Worked fine on my Telus T899M

Does your cellular data work now? Since the last update my data quit working on Tmobile Posted via the Windows Phone Central App for Android

Data still works for me. After I updated to WP8.1.0 though my data and multimedia messages quit working and I had to add an Internet APN and MMS APN for my carrier to my SIM settings to get it to work again. Maybe that is what has happened to your phone.

Same here... GT-I8750 here. I can get to download mode and could probably flash the GDR2/3 firmware again, but I did not take backups! Makes me want to buy a 930 right now...

Did you have the official Samsung firmware update?

Yes I did. Flashing GDR2 now and applying all the hacks etc and then updating to the official update again.

After installing the driver, is your phone recognized as 'WP8 USB Downloader' as well? Seems like the driver isn't working for me..

I really want to enjoy Data Toggle in Action centre.. I'm using Lumia 625.. Anybody with L625 faced any issues during the latest update?.. o_O

I have the same issue. I pressed vol up and camera and then power on. This gives you the download mode. Now you can reflash your phone. The only solution for now. Micheal

can you more specific about reflashing the phone? do i need to install something? thanks!

What driver did you use? Isn't working for me..

Daniel.. Hope you didnt got any complaints from Lumia owners so far.. (~.^)

Mine seems to be one of the few that doesn't have this issue. Phew!

I've updated my Ativ S -> no problem.

I updated my Samsung ATIV S Neo on Sprint every time, including today, and have never had a problem.

Me to, updated and nothing :)
Maybe it's only for those who have the new firmware ^^

Which device do you have?

Are you sure? I have the Samsung ativ s too and I am anxious about this because in a previous update I had the same problem.

I wanna update my ativ s too but i'm afraid of the result. Could you tell if you had the last samsung firmware 2424.14.9.3 and if you had a micro sd card when you updated your phone? Thanks

I don't have the latest firmware, version 042413.10.1. Also no sd card in It.

Next time I'm going to buy a Lumia!

Unfortunately you won't be able to buy a Nokia phone... ;) #Microsoft_Lumia :D

Q4 but please stay on topic.

After testing VLC for WP BETA.. I feels like i can test anything in the universe :p pheww

Hmmm...this is no bueno. Was keeping dev preview since I can't really use my phone anyways ever since the first 8.1 preview. But now, I'ma delete that app completely and forget about it... will wait for official update now. Don't want my phone completely bricking.

Make sure to disable Preview for developers within the app before deleting it.

Unfortunately I was caught in this update... I can confirm that Samsung ATIV S is infact caught in a infinite loop.... Dammit!!!!

Hahaha.. All the best bro.. Have fun :D

I just flashed back to GDR3 firmware.. updating official updates now.. I'm back up and running.. I came from Android bruh.. I'm used to flashing roms.. no sweat!

Please help me. Where did you get the driver? Mine isn't working.. Device manager says it doesn't have any driver assigned.. 'WP8 USB Downloader'..

Which version of the Ativ S do you have? There are at least 3 out there

I got the GT-I8750 Unlocked/Unbranded... funny thing is, i only just come back to dev preview this morning after using the official WP8.1.1 for a while.. lol. how ironic.

No issues so far on my Ativ S Neo on Sprint. Although my battery is draining fast.

Rogers Samsung Ativ S T899M worked with no problems. Actually seemed to make the phone a bit more responsive. Loving the mobile data toggle!

I have the same phone and with Rogers too. How long did your update take?

Not really sure as I had to move files to the SD card first and didn't look at the time when I started the update. I came back after probably 25-30 mins and it was done.


Mine's been going for at least and hour - probably closer to an hour and a half. The last update took 11 hours!! I'm nervous now that I'm gonna get caught in that loop. Not happy at all. :-(

Your version of ATIV S, which is the 4g version, isn't affected as far as I know. I also read a comment that somones with a regular ATIV S installed the PfD and his phone still works.


Here's hoping! I still don't get why my update takes hours.

Good luck with the update!

Exactly. It takes more than an hour to install this small update on my Lumia 625 too, even though the description says it should take 10 minutes or so...

928 & 925 owners do you have any problems? Especially 928

I just updated my 925, and nope, no