Samsung ATIV SE for Verizon – Unboxing and tour of this sharp looking Windows Phone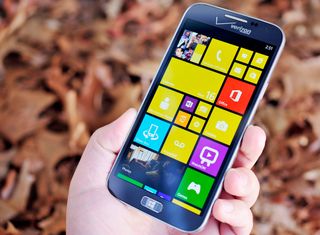 Over the weekend, Samsung and Verizon launched the new ATIV SE sporting Windows Phone 8.0 with Update 3. We sort of forgot about this phone, since the 8.1 news became the main focus for us. But we decided to pick one up and give you a full on tour of the device.
As I mention in the video (which turned out longer than I had anticipated), the ATIV SE is a really sharp and elegant device. Sure, Samsung tends to give Windows Phone the cold shoulder, but even when they seem to be not trying they make compelling devices. The ATIV SE is no different and so far I'm quite impressed with it.
Let's take a closer look
Samsung ATIV SE (Verizon)
Windows Phone 8.0 with Update 3
5-inch 1080P Full HD AMOLED Display; Gorilla Glass 3
2.3 GHz Quad-core Snapdragon 800 CPU
2 GB of RAM
16 GB of internal storage; expandable micro SD slot
2600 mAh replaceable battery
Micro SIM
LED notification (for charging)
13 MP rear camera with LED light; 2 MP front facing camera
IR Blaster
4G LTE for data; CDMA for voice
4.79 ounces
5.42" (H) x 2.75" (W) x .33" (D)
$199 with two-year contract; $599 off-contract
I won't pull any punches: the specs on the ATIV SE are impressive. The Snapdragon 800 ensures that the ATIV SE is very modern, since that processor kicks the hell out of the Windows Phone OS.
What I find most impressive with the ATIV SE is how it's actually thinner, lighter and more powerful than the ATIV S Neo on AT&T. That phone was released only a few months ago. Yet, this phone has all the right numbers, including much better processor, more RAM, larger camera (13 MP vs 8 MP), greater battery (2600 vs 2000 mAh), grander display with higher resolution and an IR blaster to boot. It's also 0.3 ounces lighter and 0.03 inches thinner.
That's kind of awesome.
Sure, I get not everyone likes Samsung. Some cite the plastic feel, others for political reasons (Samsung doesn't try very hard with Windows Phone). But this is a pretty handsome device and so far, it represents Windows Phone well.
Is it better than the Lumia Icon? The Icon does have a better camera (20 MP, OIS vs 13 MP), wireless charging and 32 GB of internal storage. Plus, it's Nokia, which does matter. While I'd probably prefer the Icon, I don't feel like I'm settling with the ATIV SE. It's just different, and people have diverse wants and priorities. Choice is good.
Even the camera is pretty decent. No, it's not a PureView, but it is a step up from Samsung's previous efforts (although it oddly only shoots in 4:3 at high resolutions instead of 16:9).
Anyway, watch the super hands on video, check out the photos of the device and even a few sample photos. We'll see about doing a full review if you folks are interested.
Find more information on the Samsung ATIV SE direct from Verizon (opens in new tab).
Daniel Rubino is the Executive Editor of Windows Central, head reviewer, podcast co-host, and analyst. He has been covering Microsoft here since 2007, back when this site was called WMExperts (and later Windows Phone Central). His interests include Windows, Microsoft Surface, laptops, next-gen computing, and arguing with people on the internet.
Which is a good thing. The reviewer constantly praised the looks. As much as I love my ATIV S without a camera button it's a NO BUY.

Bezile looks like my old 3GS from the front. I got to go with the Nokia. Kinda like a Volvo Boxy But Good. They do have one thing in commaon (spelling purposful) though XBOX Music sucks.

How so? I've been using Xbox music for years (even back when it was Zune) without any issues. The ability to share with other family members and download anything and everything available for offline use is awesome.

Boy I sure agree about Xbox Music. It's hovering at 2 stars out of 5 now and it just keeps staying the same. It runs very poorly on my 920

Has some compelling features. I will consider it to replace my L920 if it comes to AT&T.

How i wish nokia had put sd card slot and a bigger and replaceable battery into the 930..

Don't forget to add an IR blaster, it would be useful when I'm not on my tv with the Xbox one and Kinect IR blaster :P

India doesn't have Xbox one yet, so IR blaster isn't a big deal for me. And USA isn't getting the 930..

All the more reason to have an IR equipped phone.

Not really, the new smartglass app gives TV and cable box control over the network no IR needed on your device.

But if the Xbox is off, you are stuffed. The in built IR blaster is a great idea.

Stuffed? Oh, yea, it's sooooo hard to say "Xbox on" and have it turn on your TV too while you're still getting your phone out of your pocket.

Amazing phone.
Love the design: light, no bezel, clean, classy. Just perfect!
That's the phone I have been waiting for.
Di you know when it will be release globally and UK in particular?

Ofc it's the galaxy s4 with different paint and better OS...

Galaxy S4 did not use Qualcom 800. this apu is what is in Galaxy S5

The S5 uses the even newer 801.

Ahh. Thanks for the correction

A later version of the S4 (the lte-a model if I remember correctly), did come with the snapdragon 800 processor Posted via the WPC App for Android!

oh no... crappy-sung! dont let it stand next to Almighty Nokia...

Everything beautiful has to have the complete opposite of it...in this case: Cheap, ugly, lack of imagination and effort looking thing

the honeycomb pattern thingy looks like note 2 or older galaxy series. Fugly.. the era of plastic phones are almost over.

Not diggin the honeycomb pattern either

Every lumia pretty much looks the same. It is nice to see samsung make a true high end WP that isn't a square brick like what nokia does. Now would I buy it, probably not. But not sure what everyone sees as being so beautiful with the same old nokia design.

Oh yeah my bad I forgot that galaxy lineup are so different each time, NOT. And I see you are bad with geometry, cuz i can't find any phone on the market that was square shape. Go to Bing.com and type square it'll show you how square looks like. All the phone are basically have the same concept (except curved phones), what matter are build quality and support they get after they released. And if you are blind, this is not high end windows phone.

Stop being stupid, this is as high end as Windows Phone gets at the moment.

If Galaxy is high end, then why don't they just call it a Galaxy wp8 phone? How can plastic made to look like metal be considered "high end"? Things that make you go hmmmm.

I like Nokia, but this phone seems really nice

Almighty smartphones have microSD and HD screen.

$600 for a plastic phone? No.

So you won't buy a high end Nokia then seeing as they are frigging plastic (except the 925 from memory).

not, cheap quality plastic apparently.. Let's be honest.. When you hold a nokia, it just gives you a premium feeling. I owned more than 5 samsung phones, none of them feels as good as nokia..

I don't rate how high end an electronics device is based on its exterior.

Nah.. Samsung is just inferior in both build quality and internal thingy.. All they are good at is advertisement and copying.. ;\

Absolutely not. The lighter it is the better it is. Nokias are heavy so they are poor quality.

That's what I used as an excuse for someone that made a comment about samsung plastic body. My note 2 had the plastic battery cover peeled overtime.. Yuck.. After going to Nokia, no going back..

Let me see, dropped iphone=cracked screen, cracked back. Dropped samesung=watching your battery, screen and back sliding across the floor in 3 different directions. Dropped Lumia=minor scratch or chip in the polycarbonate shell. How much does it cost to repair a Lumia 900 screen? I have no idea.

In Australia a replacement screen for a Lumia 920 is 240 dollars, you can get a new Lumia 920 for around 300. Conversely an iphone 5 front and back glass is around 120. Obviously its a case of market, iPhones are a dime a dozen so repairers will still make a mint off replacement screens because there are a lot more of them ( and the design lends itself to cracking). However lumia's aren't immune mine cracked from a 1 metre drop onto concrete. All depends on how it falls.

Yeah, same here... Drop my samsung in the supermarket back, battery and screen all when their own way and never found the back... Had a LG and drop inside several times on hard floor and behave like as if it was a timex and kept going without a scratch and had a weird thing happen as I walked from my house to my neighbors and had drop on the pavement where phone landed on it's side and roll back to my house about 15 feet, a very impressively build phone from LG and they don't get much credit for build quality with one negative it was on metropcs at the time which was not good in my area.

Sin Ogaris says: I don't rate how high end an electronics device is based on its exterior. Then what the heck has the Apple people being paying arm and a leg for?

integration with their current suite of other things? I have an iPhone because it goes with my mac, apple tv, and iPad. I have a windows phone because its great on its own.

high end nokia phones mostly have polycarbonate body...thats a fancy platic :p

Icon is an aluminum chassis for $550. It's more metal and glass than plastic. Same goes for HTC One vs Samsung Galaxy in the Android market. Samsung is overpriced. This is where, "Suck it, Samsung & Fans" is not just applied. It's rubber stamped.

But internally everything bar the camera are speced higher than the icon.

Nope, same specs except Nokia still has better audio and better microphone x 4.

Please don't lie, it's all well and good that you prefer n Nokia phones, but don't flat out lie and say the specs are the same because they aren't they clearly aren't, the Ativ clearly has components that are b better than the icon. Just give credit where it is due, I'm so sick of fanboys with their blinkers on. This site is so frigging rampant with them.

Fine, what's better in the Sam?
I have to do it for you? Looking at Sammy's own spec list:
You get .1 Ghz faster clocking.
Same memory
16 GB internal to Icon's 32 GB
ATIV SE is stuck with BT 3.0, Icon has 4.0
You get a slightly bigger battery. You don't get BT High efficiency so you can kiss that margin goodbye.
Oh, this is interesting, the SD card slot is only SDHC. No 64 or 128 for you. It caps at 32 GB. So, you're going to pay more still and only gain 16 GB over an Icon.
You know what's not listed? The WiFi speed. Considering how they skimped on the SD and BT, I would be shocked if it could do better than single channel N.

Extra 1gb ram, ir blaster, I'm sure there's more but I'm too lazy to check. It's high end, as high end as out needs to be that's my point.

No you don't get an extra 1 GB Ram. They both have 2 GB's. You call someone a liar you better get off your ass and prove it. I did your work for you. The SE got stomped. Congrat's on your IR blaster, I had it on my HTC One. You'll use it once and never touch it again.
You don't even have a clue WTF your defending then call others, "fanboys?". Crawl back to your bong. BT 3.0, SDHC, 4:3 pictures only? "High end" my ass.
They stuffed a pile of shit behind the visible and hope you won't notice til after they sucker you into buying it.

My bad on the Ram, I screwed up there. 4:3 is actually a good thing well, at least for Nokia cameras, if you shoot in 4:3 on Nokia cameras you actually utilise more of the sensor, if Samsung also use round sensors that's a benefit too. But I will admit I was wrong here. It's still adequate as a WP flagship, but the Icon does have a number of features that trump the Ativ.

Thank you, I apologize for my tone and demeaning attitude.

Boo.. Shamesung fanboy just got schooled..

Lol, schooled? 1 person with a different opinion, not blindly following the allmight Nokia (which by the way, released intentionally crippled phones one after the other) gets shot down by 50 Nokia fanboys/trolls like in every Samsung thread, and he gets "schooled"..? Seriously? Guess that makes you kind of unschooled.

I think I just witnessed the best tech review comment exchange in my life. I do believe there is a wonderful lesson to be learnt from these exchanges. " Sin Ogaris says: My bad on the Ram, I screwed up there. 4:3 is actually a good thing well, at least for Nokia cameras, if you shoot in 4:3 on Nokia cameras you actually utilise more of the sensor, if Samsung also use round sensors that's a benefit too. But I will admit I was wrong here. It's still adequate as a WP flagship, but the Icon does have a number of features that trump the Ativ." "Novron says: Thank you, I apologize for my tone and demeaning attitude." You realy have to follow prior threads of these two guys to appreciate the final exchange of gentlemanship which I personally appalud both of them for. Both of you are bigger men for this awesome demonstration that folks hardly ever see in this type of environment.

It is funny that these Nokia fanboys have all the answers but haven't even seen or used this device. I have the ATIV SE and the ICON and I shipped the Nokia back. I had 5 of them and they all had some type of defect. I admit that the Nokia feels more substantial, but other than the camera and BT 4.0 I don't see the advantage over the SE. I would prefer to have a removable battery and microSD expansion. I can make my SE Qi wireless compatible easily and the display on the SE is actually nicer than the Nokia. About your point regarding the SD card. You are 100% incorrect. I have a high speed 64GB Sandisk card running just fine in my SE. Maybe you should actually use a device before declaring hard truths! Even though the SE has BT 3.0, streaming XBOX Music sounds no better with the Nokia. WiFi signal and Cellular signal is equal on both in my area as well. The SE display is more responsive in my testing than the Nokia. The SE feels great in the hand, thinner and lighter. Camera is actually pretty darn good. I am not a Samsung fanboy by any means. I own a Note 3, HTC One M8, Nokia 928 and ATIV SE. I even used an iPhone, for a short period of time along with Blackberries, so I really don't care what phone I use as long as it fits my needs the best.

Then go to Samsung's web-site and tell them their printed specs are wrong on the SD. That's where my "hard truth" came from. SDHC as they have printed is max 32 GB.

I don't need to go to their website. I never give absolutes in forums if I haven't actually used the device. I suggest you might want to not give absolutes until you have actually used the device that the discussion mentions.

But, it is the printed spec that folks mostly use to make purcahse decision of high end phones, So, why are you telling him to try it first so he could prove the manufactuer do not know their own product facts? For instance, I would love to get the Lumia 635 for my 80years old Dad, but lack of front face camera ruins it. The spec is not overwhelming, but it sure is a darn good phone a no brainer awesome no contract price point for him. Unfortunately He loves to skype when he is here in U.S back to Nigeria and London with his grandchildren. Point here is I have to trust what Nokia published as the spec that it has no front camera and that is an absolute fact I am using to not even look at it.

Windows Phone Aficionados should be cheering this phone to the rafters. They need more manufacturers making lots of different kinds of Windows Phones for choice and also more visibility. If you go into a Verizon store you will find Samsung S5, S4, S4 mini, S3 Mini, HTC One (M7 & M8), Moto X, Moto Droid Mini, Ultra & Max, LG G2, Exalt, Lucid 3 and the BIG iPhone Display. You need to make it through all that noise before you get anywhere near a Windows Phone. You are eating your own by trolling on the Samsung Windows Phone.

Bruh, I have ONE phone, a Lumia, that fits my needs the best.

I would pay £400 or 2000PLN if they sold it in UK or Poland. I have Ativ S and Lumia 625 and Samsung feels better. Lumia is too heavy. Te only advantage is LTE, but it has obsolete LCD instead of OLED and it as pathetic resolution. And the more expensive Lumias have no microSD so they are low end like iPhones.

Wow Verizon has two high end phones now. Both are 5" lol. AT&T is lagging behind.

Sure at&t have the L1020 ah and L1520 sure they're behind

congrats TMobile of having no high end WP...GRRRR..>..<

My thoughts exactly. Tmobile treats WP users so bad.

Thanks for beating me to that comment. I am on TMO Lumia 925 with JUMP that is due for JUMP End of this month and NO HIGH END WP...., What a bunch of Pain TMO is turning out to be windows phone wise

I just unlocked a 1520 and stuck my SIM in, best $126 after trade ins I ever spent.

Crappy-sung or Samesung, I hope people buy in cause I want Samsung to support windows phone.

Are you guys really complaining about having more options??? This isn't Apple...

Samsung looks so ugly next to Nokia.

Lol I said the same thing. It would not have looked as bad as it does if it was just the se but the icon made it look cheaper than usual

I don't like any of the phone designs. But I like the Verizon logo. The guy who designed this logo must be a genius.

Depends on your view point, Lumia looks great, bur I do prefer the Samsung look.

Its like looking at Audi R8 and Toyota Camry. And you say "I still prefer Toyota"

I'm not sure I'd call a Nokia a Camry. I know they bulky but they look better than that.

You must be being sarcastic,because he's referring to the Icon and the Audi..

Exactly, the Icon and the Audi. The Camry and the Audi. The Icon and the ATIV SE. The Camry and the ATIV SE.

Yeah the icon is cool but it's bulky. The reviewer repeatedly mentions how sleek and good the phone looks. Plus the Aluminum look favors a Audi. So I assumed he was referring the Nokia to the Camry.

Gotcha.. The Icon is pretty nice. I played with it briefly at the Microsoft Store the other day. I'd like to see the SE in person out of curiosity.

The aluminum favors the Audi? Then you just called out the Icon because the SE doesn't have a shred of it. The Icon is Aluminum.

Dude if you don't like the SE that's cool. Grab a Icon. I just agree with the interviewer. It looks sleek and impressive. I wouldn't get one though. A NO CAMERA BUTTON is a NO BUY for me.

Agreed, not ready to part with that camera button. So useful for when you need to pull out your phone and snap that pic RIGHT NOW. MS shouldn't have lifted that requirement.

It's not Microsoft's fault. It's up to the OEM on whether or not they do it. Microsoft is allowing for more options for manufacturers to make less expensive hardware and further options. That's a good thing. That'll help bring more phones and increase market share. However I am rather fond of the camera button. :)

Why would you call the icon a Camry?

He has a condition and its called denial or trolling

And for someone wanting to switch from an S4 Android to WP and likes the S4 look this is perfect.

Woe looks amazing. I wish it was a non- carrier exclusive like the original Ativ S.

Carrier exclusive??? Why? I'm Verizon but this kills growth for WP. There are no other five inch phones available for others to buy

I wouldn't say that it kills WP growth. There's a long slew of unreleased Nokia phones on the way.. I am sick and tired of the carrier exclusive shit too though..

No one else in the US have a five inch WP. That can't help progress

I know you mean. That's for now. I think that won't be the case throughout the year.

Lol looks as vanilla and mundane as every other Samdung. You weren't kidding when you said they're "not trying." You can tell just by looking at the thing.

Looks aren't everything, and I don't mind its design. Fact is, it's a solid phone with some killer specs.

I assume SDXC capable of 128 GB micro and replaceable battery?

yea the design is great, love Lumia design, they are both good just different, wish T-Mobile would get this, Samsung has never released a windows 7 or 8 phone on T-Mobile, I can only hope they do, cuz they did it right with this one.

My opinion precisely. And with micro SD, removable battery and IR blaster it doesn't owe a thing to the icon/930 except for the camera.

And speakers and Lumia app stable and quality.

Fair enough. I mean, competition is never a bad thing, so I'm glad that exists within the WP realm, but I guess the importance of aesthetics varies to people. A solid phone in terms of specs, but both looks and build quality always disappoint me with Samsung. That goes for their Android offerings as well. I know emphasizing the positives in these reviews/unboxings is good for WP, but I personally don't feel bad criticizing Samsung when I honestly believe they're half-assing it. I feel like they need to earn the praise (the way Nokia has), and simply offering a Windows Phone doesn't cut it for me. I'm a lot more excited to see what Sony can bring to the table. By the way, solid unboxing as always.

Totally agree. Don't like the style? Get a case on that bad boy

Absolutely. The specs on this thing are just about what everyone bitches about the most. Quad core, 5" 1080p, 2gb ram, SD slot, removable battery-what the hell else do people want?

Lol - good one! I would love to get this phone for free, and use it as a second phone to my Nokia Lumia 925. Well, there you get my preference :P :D ;)

I understand why people complain about Samsung "not trying" with Windows Phone -- rehashed versions of their Android flagships, complete absence of any kind of advertising, etc. -- but the fact is they've been onboard from day one of WP7 and their handsets have been decent, if not in the Nokia class. It would be great to see a genuinely original WP device from them, though.

Lol so have HTC.....and at least HTC made some unique designs ala 8x and they have some serious financial issues :)

True, but HTC last released an "original" Windows Phone back in...2012. Samsung at least is picking up new carriers with their devices in 2014.

And in this day in age I would take an 8x original design to last year's galaxy...the point still stands that all of HTC windows phones or most have bad unique designs. They weren't rehashed.

I just wish they would release a "rehashed" version of their Note Series or a phone >5.2"

The ATIV Odyssey was crap. Sorry, just pure crap. Bulky as hell and a god awful screen on par with an Acer product.

Wow, now Verizon has 2 high end phones and all we have at ATT is a phablet! Not interested in a 6" phone. I sure hope Nokia gives ATT something soon with these kinds of specs.

I'd do almost anything to get that baby on Tmo. The 1520 is amazing.

Hey buddy, thanks for your recommendations, I picked the 1520 off Amazon last week and the phone is simply awesome. I just can't put it down for a second and Iam getting decent Lte signal on T-mobile. Tethering is not working though but I'm still holding on to my 925 swaping Sims one while via an adapter for tethering. I followed the guidelines you gave and it works perfect with the 1020 but I'm out of luck with the 1520. I have tried some few other tricks from the forums but without any success yet.

Are you seriously complaining about a "lack" of high end Windows Phones on AT&T? Jeez, you AT&T people are never satisfied. Try being on T-Mobile with only TWO Windows Phones and then maybe you'll appreciate what you've got. And no, I would never, ever switch from T-Mo to AT&T just for a phone.

ah, don't be such a fanboy.

I think those corner curves really put me off. Even the Galaxies are ugly with the curves. The radii are too big. Can't deny the specs though, they just need some new designers.

Ohhhhh yeah just checked one out..... Damn that phone is nice!!!

I'll be getting two this weekend.

Now that we're on the IR blaster subject. Does WP have any apps that would actually fully utilize the blaster? Posted via the WPC App for Android!

The phone does have impressive specs and it doesn't look bad (not spectacular but not bad either ) but for now I think it's best to stick with Nokia (or at least that's my opinion) Posted via the WPC App for Android!

Wow totally forgot about this phone :) going to watch the video now.

It really is an unattractive phone. Especially beside the icon. Lol Daniel may not feel like he is settling but I sure would lmao. But....choice is good I guess for those who want the cold shoulder from Samsung lol.

But will it blend? Seriously, I have never seen Samsung phones as durable by any stretch of the imagination. They just feel so flaky in hand. It's going to be really difficult to go to any sort of Samsung like phone after having the Nokia Lumia Icon.

Supposedly you can run It over with a truck or car and the phone is still fine. Supposedly. At least that's what some guy said in the forums.

And here I am, some guy, saying it again, outside the forums. https://www.youtube.com/watch?v=py6zXJoS-cE#t=4m55s Dat Samsung durability.

Yet a removable battery makes it easy for it to pop off(which has happened with past Samsung) and get water inside.

LMFAO water can get inside anything, it's water.

My friend's Icon survived a toilet dunk. Never heard of a Samsung pulling that off.

Samsung Captivate, a Galaxy S phone. Dropped it in a pool. Took 2 days but if finally got to working. I don't use it anymore but I do play around with CyanogenMod nightlies and not one issue. Hope you liked my story.

Sammy's Quality and NOKIA's Durability=Ding Ding Ding Ding a winner in my...Handy Dandy Notebook!

They do feel flimsy but I do know many people who are going on two or three years with theirs and none have fallen apart.

That lightness actually makes them absorb less harmful forces during a fall as opposed to a heavier phone. Simple physics, the heavier it is the more forces it experiences upon impact. A phone that has more give when you try to bend it also will experience smaller forces when impacting than a rock solid phone, depending on if the presence of that give means the impact time is reduced by a microsecond in the more flimsy phone.

The cheap removable back also makes it more susceptible to water damage. Spilled glass of water 2 feet away on a table smoked my note 2.

Anything that brings attention and customers to WP is A-OK.

Very nice phone. The 930 only wins in the camera and although the Samsung only has 16G of internal memory it has micro SD and removable battery.

I like how they made a phone with a stylus (which used to be standard equipment prior to capacitive touch) and people go nuts for it. Now they've added an "IR blaster", which also used to be standard kit and now it's a big feature. Samsung is mixing retro with new and I like that. I won't get this phone, but do like that they're bringing back good features from the past.

Past? HTC One has an IR blaster.

I'm saying IR blasters were standard on all mobile devices back in the early 2000's. Then they were dropped for some reason and are now making a comeback.

S4 with Windows Phone running...

Introducing... Samsung's last year Android flagship, this year with Windows Phone!

Lol...but continuing with next to no marketing for it and then blaming lack of sales on the os :) That's so Samsung haha.

They spend $4+ billions every year on advertising for Galaxy brand. I wonder how much they spent for Ativ brand.

Which is also what the L930 is. Last years tech with this years price.

There is a difference in continuing a design from your already established line of lumia(though the 930 is still unique, similar to the 925) vs Samsung giving us androids 2013 model. Not even the same thing.

So what? I don't want a phone for its looks, I want it for functionality. And the L930, unlike every single 2014 flagship, lacks a microSD expantion slot. There's NO justification for the price asked for the L930 in 2014 when the phone is already 9 months old upon launch.

I have a 1520 so I have a nice size battery. But aside from a lack of an add SD card, what other features is the icon lacking.
And please don't give me something bogus about the glance screen quality mess. Seeing as the same specs exist on my 1520 aside from my screen and the 1520 is not outdated yet.
The functionality I can get but aside from a lack of an ir blaster and SD card, the icon is not as outdated as you call it and whatever Nokia adds tends to add functionality that Lumia owners tend to prefer.

The L1520 is a niche phone. Not everyone wants dinner trays as phones ;) Look, Nokia isn't competing against HTC or Samsung's Windows Phones. Nokia is competing against Apples iPhones and Sony, Samsung, HTC, LG etc etc Android phones. Actually, they're more competing against Android than even the iPhone since the iPhone lives in a completely different dimension that basically sucks you into the Apple world to properly get something useful out of the outrageous amount of Euros they as for it. So, for Nokia to compete against Android flagships, they need to present a flagship that people don't see as inferior. From the moment Samsung, HTC and Sony presented their 2014 flagships, the L930 became outdated. Like it or not, it's the Android flagships that mark the pace in the mobile World in terms of specs. All Android flagships for 2014 include an SD801 for example. Does it make a big difference between that and the SD800? No. Does it make a difference against the average Joe that goes into a store and starts to look at the numbers of the phones and comparing them? Yes. The average Joe will look at the numbers and see "Wait, this is a 801 while this is a 800". "801 must be newer and therefore better". And so there's a point against it. Which phone does the L930 competes more directly against? Sony's Xperia Z2. Is the 930 at the level of the Z2? No. It's on the level of the Z1 which you can now get for 450€ instead of the 600€ Nokia will ask for the 930. The Z2 easily wins over the L930 in a specs comparison. It has a SD801 instead of a SD800. It's clocked at 2.3Ghz instead of 2.2Ghz. It has 3GB of RAM instead of 2GB. And has a 3200mAh battery against a 2420mAh battery. Then it's lighter and thinner. It has the same 20mp camera (20.7mp actually). Sure it doesn't have OIS but DIS. But most don't even know what that is. And it's dust resistant and water proof. AND it HAS a microSD slot which the 930 lacks.
It costs the same 599€ they ask for the 930. Unless you're viscerally against Android - which, I'm sorry to say, the common user isn't - there's absolutely no reason why, realistically, you should buy a 930 instead of a 930. I'd buy it because "it's Nokia". But I have the perfect notion that it's NOT a rational choice. The common buyer will just pick the L930, compare it to the Z2/S5/M8 and see that it's inferior to all those offerings. And so they'll obviously go for them instead. This isn't good for the consumer, it's not good for Nokia and it's not even good for Microsoft that loses a chance to bring another person to WP. If you want to present a "flagship" that is "the best of Microsoft and Lumia"...then make sure you ACTUALLY put the best of both in. The L930 may bring the best of MS (8.1) but it won't even take advantage of that by, for example, thwarting the ability to save apps to a microSD card. A FLAGSHIP shouldn't compromise on anything that can be put there within reason. That's why it's a flagship. That's why people are willing to pay a premium price for it.

What average Joe do you know that knows the difference between 801 or 800?
I don't even know that. No average customs cares about that. They want a camera that works, to have the apps they need and the fact that they can easily communicate with friends and family. That's the average Joe for you. My mother is an average Joe and I am pretty sure she never asked me "Micah does this use this Gen or last Gen processor or does this phone have an ir blaster?"

I don't know how things are in the US, but in stores in Europe, the phones are displayed with a small card with the specs next to it. The average Joe doesn't really need to know the difference. He just needs to see "800" in a card and "801" in the other. "They want a camera that works, to have the apps they need and the fact that they can easily communicate with friends and family. That's the average Joe for you." Once again, they find all of that on Android phones. None of those features makes a Windows Phone more appealing to them. As for your mother, take her to a store and WITHOUT telling her anything, ask her to find the better phone from a few there. She'll look at the cards, compare them, and get there even without knowing what's Android or Windows Phone.

I have to be honest, in the flagship model they do need some wow factor. As DJCBS states, those little cards can be very misleading and also can make a big difference. Not to mention the sales staff that often don't want to invest any effort in to getting the right phone for the customer. When I went for a 920, the sales guy actually told me that all cameras were the same, all about 8mp. I could have cried. I kept prompting him with clues about the 920 camera quality, to no avail. Most recently I heard a salesman say "do you use apps? If you do, Android and Apple have loads". He made no effort to show the guy a windows phone. Snapshot specs are how so much is sold.

So Samsung can't continue it's design from it's already established line of phones? Damn son...

Don't twist my words. It is one thing if this was a continued thing from their focus line. It is another thing for this to be giving us the exact same hardware from their current android line which is essentially second hand. That's the whole point most people mean. Why a lot of people don't want Samsung is because they are treating windows phone as second class with recycled products.

They switched it up with the US line of Galaxy phones. Galaxy S = Focus Galaxy S II = Focus S, you can see by the non-Pentile AMOLED and still using capacitive buttons Galaxy S III = ATIV S, hardware home key, same screen Galaxy S5 = ATIV SE, same screen, almost same processor. That's pretty established. If I were Samsung, I wouldn't try either honestly. They were with Windows Phone since 7 came out. Then MS got in bed with Nokia, only lets them tweak the OS and whatnot, of course EVERYONE is going to look bad when favoritism like that happens. Plus the money is with Android. There's no reason to treat them as first class. And Nokia has been recycling since the N8, probably since before. So there's that...

You're debating a known Nokia fan boy. It's best to just ignore him. Nokia can do no wrong and Samsung can do no right, even though they're both doing very similar things.

Sweet looking device, wow.

Beast Phone. I give credit where credit is due. Samsung put out a very very capable phone. One of the best Windows Phone right now. Only the Icon and 1520 are on par or better. Nothing else is.

I agree, the Icon and 1520 are the only phones that can compete with this, and this offers an SD card, which everyone complains of the Icon not having. I'm not saying I will switch my Icon for the Ativ SE, but I'm certainly curious to check it out (hey, I signed up for Edge for a reason).

You forgot removbale battery. And I agree it seems like a great phone.

Nothing last year about the 800. Same processor in the Icon and coming 930.

I'm not a Samsung fan but it does make me happy that they hasn't forget about Windows Phone

Honestly, if Samsung made phones that didn't feel so cheap, id love their phones. The recent "Note" series and GS5 are very solid looking and so is this. I can see how some say they are plain, but I like it for what it is. That and Samsung actually has solid camera's lately. Frankly, if they had a Galaxy or Note variant on WP next year, I would take quite a look at it.

Might very well happen next year. Surface mini is coming and MS is dedicating it as a note taking device. 90% sure that means RT Onenote is getting digitizer support. That would give I to WP OneNote as well.

Looks good. Any OEM supporting Windows phone is a good thing.

I hate Samsung and will never buy a phone from them. But if I had to waste 599€ on something, I would sooner spend it on this phone than on the Nokia L930. Because this one, at least, has a better battery and a microSD. In the end, this is just to say, the L930 is so bad for a 2014 flagship than I would sooner give 599 for a Samsung than for it. This, coming from me, is saying something.

Lmfao all for a lack of an SD card slot? K then.

Yes. For the lack of a microSD card slot. For the miserable battery. Even for the inferior screen quality that prevents Glance. For the price Nokia is asking for the L930, this ATIV SE is a better deal. And every single Android flagship (Z2, S5 and M8) is an even better deal. The L930 is a great phone...last year. This year is a great outdated phone. Outdated for outdated, the L920 and L1020 are still better options.

This. Seriously, I can't believe so many people here prefer how the outside of their phone looks over specs and features.

The 920 and 1020? I can give you the 1020 to an extent but the 920? And somehow the 930 is outdated? Lmfao k then....you lost all credibility :D

The only thing the 920 has inferior to the 1020 is the camera. Then it compensates with built in Qi wireless charging, a smooth design and an LCD screen (though this last one is more a matter of taste I think). As for the rest, see my other answer to you above, mate.

But the 920 nor 1020 have this Gen specs. That doesn't even make any sense.

What's the use of having last years specs when you can't take advantage of them because you lack storage capability? And I'm just ignoring Glance because I don't use it. Otherwise that would be another thing. To cheap out on the screen, they remove features. I have no use for a SD800 or SD801 or SD805 if my phone remains restricted in terms of space. There's no use in those chips if I can't have a phone that is able to store in it the best games, videos, music and photos.

Miserable battery my ass. Only looks bad on paper, in use and reality it makes you look clueless.

It doesn't change the fact that it's a small battery compared to the others in the industry and that you'll get less out of it than you do, for example, out of the Z2's 3200mAh one.

The only thing this has that I wished we had on the 1520 is the amoled screen but other than that nahhhhh......

I have an amoled 1020...I prefer my old 920's TFT!

So when the heck dis Verizon decide Windows Phone is relevant and gobbled up exclusives on the 8.1 handsets coming out?! It uses to be AT&T & T-MO

It seems all they've gotten is Flagships lately. Wish they would actually have them at their stores though. They had a tent sign at their store for it. I went in to look for it, but it was nowhere to be found, neither was any WP for that matter.

Hardly TMOUS... they may get the phones but I haven't run into a single sales person in the last few years (and I've bought a lot of windows phones in that time) where they didn't argue with me that I really wanted an iPhone (since they started carrying them) or Android despite me not asking them for opinions but just for the phone I want. I have to spend time justifying myself or I've actually gotten irritated enough to walk out a couple of times. The head guy until recently seemed fairly anti-wp as a top tier choice so I can't blame them and I have to wonder what made him start taking it more seriously but I stay out of the stores now for anything I can buy from another retailer just to avoid dealing with the reps. I wish we had the 1520 as a TMOUS device. This one would also be nice (I'm a Lumia fan over HTC and I still like the exclusives Nokia landed but I might be willing to give this a try since it seems unlikely I'll get a 6inch screen from tmous)

Looks nice and the specs are pretty impressive. But Nokia means guaranteed support. My next device will be a Nokia but I'm not so sure about the 930. Double tap to wake up is a must for me.

Amen. Guaranteed support is why I am with them. Honestly if the icon would've had the SD card slot(which is not a big deal to me) and that stupid ir blaster I seriously doubt this se would be getting as much as hype. Lol

Full video review please! This phone would be my next WP if my 'imaginary dog' ate my current one.

Looks decent - not great, not bad either. I do love the physical button and wish that Nokia/MS incorporate that in future phones. I have mixed feeling on lack of the seach/Cortana button - I so often accidently keep hitting the capacitive seach key on my 920 but love the dedicated access to Cortana that it gives me - I guess the ideal solutions would be to have a dedicated physical seach/Cortana key in addition to physical Windows key/button. IR blaster is a nice add-on. An very good Windows Phone device for Samsung fans. I personally still love the premium feel of a Lumia Icon and would love to see HTC release WP version of M8.

I am seriously considering getting this if I can get a decent Verizon plan. Would be a great upgrade from my Lumia 521... too bad it looks so bland. But it seems like a very good phone.

That button, almost throw up.

Hey Daniel. When unboxing could you please tell us what the output of the wall chargers are, thanks.

I'm more and more displeased with my ATIV S Neo on Sprint every day, lol. I've only had the thing since September, and there isn't a day that goes by I'm not considering jumping carriers! Only thing keeping me really is unlimited data, since I easily burn through 10-15 GB without even trying (well, that and my wife's loyalty).. Hopefully this doesn't have the serious radio issues this Neo does (bluetooth + wifi = borked voice over bluetooth, dead wifi/cell data signal). The screen on mine has worn out in the last couple months as well. ie - persistent & uncleanable oily/worn glaze from just fingers (no scratches). Yah, and that 4:3 max photo res thing is flippin' annoying, not to mention how slow the shutter is (though it's a pretty good sensor if you or your target aren't moving). Oh, don't forget the random restarts, running super hot at times for no apparent reason.. All of this substantiates the whole "they don't even try" complaint, and makes me feel like they hacked it together just to please the carriers asking for it. Boy am I glad Sprint was their trial monkey! /s

Internal specs aside, I just can't get excited about Samsung devices. With very little exception they all look pretty much the same. It's like their designers have lost all imagination and keep making the same shell over and over, just with different finishes. They're definitely not going to sway me from Nokia devices any time soon.

Amen to that! I need to have colour in my smartphone...I couldn't imagine going from my yellow 1020 to that bland hunk of plastic. Eurrgh. & that home button - looks awful!
I just can't imagine why anyone would go for something so generic looking when Nokia's have such design flair. Odd

It doesn't look particularly attractive to me, but it appeas to be a good phone. I really do like that they put an IR blaster in there. I hope that becomes a standard.

HTC One has it and nobody knows it. Tells ya how relevant IR is.

What Nokia exclusive apps would we be missing with one of these?
The Here apps are universal now right? Pity they didn't release the ROM so I could Flash my GS4 !

I've been looking for a new phone to upgrade from my ativ s . Would have soo been onboard with the se but unfortunately. It lacks one of the things I look for...A FREAKIN CAMER BUTTON!!

I might just get this. How can people say the icon is not ugly? It is one of the most bland phones there is. All it is, is a rectangle. I've never had a Samsung, loved my trophy, and my 822 isn't bad. I'll probably wait and see if HTC comes out with because getting the icon just doesn't seem like too much of an improvement from my 822.

LMAO if the Icon is ugly,then the se is an abomination

How is the icon not ugly? What makes it look good?

I don't care for the Icon design at all. Love the specs but it is very bland looking. 930 too. Prefer the 925 design the best and hope Nokia goes back to it soon with a bigger screen!

Icon is very boxy, I will say that. Posted via the WPC App for Android!

I agree. Nokia is just a square brick! HTC is supposedly making a Windows Phone version of the HTC One M8. If that happens with a better camera all of the Nokia fans will have to be silent when it comes to sexy build quality.

Daniel - Did they use a usb 2.0 or 3.0 connction? Any chance Samsung included Ant+ service? In regrads to the IR blaster did Samsung include an app for Tv control? Thanks.

Some people value removable battery and microSD, and design tastes are subjective. I'd love if Samsung would actually put some of their marketing power behind WP8.1. It would be really good for the ecosystem.

The thing I found interesting is that they didn't let the Windows button also be the power button. Maybe press it twice quickly then hold to power off or something, then they could have put a camera button. Nokia phones do look better, but this one looks ok. The question I have is if you install 8.1 now instead of waiting doesn't it void your warrante? Thats something people should know because if they install it and their phone breaks they're screwed if it does void the warrante.

Huh, the Windows button does wake the device!!!

I meant as a power button to turn on and off the device.

Best thing about this phone is it's not taking up 9GB of your storage with lagwhiz. Nice to have some latest hardware choices from other OEM's using WP. Can't wait to see what HTC and Sony release later this year. But sticking with Nokia for a while..

Couple of points, yes, you owe it to the community to do a full review. This is a Windows Phone after all. Now I am no Samsung fan, but the IR blaster is pure genius. A truly magnificent feature that I would have over NFC any day. Really wish Nokia would consider this feature. Keeps the crap out of putting in a damned heartbeat monitor from the S5. Great to see a good size battery too. The only down side for me is those wretched corners, too rounded by far. It is like they are trying to ape the first iPhone with every phone they release. The rest of the specs surely give Nokia a bit of a kick. iR blaster and a great battery are the killer features here for me.

The heart rate monitor is to help sell their other new gadgets.
Ya know... for whatever that's worth.

Windows Phone 8.0? That's soooo March 2014...

This device, the ATIV S Neo and the ATIV S will all get WP8.1 when it's released, unlike certain Nokia devices. You didn't expect them to put a preview release of WP on a production device, did you?

Uh, no... I guess the drawn out 'so' didn't adequately transmit the fact that I was joking about having just received the 8.1 preview.

"preview for developers" does not mean you get preview software. It's RTM. You just get to see it before the carriers release it...

Imo it looks better than the new gs5. I like the brushed metal look. Posted via the WPC App for Android!

Hhahaha indeed seems like a trend for samsung eversince the've been building windows phone >_< Omnia 7 was way better looking and built then the android flagships back then. The first Ativ looked much nicer and luxorious then the S3. And this one looks way better than both the S4 and S5 >_< . Brushed metal look is very nice indeed. :D

Despite doing the standard "plastic" feel to it, I'm pleased Samsung released a high-end Windows Phone. Too bad their bread and butter is still Android...

Cool specs. Very nondescript, and plain... so, very Samsung I s'pose.

Carying on the Samsung tradition of looking totally cheap after ten minutes of handeling by being covered with greasy fingerprints on the back cover.

I'm with doomtuba...there will be a lot of chin scratching over getting this to replace my 928 for the microSD alone. If that IR feature is anything like my iPaq was then I will be hated at the bar...again that's of course if they can figure out it is me changing the channels

Take the chrome off and give it a camera button and you might have something. As a Verizon customer, I wish we could have the Verizon logo on the back at the very least. It looks like crap.

I don't care for many asthetic aspects of this phone, but they were more conservative with logos than Nokia has been.

I'd be more impressed if it was using the same hardware as the S5 instead of last year's S4. Microsoft relaxed all of their hardware restrictions so that this kind of crap wouldn't happen and we're still geting the leftovers. I'll stick with Nokia.

It's not using the hardware of the S4, not sure how many times this needs to be stated...

To be honest, I don't get it how Lumia looks any better here.. Yes If I had to choose between these two, I would take Lumia for it's camera and applications and I'm okay with it's look. But really, It looks like a freaking brick next to Ativ, and it's bezels are like my Nexus 7 with 1cm thickness.. 1cm and such a small battery, what? ..I like the back of the Lumia, but the front is just whatever to Ativ, as for Ativ, I prefer its front look over its back, I do like honeycomb.. Mostly the camera is a little boring, but who cares.. It's nicely slim, feels "sexy", just like my Ativ, very beautiful device in real.. Head peace is nicer on Ativ as Nokia's (and every other phone with same style) is a little annoying when it comes to dust and such.. Home button, yes I do prefer hardware button.. Too bad for camera button, but again, I kind of use it only for launching the camera.. And I don't know about Samsung's past or presence about durability, but this phone is pretty much strong.. Specs ? Id say that only camera is better on Lumia.. + Amoled on Samsung (which I never liked when I only had IPS, only prefer it on tablets) is Awesome with 8.1 wallpapers.. Anyways I still like Samsung's look so much better, but I would go for Nokia for camera and exclusives although Samsung also has pretty useful applications.. That's pretty much it.. Sorry for English mistakes..

Wish WP 8.1 would allow notification LED for actual notifications.

Yeah that's one weird thing that didn't transfer over from WP7. Also hoping it makes a return.

Samsung has good hardware. It is a beast of a company. They don't focus much on Windows phone as their Android phones are cash machines. With the momentum windows phone has had, things can change... Perhaps slowly.

IR blaster shows they're willing to throw in gimmicks from the Galaxy S line.

Do the review.. Compare the Icon with 8.1, the Ativ SE and the GS5 for the heck of it.

nokia fanboys are pathetic on here, you're worst than apple fanboys you make me sick. why read something that you're not remotely interested in buying, i've had several bad lumias but you don't see me bashing nokia and what is worst is some of you haven't owned a samsung smartphone but talk like you have. my friends with lumias get jealous of my ativ S take that for what you will. if you don't like the phone design it doesn't mean bash the company, where is your life at? do you even have a life?

Every Lumia I've owned (900, 810, 920, 620) had a problem. All except for the 620 was hardware related. All of the Samsung phones I've owned (Vibrant, Captivate, Focus, Focus Flash, Focus S) have been marvelous except that Flash, kept freezing on me. I could bash both companies, but why? Their both doing their things and both make quality products.

Exactly this i don't get why bash a company if they are improving the os usage, many of my lumia friends were shocked when they found out Samsung made windows phone.

Yeah I know a few people who want to try Windows Phone BUT at the same time are Samsung fans. Anything to get them to at least consider trying WP. But you can't tell that to some people around here. "Only Nokia should make Windows Phones" is what you'll get.

This. Posted via the WPC App for Android!

Sexy phone. It is a start hopefully Samsung will take WP seriously. I like it.

any news if this will ever get released in the UK?

The only things this phone have going for it are thinness and microSD on a "flagship" device.

So then no windows phone is a flagship right? They either have the same or worse specs as this.

Only thing the Icon has going for it are 32GB built in storage and a 20MP camera on a "flagship" device. LOL these Nokia fans are KILLING me. I miss the early WP7 days.

I miss my trophy! Haha. Most of the Nokia fanboys care about what others think about their phone. They want attention and think that since someone might not recognize their phone as a Windows phone right away, they have to get a Nokia. I get a phone for myself. I'd it has good specs, sign me up. All that is needed.

Never played with the Trophy, but I know someone who uses one til this day. My cousin had the Surround and sister had the Quantum. At the time all 3 of us had all the WP devices AT&T had to offer with my Focus. I liked the Surround's functional LED notification light, handled text messages and missed calls, was very handy.

Oh SD card and its buy one get one free so that's a done deal.

I'll join a small minority here, and say this. I like the new Ativ SE. It's a damn shame it's not availble on more carriers. The replaceable battery and SD card slot is a major plus for me. In the face of the Nokia Devices division being bought by MS... I'm honestly questioning how much longer the exclusive stuff will go on. Nokia getting the exclusives aren't helping the market grow right now. Much as I dislike Samsung, I think the Ativ SE is a damn nifty device, and shouldn't be passed over because it isn't a Nokia.

Yes it should. Lmao. I hope that we don't lose our exclusive as Lumia owners. There is a reason why we Nokia owners love our Lumia. Because of the exclusives. Well that's one of the reasons.

Micah, you seem like you'd be a cool person outside this website. I caught a few of your Vine vids and I could even relate to some, also rare for people on the internet to make me laugh with their comedy and you did. I also like your name, I might steal it and name my firstborn son Micah. It looks and sounds great. But the more you post on WPCentral, the more I'm looking forward to never buying a Nokia device ever again. In life.

Very well Mic... why should I pass over the Ativ SE? It's got more of what I want, exclusives are likely going to go away as MS works to integrate the entire ecosystem, and garner more OEM support. Samsung is generally well regarded in term of hardware. My 810 hasn't exactly lead me to believe Nokia plastic is better than Samsung plastic. Right now, the 930 and the Ativ SE appear to be near identical in terms of specs and features. Biggest issues being that Nokia lacks an SD slot, glance, or even style at this point. Since Samsung hasn't really changed the design all that much, it does appear Nokia has slipped. The Icon/930 is a step back from the previous flagships as far as I'm concerned. I have no reason to only look at Nokia alone anymore.

I have the Icon and love it... But I'm a little jelly after seeing that IR blaster...

I wonder why Nokia has never thought of that...

I would love to make this my next phone. Hopefully AT&T wises up and picks up either this or an ATIV 2. The no camera button thing is weird but I'd like to see how quickly one can get used to it.

I decided the action center will make the transition much easier.

This actually might be the ATIV S2, seeing as the Icon is the L930.

I know it's Samsung and a lot of you guys don't like it - especially on WP - but we've got to admit that they make some of the best bezel on their phones.

LG is trying to eliminate bezels as we speak.

This. Posted via the WPC App for Android!

I don't see a back and search button or the software keys. What gives?

They light up when you touch them. Otherwise it's hidden.

Or the screen. Touch the buttons or the screen and they light up.

Seems like a great choice. I'll still take Nokia, but options are always great.

Yep... hopefully we'll get more choices for when/if LG, Sony, and HTC join or rejoin the game. I'd gladly give up the removable battery for the awesome design that the HTC One could bring, or the features a Sony flagship could bring.

Looks awesome! Like the Icon better but I do think this phone is pretty amazing!!!

This phone has some sweet specs.. But I'll still chose Nokia Lumia like everytime. Nokia does more to push Windows Phone. They deserve every sale they get.

Giggity. That phone with 8.1 slipped into a nice Incipio case too? Hell yeah, I could rock that device for a couple years.

The "samsung" name on it is a turn off, it's good that more oem's try wp, but samsung doesn't even try, unless is a lagdroid

Not This. Posted via the WPC App for Android!

To be honest, I am glad to have Samsung still interested, and I like the fact they are releasing stuff. Nokia, Samsung, Sony and HTC could greatly assist our platform. Having samsung is better than you think. Their designs appear lacklustre to me, but they lap them up on Android. Like Nokia was 5-10 years ago, they are the "go to" manufacturer. If the Android masses will ever switch, they are likely to switch to a brand they have recently trusted. If a customer trusted HTC or Samsung before, they are likely to want to stay with the brand, but consider a switch of OS. Last week I spoke to a woman at work that went from an iphone to a Nokia 620. The reason "well I had a Nokia 5 years ago and I liked it".

All Samsung's look alike!

There are so many bashers here. What's worse is most of them are Nokia fans. Ugh. Can you please just shut up? If you don't like the phone then stop commenting! No one is forcing you to buy it OR to like it. Too much fanboyism in this thread, really...

They're loving the taste of this 3% marketshare.

If only this have the same camera as Galaxy S5 because I only heard good things about the S5 camera so far.

Man, Samsung really needs to hire a new designer. Their phones look like they were designed 4 years ago. So many seams, so uninspiring, so lame.

930 looks so gorgeous next to it.

I like this phone. If it didnt have that ugly verizon logo up top I'd get one just to use on wifi (Im on ATT). This back is like the S5, when you take it off you feel the plastic and it doesnt seem very nice, but once you put it back on the phone it feels solid and premium.

I love my Nokia 928, but this Samsung has a bigger screen, removable battery, and microSD slot with a thinner and lighter profile! Ugh.....what do I do??? Ativ SE or Icon?

Home button, no search button and possibly a LED to indicate missed calls and messages Samsung 4 Nokia 0. Unfortunately I haven't had of the international version?

I can see the divide occurring in the comments and its freaking hilarious. This same trend is happened with Samsung on Android that is happening with Nokia. During the SII days it was the phone to get and love but the moment its popularity got big enough then it became cool to hate it. Nokia is now on this tragetory and no one will be to blame more so than its obnoxious followers who can't simply just compliment another fighter in the "get WP popular" campaign. You guys just don't get it, Samsung even releasing a rehashed S4 for windows phone is good news because there are serious Samsung fans out there who wouldn't have even looked in WP's direction but now that Samsung has a similar phone people have come to love maybe people will give it a double look. Nokia makes good phones don't get me wrong but the best way to lose sales for a company is to have its fans belittle everything that isn't of their beloved masters doing and it makes people hate its fans and what they represent ie Nokia. At this rate I see people coming to despise Nokia and its only fault will be for making people love them too much. Lol the irony.

Logic doesn't work with fanboyism. They will hate it, even if it's good for WP overall. They would rather their platforms marketshare stagnate than to get support from big/popular OEMs like Samsung. People are more inclined to say negative things than they are to say positive things. So I would just disregard the hate you find here.

Please do a full coverage on it!! The more Windows Phones the better!! Very compelling device!
For some reason or the other, Samsung's windows devices are always their best and least cheap looking devices. >_< I dunno about you guys, but im a fan of everything Windows Phone be it samusng, htc or Nokia ;)

If i wasnt on ATT i would definitlely look into getting this phone. I like Nokia but they have not released a phone with expandable memory for ATT. As much as i dont like Samsung this phone hits everything i want in my next WP.

People talk about Samsung phones being ugly but Nokia phones are uglier honestly. They are all big and bulky for no reason. The only good looking Nokia phones are the 925 and the 1520. That's pretty much it. The 930 is hands down the worst looking phone out right now. Just a huge brick. The se looks way better.

I love my Ativ S, and I am really looking forward to seeing the SE, but it's funny, the no camera button really has become a deal breaker for me. I've got two kids, and the ability to just press down on the button and get the camera right away is crucial right now.

Not a fan of the design. Those rounded edges look sooo 2009 to me :)

SO I went to my local Bestbuy to see the ATIV SE and also the Lumia Icon. Phones were not in the Verizon display of phones they had. So asked one of the staff to see the phones and she had not heard of either phone. She asked another staffer to look them up on the computer. Turns out Bestbuy does not carry either in the store. They could order them for me. I just wanted to see them. How will someone even consider buying them if they can't see the phones in the store. Have not been to a Verizon store. I wonder if they have any shelf space at the Verzion store. MS needs to fix their retail relationships. No good for someone to sell the phone if they don't have any retail space. MS can make all the OS improvements they want but will still get creamed in the end if they don't have retail partners that stock their phones. Very bad for the phone sales unless MS plan is to only sell their phones outside the US.

The Verizon stores in my area carry both the Icon, and the Ativ SE. I don't know about Bestbuy, but I generally I don't see Bestbuy as a source to get my phones.

I'll buy this phone in a heartbeat if it comes to T-Mobile. None of the high-end Lumias have a removeable battery, so that's an immediate deal-breaker for me. When I'm on vacation and outdoors all day, taking lots of photos, I've always needed a second battery, and my ATIV S Neo has been great in that respect. I honestly have to laugh at those of you who think it's more important what type of *plastic* the phone is encased in. Regardless of the type of plastic, your phone is useless when the battery runs out. So if you're always sitting within reach of a power outlet, go ahead and get a Lumia. I'll take the device that will keep running as long as I need it to.

It actually has a nicer feel to it than the S5 despite being made with plastic, in my opinion.

I just bought 2 from Verizon yesterday (Buy 1 get 1 free). Then walked directly over to T-mobile and had them pay my early termination fee and cancel the Verizon contract. Popped in the tmo sim card and works. You have to buy ANY tmo phone when doing this, and you have to turn in ANY other phone. I had two 12 year old Nokias I turned in. Basically got these for about $135 each and Tmo has no contracts. Problem is that i'm not sure if I need to change the APN or how to. I'll work that out this weekend. Other than that, the phone is really great.

Whoa, nice job Jacob! Can that phone get LTE on T-Mobile? I'm really tempted to do the same thing.

I'm not sure, but I HAVE seen LTE at the top displayed at times. I think it's spotty but functional. I'm trying to figure out how to get the dang "Internet Sharing" to work. This phone still thinks it's Verizon somehow.

Confirmed. I have strong Tmo LTE over 30mbps

It looked gorgeous until it was in the picture with the Icon.

Yeah it wasn't fair how the SE made the Icon look so bland and boring.

Not a bad looking device, Just wish it had 32gb + MicroSD.... I might of traded in my ICON for it...IR is nice and I might use it in a pitch but, cant see myself using it a lot. Yea, it looks like.....wait for it... a Samsung phone... geewiz, let's change it up a little...huh ?

Well, it does have MicroSD, and since WP8.1 now lets you install apps on there, you no longer need a lot of built-in storage. I've been very happy with 16 GB + 64 GB MicroSD on my ATIV S Neo.

Daniel - When you note "this is 1 of the first phones that has no WP branding on the back", do you mean phones from Samsung, or WP's as a whole, since I have never seen a phone with WP on the back (NOTE: talking from a UK perspective, where I have only seem Lumia's - although they must be out here in the UK, dunno if it is different elsewhere).

I have to go with what ever Nokia brings to ATT at the end of the year.

I would like to see a review. My carrier hates Nokia, so if this one comes to Canada at some point it'll likely be my only option for a subsidized device. I'm planning to pick up a 930 asap, but there still exists the possibility that I won't be able to afford full price when the time comes.

The problem with Samsung and Windows Phone.... they're making a device just to have their finger in the pie... they're not really interested in the OS and this is very much evident. Instead of coming up with a new design for a windows phone they just recycled the S4, chucked a few features in for the sake of it but that's it.

There's nothing wrong with OEMs wanting to put "their finger in the pie" especially with WP which has a small market share compared to Android and IOS. Their main focus is Android, but if Samsung WPs pick up, i'm sure their support will get better, it's just how the world works, you're not gonna put down a lot of money for something you aren't sure will flourish. A big company like Samsung is good for WP, whether you like the company or not. There are millions out there that love Samsung as much as you love your favorite OEM. And about their design, pretty much every company "recycles" their designs. It gives them a unique look among a sea of smartphones. You want people to see what you're holding, and instantly know what phone you're holding. People see you holding an ATIV SE probably won't assume it's a WP, but they will recognize that it's a Samsung. Which I can imagine is what companies want, brand recognition. Also, you have to give them props for continuing SD card support, removable batteries, and an IR blaster, features that are missing in the latest Nokia WPs.

32GB, wireless charging and PureView vs. IR Blaster, removable battery and external storage. Both are compelling devices and it's no doubt a great time to be a customer!

I compel you to stop being open minded

Looks better than Galaxy S5
Windows Central Newsletter
Get the best of Windows Central in in your inbox, every day!
Thank you for signing up to Windows Central. You will receive a verification email shortly.
There was a problem. Please refresh the page and try again.