Samsung Focus S makes CNET's BEST list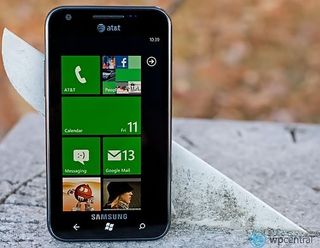 Resting amongst four Android phones and the iPhone 4S you will find the Samsung Focus S listed as one of the five best AT&T Smartphones. CNET gave the Windows Phone a 4/5 star ratings while the average user rating is half a star higher.
According to CNET, the bottom line on the Samsung Focus S is:
While CNET recognizes the large screen (described as gorgeous), a good 8mp camera and HSPA+ speeds they feel the thin form factor lacks durability (can't say that we necessarily agree). Regardless, it's nice to see another Windows Phone catching the spotlight.
source: CNET (opens in new tab) Thanks goes out to Jason for the tip!
Windows Central Newsletter
Get the best of Windows Central in in your inbox, every day!
George is the Reviews Editor at Windows Central, concentrating on Windows 10 PC and Mobile apps. He's been a supporter of the platform since the days of Windows CE and uses his current Windows 10 Mobile phone daily to keep up with life and enjoy a game during down time.
While this is nice publicity, and something to chalk up for WP on the score card, I could not care less what CNET thinks of anything these days. They are so warped up in their Droids and iWhatevers that there isn't much us Windows Phone users could get that could be deemed as useful information. To capitalize on this point, review how CNet's Holly Wood (that's right, I said "Holly") went with her Windows Phone challenge verdict.

I absolutely agree. Cnet is out of their minds and many of their reviews are so biased it makes no sense. If you want proof, just look at this review. Utterly ridiculous.

While I appreciate CNET listing the Focus S as one of the top 5 AT&T phones, I don't see how they could conclude that thin + light = lack of durability. That's like concluding that because a phone is thick, heavy and brick like, it is by definition durable. I would be greatly surprised if CNET, in the time since the Focus S' release, has been able to gather objective data to support a conclusion of lack of durability. I have a Focus S that I love to no ends, and absolutely love the weight and feel of the device. From a packaging perspective, there's nothing that I would want changed about the device. On the other hand, if Samsung had done a better job integrating the camera functions like panorama that HTC did...

A great example would be the iPhone 4S. It is made of glass and shatters if you drop it from any sort of height. Funny, how they never seem to mention that.
That said, I am still waiting for somebody to come out with a killer, "must have" design for a WP7 phone. Most of the designs so far have been, in my opinion, a little lazy. Nokia has gotten close, but I feel like they can do better.

We'll see if this helps sales. At BestBuy.com, the Focus S isn't doing so well, but the Focus Flash is showing an upwards trend. Here are the sales rankings for this week: AT&T (69 phones offered)
26. Samsung Focus Flash (29. a week ago, 34. a month ago)
29. Samsung Focus (28. a week ago, 26. a month ago)
37. HTC Titan (48. a week ago, not available a month ago)
55. Samsung Focus S (60. a week ago, 53. a month ago)
57. HTC HD7S (62. a week ago, 56. a month ago)
59. HTC Surround (57. a week ago, 50. a month ago)
68. LG Quantum (68. a week ago, 59. a month ago) T-Mobile (32 phones offered)
20. HTC Radar (25. a week ago, 24. a month ago)
23. HTC HD7 (14. a week ago, 11. a month ago) Verizon (54 phones offered)
41. HTC Trophy (40. a week ago, 36. a month ago) Sprint (50 phones offered)
31. HTC Arrive (29. a week ago, 31. a month ago)

Why the h3ll do u keep quoting that ridiculous best buy chart on every single one of these articles? Get out of here with that shít.

I posted this in the forums hours ago...

Try the "Tip us on news!" link next time if you want credit. :)

Last time I went to best buy they denied knowledge of any such devices and insisted we were confused... they didn't get a sale, the carrier got it (barely)

I think whenever I encounter someone who's "derp" about WP7 I'll just whip out the Deadmau5 Nokia video. My kids love that video and even my apple fanboy friends thought it was epic. :)

This is a fantastic site and very engaging too. Excellent work! That's not really much coming from an amateur publisher like me, but it's all I could think after enjoying your posts. Not like other site. You really know what you're talking about too. So much that you made me want to explore more. Your blog has become a stepping stone for me, my friend. Thanks for the detailed journey. I really enjoyed the posts that I have read
70-667 pdf //70-433 pdf //70-513 vce //70-562 pdf //exam 70-647 //70-685 pdf //70-573 vce //70-686 pdf //

This is a fantastic site and very engaging too. Excellent work! That's not really much coming from an amateur publisher like me, but it's all I could think after enjoying your posts. Pass4sure HH0-110////
Pass4sure HP0-D07////
Pass4sure HP0-Y36////
Pass4sure HP0-M47////
Pass4sure 312-49////
Pass4sure 642-975////
Pass4sure CAP////
Pass4sure S10-201////

Samsung Galaxy S3 Mobiles Phones have become integral part of Human life and then each corporate organization wishes to build new smart, slim, attractive and beautiful then other companies items. And SAMSUNG is also participant of that race and it has also started building smart phones and Samsung Galaxy S3 one of its best products and this smart phone is beautiful, attractive and easy to carry with beautiful personality affects.
Galaxy S3 has been built on modern requirements of customers of Samsung and Samsung cares for its customers and built an attractive, intellectual device between a mobile phone and a tablet which looks like HTC X1. Galaxy S3 has become a great competitor of HTC X-One, Sony Xperia and iPhone 4S. I would like to share some inner knowledge of galaxy S3: Samsung Galaxy S3 has 4.8" (Inches) display and it is really big as compare to other phones. Beside bigger screen it is also slim from front to back and which makes it very easy to be managed as you think hard to manage it. The Natural beauty of Galaxy S3 III which gives you comfort is gloss finish, which is like a smooth, flat worry stone which you can roll up and down just by your fingers. Galaxy S3 is strong and pleasingly non-creaky, no matter how you hold it. Battery is plastically coated and looks like shiny and reassuringly and it cannot be removed from phone and has a working long working hours.
Mostly companies manufacture different phones of same style and each of their new product is upgraded version of pervious one SAMSUNG has moved ahead of it and build an attractive set which is not only streets ahead of previous S2. S3 is not quite slim but it is just 10th of a millimeter father and it lacks the earlier phone. Samsung Galaxy S3 has screen, your hands can easily handle, and positive consequence is superbly viewable screen. Video Playback has become always a issue on expensive smart phones, if you can't watch TV on your smart phone than a Tablet makes better sense than your smart phone. As I earlier mentioned it is new product not any upgraded model of previous one and its 4.8in display of HD Super AMOLED screen with vivid colors and adjusting options offer you opportunity to watch TV and say that my smart phone is better than a tablet.
Samsung Galaxy S3 is using very latest version of Android 4.0.3 which is known as cream sandwich, it is a latest version of Google's operating system and have a cleaner look. Galaxy S3 has its new outstanding features and one of them is S Voice which is voice recognition after Siri's Heart which is designed by Vlingo. By using this you can stick to straight forward commands and it is also a fun. It has also Front facing camera which enables you to use for video calls. Social tag option of Galaxy S3 matches faces in photographs with profile photos in your contacts. It has also a hub stations with collection of small number of games with favorite titles which seems good to all and can be downloaded easily.
This S3 is now enlisted in Top Best Phones of word with its heart touching features and Samsung Galaxy S3 will be available from May 30, 2012 with Price of about £499.

Windows Central Newsletter
Thank you for signing up to Windows Central. You will receive a verification email shortly.
There was a problem. Please refresh the page and try again.