Samsung Galaxy Book is apparently a thing according to a new app
Is Samsung's next Windows 10 product going to be a Surface Book-alike?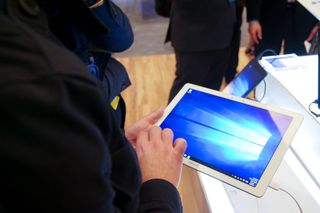 If a new app that's surfaced in the Windows Store is to be believed (h/t to the folks at MSPU), the Samsung Galaxy Book will be the successor to the TabPro S from 2016.
Simply called "Book Settings (opens in new tab)," the app doesn't show off much but does give a glance into some of the things we can expect to see on the Galaxy Book. Listed in the only screenshot available we see support for a digital pen, pattern login, AMOLED display settings and a battery extender that promises to improve the lifetime of your battery by limiting its charge level to 85%.
It's the first we've heard of such a device, with Samsung's last Windows 10 launches coming back at CES, all of which were more traditional laptops. The Galaxy TabPro S was a really nice 2-in-1, but the very nature of the name Galaxy Book suggests something more laptop-esque. Keeping the Galaxy branding is enough to say it probably isn't just another laptop. Perhaps Samsung's take on the Surface Book is headed our way?
What we do know is that Samsung is holding a tablet focused event at Mobile World Congress, so maybe the Galaxy Book will show its face there. Maybe it won't. But we don't have long to find out since it's taking place on February 26.
Richard Devine is an Editor at Windows Central. A former Project Manager and long-term tech addict, he joined Mobile Nations in 2011 and has been found on Android Central and iMore as well as Windows Central. Currently you'll find him covering all manner of PC hardware and gaming, and you can follow him on Twitter and Instagram.
could this be the fist windows tablet with amoled display?

also it would be great if this device appears to be similar to the surface book

Galaxy TabPro S is (already) a Windows tablet with amoled display. Great device.

Yeah, but does it support active stylus? I looked at their website, and it doesn't mention it anywhere. I would consider it to replace my Note 10.1, but I need active stylus.

Yes it does, got the tablet and pen. Nice pressure sensitive. Works great. c-pen-pw700-galaxy-tabpro-s

Thanks for the info, there's no mention of it having a pen on their website, or even active styus support.

I love my Galaxy TabPro S and need a new laptop for work, so this 'Galaxy Book' has my interest. Also 'AMOLED display settings and a battery extender that promises to improve the lifetime of your battery by limiting its charge level to 85%' is now available under settings - extra

Here's to hoping that Samsung begins moving support for everything mobile to Windows 10. I have a Lumia 950, but the lack of apps is beginning to frustrate me. If the new GS8 plays nice with Windows 10, ok think about switching back to android

be a boss and live in several eco systems. thats what i do. i just love tech

I have an S7 (switched from Lumia 950), and honestly the S7 plays just as well with Windows 10 as the 950. You have all the Microsoft services on the galaxy and also the SideSync app that I use every day at work. It connects the galaxy to the PC and you get all the notifications, sms, etc on the PC screen. It's great!

+1 for SideSync. Much underrated feature IMO

@KimRM Have you (or anyone) used SideSync & AirDroid? Which do you think is better (& why) in Win10/MacOS + Android 6+? Thank-you!!!

I haven't used airdroid. I'll check it out.

Okay, thanks mate!
Curious what other folks opinion is.

The S7 already plays wonderfully with Windows 10. In fact, any Android does. And if you install Microsoft's "Microsoft Apps" app from the Play Store you can very quickly get all the services you had on WP. Including Cortana who syncs with your W10 PC.

I'm not looking to buy a new phone anytime soon But I really want them to get Cortana for iOS in the UK. Right now it's US only, think they need to get as many regions sorted on as many platforms as possible to push more use of Cortana in W10. So much more useful when available across mobile and PC

...Including Cortana who syncs with your W10 PC.

Yeah but, US only, unless you want to sideload an APK, & there's probs assoc.w/that, annoying ones.

The GS 8 already plays nice with windows 10, as does pretty well any phone out in the market today. Its not even released yet and it works with w10!

What seems to be more important is that they are embracing uwp/store apps. This gives me hope that in the not so distant future they might give phones a try.

I agree and I think this is true for all the companies. Windows 10 tablet/laptops become popular so inevitably UWP apps will also become popular. This will boost phones and devices with smaller screens since it's zero effort for devs to adjust their apps.

Not phones. But pocket PCs. It's a must if Samsung want to stay relevant. Google don't have a proper OS. Only a Mobile OS.

Samsung will probably continue to embrace Windows 10 on the tablet/2 in 1 side. Premium tablets have never sold well on Android and currently don't sell at all on Android. Windows on Arm could also eventually allow Samsung to raise their margins on Windows devices as a vertically intergrated OEM by using their own arm processors avoiding having to pay Intel on low to mid range devices.

Now MS should be the kind of a ******* Google is and prevent them from using anything Microsoft, even the store.

I see Samsung and immediately think Android. The display and other features look like an interesting option for a Win 10 2 in 1. I still love my Asus Transformer Chi nearly two years in but you know with our sickness the itch starts to get bad after 18 months.

Nice. This is exactly what MS wanted... the OEMS to take their designs and run with it. All good news.

Sooner or later Samsung will have to make Windows 10 laptops, 2in1s and Pocket PCs. Google don't have a proper Operating System outside a limited Mobile OS.

Would be a shocker if Samsung launches an optional windows 10 version of the Galaxy S8. I'd buy that

They will probably do it. One thing is for sure. Windows ink will be great on a device this size and a precise pen!
Windows Central Newsletter
Thank you for signing up to Windows Central. You will receive a verification email shortly.
There was a problem. Please refresh the page and try again.