Samsung Galaxy Z Fold 3 vs. Surface Duo: The ultimate fold off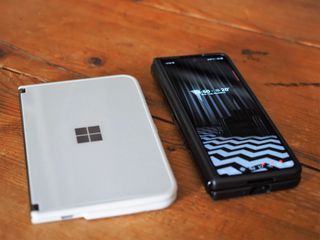 (Image credit: Windows Central)
Surface Duo
Microsoft Option

While there is a Surface Duo 2 just coming into view on the horizon, this is the only Duo on the market right now and one of the few true competitors to the Galaxy Fold 3. After price cuts, it is probably the most affordable foldable on the market, making it a great entry point for tech enthusiasts who fancy something different. Is it good enough to be your daily driver, though?
For
Dual displays for easy multi-tasking
Separate screens are likely more resistant to wear-and-tear
Far more affordable after price cuts
Works with the Surface Slim Pen for note-taking
Against
Thicc bezels for weak body-to-screen ratio
Weak camera setup
Performance is average
Low customization
No wireless charging, and no 5G
Nowhere to store the pen
Terrible microphone and middling sound
Bluetooth signal strength is very bad
Samsung Galaxy Z Fold 3
Samsung Option

The Galaxy Z Fold 3 brought folding display tech to the masses, and while the implementation isn't perfect, after three generations, the Fold 3 has overcome many of its gen-1 criticisms. The Fold 3 beats the Surface Duo in practically every aspect, and honestly, it should, considering it costs almost triple the price.
For
Impressive performance with good cameras
Flexible display technology finally gives us a pocketable single-screen tablet
Great multitasking experience
Mature Samsung One UI OS with themes and mountains of additional features
Works with the new Galaxy S-Pen for note-taking
Impressive and loud speakers with Dolby Atmos
Against
Flexible screen tech is worryingly fragile, even with regular use
A bank account-busting price tag
Nowhere to store the pen
Honestly, the Surface Duo isn't much of a contender for the Samsung Galaxy Z Fold 3. The Duo is an older phone at the time of this comparison, making it a bit unfair in many respects. The Galaxy Z Fold 3 has the Duo beat, obviously, in almost every spec category, with better chips, displays, cameras, alongside a more polished operating system. The Fold 3 also has mountains of sought-after features missing on the Duo, like wireless charging and 5G.
However, we're going to focus on the implementation of the folding display. The Samsung Galaxy Z Fold 3 also costs a truly enormous $1800, while the Surface Duo has come down heavily in price, resting at around $700 as of writing, which is far more respectable for its spec sheet.
Surface Duo vs. Galaxy Z Fold 3: Spec showdown
Here are the specs for reference, but to be fair to the Surface Duo, it's a far older handset than the Galaxy Z Fold 3. We'll have a much better, more up-to-date picture of how these approaches to foldables stack up with the Surface Duo 2 is revealed.
Samsung Galaxy Z Fold 3
Surface Duo
Device name
Samsung Galaxy Z Fold 3 5G
Surface Duo
Operating System
Android 11, One UI 3.1.1
Android 10
Dsplay
(Cover): 6.2 inches, 25:9, 2268x832 (387 ppi) resolution, Super AMOLED, 120Hz refresh rate.
(Inner) 7.6 inches, 22.5:18, 2208x1768 (374 ppi) resolution, Dynamic AMOLED 2X, 120Hz refresh rate
(Single): 5.6 inch (1800x1350), 401 ppi, 4:3 aspect ratio.
(Open): 8.1 inch (2700x1800), 401 ppi, 3:2 aspect ratio
Type: AMOLED, Wide color gamut: 100% SRGB and 100% DCI-P3, Corning Gorilla Glass
Chipset
Snapdragon 888
Snapdragon 855
Memory
12GB
6GB RAM
Storage
256GB or 512GB
128GB or 256GB
Expandable Storage
No
No
Rear Camera
12MP, ƒ/1.8, 1.8μm (wide-angle)
12MP, ƒ/2.2, 1.12μm (ultra-wide)
12MP, ƒ/2.4, 1.0μm, 2x optical zoom (telephoto)
None
Inside Front Camera
4MP, ƒ/1.8, 2.0μm
11MP, ƒ/2.0 1.0um, PDAF, 84.0-degree diagonal FOV
Optimized with AI for front and rear
Cover Camera
10MP, ƒ/2.2, 1.22μm
None
Security
Side-mounted fingerprint sensor
Side-mounted fingerprint sensor
Battery
4400mAh
25W Fast Charging
10W Wireless Charging
4.5W Reverse Wireless Charging
3,577mAh
Fast Charging using 18W in-box power supply
Dimensions
Folded: 158.2 x 67.1 x 16.0mm
Unfolded: 158.2 x 128.1 x 6.4mm
Folded: 145.2mm (H) x 93.3mm (W) x 9.9mm (T at hinge)
Unfolded: 145.2mm (H) x 186.9mm (W) x 4.8mm (T)
Weight
271g
250 grams
Price
$1800
$700
With all the details in order, let's see how these folds match up.
Samsung Galaxy Z Fold 3 vs. Surface Duo: What the Samsung Galaxy Z Fold 3 does better
The Samsung Galaxy Z Fold 3, as its name suggests, is the third entry in Samsung's foray into folding phone tech. Where it differs massively from the Surface Duo is how it has implemented its fold, using "Ultra Thin" flexible glass. The Duo, for comparison, has two separate displays connected with an innovative hinge mechanism, which comes with advantages and some downsides.
First, I'll address the elephant in the room. Yes, the Galaxy Z Fold 3 has better specs across the board. It's faster, the cameras are better, and the screens are brighter. It has 5G, while the Duo does not. It has wireless charging, too. It supports 120hz (although your battery life won't thank you for turning it on), and it has an impressive under-screen selfie camera, which disappears when it's in your peripheral vision. The Duo only has a single camera, which can be reversed backward and used either as a normal camera, or a selfie camera, depending on how you orient the displays. The trade-off is massive bezels which give it a very dated-looking body to screen ratio that I just can't get over. You do have to pay a premium for what Samsung is offering here, though, given that it's roughly $1800~ depending on where you buy it from.
Indeed, this comparison is less about specs, given that the Surface Duo 2 is just around the corner, and the Duo is quite old at this point. This is more about how the folding form factor is implemented. Honestly, both styles have pros and cons, but here's what the Galaxy Z Fold 3 does better.
Obviously, the Galaxy Z Fold 3 provides you with a true tablet experience. While there is a crease (which I found myself getting used to incredibly quickly), you get a large continuous display. It's a true tablet-like experience that you can fit firmly in your pocket. I've always been a fan of the smaller tablets since they balance media consumption with portability. I hate playing games on a small phone screen. Plus, you lose so much detail watching shows and movies on a phone unless you're holding it right up to your face. The Galaxy Z Fold 3 gives you the best of both worlds, and it works wonderfully.
I will admit that I wasn't sure if I liked it at first. Moving from a standard Samsung One UI device to the Galaxy Fold 3 took some getting used to. It was the first time I actually bothered to use the Tips app on a device like this to get a better handle on how multi-tasking actually works. To get the most out of the Fold 3, you need to use the edge display taskbar. From here, you can drag and drop apps, snapping them into place much like you can with apps on Windows by dragging an application to the edge of your display. It works intuitively, and a quick tap on the space between apps lets you switch them around, rotate them horizontally or vertically, and even set them to float in a window-like way.
For games and movies, having the full span of the screen in landscape is an obvious boon. Unlike the Surface Duo, you don't get a massive split down the middle of your video or game, obscuring details and even UI elements. The practicality comes with downsides, though, giving the Surface Duo a few advantages.
Samsung Galaxy Z Fold 3 vs. Surface Duo: What the Surface Duo does better
The Samsung Galaxy Z Fold 3 is a tablet on the inside, and a phone on the outside, giving you the best of both worlds in a costly package. The Surface Duo thinks of foldable tech a little bit differently, though.
Unlike the Fold 3, the Surface Duo falls back on more conventional display technology, dropping flexible glass in favor of a standard display setup consisting of dual screens. The Surface Duo has an incredible hinge mechanism to allow the screens to communicate, which is an oft-overlooked and underrated feat of engineering. This configuration lets the Duo rotate 360 degrees creating various positional modalities, which are a bit clunky on the Galaxy Z Fold 3 by comparison. There's a subtle, underrated elegance about the Surface Duo, which feels far more at ease being folded into different shapes than its more expensive counterpart.
The Galaxy Z Fold 3 is "aware" of different folding states, but apps generally expect to either be running in a tablet size mode or a phone size mode. Most apps don't know what to do if the screen is folded upwards at a 90-degree angle. Furthermore, the Fold 3's aspect ratio doesn't exactly lend itself well to folded scenarios. Folded down the middle, you're creating a very narrow 25:9 aspect ratio, which crushes 16:9 apps into near-uselessness. Generally, you'll want the Galaxy Z Fold 3 folded out completely flat for its more tablet-like experience, but the Duo has some interesting, unique use cases as a dual-screen phone.
For example, the Surface Duo's Xbox Cloud Gaming implementation is truly great, displaying the touch controls on the lower portion of the screen. This removes touch elements from the display, giving you a better, fuller view of the game you're playing. Apps like Outlook span intelligently across displays and don't need to be dragged and dropped like on the Galaxy Z Fold 3 to take advantage of their multi-tasking capabilities. For productivity, the Duo feels invariably more intuitive as a result. I don't need to configure my screen for specific scenarios or adjust my keyboard for folded modalities. The Duo more often just knows what I'm trying to do, based on how I've oriented the screens, which is a productivity win.
While the Galaxy Z Fold 3 does offer a much larger screen for gaming, of course, your touch controls overlay all over the screen, which can be problematic in some games. There are a few games designed to work natively on the Galaxy Z Fold 3, however, like Genshin Impact, that take advantage of the full-screen space offered — and they look amazing.
For me personally, though, the vast majority of my mobile gaming is going to be on games that force a 16:9 aspect ratio, complete with forced on-screen controls. The Surface Duo has potential as a dual-screen device, letting you split controls across screens or other UI elements, but the vast majority of games and apps probably won't take advantage of the setup. The Galaxy Z Fold 3 just behaves like an Android tablet and will most likely enjoy better support in that area as a result.
Despite all of this, there remains a big elephant in the room. I'd be lying if I said I wasn't overly concerned about the Galaxy Z Fold 3's "Ultra Thin" display glass. The tech used in the screen is identical to last year's Fold 2, despite improvements to the body itself. Yes, it should be safer from drop collisions, but colleagues like Mr. Mobile over on YouTube have reported that the Fold 2's crease eventually starts to split for no real reason, based on regular usage alone. That's not the kind of risk you want in an $1800 phone.
Samsung Galaxy Z Fold 3 vs. Surface Duo: Which should you buy, if any?
The Surface Duo is a truly remarkable piece of tech, with award-worthy engineering wrapped in an uncompromising and sleek body. Impossibly thin, light, and versatile, the Surface Duo was betrayed only by its middling specs, inflated launch price, and poor OS, which sadly still suffers many of the annoyances and quirks today as it did when it launched. All too often have I had the UI get stuck as I shifted between modalities. Although the experience has gotten better over time, it simply can't compete with Samsung's mature One UI, with its rich array of features and customization capabilities. The big thing that killed the Surface Duo, for me, was the very weak Bluetooth antenna, which effectively stopped me from being able to use it for music.
The Surface Duo's dual-screen implementation does have some advantages, potentially, if they can get it right. It's more intuitive for side-by-side productivity scenarios, with a larger landscape folding capability for pseudo-laptop word processing and handheld gaming. The folded screens on the Galaxy Z Fold 3 are incredibly narrow by comparison, meaning that you'll generally want to use it in its flat tablet state the vast majority of the time.
Indeed, while the Duo offers some potential with its modal plurality, it will rely on app developers to really realize its full potential. Samsung's solution effectively makes it a regular single-screen tablet, which offers big benefits for media consumption that the Duo simply can't compete with unless it can shrink those bezels down in the future.
Source: Windows Central
Ultimately, it boils down to price, like anything else. You get a whole heap of phone for $1800 with the Galaxy Z Fold 3, with standard modern features and updated performance. The Surface Duo, while more elegant in some ways, still feels like a prototype. It relies on stock Google Android features for telephony and lacks many basic features you'd expect of a modern smartphone.
To buy the Galaxy Z Fold 3, you ultimately have to expect this to be your daily driver, and for a long time, most likely. It's for heavy phone users, heavy media consumers, and people who ultimately enjoy living on the cutting edge of tech. I traded in my Galaxy Note 20 Ultra for the Fold 3, and thus far, I have absolutely no regrets whatsoever, despite the huge hole I just blew in my savings account. The Galaxy Z Fold 3 is the ultimate Jez phone, although I can totally envision a future where the Duo 2 or Duo 3 could supplant Samsung for me someday.
I think the Surface Duo could offer some value at its $700 price point as a Surface enthusiast's device for those who don't see themselves spending more for a phone. The Surface Duo is about to be replaced by the Duo 2, but Microsoft is still supposedly planning to support the first Duo with updates for the foreseeable. I don't think it's good enough, or capable enough, to be a full daily driver for most, however, with a camera that lacks versatility, Bluetooth that doesn't work, and microphones that sound like they came from the 90s.
Either way, I hope that future Surface Duo iterations can bring the heat to Samsung in the future because there is just something magical about the Surface team's engineering. But today, the clear winner — despite the price tag — is the Galaxy Z Fold 3.
A less fragile option
Surface Duo
The first Surface phone

The Surface Duo misses the mark in a lot of ways, but its new price point makes it a far more attractive mid-range option for tech enthusiasts who want to dabble in folding devices without completely blowing up the bank.
The real (expensive) deal
Samsung Galaxy Z Fold 3
Break the bank

I say the Samsung Galaxy Z Fold 3 is the best phone I've ever owned, but I'd be lying if I didn't have a heap of concerns about the flexible display's long-term quality.
Jez Corden is a Senior Editor for Windows Central, focusing primarily on all things Xbox and gaming. Jez is known for breaking exclusive news and analysis as relates to the Microsoft ecosystem while being powered by caffeine. Follow on Twitter @JezCorden and listen to his Xbox Two podcast, all about, you guessed it, Xbox!
I bought my Duo for $1400. I don't typically regret purchases. But I did with it. My Fold 3 on the other hand just continues to delight me. I love it. For ME it is worth the asking price. I hope it lasts 2 years. I am a bit concerned about the durability aspect.

I'm in the same boat as kodos78. For me, watching all these fire sales for the Duo definitely hurts a bit lol. As an early adopter, I knew the risks but the potential of this device and its fit into my use case was enough for me to take the plunge. While I still think the hardware is best in class & still enjoy having two apps side by side, I can admit that I too regret my purchase. The software never felt reliable enough for me to make it the only device I carry., so I would carry it alongside my iPad 12.9 & iPhone 11 Pro Max. I recently purchased a Fold 3 & am seriously considering selling both my 11 and my iPad. Feels like for the first time that my goal of device consolidation is finally within reach. That said, I'm not saying it's the perfect device, just the one that requires a lesser amount of compromises.

The Fold wins every time if nothing else other than software support.

I just wish the duo was a windows phone . that's what hurts it the most for me

So you wouldn't have any software to multitask with and a even buggier operating system with near zero features? Why?

I agree. I know the duo has an unlockable bootloader so maybe one day we can get Windows on it

Not fair though... Gen 1 product vs gen 3. Duo 2 still won't win but maybe do a re comparison after it's out

...what's that matter? Unless you are a Microsoft employee the ONLY thing that should matter to you is which is the better choice as a consumer. And there is just no contest there.

Fold 3 vs Duo? 🤣🤣 You must be extremely bored to make such a comparison and call it the ultimate fold off.

I was not reporting, accidentally clicked on it instead or reply.

If the Fold 2 doesn't launch at much more than $700, maybe it will have a market.

Weird comparison..."does the 2021 Fold 3 beat the Duo, a 2020 phone with 2019 internals that didn't stack up well to the Fold's predecessor?" Very silly and meaningless comparison, IMO. Also, this portion really confuses me: "The Surface Duo is a truly remarkable piece of tech, with award-worthy engineering wrapped in an uncompromising and sleek body. Impossibly thin, light, and versatile, the Surface Duo was betrayed only by its middling specs, inflated launch price, and poor OS, which sadly still suffers many of the annoyances and quirks today as it did when it launched." How can you call the form factor uncompromising? You lost the headphone jack, microSD, Qi, NFC, and a usable camera. Their material choices led to things like yellowing of the outer trim and cracking around the USB port. The Duo was FAR from uncompromising in its design, a big factor in why it didn't do well (turns out an unusable camera is a problem for some). Saying the Duo "was betrayed only by its middling specs, inflated launch price, and poor OS," is basically checking every box. The specs were low-powered for the price. The thing was stripped of a lot of basic features people were used to (Qi, NFC, camera, etc.). Even still, it was more than "just" that stuff, given there were those durability issues too. When you've got buggy, overpriced, stripped of features, behind in the features that weren't tossed out (SoC and camera quality), and you have some material quality concerns, what DIDN'T betray the Duo? The core folding/screen setup are about it, and that's not enough of a selling point.

Great article!
FYI ATT surface duo still has fire sales around $400-408. I bought one (2nd time) and was able to get it unlocked through Microsoft within 3 business days. That makes it an excellent entry point into the folding screen phone, the most affordable and the most sturdy foldable phone. I feel that Microsoft did a good job with the monthly security updates, and while there are still some issues with the duo, its significantly better then it was four months ago. Of course the samsung fold 3 beats it specs wise and many other ways across the board. If you can afford it go with the fold 3, but for everyone else, the duo is an interesting device, and to me still looks better then the fold 3

This is like comparing the Apple iPad Pro to Amazon Fire Tablet.....

"Honestly, the Surface Duo isn't much of a contender for the Samsung Galaxy Z Fold 3. The Duo is an older phone at the time of this comparison, making it a bit unfair in many respects." Then why did you do it?
I hope it is gratifying with some sense of accomplishment.
On a different note, I would love to see you pitch iPhone 3G against Lumia 950XL. That should be one for the ages.

Samsung's aspect ratios are horrible

I'm guessing I know the answer to this "showdown" without reading the article :) The Duo was already outdated when it launched, and was missing absolutely essential mobile hardware, software and services from day one. I wanted to believe in the Duo so badly that I bought one. I loved it for about a week, and then sent it back. My reasons were pretty much in line with everyone else...very interesting form factor, feels great in the hand, gets lots of cool stares in the wild and has huge potential. But, no tap to pay, a poor camera, questionable build material choices and really janky software made it impossible to fully embrace. What it did do is whet my appetite for the Duo 2 in a big way. Assuming the Surface team have really leaned into this form factor, I think it'll be an awesome machine. Maybe we should have a Duo 2 vs Fold 3 bare knuckle brawl in a months time :)

This should be redone using the Duo 2 instead of the original.
Windows Central Newsletter
Get the best of Windows Central in in your inbox, every day!
Thank you for signing up to Windows Central. You will receive a verification email shortly.
There was a problem. Please refresh the page and try again.