Samsung's Marco & Odyssey Specs & Pricing Leak as Windows Phone 8 launch gets closer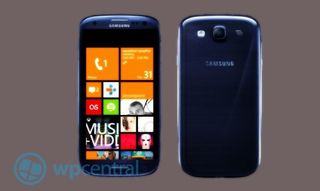 We knew a while back about the proposed Odyssey and Marco handsets from Samsung. Well it looks like some more detailed specs and pricing has emerged. With Windows Phone 8 only a whisper away from being launched it seems as if the leaks just keeps on coming.
Samsung are one of Microsoft's launch partners and it looks like we can expect some impressive hardware for this round of devices. One device is reported to have a 4" screen and the other a whopping 4.8" HD AMOLED display.. Rumour caution is advised in lieu of an official announcement.
The Samsung GT-I8370 (Marco)
4.0" WVGA Super AMOLED display
5 megapixel camera (back)
1.9 megapixel camera (front)
8GB + Micro SD.
Dual Krait 1.5Ghz
Price between 350 – 450 euro
Images are for illustrative purposes only – based on Galaxy SIII hardware
The Samsung GT-I8750 (Odyssey)
4.8" HD Super Amoled display
8 megapixel camera (back)
1.9 megapixel (front)
16/32GB + Micro SD.
Dual Krait 1.5Ghz
Price between 500 – 600 euro.
If these specs are to be taken with anything other than a pinch of salt then things could get scrappy for the WP8 launch devices. The mid-range device looks pretty good with a 4" screen and dual core CPU, but for a next gen handset it's not going to set the world alight.
The fun starts with the proposed specs of the Odyssey unit, packing a 4.8" Super AMOLED HD display, similar to that of the Android Galaxy SIII. If that's not enough to get you excited, the device will also reportedly come in flavours of 16 or 32GB standard memory, you'll be able to take that further with the SD card slot. The optics look to top out at 8MP too so this is all pointing to a re-working of the Galaxy SIII, some weren't too happy with the camera on the Android version so hopes are high that might get a little update.
T-Mobile US are expected to get the Odyssey at or near launch time too.
Nokia can be considered the king of the current generation of devices, but with Samsung and HTC bringing some serious firepower Nokia could be in for a fight with Windows Phone 8. The suspense is killing us and we can't wait to get our hands on the next gen from all the partners. Competition between these three could lead to some wonderful treats for all.
Who do you think will be getting your money at launch time? Let us know, won't you?
Source: Sammobile
Get the Windows Central Newsletter
All the latest news, reviews, and guides for Windows and Xbox diehards.