Samsung Omnia ROM update is (nearly) live; GPS finally is unlocked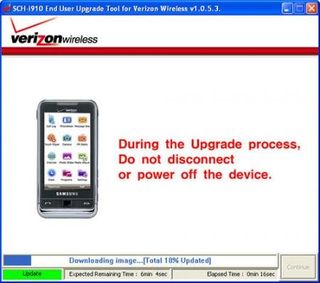 We're gonna pat ourselves on the back here a little bit and pretend that it was our open letter and persistent persistence that finally got Verizon to open up the GPS on the HTC Touch Pro and Samsung Saga – and, finally, the Samsung Omnia.
Note that the update page is up (opens in new tab), but the download link isn't yet live. But here's what's getting updated:
The latest Microsoft AKU Update 1.5.1.
Enhanced zoom for Internet Explorer.
Slight UI Modifications.
Various additional improvements to improve handset function.
Open Standalone LBS Supported and Performance Enhanced (This may Support 3rd Party Applications).
VZ Access Manager Supports Bluetooth Connection (SPP).
Correction of memory shortage issues.
OK, so it probably had nothing to do with us. That's cool. And it's the Saga, Touch Pro and Omnia owners who are the real winners here. Thanks for finally getting it done, Verizon. (And thanks, cplush, for the tip!)
Now, Verizon, about that Marketplace thing ...
Update: Rut-ro. Sure enough, the link got pulled. Keep an eye out folks.
Windows Central Newsletter
Get the best of Windows Central in in your inbox, every day!
Phil is the father of two beautiful girls and is the Dad behind Modern Dad. Before that he spent seven years at the helm of Android Central. Before that he spent a decade in a newsroom of a two-time Pulitzer Prize-finalist newspaper. Before that — well, we don't talk much about those days. Subscribe to the Modern Dad newsletter!
I called once a month since getting the phone a few months ago. The tech support folks never seemed to have a clue, so I just asked them to make a note and "pass it up the line".

Good on ya! We'll share the credit. :)

No it was my FCC complaint that changed Verizons mind. Ask Verizon if you like 09-C00132070 WE brought two Samsung I-910's Windows Mobile 6.0 PC's smart phones because of available internet and GPS applications on the internet we paid $30 month for internet access on ea from Verizon. We figured instead of paying $10 a month for the EZ navigator software and use of it. We pay the extra $30 a month for internet from Verizon and use Google maps mobile which is free but doesn't depend on assisted GPS connect. Verizon EZ navigator software is useless!( for 10 dollars a month).
It has left me strained in PA, OK, TX, & NV, NM in the middle of nowhere,( when theirs no cell signal access, but we find out that Verizon has anti-GPS hacked the expensive mobile PC phones and jams free government GPS radio signals and communicating with those satellites the use of free standing GPS programs 4 sale or free that work without assistance from their network. (Putting my life in jeopardy when there is no cellular service available!
I can't find my way out of a dessert or snow storm when my phone has a GPS chip but no cell signal to connect to?( ridiculous) If I can't get 911 on the phone I could still save myself or find a hospital if I could use a 3rd party software that's free!
If Verizon is worried about network security like they say and requires me to use a specific software program other than free ones available and designed to work with Microsoft Windows Mobile 6.0 the Sherman antitrust act requires them to provide compatible Free GPS service to all customers for free if they don't want to approve others free software under the aspects that it will void the phone warranty or hurt their phone network especially when these programs don't hurt ATT and others network. This is just a monopolistic play dating back to before the Baby bells being broken up! Attached are web shots of Google saying there are 450,000 Verizon customers complaining about the same thing on the internet and 467 complaints about the newly released Samsung i910 that we have 2 of and those numbers will grow as time passes by!

Not that I don't agree with you about Verizon locking the GPS. I think its bullshit. I did want to point out that if you were using google maps, you would not have any preloaded maps on your phone, nor would you have internet access if you didn't have a cell phone connection. So basically your arguements is null and void for the most part. The reason I know this is because I traveled thru many parts of the country over the summer - many of which did not have any cell phone reception. When attempting to use google maps, or any other internet assisted gps software, the gps sattelites were found, but to my dismay, the map was blank. You'd definitely have to invest in Tomtom, Garmin or another commercial product if you would have wanted to use your GPS.

Don't do it. If they-Verizon/Samsung-put in the same effort to the Omnia as they did to the Saga you will not be happy. Call signal is horrible. Forget about texting. There are a SLEW of complaints about the update for the Saga. Oh and GPS on the Saga only works when it wants to-FYI.

Didn't the other update release notes (HTC, Saga) actually mention unlocking the GPS though? I didn't see it here...

Open Standalone LBS Supported and Performance Enhanced (This may Support 3rd Party Applications) equals GPS

link was removed. oh well...the wait continues.

Link is still here:
http://ars.samsung.com/customer/usa/jsp/faqs/faqs_view.jsp?SITE_ID=22&PG...

I applaud your effort. If it did help all the better, if it didn't still good job.

http://ars.samsung.com/customer/usa/jsp/faqs/faqs_view.jsp?SITE_ID=22&PG... It is posted now!!! Go get it.

Yep, it's up! Congrats, everybody!

you guys were beaten to it a long time ago on the official verizon forum. I downloaded and installed it already. IT SUCKS. THE LEAKED SAMSUNG ROM IS MUCH MUCH MUCH BETTER!!!!!!!! BY USING THIS UPDATE YOU LOSE THE ABILITY TO USE CUSTOM ROMS....SO ANYONE WHO LOVES WINDOWS MOBILE 6.5 IS SHIT OUT OF LUCK! The only good thing about this update is that now we finally have an OFFICIAL ROM TO FLASH TO incase we need to send our phones in....SO NOW WITH THIS OFFICIAL ROM WE CAN STOP OURSELF FROM VOIDING OUR WARRANTY BY JUST FLASHING BACK TO THIS.

@The moron that said that it sucks:
I've read about 80 pages on different forums and I haven't found anyone saying that you can't flash to custom roms after installing this. In fact, I saw several examples of people who used this upgrade and then flashed back to their vanilla 4.2 w/o any problem.

Anyone who types a whole paragraph in ALL CAPS is an automatic fraud.

I got the new ROM installed, and maybe I

After 38 minutes on the phone with Samsung support, going through Level 1, 2, and 3 support (who each asked me if I tried the reset button) - apparantly my phone is "bricked" (Samsung's words). Called Verizon for an update FYI - L3 told me not to use a laptop. Said most use internal USB hub'ing - which can cause issues
Windows Central Newsletter
Thank you for signing up to Windows Central. You will receive a verification email shortly.
There was a problem. Please refresh the page and try again.