Samsung PlayGalaxy Link game streaming app is now available to download in the U.S. and Korea
In addition to streaming games to your Galaxy Note 10 phone, PlayGalaxy Link can also wake up your registered PC.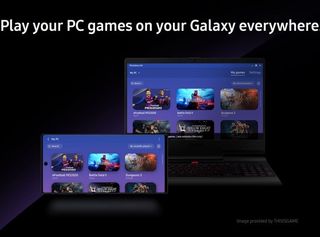 What you need to know
The Samsung PlayGalaxy Link app is now available for download.
PlayGalaxy Link is Samsung's game streaming service that lets you play PC games on your Galaxy smartphone.
PlayGalaxy Link is currently in beta and is open to users in the U.S. and Korea only.
Samsung announced a new game streaming service called PlayGalaxy Link at its Unpacked event last month. Similar to Steam Link, Samsung's PlayGalaxy Link service lets you stream PC games to your Galaxy phone. As spotted by the folks at Android Police, the Playgalaxy.com site is now up and the Android app can be downloaded by Galaxy Note 10 and Note 10+ owners.
To get started, you will need to download the PC application from the Playgalaxy.com website and get the Android app from the Galaxy Store. Once you have installed PlayGalaxy Link on both your PC and phone, you need to launch it on both devices and sign in using your Samsung account.
Next, select your PC and press the START button to connect your phone with your PC over Wi-Fi or mobile data (4G/5G). Once connected, you can select the game you want to play and it will be streamed to your phone.
While you can use PlayGalaxy Link and play games on your phones using the virtual keypad, Samsung recommends you get the Glap Bluetooth gaming controller for a much more enjoyable experience. For now, only the Galaxy Note 10 series is compatible with the PlayGalaxy Link service. In the near future, however, Samsung says it will add support for other Galaxy phones as well.
Windows Central Newsletter
Get the best of Windows Central in your inbox, every day!
I don't get how playing a game on your phone is enjoyable (I've tried a number of them), much less trying to stream-play Elite Dangerous on my phone. And there's just no universe where I'd ever game with a typical controller.

I mean, this can't be any different of an experience than playing on a Nintendo Switch or PS Vita. To me, it all comes down to controls. If there is controller support or adapters that work great I can see myself trying this.

Pretty steep system requirements, I wonder why that is. Theres plenty of low end platformer type games that would be a good fit for this, and they dont need much to run.

Likely because of the requirements for the game on the PC itself...that has to translate some way -- and scale down -- to a smartphone. It's not going to be like streaming a movie. It's bi-directional and, to give any kind of a decent experience, fast.

I'm not really interested in this, but I am interested in the fact that it's not in the Microsoft Store, like Dex. How come?

Wow, so I can use an exclusive Samsung app to play my Steam games, instead of using the actual oficial Steam Link app to do it, or any of the soon-to-be dozens of apps which do the same. Definitely not a feature for those who just use what comes with their device. /s