Samsung's curved all-in-one PC is now available in the U.S. for $1,299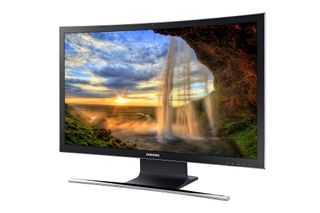 Announced earlier this year, Samsung's ATIV One 7 Curved is a curved all-in-one PC that features a 27-inch full-HD display. If you're interested in bringing an element of curve into your workspace, you can now buy the PC in the U.S. through Samsung's website for $1,299.
For that amount, you get a 2.2GHz Intel Core i5 5200U CPU, 8GB RAM (DDR3L), 1TB mechanical hard drive and a 64-bit version of Windows 8.1. The full-HD display comes with an anti-reflective coating that prevents glare, and has a maximum brightness of 300nit. The ATIV One 7 Curved has integrated 10W speakers as well as a webcam with a full-HD resolution and a built-in mic.
In terms of connectivity, you get HDMI, Wi-Fi 802.11 ac, Bluetooth 4.0, SD/SDHC/SDXC card reader as well as the more traditional Ethernet port. Samsung is also bundling a wireless mouse and keyboard with every purchase. Also bundled is the vendor's SideSync 3.0 and Link 2.0, through which you can connect Samsung's Galaxy smartphones (how many of you have one of those, eh?) to the ATIV One 7 Curved for screen mirroring and easy transfer of content.
Buy Samsung ATIV One 7 Curved (opens in new tab)
Windows Central Newsletter
Get the best of Windows Central in your inbox, every day!
Harish Jonnalagadda is a Senior Editor overseeing Asia for Android Central, Windows Central's sister site. When not reviewing phones, he's testing PC hardware, including video cards, motherboards, gaming accessories, and keyboards.
Pricing is around the Apple watch /s

Same price as new Apple MacBook. But this things a lot better than it.

There's probably no room left for a GPU.

Maybe an under powered either soldiered on or mxm card like an icam

This shit doesn't really need a gpu, If you need a gpu then build a regular tower and buy a curved display

Intel graphics are getting pretty damn good, especially with Iris.

Why can't there be a $1 version with the lowest specs?

Hahaha . . . there's always one like that around here. The worse part is that they're usually serious.


A year from now this thing will be $600

For that price I'd at least expect an SSD (either a small one in addition to the HDD or SSD only). Pretty good otherwise!

I don't understand that people seems fine with a 1080p on a 27" display, but got mad if a 5"-5.5" flagship phone doesn't have a 1440p display :/

Only crazy people will find 4k display in a 5.5" screen...

The OEM is definitely crazy if it ever put a 2160p display on a 5.5" phone...
And those who are willing to buy that are crazier

Cause people wants to zoom in their photos on a 5.5 screen

Higher screen resolution won't help in that at all!

First off, normal human's eye can't see the difference in resolution more than 300 ppi (cmiiw), so even a 1080p on a 5" (441 ppi) is quite useless If people wants to zoom, I don't think resolution matters...
It might matter if people DON'T want to zoom, but then again, refer to the first paragraph

I would say distance is often required in order to determine whether or not a human can distinguish individual pixels. This is one of those cases where a bigger example might be better to start with. Picture a lattice fence (with a grid structure): http://pioneerfencesupply.com/files/2013/02/cedarframedlattice01.jpg From this particular picture, notice how depth affects the ability to resolve the "squares". Now apply this to your statement, as pixels are often misconcieved as squares http://alvyray.com/Memos/CG/Microsoft/6_pixel.pdf Moreover, the display technology plays a major role too! The iPhone 6 has a lower PPI than my Lumia 925, but I would be a liar if I said that I could distinguish the pixels more easily on the iPhone. Not trying to bash you, hope my comment was somewhat interesting :)

In terms of viewing a phone, we can assume can we not that we are talking about the shortest distance (zero) the the max length of an arm. But a normal range would be what, 6 inches, to 3 feet? At those norms you can make a reasonable attempt at what resoltuons are perceptably different. We are at the stage of diminshing returns on phone screens. Their PPI is enough. That MS paper is outdated? Appears to be referring to CRT. As arent modern screens laid out in rows and columns? The definition of pixel is context sensitive: http://en.wikipedia.org/wiki/Pixel But we all have a rough approximation of what it means, and the generalised use of pixels to refer to screen resolution is enough for us to have a debate on whether a ppi is high enough without lowering oursleves to some academic points about what is or isn't a pixel. Bijak is right, we are generally more accepting of resolution on PC screens, but will have gnashing of teeth when it comes to spectard wars discussing ppi on tiny phone screens. Such is the importance we place on the slabs of glass in our lives :)

Wars? :/
I've heard people say they can count individual pixels from an arms length. If that were true, they would not be counting squares XD
Displays are designed differently, so PPI actually could make an observable difference.
Old paper, thinking about writing a new algorithm for filtering images. Paper is not entirely relevant to the OPs comment, thought it was interesting. Not bashing nor disagreeing with anyone, or at least I thought I wasn't. Thought distance should be mentioned, as I often notice confusion/misconceptions. But if I did have to start a war, I would begin by saying I notice that my Lumia 925s display is.. Quite 'grainy' lool

Better than the new apple m core

27 inch only full HD for this price? No thanks

MSI All in ONE PCs are great the best AIO ever is MSI Gaming Series!!!! check it on msi.com

...But makes WPs, 8.1 computers, and other equipment for MS products.

The 21:9 screens would benefit most from a curved screen.

Looking at video on curved screens make me nausious

Wonder if this will be included in bb's yearly monitor trade-in program or appropriately just misses that promo

Is it just me, or does it look like Samsung is including a $5 keyboard/mouse combo? Certainly there will be people who will buy this device. Afterall, BestBuy is best at misinforming their customers ;) Nice to see a curved PC monitor, but the sticker premium is absurd.