Samsung's upgraded HMD Odyssey+ aims to kill dreaded 'screen door effect'
The tweaked Windows Mixed Reality headset packs new display tech and a more comfortable design.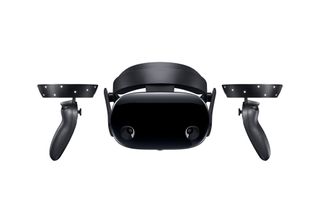 Samsung's HMD Odyssey Windows Mixed Reality headset was already one of the more premium designs out there, but the company is ramping things up with the new Odyssey+ (opens in new tab), a headset that looks very familiar but packs a couple of very nice upgrades.
The biggest change between the original Odyssey and the Odyssey+ is that Samsung is promising to kill the dreaded "screen door effect" – the visible lines that appear on VR displays that make it look as if you're viewing content through, well, a screen door. Samsung says it has accomplished this through its use of the headset's "exclusive" Anti-Screen Door Effect (Anti-SDE) display, which creates the perception of 1,233 PPI, which is double the display's actual PPI. The added clarity, in theory, eliminates the visibility of the fine lines that separate pixels on the display, which should boost immersion if it works as advertised.
The Odyssey+ also includes a slightly updated design that should aid in comfort for extended mixed reality sessions. Most importantly, the nose guard has been widened a bit to better accommodate a variety of face shapes. Samsung is also talking up the adjustable headband and display positions, along with the dedicated wheel for adjusting inter-pupilary distance (IPD).
Apart from the display and comfort tweaks, the Odyssey+ looks strikingly similar to its predecessor. There's a 3.5-inch 1440x1600 per-eye AMOLED display, integrated AKD premium headphones, and included controllers with six degrees of freedom tracking.
Image 1 of 2
The Samsung HMD Odyssey+ is set to launch today at the Microsoft Store and Samsung (opens in new tab) for $500, but neither appears to have the headset available just yet (as of this writing). We'll update this post once it is available. For now, you can save $150 on the original Odyssey at Microsoft (opens in new tab), bringing it down to $350.
Windows Central Newsletter
Get the best of Windows Central in in your inbox, every day!
Dan Thorp-Lancaster is the former Editor-in-Chief of Windows Central. He began working with Windows Central, Android Central, and iMore as a news writer in 2014 and is obsessed with tech of all sorts. You can follow Dan on Twitter @DthorpL and Instagram @heyitsdtl.
Anybody know if they have fixed the "active HDMI" problem? I bought the original Odyssey and I could never get it to work on either of my computers. When I searched online it said it was a problem with the HDMI port, and that I needed to use a USB C->HDMI dongle, but neither of my PCs have USB C, so I just returned it.

Good question. They did have odd HDMI problems it seems. Will look at trying this one out with a mini-review to see how it handles things.

@Jeff Bennion What about using a PCI-E USB C card? Like the USB 3.1 Type C 2 Port PCIe by Lycom (UB-135).

Sorry, that's rough. I hope they gave you a refund. Mine worked/works just fine with HDMI. I'm on a Dell Gaming Latitude.

Ugh...all I need them to do is let me take off those stupid headphones and use my own... welp, I guess the new Acer Ojo WMR is my pick

Wish I didn't just purchase the last one in july

I have the first Samsung HMD Odyssey and just received the Odyssey+. I can tell you the 'Screen door effect' IS gone. There's not even a trace of it. Now small text is very clear, easy to read and image edges are much sharper.
Additionally, it's significantly lighter. The forehead padding is now a cloth material that should eliminate the sweaty forehead but kind of causes it to slip abit on the skin giving it a less secure feeling.
The face padding is removable/replaceable but unfortunatley it lets in alot more light around the edges and there aren't any thicker ones included in the box.
It sits a little lower on the forehead now which I'm not sure I like better or not.

the only thing holding me back from buying this now on sale ($299 usd = amazon + $75 shppin/ import tax) is the lack of an aux jack... i would happily desolder the built in headphons and solder 3.5mm male/ female jacks on them for quick removal etc. but i need to be able to plug another pair of headphones in. and im guessing even plugging them into those plugs and then compling them left/ right would not work because that would be preamped sound already designed to go straight to speakers so would be too loud/ distorted? at least it would enable quick removal of built in headphones though. but im not keen to use a super long 3.5mm cable when the hmds cable already does that.. i guess i could use blutooth. seems to work fine if i set audio to tv then hook headphones up to tvs bluetooth, using computers bluetooth for controllers, or headphones and 1 bluetooth controller work fine on pc bluetooth but not all. if only microsoft allowed you to plug in another usb blootooth dongle to work at the same time. why dont they? pisses me off. it obviously works, only really limited by usb dongle not frequency traffic in air/ room etc. i mean, my keyboard is bluetooth too, just not universal. only for that keyboard etc. and that works fine with everything else too. err. but audio on headhones is better with aux. thatn bluetooth, and thers less delay. how could they make such a perfect headset and ignore such an obvious and useful feature. i mean, if you have super high quality headphones with mean bass, you are goiong to want to use those, especially if playing a game like beat saber. the built in headphones just wont cut it... damn it. if i do buy it, i could resell it for a profit as vr is rare in my country, or if i keep it i could sell my old lenovo explorer (again probably for a small profit, so i seems like a no brainer...)
Windows Central Newsletter
Thank you for signing up to Windows Central. You will receive a verification email shortly.
There was a problem. Please refresh the page and try again.