SanDisk Extreme 510 is a portable SSD that's essential for creators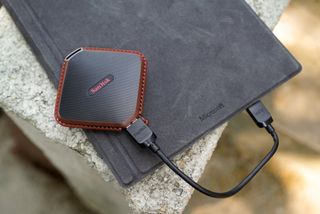 When shooting and editing videos on the go, a portable storage solution is important to get the job done. Since my camera equipment adds weight and bulk to my bag, I need the storage solution to be small, rugged, and fast. SanDisk released their Extreme 510 Portable SSD with 480GB capacity this year, and it looks like it'll be an essential item in my backpack.
With an IP55 rating for water and dust resistance, the SanDisk Extreme 510 Portable SSD is protected against rain, spills and rough, dusty trails. I'm not planning to take it out on a nature hike anytime soon, but the added protection is comforting. The Extreme 510 is also surrounded with a rubber bumper to cushion it from accidental falls up to 5.9 feet (1.8 meters).
Available in 480GB capacity, this all-terrain drive offers high-speed storage. It supports up to 430MB/s read speeds and up to 400MB/s write speeds. For reference, it took about 100 seconds to copy a folder with 27GB of video clips from my PC to the disk.
You only need to connect the SanDisk Extreme 510 Portable SSD with the included USB 3.0 cable. It doesn't need an additional cable for power. There's a rubber cover to protect the port when not in use.
SanDisk also includes SecureAccess software, which uses 128-bit AES encryption to keep your private files private. Your private vault is protected by a personal password, and your files are automatically encrypted. The installation files you need to set up SecureAccess can be found inside the SSD.
I'll be using the SanDisk Extreme 510 Portable SSD to store my videos and photos during press events. When I get home, I transfer those files to my bigger main drive (opens in new tab). The Extreme 510 Portable SSD is available worldwide for $249.99.
See at Amazon (opens in new tab)
Windows Central Newsletter
Get the best of Windows Central in your inbox, every day!
Uau seems awesome but for that price and storage capacity it's not yet worth the added convenience. In a year's time when the price drops to half it will be a must buy. For now the 1 terrabyte SSD I bought a month ago for little over 100 is still the better buy even if it is bigger.

The SanDisk Ultra II SSD 960 GB

Is that portable with similar protection?

The difference between seconds and minutes is crucial during a live event. I work for a company that develops media servers for natively uncompressed image sequence playback, which can mean HUGE file sizes for even a short 10s clip. Up until a couple weeks ago we had been relying on a standard SATA to USB3 adapter and carrying around 1TB SSDs, averaging about 100MB/s transfer rates. A customer at a tradeshow handed me one of these SanDisk drives with her media on it to load into a server and we were hitting ~350MB/s. Though admittedly a niche application, this drive definitely won me over - trying to convince the boss that it will pay for itself with the time savings (except we have about $20k in 1TB SSDs that will no longer perform to our spec but are otherwise perfectly capable single disk solutions for media backup :/)

I think Corsair offers a memory stick with an SSD controller that does closer to 500MB/s and in capacities of 128 and 256GB. Sure it isn't as spacious but at 5 times the speed it could be worth it especially considering that speed is very important to you

Weird they'd only do 128bit AES and not 256. Pretty basic encryption but still better than nothing

128bit AES would still take a lot longer than a life time to brute force attack. I'd say your good. The reason they used 128 instead of 256 is because of the speed differences. Adding and decrypting more encryption would slow down the process a little, especially on older hardware.

Ya, I figured the additional encrypte/decrypte times would be the primary reason.

Wow, I'm tempted to create an excuse to get one of these...not that I actually need one.

Got a 2TB Samsung T3 SSD to replace my portable 1.5TB Seagate FreeAgent GoFlex, loving the added capacity and speed of having both internal and external SSD...