Say hello to Dark Mode on Windows Central!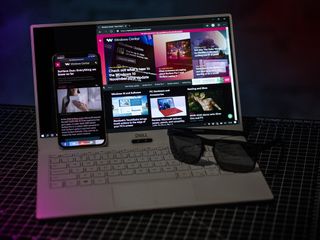 (Image credit: Windows Central)
I'm so excited to announce that dark mode is now available on Windows Central. We heard your pleas to turn down the lights and we've taken that to heart. It took a lot of work to make it happen, but now we're thrilled to offer dark mode — and light mode — to whoever wants it!
Here's how it works:
On iOS 13+, Windows 10, Android 10+, and macOS 10.14+, we'll see if your device is in dark mode or light mode and adjust the site theme to match.
If you want to override the automatic selection, or you're using an OS or browser that doesn't support theme detection, you can hit the brightness switch in the ≡ menu in the top left corner of the site to switch between dark and light modes.
Or you can hit the same brightness toggle right here:
And that's it! We're excited to roll this out to you, and want to hear your feedback. Like it? Hate it? Found something that's broken? Drop a line in the comments and let us know what you think!
Derek Kessler is Special Projects Manager for Mobile Nations. He's been writing about tech since 2009, has far more phones than is considered humane, still carries a torch for Palm, and got a Tesla because it was the biggest gadget he could find. You can follow him on Twitter at @derekakessler.
That was a nice surprise today, though I'd prefer if the articles weren't white text on black background as that gets hard on the eyes for longer articles. The comment text field has a black background but light grey text, I think that would be better for the articles. Other issue, I can't see the toggle inside the hamburger menu when visiting the site on mobile - I can see it on desktop, though. Finally, even though this is nitpicking, dark mode is technically supported in Android 9+ (through the developer flag or Samsung's toggle) - why not add automatic detection for Android 9 as well?

Wait, never mind my first paragraph, I guess my eyes were broken for a moment or something - the articles are clearly in light grey, only the headings are.

This works on the new Chromium-powered Edge as well. Nice little surprise. Neat trick!

Also if you appify it (PWA). Nice, huh?

Thank you for implementing dark mode. Please consider mentioning Windows 10 before iOS, instead of mentioning iOS before Windows 10.

Can't tell if serious or not.

A simple 1000% improvement, where have you been!

Hi! I like dark themes as long as they are gray, not completely black. I hope you give the choice in the future. Until then, I'll stick to the white theme.

True. Something that I have noticed on most sites. They always go straight to bright white text and black back ground that contrast also hurts the eyes. Please put a dark gray background and light gray text to have smooth dark mode on.

The do this for OLED Screens to save battery. If they use anything lighter than pure black they dont save as much power... Sadly i also like a deep grey over black.

I prefer all black. I think it's more readable (with the exception of reflections on the screen glass, which are worse with black) and yes, good for battery if you have an OLED screen. Best if there's a choice.

Well if the background must be black at least have gray text because the white text makes it hard to read.

Love it, very polished for a first attempt. Good job team. 👍

This! Should be across all of web! Search device for default mode, if future websites follow, we'll know Windows Central was the first to do it! and do it well!

Well, we are a Future property now ;-)

Had dark mode for years, wtf?

yes using chrome extension

What about fixing it so it actually works reliably!!!!

What about fixing it so it actually works reliably!!!!

What about fixing it so it actually works reliably!!!!

Thank you! And, unlike other commenters, I much prefer the superior contrast of true black background with white text over a muddy grey background. I think every app, browser and OS should offer a choice between grey dark and what we might call true or Amoled dark or simply high-contrast mode.

Yeaa-yerrrr! Dark mode FTW.

I've had it on android for a while now. What am I missing?

This is for the website, not the app.

It works perfectly well in my Edge-chromium browser. Well done, WindowsCentral

I know this is kind of late to comment, but I remember first using dark mode on the Windows Central Windows phone app
Windows Central Newsletter
Get the best of Windows Central in in your inbox, every day!
Thank you for signing up to Windows Central. You will receive a verification email shortly.
There was a problem. Please refresh the page and try again.